Joey's Pub Darjeeling
Joey's pub is probably the nucleus of Darjeeling's nightlife. If you relish a beer or a drink, you don't want to be missing out on the charm of this old British style country pub. Every time I ask a local who joins me at the front bar here, I keep getting the reconfirmation that this is the only true pub in Darjeeling. 
UPDATE: The original Joey's pub no longer exists. A new large building was constructed where it once existed and the pub has now been housed in the first floor of this new building. Having remained closed for a while, it has re-opened in the new large space in the year 2021. 
The new Joey's Pub, Darjeeling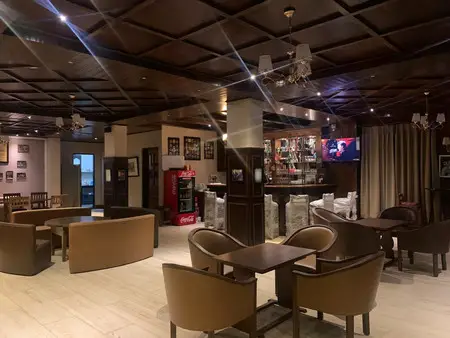 Joey's pub is located few steps into a lane close to Rink Mall or the Big Bazar shopping complex and opposite to the post office of Laden La road and on a narrow lane. It's a locals' favorite. 
The story behind Joey's pub
Joey's Pub opened in 1991 in a bungalow-type building more like a small traditional British pub. From outside, this bungalow-like building looked like an English county home with a small front porch having a slanted triangular roof. There was a small iron gate outside and then the main entry door. An wooden board hung outside from the beam with a signage of "Joey's Pub".  
Joey's Pub Darjeeling (the original building)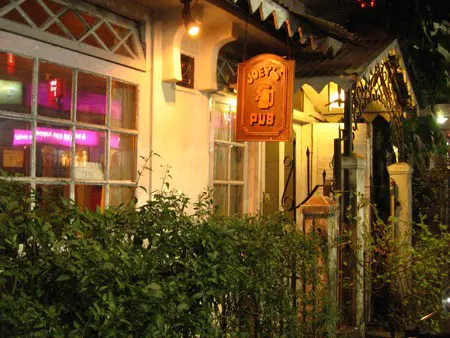 The pub used to be run by Puran Gongba, an enterprising and cordial Nepali man, who was the main person why this pub eventually shot into fame. This bungalow-type building was originally built in 1948 by his father who ran a small hotel with a restaurant for the backpackers. 
Puran was deeply immersed into music in his early days and had his own music band. He was a great guitarist. As the night trickled through and if Puran was in great mood, you could request him to play his guitar - he was a master. He learned guitar in a hard way when he dreamt of becoming a musician and make a profession out of it. He even took formal lessons in the U.K. He made several stage performances and worked with well known bands. 
However, he could not continue with his passion beyond a point because of financial constraints and came back to Darjeeling. He converted the hotel into a cozy pub which he himself operated since 1991 until he passed away in March 2016. 
The pub has been named after Puran's son Joey who lives in Brighton, UK. When I once asked Puran why did he name it after his son, a local sitting next to me replied "...because he misses his son a lot". I looked at Puran and he smiled in acknowledgement. 
Puran at Joey's Pub Darjeeling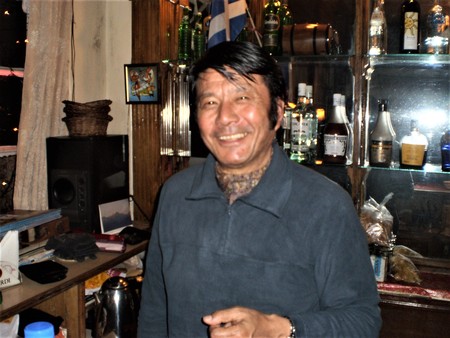 I had taken this photo in March 2014 
The interior of the old building was wood paneled including the ceiling providing a warm and cozy feeling. Next to the entrance door there was a stand that had a large collage of old magazines and news papers. A soft music played at the background. 
At one end was the bar counter with a few bar stools. Those days, Puran himself served drinks at the bar. On both sides of the room there were rows of tables with cushioned chairs. The wooden walls had nicely framed pictures. In one corner of the bar counter, a TV played sports channels. Overall the ambience was charming and simple yet having an old classy touch. 
Signboard outside New Joey's Pub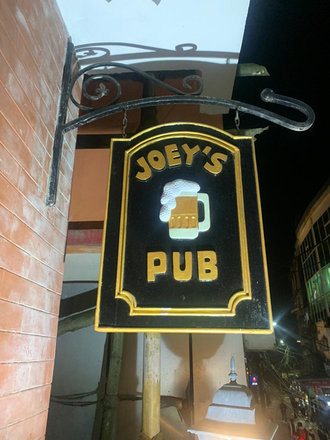 In one occasion the power went off (this is not uncommon in Darjeeling) and it was dark inside for a minute and we couldn't see anything around. I was wondering what kind of backup power they would have. The staff quickly lit up several candles, placed them on empty soda bottles and put them at different corners of the room. The candle lit room was looking magical. I heard the Swiss man sitting next to me saying "let it be like this.... we don't want the lights back". 
Before the pub closed, Puran would usually pour a drink or two for himself (only few of his close friends at the bar knew that). And that was the time I enjoyed the most at the pub, sharing a drink, chatting with him, sometimes listening to his guitar and knowing about his past. 
The new Joey's pub
After Puran's demise, the family operated the pub for a while and decided to hand over the property for redevelopment so that they could open it with a new look and feel. In the new multi-storeyed building that has come up here, Joey's pub now occupies a large part of the first floor. Now, it's a spacious and modern pub yet maintaining the same class and elegance that it once had. 
Inside Joey's Pub (new)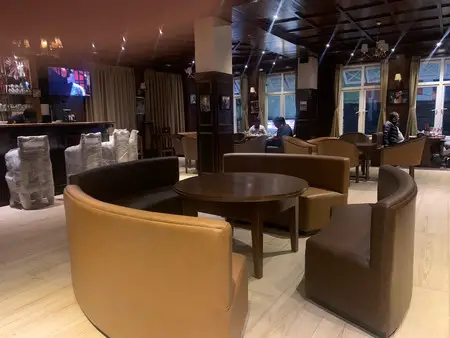 There are now comfy sofas as well as tables with cushioned chairs. The bar with new bar-stools is located at one end and the shelves are stocked with colorful liquor bottles. With false-ceilings and LED lightings, the large rooms looks very attractive.  
You will meet people from different walks of life here. This bustling pub is always full of foreigners. While sitting at the bar counter, once I met a young man Alex who came to Darjeeling from Australia. He took a break for a while and was teaching students in a school in
Dali Monastery
. To him, Joey's Pub had become an inevitable week-end obsession. 
The bar at Joey's Pub (new)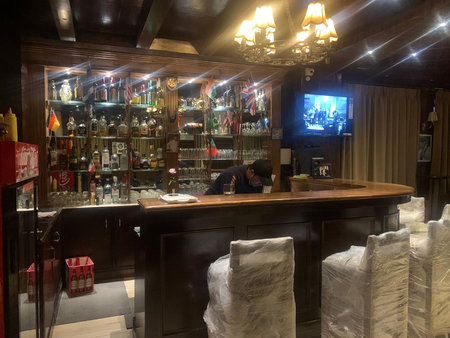 The bar is well stocked with both Indian and imported liquors including whiskey, vodka, gin, rum and other drinks. There are different types of beer and wine as well. However, you won't get draft beer here. There is a technical difficulty in stocking draft beer. Once opened, it has to be consumed within a fixed time or otherwise it would get stale. So unless there is continuous demand, stocking draft beer is not quite possible. Unfortunately, there is not many takers of draft beer in Darjeeling. So this is one thing which is still missing in this pub since its old days. 
There are few other things you won't get here either. There is no proper food served at Joey's Pub. They however, do offer some light snacks. 
While digging into the history of the pub, I once asked Puran to share some of the great memories of the Pub. He wondered for a while and said there had been so many that it was difficult for him to keep a track of all. And then he went on recapturing some of them ... Joey's pub has been featured in a film directed by Anjan Dutta who happened to be his friend and school mate. 
On one occasion the singer Usha Uthup came to this pub and sang couple of songs on request. There were many other great musicians and celebrities who visited the pub over the years. He ended saying "... give it another 20 years, Joey's Pub will become a heritage pub". 
Puran forwarded a guest book to me which was difficult to lift due to its size and weight. It would take a full day to go through all the comments from hundreds of people who have written their great experiences in the pub. The book is a great testimony of the pub's long journey to its fame. 
Once I asked Puran, if there were any bad memories associated with the pub which he wanted to forget. That's when I learned that the original pub was once completely destroyed by fire. He went through terrible time virtually losing all his life's savings. He had to gradually rebuild it.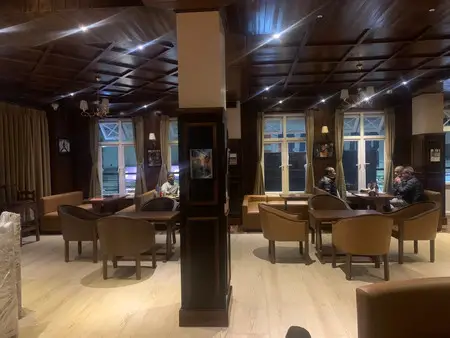 During the visit to the pub when I had chatted with Puran for the last time, I asked...  who would keep running the show after he retired. He said "Somebody will come along. It won't be my children. They won't come. They are happy where they are, neither I would want them to run this". 
Open Hours
12noon to 10pm (can stretch to 11pm occasionally). No cards, only cash. 
Location and Contacts
2 S.M. Das Road, Darjeeling.  
This is a lane that goes opposite to the Post Office on Laden-La road and close to the Big Bazar. Joey's Pub is only few yards into the lane and just left of the vegetarian restaurant Beni's Cafe. From the Club Side taxi stand next to Gandhi Road Police Point, it's less than 5 minutes walk. 
Sequence of events at Joey's Pub
Below, I have noted a few significant incidents at Joey's pub to capture the fond memories. 
Update May 2013: Puran has become a proud grandfather. 
Update March 2016: Sadly, Puran Gongba, the owner of Joey's Pub and fondly known as Uncle Joey in Darjeeling, is no more. He had a massive stroke and passed away on 23rd February 2016. He was 66. It has been a huge loss personally to me. Joey's Pub will no longer be the same, at least to me. But I'm sure the love and respect for Puran in the whole of Darjeeling will keep providing strength to his family and help running the show. 
Update 2020: Joey's pub has closed down temporarily. In fact, the pub doesn't exist at present. It has been completely demolished and a new construction is going on. 
This is where Joey's Pub used to be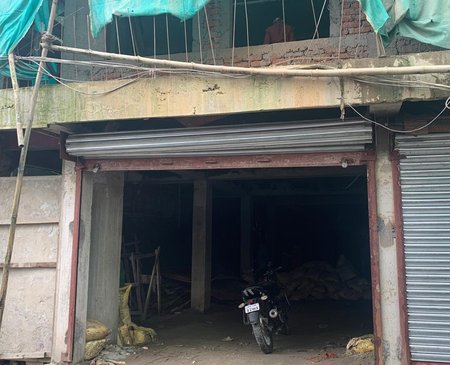 Photo taken in October 2020. 
Update 2021: Joey's Pub has re-opened in the newly constructed building on the first floor (i.e. above ground floor). A framed photo of Puran Gongba hangs on the wall  with a tribute from the family that says "Remembered fondly" with the song In my life by The Beatles quoted next to it. 
Related Articles
Visitors' Reviews/Comments
Adam Reilly (April 2020) 
Good morning. I visited Joey's Pub about 15 years ago. Joey was playing Beatles music in the pub and we got talking. I told him that I was from Liverpool and he was really enthusiastic about this fact. When I got home I sent him some Beatles poster from the Beatles shop in Liverpool, England. He sent me a beautiful email in response. 
Parikshit (May 2013) 
The best place to sit back and relax in Darjeeling after a hard day. Best music, alcohol and the man himself is truly amazing. You can let go hours listening to the music and chatting to fellow travellers. I've taken some great pictures and waiting to hand them over to the owner soon. If you have not visited yet you've missed the privilege...Love Joe's Pub!!!  
Joni Dhar (November 2012) 
Sir, you are truly gifted being on this planet, you are blessed. I have never been to your pub but the information & the clips makes me feel like that I'm in Amsterdam. I'll be coming soon to your place, I'm gonna visit Darjeeling along with my buddies... Let me tell you, I was in Darjeeling for 2yrs (school time). Time passed & its a longtime I'm not getting the smell of momo's, thukpa, wywy. Anyways I'm sorry if I hurt you.. Thank you for giving me the opportunity to share something... DARJEELING, MA TIMILAI MAYA GARCHA. 
Sudipta Baruah (Oct 2012) 
Your site is fantastic and very informative. I am planning for a visit to Sikkim and Darjeeling during the month of February. Hotel revolver seems interesting and for some quiet night out Joey's Pub is the place to be. My questions is: Staying in Revolver and some night outs in Joey's pub, what would be the total distance? Spending some quality time at Joey's is very important to me. If Revolver is far away, can you kindly suggest me one or budget hotels nearby? I shall wait for your reply. Thank you very much 
Raj (darjeeling-tourism.com), Oct 2012 
Hi, Revolver and Joey's Pub are close by. Should be some 10-12 minutes of walk. From Revolver, come down Gandhi Road and take a left turn into Laden La road at the police point.. Just before the Big Bazaar, take a left into the lane (SM Das Road) ... you are right there. Easy!! But if you are there too long in the pub, the walk back may seem much longer :) You can also try Seven seas (covered under hotels guide menu option), or Hotel Capital, or even Broadway. 3-4 minutes walk from these hotels. You will find the last two under Budget Hotels menu option. There are no real good budget hotels right adjacent to Joey's pub.