How to charter a DHR Toy Train
Do you have a desire to privately charter a Darjeeling Himalayan Railway (DHR) heritage Toy Train which is hauled by a steam loco and ride it for few hours with your own friends and families through the magical terrain of Darjeeling hills? It's easily possible now and that too at an attractive rate. Darjeeling Himalayan Railway now allows tourists and tour operators to book a complete train or a coach.  
Toy Train, Darjeeling Himalayan Railway (DHR)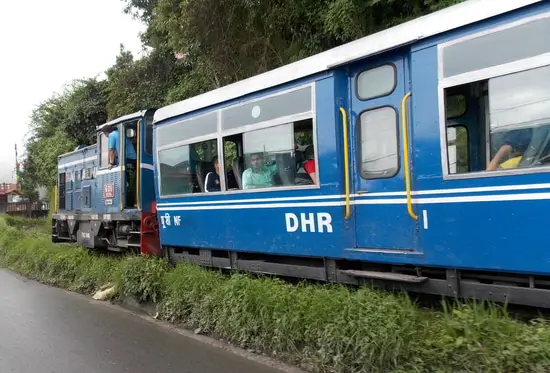 Each coach has a capacity of 30 persons and up to three coaches can be hauled by an engine. If you are 25 or more persons, you can easily charter a coach for private use. 
In order to charter a full train, there are couple of ways. Either you choose from one of the standard routes available for charters with a fixed rate or alternatively choose your own customized route and timings within the DHR network of stations in Darjeeling district. 
Standard Routes
You can charter a DHR toy train as a group of tourists to enjoy the scenic rides in privacy or to hold a birthday party, private functions etc. 
Here are the standard routes for DHR Toy Train charters: 
Darjeeling to Siliguri (one way or round trip) 
This is subject to availability of the entire route. 
Siliguri - Tindharia (30km) & return route.  
Tindharia is a village located at an altitude of 2,822 meters. There is a loco & carriage workshop here which is used for repairing and overhauling DHR locomotives and coaches. On the way you will pass by the Mahananda Forest Reserve and Sanctuary. You can plan to take lunch here surrounded by lush greenery and forests. The view of the valley is spectacular. 
Siliguri - Kurseong (50km) & return route 
Darjeeling - Kurseong (30km) & return route 
Dining Charter: Siliguri-Rangtong (Evening Special) 
For the above standard routes, the composition of the train is a century old steam locomotive and two first class coaches. 
Fare for chartering DHR Toy Train
(Fare Updated: March 2022) 
Kurseong to Darjeeling (one way, steam engine, 2 First Class coaches): Rs. 80,850/- 
Kurseon to Darjeeling (round trip, steam engine, 2 First Class coaches): Rs. 1,21,275/- 
Charter rates for diesel engine hauled toy trains are much lesser: Rs. 56,000/- and Rs. 1,05,000/- respectively for the above services and coach combinations. 
Customized Routes & Itinerary
This is applicable if you want to design a ride course of your own in Darjeeling hills. You can decide on the two points within the DHR network of stations where you want the steam engine pulled train to run, the date and the time of your convenience. For example a route can be from Siliguri Junction to Sukna. The route goes through Siliguri township and lovely tea estate. At Sukna, there is a museum and photo gallery of Darjeeling Himalayan Railway. You can also combine this tour along with a city tour of Siliguri including visits to ISCON temple, Ambari Barrage etc. 
These tailor made rides on toy train work out well for a group size between 25 to 40. These special charters are quite popular with the foreign tourists these days. You will need to work out the charges directly with Darjeeling Himalayan Railways. 
DHR contacts for charter booking of toy trains
Phone:+91 - 90020 41521; +91 354-225 2555; 
Shooting a film using DHR Toy Train
Over 25 Bollywood films have been shot in Darjeeling where the DHR Toy Train has been extensively featured, and several of those films have gone on to become hugely successful and famous. But earlier, the use of a DHR Toy Train for the purpose of shooting a commercial film or a documentary involved a lengthy and an elaborate process. 
The producer of the film or his representative had to physically go down to Maligaon (a place located near Guwahati) which is the Head Quarters of Northeast Frontier Railway (NFR). This is where the application had to be made and often it required several visits before finally getting the clearance to shoot the film in Darjeeling using the DHR Toy Train. 
But that tedious manual process has now been eliminated by NFR and they have introduced an online system for making such application. One needs to register at their site and make the application giving all necessary information. The application will be scrutinized and decision will be given online. In fact, as the applicant, you can see the workflow and know the progress of your application online. 
There is a fee for commercial films. However, there is no fee for films/documentaries meant for non-commercial, academic or awareness purposes. Both Indian and International film makers are allowed to make an application to shoot films using DHR. Here is the
Website link
to apply for DHR (Darjeeling Himalayan Railway) film shooting permission. 
Related Articles
Visitors' Reviews/Comments
Share your experience.