Mahananda Wildlife Sanctuary
Mahananda Wildlife Sanctuary is a reserved forest area that initially started as a game sanctuary where children took rides. The entrance to the sanctuary is located at Sukna which is about two & half hours drive from Darjeeling. If you are coming from New Jalpaiguri (NJP), it takes about 45 minutes to reach the gate. The sanctuary is spread over varying elevations and across 158 sq. km of forest area. 
The altitude varies from 500ft. at the southern area near Sukna and rising up to 4,300ft towards the northern area near a place called Latpanchar. On the east the sanctuary is bounded by the river Teesta and on the west by the Mahanadi river and Hill Cart Road. 
Mahananda Wildlife Sanctuary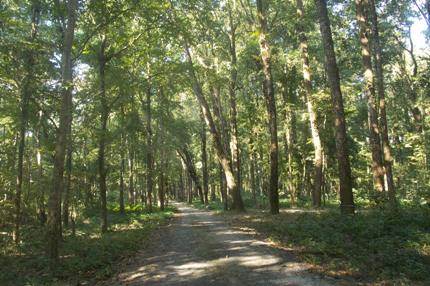 The sanctuary is managed by Darjeeling Wildlife Division of Government of West Bengal. It is considered as the most important sanctuary of North Bengal. There are several forest villages that are part of the sanctuary including Kalijhora, Latpanchor, Punding, Sukna, Gulma, Toribari, Sevoke, Seventh Mile and Latlong. However the main entrance to the sanctuary is from Sukna (the gate is located near the Sukna toy train station and about 30 minutes from Siliguri). 
If you drive straight down the main forest road, you will reach the banks of Mahananda river on which the sanctuary has been so named. The stream with mountains at the backdrop is a picturesque place. When we reached the river, the guide pointed towards the hill straight ahead at the opposite bank and said that
the small hamlet Latpanchar
is just on the other side of the hill. 
Regular day safaris are offered in the sanctuary from the Sukna gate both in the morning and in the afternoon. However no vehicles are provided. You need to come with your own car, buy entry tickets, pay for a guide and camera, and get going. 
Dirt trail through Mahananda WLS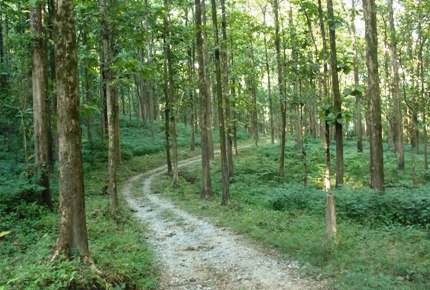 The total distance in the usual safari route is 8kms out of which 2kms is unpaved or dirt road. If you plan to enter the forest and take the safari, I suggest that you bring a large vehicle as the unpaved mountain pathways through the jungle will be difficult to negotiate with a small car. Petrol cars are preferred as they make less noise. It takes about 2 to 2.5 hours to complete the circuit. You need to come out before it's dark. 
Elephant rides were earlier offered at the Sukna forest area located at the terai region. However such rides are no longer offered at Mahananda Wildlife Sanctuary. The person at the counter (Sharma working for over 2 decades) mentioned that the wild elephants sometimes get into conflict with the elephants doing the rides and start chasing them. In couple of occasions, elephants with tourists on their back were panicked and started to run creating huge risks for the tourists. In one occasion tourists taking the ride were about to fall off. The rides have been discontinued since then. 
Update: A bus safari has been introduced in Mahananda WLS by Bengal Forest Department since 2021. It's only a one-hour safari which starts from the Nature Interpretation Center (NIC) at Sukna, goes through the forest up to Mandodhaya and returns. There are 5 trips during the day starting from 6:15am. The last trip is at 4:30pm. You can purchase the safari ticket from the NIC at Sukna. It's usually a 28-seater bus. Sometimes, depending on demand, a smaller bus is provided. You can get ticket prices under 'Admission Time & Entry Fees' section below. 
Flora & Fauna
There are 330 different types of plantations that have been recorded in the sanctuary. Amongst forest plantation you will see khair, sisoo, simul and tropical sal forests. Other major plantations includes teak, udal, champ, lali, jarul, gamar, mandane, bamboos, ferns, orchids, sidha etc. There are large grassy areas as well. 
The lower plains of the forest is the zone for elephant migration. Elephants migrate between Nepal, West Bengal and Assam areas. During winter and monsoon there are more than 150 elephants usually present in the forest. 
Mahananda River and the Mountains at the backdrop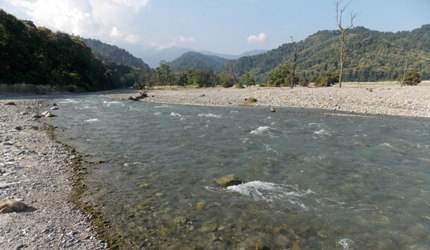 If you are lucky you can even spot Royal Bengal Tigers in this sanctuary. As per the 2003 census, there are at least 14 such majestic creatures in the jungles here. And there are lots of other animals and reptiles that you can see. Some 36 different species of mammals exist in this sanctuary including Himalayan black bear, leopards, rare mountain goats (serow), porcupines, golden cats, sambar, spotted & barking deer, Indian bison (gaur), wild boars, monkeys including black capped languor etc. 
Mahananda Wildlife Sanctuary is also a haven for the bird watchers. There are over 300 species of birds in this sanctuary including ones like Rufous-necked hornbill, Himalayan pied hornbills, peafowls, peacocks, fouls, egrets, king fishers, fly catchers, racket tail drongo, Assamese macaque, robins, woodpeckers and lot more. Large number of migratory birds arrive here from central Asia. 
Rufous-necked Hornbill at Mahananda WLS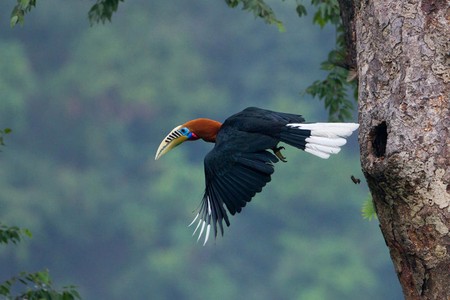 Photo: Ujjal Ghosh / CC by SA 3.0 
The Mahananda Wildlife Sanctuary has been accorded the status of "Important Bird Area" due to its ongoing and critical role in conservation of birds and their habitats. 
Peacocks at Mahananda WLS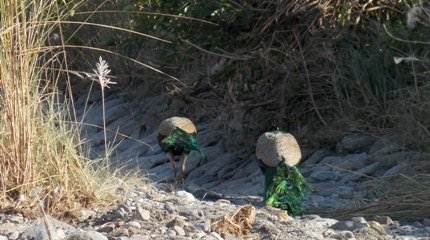 There are several open areas or glades in the sanctuary where artificial saltlicks are created. The animals come there for licking salt. This is one way the animals fulfil their mineral requirements. Animals usually come to the glades in the morning and evening. 
Several great watch towers have been set up in the sanctuary. There is one in Laltong on the Teesta river bank near the Laltong village which is great for watching elephant migration. The second one is in the abandoned Gulma railway station created using a train's cabin and is great for watching deer, Indian bison and other animals. 
There are three other watch towers. The one at Toribari is great for bird watching. Another tower is in Golaghat and about 5kms from Sukna which is great for watching wildlife. One of my favorite watch towers is near the bank of Mahananda river and overlooking the stream and the dense forest beyond and around the tower. 
Riverside Watch Tower at Mahananda Wildlife Sanctuary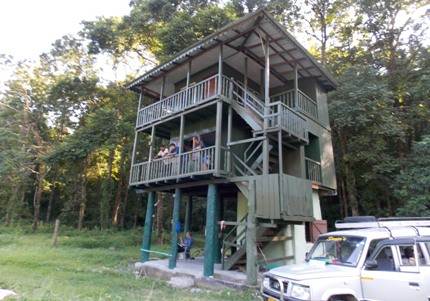 The tower area is fenced with electrical wires with live currents to keep away the animals from entering. When I asked, the person on duty at the tower mentioned that he is on duty 24 hours and 365 days. He sleeps in the tower itself. His job is to look for the animals around and report, also to shove away villagers who come there to cut the trees. The second level of the tower has seats with lovely views all around including the dense jungle, the mountains and the river. You can spend hours sitting there. 
The state government has been encouraging Eco tourism in the sanctuary that involves villagers from 11 villages including several forest villages. The villagers help to conserve the bio-diversity of the forests and protect the wildlife. Many of them have been engaged as guides to the tourists. The village girls participate in ethnic cultural dance and music to entertain the tourists. 
Museum
There is a large and well stocked museum located upstairs in the main building just before the entry to the forest. The ticket counter is below the building. Ground floor has a large lounge area for tourists with facilities like bathrooms for men & women. 
Mahananda WLS Museum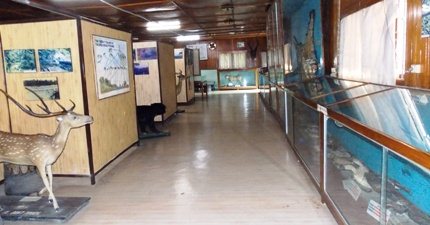 A stairway from the right goes upstairs to the museum. At the entrance, you will find a preserved leopard in a glass cabinet. It was killed in the sanctuary, and in its belly small cubs were found which have been preserved right next to it. There are large many exhibits and artifacts here that reflect the flora and fauna of the jungle including preserved skins of tigers, heads of deer & bison, birds etc. But one of the most striking exhibits is the preserved cub of an elephant at one end of the room. It was found in the jungle in 1998. Next to it is a huge Royal Bengal Tiger. 
Where to stay
Just in case you are thinking about overnight stay in the sanctuary, there is a Forest Lodge run by the state forest department in Sukna area few yards inside the jungle but before the main entry gate (in the southern lower region). There is another forest rest house and several other private lodges & homestays in
Latpanchar
which is in the northern area of the sanctuary at a higher elevation. 
For booking a Forest Lodge at Mahananda WLS run by the forest department, contact: 
Divisional Forest Officer, Wildlife Division - I, Darjeeling. 
Phone: (0354) 2257314 
Range Officer, Sukna Range, Mahananda Wildlife Sanctuary, Sukna, Darjeeling 
Phone: (0353) 2573323  
You will need to make your own food arrangement. If you bring all ingredients, the caretaker can help and cook the food for you. Sukna forest lodge is located conveniently and you can walk down to the township for provisions. However the Latpanchar lodge is completely isolated and inside the jungle. 
Latpanchar is a great little hamlet at 4,200ft altitude offering wonderful natural surroundings including marvelous views of the Kanchenjunga snow peaks and an ideal place for bird watching. Latpanchar is about 44kms from Silliguri and is part of Mahananda Wildlife Sanctuary. However the there is a separate route from Sevoke Road of Siliguri to access Latpanchar. Visit
Latpanchar
to know about the village itself, accommodations and what to expect when you access that part of the sanctuary. 
Best Time to visit
November to April is the best time to visit Mahananda Wildlife Sanctuary. This is when the sky remains clear and temperature mild to cold. October is also fine. Note that the Sanctuary remains closed from June 16th to September 15th every year as this is the monsoon time and the breeding season for animals. You can not enter the forest during this period. 
Admission Time & Entry Fees
UPDATE: As of December 2022, Mahananda Wildlife Sanctuary is closed to tourists. Bus and car/Jeep safaris are no longer available. It is not known when the sanctuary may re-open in future. 
Open hours: Early morning till dusk, daily (sanctuary remains closed from June 16 - Sept 15). 
(Fare Updated: March 2022) 
By Self-Driven Car: 
There are entry and guide fees to take the safari 
Admission fee per person: Rs. 120/- (Rs. 500 foreigners) 
Vehicle Entry: Rs 400/-; Guide: Rs. 250/-; Camera: Rs. 100 per camera. 
Bus Safari (1-hour): 
Rs. 300/- per person. There is no other charge. 
You can buy bus safari tickets at the NIC (Nature Interpretation Centre) located at the Sukna entrance of the sanctuary. 
Timings: 6.15 AM - 7.15 AM; 7.30 AM- 8.30 AM; 8.45 AM - 9.45 AM; 3.15 PM - 4.15 PM; 4.30 PM - 5.30 PM. 
For further information about the safari and its current status, you can contact the following office: 
Aranya Bhavan, 
BLock LA-10A, Sector- III, Salt Lake, 
Kolkata, West Bengal 700106 
Phone: +91 8337066882 
How to reach
The entrance to Mahananda Wildlife Sanctuary (for the Jeep safari) is at Sukna which is 8kms north of Siliguri (14kms from NJP) on Hill Cart Road. The gate is near the Toy Train station at Sukna. From Darjeeling, it's about 2.5 hours downhill drive along Hill Cart Road. Via Simulbarie, it will take about 3 hours from Darjeeling. 
Hill Cart Road (NH-110) at Sukna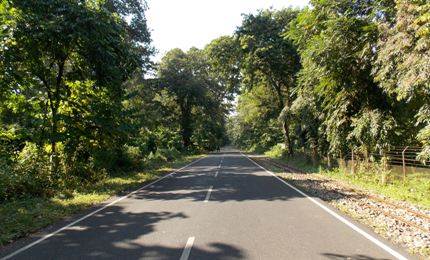 For a day trip from Darjeeling, hire a cab for the day from the club side taxi stand (near Gandhi Road police chowk). Rates vary... a small private car may take Rs. 2700 - 3000 for a round trip. If you are heading for Latpanchar, you will get vehicles from NJP/Siliguri (Rs. 1500/- approx for a drop). 
Related Articles
3) Check out
Darjeeling Tours
to know about many other wonderful places that you can visit from Darjeeling within hours. 
Reviews/Comments
Raj (darjeeling-tourism.com) January 2021 
The forest department is organizing the first Mahananda Bird Festival from 20th - 23rd February 2021. This 4-day event will provide fantastic opportunities to bird watchers to explore various sections of the Mahananda Wildlife Sanctuary starting from Sukna (Nature Interpretation Center) and will cover the birding trails as well as places like Latpanchar and Rongdong that take you through lush landscapes of forests, rivers and hills. 
The package includes basic accommodation in forest barracks and food. Last booking is on 2nd February 2021. Participation fee is Rs. 5,000/- per person. You can get further details about the bird festival and booking information from
wbsfda.org website
. 
Supratim Datta (November 2020) 
Hi Raj, I just want to know whether it is possible to visit Mahananda Wildlife Sanctuary and the Bengal Safari Park in one day, if I put up at Siliguri ? Can I take the safaris at both the places & be able to see / enjoy the places properly ?? Thanks. 
Raj (darjeeling-tourism.com) November 2020 
Hi, yes, you can do one in each half of the day. The guided safaris at Mahananda WLS usually last for 2-2.5 hours. You should have your own vehicle because Mahananda WLS may not always have vehicles available, but they have guides. Ideally, you should have a petrol operated Jeep type vehicle like a Maruti Gypsy to explore the core area (small cars are not recommended, but large vehicles like Sumo, Boleros can also do). 
The distance between Sukna gate of Mahananda WLS and Bengal Safari on Sevoke Road is around 17kms and will take about 35-40 minutes by car. At Bengal Safari, there are multiple small safaris of 15 to 20 minutes each... the popular one being the combined safari of Tigers, Leopards, Herbivores and Black Bears which takes about 1 hour on a trolley type vehicle provided inside. 
Col Sandeep Kang (September 2018)  
Dear Raj sir...I am an old denizen of these hills having grown up here in 1980s... but your knowledge of present day conditions and places to see birding destinations is awesome... Thanx for an informative website.. I am posted at Kalimpong Military station and please drop in sometime, Regards  
Andrew Samuel (January 2017) 
Dear Raj, I am from Chennai and planning to visit MWL Sanctuary in the first week of Marcb 2017.Would like to know the route from NJP. Is it near Coronation Bridge Sevok..?please guide me as how to reach Sukna Gate ..Mahananda Wildlife Sanctuary .Little confused from Sevok Coronation Bridge. I will be very much obliged if you could kindly advise and direct me. Thank you 
Raj (darjeeling-tourism.com) January 2017 
It is nowhere near Sevok Coronation bridge. Sukna gate is on Hill cart road on the way to Kurseong. It's about 13kms from NJP station and will take about 35 minutes by car. 
Prasanna Tamang (September 2015) 
Hello sir, I am a student of Army Public school Bengdubi and me and some of my friends are planning to do project on Mahananda wildlife sanctuary as our project is investigatory we need to visit the place and click pictures for proof so I wanted to know that mobile phones are allowed or not? and for jungle safari is it necessary to get a car by ourself can we not go walking in the jungle? we're planning to visit Mahananda wild life sanctuary on this Wednesday i.e on 16th September .. so it's my humble request to you to clear my doubts as soon as possible 
Raj (darjeeling-tourism.com) September 2015 
Mobile phones are allowed, but camera/taking pictures requires a separate charge. There will be a guide, so you can't usually avoid the charge. You must take your vehicle. Walking is not allowed, you will likely get a kick from an elephant if you do so :) 
Indrani Roy Chowdhury (January 2015) 
Hello. We are planning to visit Darjeeling and Mahananda wild life sanctuary and we are planning to stay in Latpanchor. Can we avail the jungle safari from there? or do we need to come to Sukna for it? Please do reply as we are scheduled to visit on 24th of this February and we will be planning our stay according to your response. 
Raj (darjeeling-tourism.com) January 2015 
Hi, there is no jungle safari available at Latpanchar. Guides are however available to take you to the forest. Prepare to walk for several kilometers. At Sukna too, they will provide guides but you can take your own vehicle (preferably a jeep, sumo etc) for a two hours safari along with the guide (total covered distance inside the forest is about 8 kms). Small cars can't get into the dirt road and therefore you won't be able to see a good part of the jungle with a small car. The sanctuary office doesn't provide jeeps these days. So when you take a vehicle from Darjeeling or NJP, plan it out with the driver. In a Sumo, he should take about Rs. 500/- extra for the safari. 
Joyjeet Chakraborty (July 2014) 
Hi Raj, I am planning a family tour in Darjeeling in the month of October. I have taken all the essential notes from your site. Only thing I wish to know is about the Mahananda WLS. I am planning to go there from Darjeeling. Can I start my journey in the evening? As I would have only one night to stay there. I also would have a three year old child with me. Or, if I start my journey in the morning, would it be possible book lodging and then go for a safari in the same day? Please help. If possible, please guide on how to book lodging there and could I directly reach Latpanchar from Darjeeling? Regards, 
Raj (darjeeling-tourism.com) July 2014 
Hi, You should reach the lodge during the day time. If you reach in the morning hours, you can book a room (subject to availability) and then go for the safari. For booking in advance, contact WB Forest Development Corporation and they can guide. You need to make your own food arrangements. If you bring vegetables and other raw materials, the caretaker can cook for you. To reach Latpanchar from Darjeeling, take the Hill Cart Road (NH 55) and about 20 minutes before Kurseong take the uphill road at Dilaram towards left. You will reach Bagora and the road continues to Latpanchar and beyond. 
Ashvin DSouza (April 2014) 
Dear Raj, Thank you for the detailed information. Assuming that we do not get rooms in the Government Forest Lodge, which is the nearest hotel you would recommend where one can stay. We are a family of four. 
Raj (darjeeling-tourism.com) April 2014 
Stay in Siliguri. Sukna gate is a short distance from there (about 17kms). Hotel Raj Darbar on Hill Cart Road is a good choice in budget/mid-range category. 
Ravin Jadhav (April 2014) 
Thanks raj, there is just one info that I could not find on that link. How to book safari? Is it done only on the spot? 
Raj (darjeeling-tourism.com) April 2014 
Yes, if jeeps are available you can book the safari on the spot near Sukna gate. You can take your own car inside as well and just pay for the guide. 
Dipayan Das (October 2013) 
Hi, I wanted to visit Mahananda Wildlife Sanctuary. Will it be convenient to visit it from Darjeeling or from NJP? Which one will you recommend? And is jeep safari available for the sanctuary? I'll visit it around 15th December, will it be open at that time? 
Raj (darjeeling-tourism.com) October 2013 
Sukna gate of the Sanctuary is much closer to NJP than Darjeeling. So go from NJP. The sanctuary remains open in December and jeep safaris are usually available. 
Amitava Sengupta (November 2012) 
Very informative write up on Mahananda WLS. I had the privilege to stay at Sukna and at Latpanchor for one night each on two different occasions in between 2008 & 2010. But the booking was on spot and after several pleadings and folding of hands to the local administrator. I'm a birder and a bird photographer and would certainly prefer to obtain prior sanction from the DFO. But accessing the official is very tough here in West Bengal and more often than not your requests are turned down. This certainly frustrates. 
I've seen and photographed giant squirrel, verditer flycatcher, blue fronted redstart, long tailed thrush and a lot of tiny butterflies at Latpanchor. And the location of the FRH is simply breathtaking! The fur avenue that leads to the bungalow is a real treat for a connoisseur's eyes. With Mahananda flowing through the jungle, Sukna has a different appeal altogether. Its Nature Interpretation Center and that beautiful watchtower adds to the attraction. At the break of dawn in May a flock of oriental pied hornbills flew in and settled on a big tree! And my heart leaped in ecstasy. I wish I could go back there and stay two nights in peace if only the booking could be hassle free. Thanks.