Makaibari Tea Estate & Home Stays
Category: Budget 
The Makaibari Tea Estate is probably the most talked about and fabled tea garden in Darjeeling area. And there are reasons for that. This is one of the oldest tea gardens in Darjeeling and was the first to establish a factory in the year 1859. 
Over the past four generations, the estate has been run by the original founders family, the Banerjees who once hailed from South Bengal. Today most tea garden owners of Darjeeling area are multinational companies located in Kolkata or elsewhere, except Makaibari. 
Makaibari Tea Garden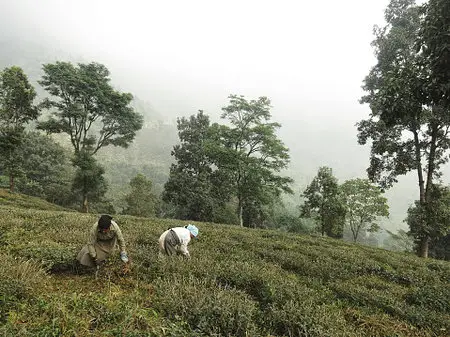 Swaraj Kumar Banerjee (better known as) Rajah Banerjee is the last single owner in the family who now manages the Makaibari Tea Estate, and is resident here. He is the first person in Darjeeling having introduced organic farming, thus breaking away from the prevailing local practices and harmonizing it with the nature. 
This was the first garden in the world that was certified by 'Fare Trade' and the first to appoint women in a supervisory position. It went on to become one of the finest tea gardens in the world commanding highest prices at the tea auctions for some of its brands like Silver Tip. 
Makaibari is located in Kurseong area and about midway between Bagdogra airport and Darjeeling town center. It takes about 1 and half hours to reach Makaibari from Bagdogra airport or Siliguri and about the same time from Darjeeling town. 
With the local community having grown close to 2,000 Nepalese and split up into seven villages according to the ethnic origins and cast, the Makaibari property covers an area of 750 hectares, in which 65% is natural forest area. About 274 hectares of land area is under tea plantation. The estate is at an average altitude of 4,500ft. 
Makaibari Tea Processing Factory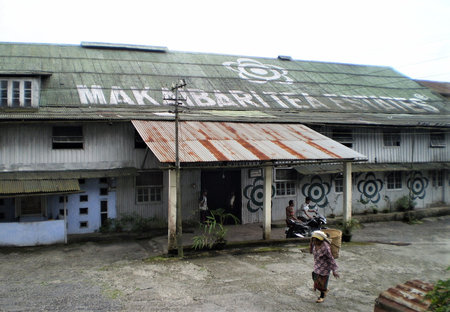 Update: The ownership of Makaibari Tea Estate has changed. Rajah Banerjee sold off 90% stake in June 2014 to the Luxmi Group owned by the Chatterjees. Reason? Rajah is aging and his descendants are not interested in managing the tea estate. Makaibari tea estate was set up by Rajah's great grand father Girish Chandra in 1859 and was passed down the generations to Tarapada, then to Pashupatinath and finally to Rajah. However as per the deal, Rajah Banerjee will remain at the helm till he retires although he is now a minority share holder. Chatterjees are not new to tea and own tea estates in Assam, Dooars and several other places. 
When you look at the tea gardens, it looks like millions of rows of deep green tea bushes spread over miles of rolling fields on mountainous terrain. There are 700 workers chosen from the local community every day to work at the gardens for tea plucking, and 70% of them are women. 
Makaibari Tea Factory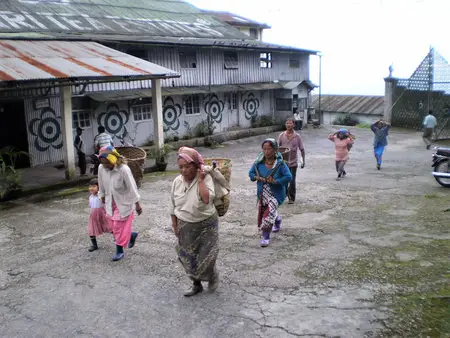 Women returning to the factory to hand over 
their collections after plucking tea at the gardens 
Rajah Banerjee says "This is my dreaming land. The passion for tea is to make the specific personality for Makaibari reflected in a cup anywhere you drink it in the world. Darjeeling tea is not an industry. It's a handicraft, a very specialized art". 
Walking into the factory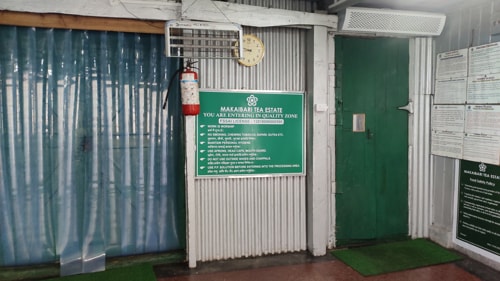 Makaibari has adopted permaculture, which is an integrated approach towards managing the plantations and forests. In this system, the tea bushes co-exist with forests and other plantations. In most other gardens only one crop is cultured. The forest has its own wildlife including leopards, deer, birds, spiders, snakes and many other animals that live naturally. 
Drying of tea leaves - Makaibari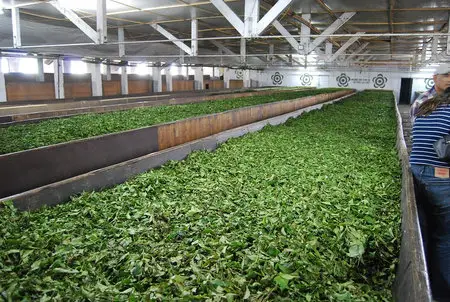 So how do you experience this wonderland where the nature, human begins, animals, trees & plantations have all been synergized perfectly? 
Home Stays & Eco Huts
In 2005, some villagers and tea garden workers of Makaibari decided to offer part of their own homes to accommodate tourists and visitors. This was to satisfy the constant demands from the tourists to open up opportunities for them to experience the garden & its activities over few days time. And at the same time it provided an alternative source of earning to the villagers in such difficult time of the tea industry. This was actively supported by the management of Makaibari Tea Estate. 
Makaibari Home Stay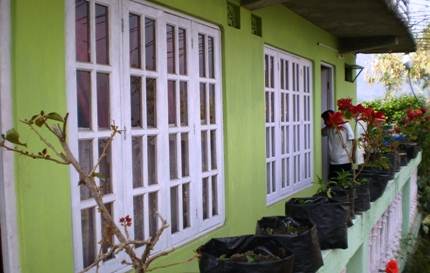 As a result, today there are 24 families who have renovated or extended their homes nicely and offer rooms to tourists in form of home stays. The rooms are clean & comfortable and have bathrooms that have been modified in western style to suit most tourists. Hot water is provided. 
These home stay bookings are coordinated by a local body known as Volunteer in Makaibari (ViM) which comprises of a few volunteers who facilitate the bookings and also coordinate and conduct the tours & activities. 
A typical bedroom in Makaibari Homestay 
The rates are very attractive (currently Rs 800/- per person per night, subject to change) and includes homemade breakfast and two full meals. Most of the homestay owners are good cooks and prepare Nepali food really well. 
They would even invite you to use your own culinary skills if you so like. Or even learn how to make Momos from them (momos are specialized Tibetan dumplings with veg or chicken fillings). 
Western style toilet in Makaibari Homestay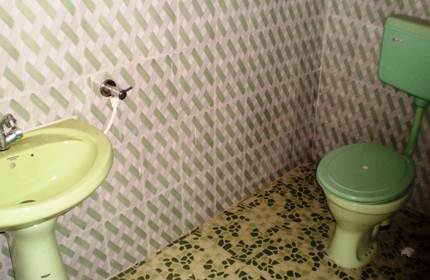 Remember, these are simple home stays. The owners' families haven't yet learned how to change their own lifestyles to offer professional hospitality. They probably will never learn. So you will live their more as an extended part of their family. You will probably dine together with them on the kitchen table. Of course you can ask them to serve the food in your room as well. 
One such homestay belongs to Dilip Bhujel. Who is he? He is the cook of the tea estate owner Rajah Bannerji. So a great advantage in his Homestay is to experience the food he prepares. Secondly his guest room is also quite spacious and has a sitting area. 
Dilip Bhujel of Makaibari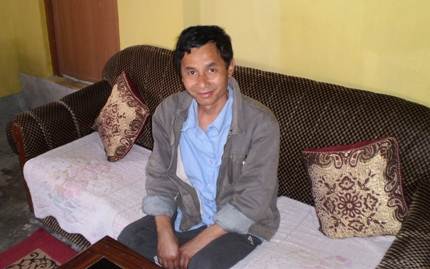 It's a great opportunity to enjoy traditional local food that are prepared from the organic produce of the villages. And as you stay with the families, you will get a chance to understand the local culture and life of people in this part of the world. You will see how the families with their children live their daily life as you stay in the same house. 
Dilip Bhujel's Homestay Guestroom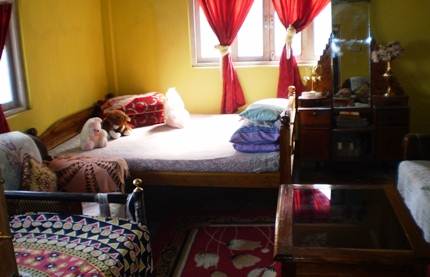 There are also a few Eco Huts which offer more privacy and are therefore a little more expensive than the home stays. The Eco huts are located next to the family accommodations. There too all three meals are offered and included in the rates. 
Dilip's kitchen which guests can also use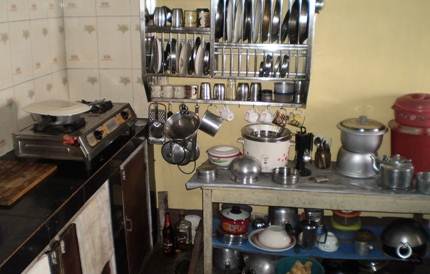 While most of the Home Stays and Eco huts are located in Makaibari, there are few other that are located in the nearby villages including Fullbari, Cheptay, Thapathali and Koilapani. All are similar and will offer you the same amenities and opportunities to explore the estate. 
Activities while in Makaibari
You can pursue several activities while staying in Makaibari. Here are the ones that are most popular to the tourists. Ask the host and they will organize the tours and other activities for you. Some will involve additional cost. 
Guided tour of the tea gardens that includes walking through the estate and tea bushes, watching the garden workers plucking teas (depending on the season) and talking to them, how tea is processed in the factory from drying to packaging, tea tasting session etc. 
Take a nature walk through the lovely mountain areas and valleys. 
Take a walking tour of the villages and know about the village life in the mountains. 
Bird watching and experience the wildlife. 
Take a Toy Train Ride from Kurseong Railway Station to Darjeeling and back. 
Explore the many attractions in Kurseong including View Points (Eagle's Craig is my personal favorite), Deer Park, forest museum, temples, lakes and more. Your host can organize a taxi to take you to some of these places for a half day or full day tour. 
Ask your host and they can organize a local cultural dance program for you in the evening. 
If you want to pickup some prized tea leaves of Makaibari while visiting the factory, there is a factory retail outlet which is located just inside the main gate and to the left. The lady at the counter or a staff can help you make the right selection. There are pouches and small boxes of tea of different varieties that are kept on the shelves. While all those tea have been produced here, they are all taken to Kolkata for packaging and some of them are brought back at the factory outlet to be sold to the visitors. 
Makaibari Factory Outlet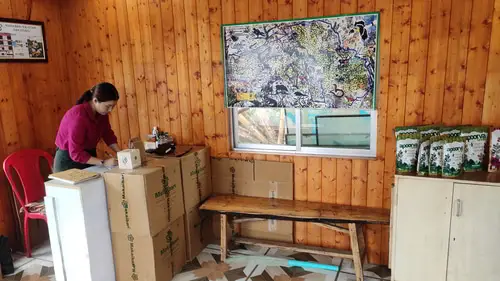 If you want freshly plucked first or second flush tea, ask the lady at the counter. If she has it in her stock then she will offer that to you, otherwise if some stock is still available at the factory, you may need to wait for a while and she can get it packed in a normal aluminum foil pouch. Such pouches come in 500gms. Second Flush freshly plucked tea at Makaibari costs Rs. 4,000 per kg (as in June 2022). 
Estate Accommodations
Makaibari Tea Estate itself offers limited accommodations to tourists and its guests. The Stone House is a heritage building of the colonial days. It has four excellent large rooms with double beds. There is a large living room in the building complete with a fireplace and nice seating arrangements. There are also three cottages or bungalows with six rooms that are available for rent. They provide TV, intercom and other basic amenities including hot water in the bathrooms. These cottages are mostly occupied by the researchers from all over the world. 
Update: The heritage Director's bungalow, a semi-wooden structure where the Banerjee family has been living for the past four generations haven been razed with fire on March 16, 2017 and completely destroyed. Many valuables stored over the 4 generations including rare artifacts, photographs, books, trophies and even skins of leopards hanging on the walls have all been destroyed and virtually no valuables could be recovered. However there has been no casualty. 
Update: Exactly after one year from the destruction of his heritage home, Rajah Banerjee finally makes his exit from Makaibari on March 17, 2018... today was his last day here. On a video message posted in Youtube, he mentioned that his second calling in life came on the day the heritage bungalow was gutted by fire.... he knew it was his time to move on. He now wants to create a brand called 'Rimpocha' whereby he plans to use his deep learning and skills honed in Makaibari and replicate that across the length and breath of the country to help marginalised farmers and women to practice organic agriculture and make a better harmonious living. 
Location
Makaibari is a small village where the Tea Estate is located. It is in between Darjeeling town and Bagdogra Airport / Siliguri Railway station and on the Pankhabari route. The Kurseong town is only 3kms from here. From Bagdogra / Siliguri the distance is about 45kms and takes one and half hours to reach by car. From Darjeeling town it's about 37kms and takes about the same time. 
Climate
The winter temperature ranges between 3 to 8°C, and the summer temperature between 12 to 20°C. Monsoon period is between July to August (and even early September). 
Contact Information for Inquiry & Booking
For Home Stay booking at Makaibari: 
VOLUNTEER IN MAKAIBARI 
Call Nayan Lama who is a volunteer in Makaibari and Homestay facilitator. 
For Makaibari Tea Estate related info: 
Mr. S. K. Banerjee 
Makaibari Tea Estate, Kurseong, West Bengal, India 
Related Articles
4) Check out
Off Beat Stays
to know about the amazing places to stay around Darjeeling that take you to a different world where nature, people, plantation and animals have all come together in a perfect harmony. 
Visitors' Reviews/Comments
Dilip R Adhyaru (April 2018) 
Hi Raj, We are visiting Darjeeling and Gangtok in June.We want to make one day homestay at Makaibari on 19th.Then we will travel by early morning toy train from Kurseong to Darjeeling.Is it a good place to stay? We hope you will help us as you have been doing to many others. We know you as an encyclopedia of North East. Regards. 
Raj (darjeeling-tourism.com) April 2018 
Hi, Makaibari homestays are run by the tea garden workers. They are simple but clean, and you will get a nice flavor of the garden life. Rajah Banerjee, the last in the 4-generations of family business who owned the Makaibari Tea Estate and the legend behind Organic tea culture and creation of the homestays in Makaibari providing alternative sustenance to the villagers, has sold off his last stakes of the estate in March 2018. Although everything would continue as usual, you might find the mood of the villagers a bit pensive. 
David Gandhi (April 2015) 
My wife and I arrived at Makaibari after a 3-night stay in  Darjeeling town (which we found to be quite congested and polluted) and were immediately immersed into an atmosphere of tranquility and serenity. 
The room provided to us was comfortable with adjoining bathroom/toilet. The view was awesome and our hosts Robin and Hema Khawas (with son Rohan) were very hospitable, accommodating and friendly. Both Robin and Hema work at the Tea Estate but their work hours allow sufficient flexibility for them to cater to the needs of guests. The food provided was wholesome, simple and to our taste (less spicy as requested). Hot water was provided in bucket for bathing.  As expected the facilities are basic without TV or WiFi, but we were able to access internet on our phones (BSNL). 
We found the Tea Estate itself is really out of this world especially since we are interested in environmental conservation and organic agriculture and spent hours just hiking around.  On the first day we were given an excellent guided tour by Prannay and the Homestay Coordinator Nayan Lama was ever ready and accessible to help us in every way.  At our request, he arranged for a meeting with Rajah Banerjee who is a pioneer in this field and a great person to talk to and learn from.  The Tea Tasting with him was a highlight of our trip. 
Our 3 nights at Makaibari passed all too soon and we left vowing to return as soon as possible! Thanks to all who made our stay so enjoyable. 
Jackie Neufeld (December 2013) 
My daughter and I had the opportunity to stay in a home stay at the Makaibari tea estate in June of 2011. We stayed with Sheela Lama's lovely family. We enjoyed our stay very much - Sheela and her daughter Dupeeka taught us how to make Momo's and provided the most delicious meals! Dawa Lama gave us a most informative tour of the tea plantation and factory. He also took us on hike through some of the hillside areas above the tea plantation. Dawa was lots of fun and, like everyone we met at Makaibari, friendly, helpful and just plain nice!  We would definitely return to Makaibari if we got another chance! (We live in BC, Canada.) 
Sumanta Sarkar (June 2013) 
The homestay in Makaibari was splendid. I enjoyed my stay with my family and relatives. I am really pleased by the help and knowledge I gained from each one of the character I met during my stay. Mr. Nayan Lama and Mr. Pasang were really quite nice guys along with the house owner's family where we stayed for three nights. A whole day Kurseong visit was also quite enjoyable and informative. We visited the garden and participated in Tea Tasting. Mr. Banerjee guided us through his office and helped us gather information regarding Tea. I will go back again and again. I do teach in North Bengal University and National Institute of Tea Management yet I gained much more knowledge on Tea by staying in Makaibari.