Latpanchar - A Bird Watcher's Paradise
Not many have heard about this place. Because for some strange reason, Latpanchar hasn't had much tourism development. This is despite the fact that it's a beautiful mountain hamlet offering stunning views including that of Kanchenjunga, having wide range of bird & animal life as well as many different types of amazing plantations. 
Latpanchar actually forms the highest part of Mahananda Wildlife Sanctuary with an average altitude of about 4,200 ft. Since it's part of the sanctuary, there is good chance that you will come across some wildlife here like deer, barking deer, wild boars, and some times even leopards and elephants while exploring the jungles around. 
From New Jalpaiguri (NJP), Latpanchar is at a distance of about 44kms and takes about one and half hours by car. You will need to take the Sevoke road. Once you reach the place Kalijhora (after about an hour's drive), there is a narrow winding road that goes uphill on the left. From this point Latpanchar is another 13kms, the last stretch is quite steep. There is hardly any traffic on this narrow road, but often the road is not well maintained and gets full with potholes particularly during monsoon. 
Even during peak tourist season in Darjeeling, you will hardly find any tourists here, giving you all the peace and tranquility that you are looking for along with bounty full of nature. If you plan to explore the forest, you should take a guide from the village. A narrow boulder road winds down to the sanctuary (about 5kms away). You can choose to walk (most do so) or take a jeep. Once in the sanctuary, it will take about 2 hours of walk to explore. Many come here to relax and experience the rich bird life along with the scenic beauty in and around the hamlet. Birding guides are also available. 
Latpanchar (also pronounced as Latpanchor)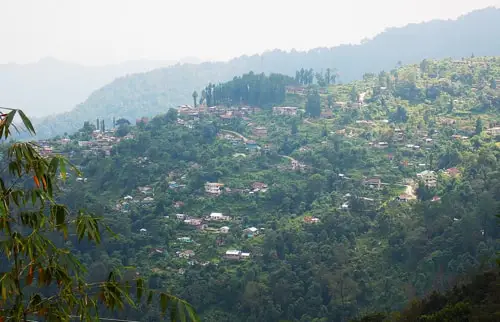 However since it has not yet been developed as a proper tourist place, there are limited facilities and accommodations for tourists. Most private lodgings are home stays that offer simple rooms with basic amenities, but touching hospitality with care. There is also a Forest Rest House at the jungle (about 4kms below) which has two nice rooms. This used to be the bungalow where the British officers in the early 1900s stayed while looking after the expansive Cinchona plantations around. 
Cinchona Plants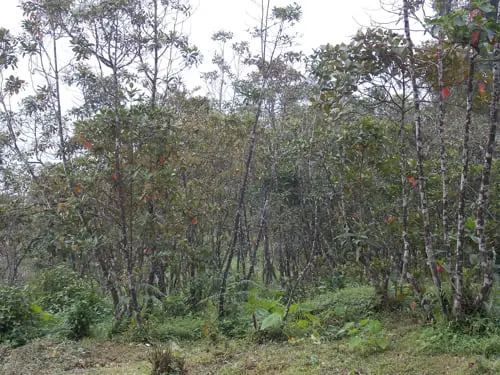 There is close to 1,400 acres of cinchona plantations in the area. Cinchona plants are used for extracting chemicals to cure diseases like malaria. There are several Cinchona extraction factories located in the area. 
Although Latpanchar is a small & sleepy mountain village, you will be surprised to find three English medium schools here for children. While the villagers here mostly live on Cinchona plantation work and other basic farming activities, the children have been receiving good education in the schools. 
What to see in Latpanchar
1) Walking towards and through the Cinchona plantations is a pleasure and wonderful experience. The meandering road passes through forests of sal, teak, pine and dense Cinchona. Take a morning stroll... you will love it. 
2) Visit the Ahal Dara View Point. You can take a car, go up to its base (about 5kms from the village), and walk up the boulder path to the top (about 500 meters). Jeeps can take you up for some distance though. From an elevation you can get spectacular view of Kanchenjunga peaks. Look below and you can see the lower reaches of the forests on mountain slopes and the river Teesta flowing as far as Haldibari. 
Ahal Dara View Point. A glimpse of Teesta.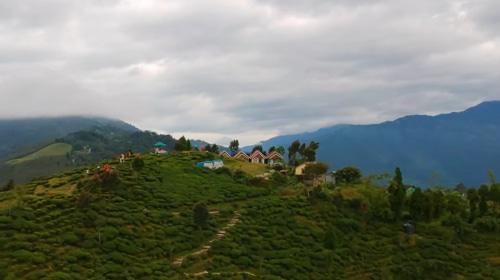 On a clear day you can see Gangtok and Kalimpong townships from here and even the famous Silk Route through which once trade took place between India and Tibet. There used to be long line of mules carrying loads across the border along the Silk Route. However most come to Ahaldara View Point to watch the stunning sunrise. 
3) From the base of Ahaldara View point the main road continues and leads to a lake called Namthing Lake through Cinchona and pine trees. One side of the lake is surrounded by dense pine trees. Other than many different types of birds, this lake area is well known for the rare Himalayan Salamander (small lizard like creatures). A board says not to swim at the lake an disturb the creatures. 
Namthing Lake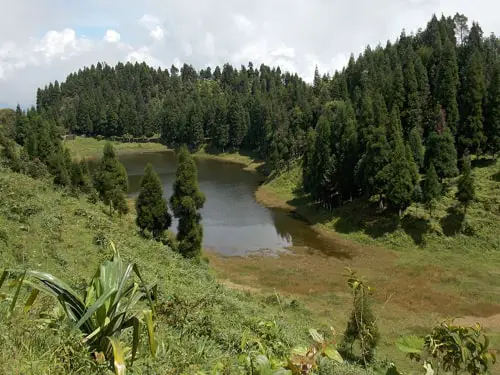 You should ideally take a Jeep or Scorpio type vehicle (which costs about Rs. 800 for round trip). However during the summer season, the lake becomes almost dry. 
Road to Namthing Lake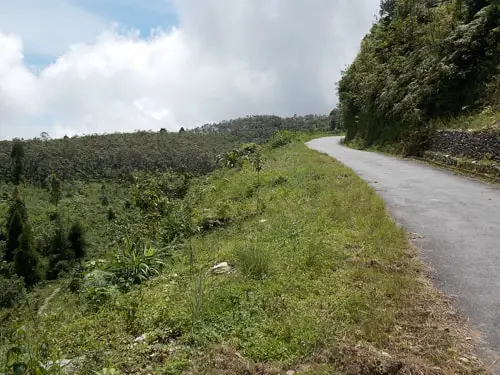 4) Another view point is Sarsari Dara. This is another place from where you get sweeping views of Kanchenjunga snow peaks, other mountains and the valleys around. You can walk up to this place (about 1.5 kms from the village). 
5) Sitong Ornage Orchard: Although Latpanchar comes under Sitong-3 Mahakuma, Sitong itself extends to other areas like Sitong1 and Sitong2. Road to Sitong1 is extremely bad and requires a jeep to access, but that is where you will find some of the most beautiful orange orchards (you should not however pluck oranges without permission from the orchard owner... if you ask, they will let you pluck one or two). 
Animals & Bird Life in Latpanchar
As I mentioned earlier, Latpanchar is part of Mahananda Wildlife Sanctuary which is well known for its wide range of animals and birds. There are some 36 types of animals and over 240 species of birds which can be spotted here. 
Most common animals include Himalayan black bear, leopards, deer (including barking deer), mountain goats, monkeys, wild boars, and even elephants which often drift to this side. In order to see the most exotic animals, you will need to go to the core area of the sanctuary which is about 6kms walk from the village. You should always take an armed guide with you. The lodge can arrange for the guide. Most tourists visit the stretch of forest area between the Forest Rest House and Raja Rani Hill. 
Among plethora of birds, the commonly seen ones include yuhina, scaly thrush, woodpeckers, black bulbuls, ashy backed shrike, spotted eagles, magpie, minivets, minla, drongo, King Fishers, Robins and if you are lucky, Himalayan Pied hornbills. 
Best Time to visit Latpanchar
October to May is the best time to visit Latpanchar. However winter (December to February) can be quite cold out here. Monsoon (June to September) should be avoided to visit the sanctuary. In fact the sanctuary  is closed between June 15 to September 15 ... this is also the animal breeding session. 
There are no government operated safaris or guided tours available at this end of the sanctuary (i.e. from Latpanchar). However Private guides are available to take you to the sanctuary for Rs. 400/- per trip while the birding guides are available for Rs. 600/- (indicative cost only). There is no separate entry fee to enter the wildlife sanctuary. 
Where to stay at Latpanchar
The best option is the homestay run by Padam Gurung and two of his partners. It's known as Hornbill Nest (earlier Cinchonest) which has three triple bedded rooms with attached bathrooms, a nice common balcony with lovely views, and a kitchen dining space serving homemade food. They also have several other homestays and cottage accommodations nearby. Visit
Latpanchar Lodging
for details about the lodges, service, food and contact information for booking and inquiry. 
The WBFDC Forest Rest House (called Latkothi) has two well maintained rooms. It is located in the area where the boulder road ends (about 4kms from Latpanchar Village in the jungle) and is surrounded by dense forest. While the surroundings here is awesome and quite attractive to nature, bird and animal lovers, the service can be quite poor. I am aware that several tourists families after having stayed first night at the Forest Rest House, decided to get back to the village lodges for further night stays. 
You can book the Latpanchar Forest Rest House through Divisional Forest Officer, Wildlife-I, Bengal Natural History Museum, Meadow Bank Road, P.O. & District Darjeeling, PIN 734101 
Phone: 0354-2254308; Fax:0354-2257314; Mobile: 09614329694 
How to reach
You can take a taxi from NJP railway station or Bagdogra airport. Latpanchar is about 44kms from NJP (takes about 1.5 hours by car) and 49kms from Bagdogra (takes 1 hour 45 minutes by car). From Kalijhora (on Sevoke road), a hilly road (not in a good condition though) goes up on the left and leads to Latpanchar. Reserved small taxi fare is around Rs. 2000/- from Bagdogra airport and Rs. 1800/- from NJP railway station or Siliguri (Fare updated: March 2021). 
Related Articles
Visitors' Reviews/Comments
Suprotap Chaki (March 2019) 
Hi, I am from Bangladesh. I am planing to come to Darjeeling in last week of May with my wife and 3 year old son. I am interested to visit Latpanchar. I have two questions? 1. Is it safe to go with my wife and son there? 2. Is it possible to make a day visit to the place from Darjeeling town going early in morning and coming back in evening. It will be helpful for me if you give some info regarding the trip. 
Raj (darjeeling-tourism.com) March 2019 
Latpanchor is safe for families. Day trip from Darjeeling to Latpanchor is possible (take the route via Kurseong, Bagora which would be shorter). But a day trip to Latpanchor from Darjeeling is not quite popular and meaningful. 
Shreeya Bhowmik (November 2018) 
Here is an important point for people who want to visit Latpanchar using budget transportation: From NJP/Bus stand to Kalijhora you may get a shared Jeep, after that you have to book a private car. As we came from Darjeeling, we took a shared Jeep and got down at Kurseong. It took 200/- per head and we booked three seats for comfort. We heard that we would get shared Jeep at Kurseong but due to huge rush the locals said we should not wait and instead book a private car. We came to know that all the shared jeeps from Kurseong to Latpanchar are available at Kurseong Tourist Lodge stand. However my husband booked a private car for Rs 2000/-. It took 2.5 hours to reach Latpanchar from Kurseong. 
The whole Latpanchar is extremely calm and serene and our experience was awesome. First day we went to Mahanada Sanctuary, it was 3km from the homestay. We didn't take a car and instead trekked there. In fact our homestay owner himself never encouraged to take a car for this road. We also visited Sansari Dara. Next day while returning to Siliguri we visited Ahal Dara, Namthing Lake, few tea gardens (including Sittong), and Shiv Khola (roads were pretty bad here). In a nutshell we enjoyed thoroughly and once again I want to thank your website. 
Supratik Ghatak (November 2018)  
Hi Raj, I have gone through all your posts and found it perhaps one of the best information provided to the tourists among all tourism sites in the country. I am planning to visit Latpanchar for a birding trip in February.19. I would like to know the taxi fare from Bagdogra airport to Latpanchar, Siliguri to Latpanchar and New Jalpaiguri jn to Latpanchar. Also, is there any possibility to view upper Himalayan birds? 
Raj (darjeeling-tourism.com) November 2018 
Hi, reserved small taxi fare from NJP or Siliguri to Latpanchar is around Rs. 1600, from Bagdogra the fare is around Rs. 1800. Due to its low altitude, spotting upper Himalayan birds at Latpanchar is difficult but possible. 
Basudeb Gupta (January 2018) 
I along with my family just returned from Latpanchor on 21st Jan 2018. The hospitality of Padam Gurung's homestay, namely Hornbill Home Stay is good enough. The place is not for general tourists. It may be for bird lovers & birding. But exact time of birding is not known to Padam Gurung and his team. One must have SLR camera & Binoculars to watch birds, then also its not easy to find out birds. No safari being conducted in Mahananda Wildlife Sanctuary which is located around 4.5 km from hornbill homestay. 
But it is confirmed from tourists & local people that sun rise & others scenic beauty can be best watched from Ahal Dhara viewpoint in the month October - November. However we have had a glimpse of sunrise from Ahal Dhara. Water in the lake Namthing is available in rainy season only and salmander is also available in rainy season. 
Debabrata Mukherjee (November 2016) 
The road conditions are the worst. There is actually no road. I went to this place today by car via Kurseong and returned via Kali jhora. The scenic beauty is excellent. But on the way and due to road conditions you will feel that you have made a terrible mistake by selecting this place, specifically if you are going with your family. 
Tanumoy (October 2016) 
Excellent place for nature lovers. You need at least 2 nights booking here. You can get 360 view of Himalayan ranges along with Mt. Kanchenjunga from Ahaldara view point. This place in really a paradise for bird lovers. 
Kankan Sengupta (February 2016) 
Honestly Latpanchor and Thamdara (Shittong, also known as Sitong) are paradise of Himalayan birds. It also gifts us a charming sunrise at Durbin dara, and a breathtaking view of a full-moon night. Picturesque Kanchenjunga and its range from Ahal dara is one more attraction of that place. Don't miss tea garden and view point at Thamdara 
Indronil Banerjee (September 2014) 
Dear Sir, I'm planning for Latpanchar trip from Darjeeling (day trip), and if I wish to stay for one night, any private hotel or Govt forest rest house is available there? Please guide me in detail. Regards 
Raj (darjeeling-tourism.com) April 2014 
You can stay at Padam Gurung's lodge (earlier known as Cinconest and now Hornbill Nest, although no board). His number 9475959974. They offer 15% discount to Darjeeling Tourism Card holders on rate which includes both stay and all food. Although it's a basic accommodation, it's actually the only decent accommodation in the area. The forest rest house is about 5kms into the forest area, secluded and has 2 rooms ... although the rooms are better, but it can be quite scary out there at night with virtually no service. 
Preeti Patel (April 2014) 
Hi, First thanks for the info already provided. I just want to know which are the birding and wildlife places around Darjeeling and as I am a hobbyist normally travel alone .Time is not a constraint .Could you please guide. Thanks 
Raj (darjeeling-tourism.com) April 2014 
Here are some nice birding & wildlife places in Darjeeling area: 
1) Latpanchar (highest part of Mahananda Widlife Santuary) 
2) Mahananda Wild Life Sanctuary (access through Sukna) 
3) Singalila National Park (on the route to Sandakphu) 
Nitin (March 2014) 
Hi Raj, I am planning to come to Darjeeling for 2 nights 20th and 21st April) with my wife. I liked the place Latpanchar by reading your description. I want to know 
1)how far it is from Bagdogra airport? 
2) Is it safe to stay there for only two of us? 
3) contact details as number given is not reachable for cinchonest 
Raj (darjeeling-tourism.com) March 2014 
Latpanchar is about 50kms from Bagdogra airport. It will take about 1hr 45minutes to reach. It's safe. If you can't get through the number, go through a tour operator.