Manebhanjan
Gateway to Singalila
Manebhanjan (or Mane Bhanjyang) is a small mountain township located about 26kms from Darjeeling, 92kms from Siliguri, and on the border of India and Nepal at an altitude of 7,054 ft (2,150 m). Bhanjayang in Nepali means Junction, and Mane stands for Buddhist Stupas. So the name Manebhanjan means the junction of Stupas. This is the place from where the popular
Sandakphu Trek
begins. 
The main economy here is based on trekking and tourism. Regular jeep safaris take place from here to the nearby areas including Sandakphu and the Singalila National Park. Manebhanjan is one place where you will still find the old 4-wheel drive Land Rovers that were once used during the British days. 
These vehicles are ideally suited to climb the steep gravel road that leads up to Sandakphu. Only 40 odd such Land Rovers are still remaining in this area and are maintained by their owners. The Land Rover Association now allows only these vehicles to ply along the Sandakphu route, although one can take his personal 4-wheel-drive vehicle too. 
The main market area of Manebhanjan gets quite congested during the day time. Land Rover and taxi stands are located here. Taxis which are commercial vehicles like WagonR, Sumo etc are mainly meant for taking tourists out of Manebhanjan for transfers to NJP/Bagdogra or other places around Darjeeling.  A playground is located a short distance away where soccer tournaments are held on special occasions. Up on the hills, there is a nice colorful monastery amongst pine trees. 
The market area is full of small shops, mainly grocery and stationery stores. There are also two medical stores in the market area. You can buy your essential items here and stock your provisions including mineral water, dry food etc. There is no proper restaurant in Manbhanjan, although there are couple of low grade eateries around in the market area. Most tourists and trekkers have their meals at the hotels or homestays where they put up. 
Manebhanjan Market Area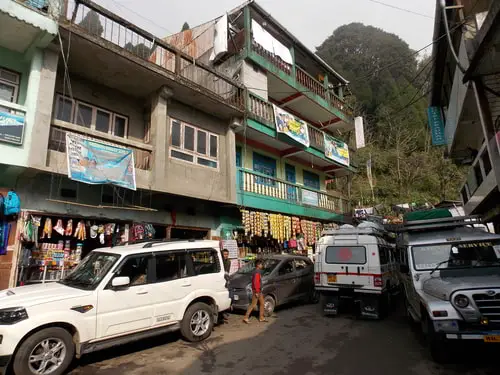 The Highlander Guides & Porters Welfare Association offers registered guides and porters to the trekkers. Their office is located shortly after entry to Manebhanjan and on the right. The booth of the Land Rovers association is located in the main market area and after the taxi stand. 
The office of the forest department that issues permits to Singalila National Park is located towards the end of Manebhanjan township and shortly before the uphill road starts. Permits are required by all going towards Sandakphu. It's an office with a large room which is also used for holding seminars by the Singalila Wildlife Division. There is a desk at one corner where the staff issues the permits. 
Highlander Guides & Porters Welfare Association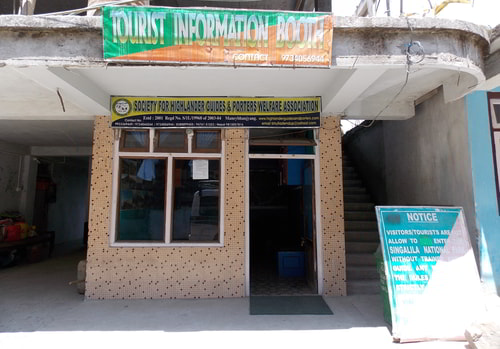 How to reach Manebhanjan 
From Darjeeling the distance to Manebhanjan is 26kms. The route goes via Ghoom and Sukhiapokhri. You can take a reserved taxi from Darjeeling Chowk bazaar or Gandhi Road (Club Side) Taxi stand and reach in about 1 hour 15 minutes via Sukhiapokhri. There are also regular shared jeeps and buses up to Sukhiapokhri. So alternatively you can come up to Sukhiapokhri (takes about one hour from Darjeeling) and then take an onward jeep up to Manebhanjan. From Sukhiapokhri, there is also a 4km trekking route up to Manbhanjan. So if you want to warm up, you can even take this short trek. 
The main route to Manebhanjan from NJP/Bagdogra is via Mirik, Pashupati Nath Market and Sukhiapokhri (takes about 4 hours by car). However if you take a reserved taxi from NJP or Bagdogra, 2kms before reaching Sukhiapokhri the driver will veer into a steep downhill narrow road on the left that meets at Manebhanjang bazaar area. This route is shorter. 
Alternatively you can come up to Ghum along Hill Cart Road, take a left turn towards Sukhiapokhri and then reach Manebhanjan (this route also takes similar time). Some times taxis come only up to Mirik, and then you need to change over to another one. Pre-paid taxi is not available from Bagdogra (or NJP) all the way up to Manebhanjan. 
A cheaper way of reaching Manebhanjan from NJP/Siliguri is to take a shared jeep up to Mirik or Sukhiapokhri, and then another shared jeep to Manebhanjan. But this takes much longer time as shared jeeps stop at many places, plus a break journey is involved. Shared transport is however not available from Bagdogra airport. 
Manebhanjan Playground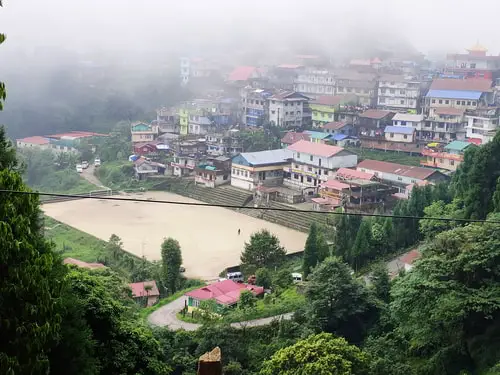 Accommodations in Manebhanjan 
Some residents offer home stays in their private houses. One of the best home stays here is offered by Keshav Gurung, a courteous and friendly man. His 2-storied house is one of the best in the locality and is very conveniently located next to the jeep stand. The hospitality, cleanliness, basic amenities and the great food prepared by his wife are really special. Check out
Home Stay in Manebhanjan
to know about this home stay. 
While there are several small hotels, couple of them stand out from the rest for their popularity with trekkers and tourists. One is Hotel Exotika, and the other is Hotel Pradhan, both located in the main market area. Check out
Hotels in Manebhanjan
to know about them, their contact info, rates etc. 
Related Articles 
Visitors' Reviews/Comments 
Alaap Saha (January 2018) 
I want to take my personal car upto Manebhanjyan during my Sandakphu Trek. I want to park my car in any kind of paid garage facility. Can you please suggest me any place likewise where I can stay for a night & park my car for 6 Days? 
Raj (darjeeling-tourism.com) January 2018 
Hello, there is no such facility in Manebhanjan to park your car for several nights. 
Shamshad Ali (May 2017) 
I intend to trek the Sandakpu trail in the end of December so I will need heavy precaution. Is their any way getting trekking equipements like rucksack, sleeping bag, heavy jackets at rent at Manebhanjan. I am from Kolkata but do not want to get it rented here and carry so far. 
Raj (darjeeling-tourism.com) May 2017 
You won't get all that in Manebhanjan.