Best Hotels in Manebhanjan
While a nice
homestay experience in Manebhanjan
is possible, good hotels are far & few. The ones that exist are not the type that most of us would be very comfortable with. They are mostly meant for low budget trekkers. However having said that, there are couple of hotels that I prefer over the others. 
Hotel Pradhan
This is arguably the best hotel in Manebhanjan and located right at the market area and overlooking the main road passing through the town. This is a budget hotel and owned by Nilesh, a local. The reception desk is at the ground floor although it may not be always manned. Nilesh is usually available at the reception. 
Hotel Pradhan, Manebhanjan 
The rooms are simple and basic, without any fancy furniture or gadgets, but clean. The two notable and important features of the rooms are... they have western style toilets and geysers... geyser is a rare offering in Manebhanjan. Right next to the hotel is a grocery & convenience shop where you can pickup essential things. 
The hotel has a restaurant in the ground floor which is also open to outsiders. It serves breakfast, lunch and dinner... mostly Indian and Nepali type cuisine. They also make momos and Chinese dishes. The price of food appeared to be little expensive compared to the standards of the town. An egg meal costs Rs. 200. Nilesh also arranges for treks, tours, transport and guide for the Manebhanjan to Sandakphu / Phalut route. 
A room in Hotel Pradhan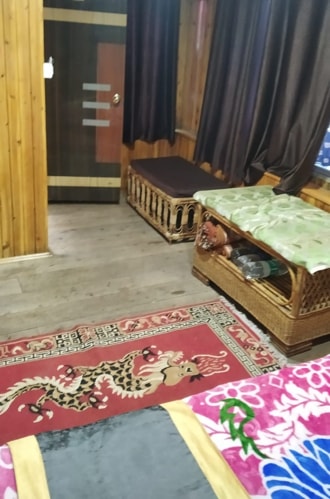 Contact Info & Indicative Rates
Double bedded rooms: Rs. 1200/- per night.  
Phone: +91-9378432467, 9734148217 
Hotel Exotica
More than the hotel itself (which is actually quite basic and does not look attractive), it's the person owning the hotel draws me here. Because I get to understand a lot about the locality from Jeevan Chetri, owner of Exotika and popularly known in Manebhanjan as Masterji. 
He is a retired Head Master of the government school at Manebhanjan and everybody in the area would know him without fail. In fact many taxi and Land Rover drivers at Mane Bhanjan have actually studied in the school under him and respect him a lot. Some say that he was a very strict headmaster. However when you speak to him, he is a perfect gentleman. 
His wife, a retired Bengali lady, lives in Siliguri with their sons, but joins him once a while particularly when there are guests. She does most part of the cooking, while Masterji himself takes care of the hotel's day-to-day activities. He also makes the morning tea for guests. 
Hotel Exotika, Manebhanjan (Green Building) 
The hotel is located right at the main market area and right opposite to Hotel Pradhan. It's a 3-storied building, the ground floor houses a few grocery and convenience stores, the first floor is where few double bedded rooms are located, and on the top floor is a dormitory with several beds, a small common room, the kitchen, the dining room, and adjacent to it are the couple of private rooms where Masterji and his family stay. 
A narrow and steep stairway from outside leads to the first floor. Actually you need to climb couple of flights of stairs to reach to the rooms. The double bedded rooms are quite small, have a queen or twin beds each, wooden partitions between them painted in bright blue, attached bath which too is very small but has a western toilet and a tiny wash basin... that's it. 
A mirror is fitted on the room's wall. There is no TV or any other gadget. There is of course a small table and a chair where you can keep your stuffs. So overall very basic, but okay for a night stay. If you are finicky about cleanliness, you might find flaws. But there is no gross cleanliness issues I noticed. 
My Room at Hotel Exotica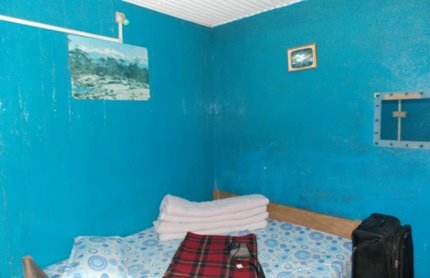 I took the last room on the floor and there is a balcony next to it. Although it's a common balcony, it practically belonged to me as there were no other guests that time. And there is a seat (a bench like structure) there. On a clear day when you sit there, you can see the chaos of traffic & vehicles below in the market area, but when you look up you can see the lovely mountains and the landscape. I sat there at night and in complete silence looking at the shadows of the mountains for hours. It was the night of Ram Navami, and the mountains ahead were garlanded with colorful lights, an unforgettable scene. 
The balcony and the bench 
where I spent several hours at night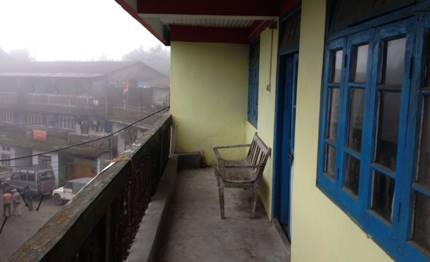 Food as I said is mostly prepared by Masterji's wife when she is around. It's simple Bengali/Nepali type food and includes rice or roti, dal, vegetables etc. They can also offer you chicken if there are more guests in the hotel. Otherwise Masterji says that cost of a meal can get exorbitant because he has to buy the chicken only for you, and therefore encourage you to have vegetarian meals. Eggs are of course available. In breakfast you can get toast, butter and eggs. 
Meals are charged separately, and I thought a tad high in price compared to the category of the hotel. This can be however due to the remoteness of the location and such is the case all along the trek route where food distinctly seems costlier than what they should be. 
Lights on the mountains at night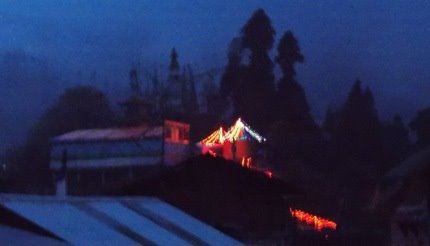 However the main value of Hotel Exotika comes into play when you converse with Masterji. He is a knowledgeable man and is well respected in the locality. He mentioned that once he lived in Calcutta where he met his wife. He worked in the Police department then. But being originally from Manebhanjan, he came back and joined the school here as the Head Master. 
His activities include a lot of social work as well. You will keep hearing stories from him and about his life. Just behind his small desk which is located at one corner of the dining room, you can see lots of medals hanging. Those are some of the many awards he received while doing work for the society. 
He is the receiver of Shiksha Ratna Award from the Governor as well. So you can understand his popularity and influence in the local community. 
Jeevan Chetry (Masterji). See his medals. 
Apart from telling you stories, he will help you find a good transport for transfers or Land Rover (old British 4 wheel-drive vehicles used on the route to Sandakphu), or a good guide for your trek. He will also give you lots of advises on do's and don'ts. Take them seriously if you are trekking. 
Note: The Land Rover booking office (a tiny booth) is located right next to Masterji's hotel. You may also sometimes find him sitting in the booth and helping with bookings. But he has an interest here. If he gets his hotel guests to book a Land Rover, he gets a commission. 
UPDATE: Masterji (Jeevan Chetri) has passed away in 2020. 
Contact Info & Indicative Rates
Double bed rooms: Rs. 700/- per night. A veggie meal can cost about Rs. 150/- per person. 
Phone: +91-9733044512 / +91-9733044512 / +91-3542-264387. There is no email. Vodafone mobile network is intermittent and works from some places. 
Keshav's Homestay
One of the best accommodations in Manebhanjan is
Keshav Gurung's Homestay
. The building looks nice from outside. There are two small cozy rooms upstairs for guests. Attached bathrooms have western commodes. 
Keshav's Homestay, Manebhanjan 
There is a dining room upstairs. The Nepali/Indian style food is prepared by the family. 
Contact Info
Keshav Gurung's Phone: +91-9564797551 (Alternative airtel mobile no. 9232695120) 
Email:
[email protected]
(Internet access in Manebhanjan is unreliable. So avoid emails. Better call him and talk over phone). 
There are also a few other small hotels in Manebhanjan like Hotel Kanchendzonga (Phone: +91-9475078833/ 9932397449), Hotel Chimal, etc. 
Related Articles
Visitors' Reviews/Comments