Meghma - The Mystic Village
The name Meghma (also spelt as Megma) comes from the word Megh, which stands for cloud. This Mystic mountain village located on the Singalila ridge at an altitude of 9,514ft is mostly covered with a blanket of cloud. And hence the name. 
Meghma. The road ahead goes to Tumling.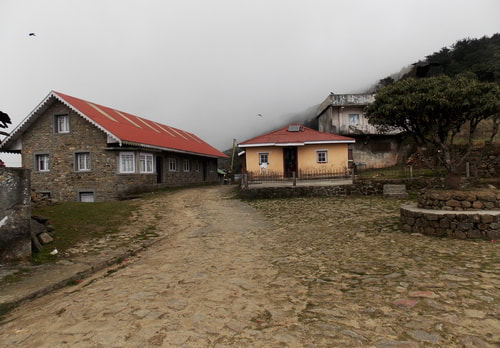 Meghma is located about 9kms from Manebhanjan along the way to the popular trekking destination Sandakphu. This sleepy hamlet falls right at the border of India and Nepal. In fact the border continues along the entire trekking route up to Sandakphu.  
At Meghma, the border literally merges. There is a border check post here where several security guards (about 20 from Sashastra Seema Bal) are posted on long term rotational assignments. And there are only handful village huts where the local families live. They are all Nepalese. 
The route from Meghma freely enters Nepal and India at various points. India and Nepal being two friendly neighboring countries, this area has been virtually kept as a free way for all, it's an open border and one doesn't need a Nepal visa to enter Nepal's territory here. 
Actually, due to harsh mountain terrain, it is practically impossible to reach out to the central areas of either Nepal or India through this border. However security forces can check your identity proof on their own discretion, and this is more applicable for foreign nationals. 
There is a small Buddhist monastery at the entrance of Meghma. It has a strange and a difficult name - Sangchen Ugagyur Hoshal Dechen Choling Monastery. This monastery was built in early 1950s and features 108 forms of Buddhas. 
Meghma, Monastery on the left and village beyond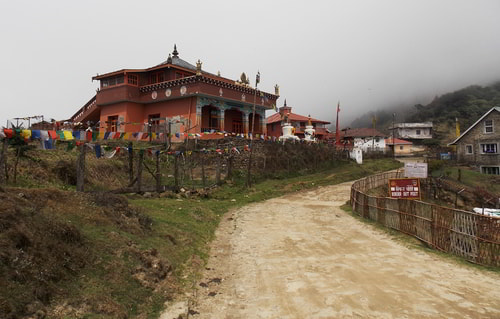 Buddhists believe that one gets to meet the different forms of Buddha during the journey from present world to the next. And the number and types of forms one meets depends on his Karma along this journey. 
This is a well known monastery in north-eastern part of India. On one occasion I was told that a monk had been praying inside continuously for three years without having seen the sunlight and the villagers would provide him food at night. This was to attain his next seniority level as a monk. 
Opposite to the monastery is the entrance to the camp of security guards and it's a restricted area. Further ahead you will reach the center of Meghma which is an open area. Here the gravel road (which is also the trek route) bifurcates. 
One on the right goes to Tonglu (2kms) through Indian territory and the other on the left goes to
Tumling
(4kms) through Nepal. The onward route from Tonglu also finally meets at Tumlling. So whichever route you take from Meghma, you will pass through Tumling. 
There is a restaurant at Meghma on one side of the central area. This once used to be the barrack of the security guards when the campsite was not in place. 
Now that the camp site has come up, all guards have moved there and the space here has been leased out to run a restaurant. It serves tea/coffee, snacks and even meals. You will also get packaged snacks and water here. 
Restaurant at Meghma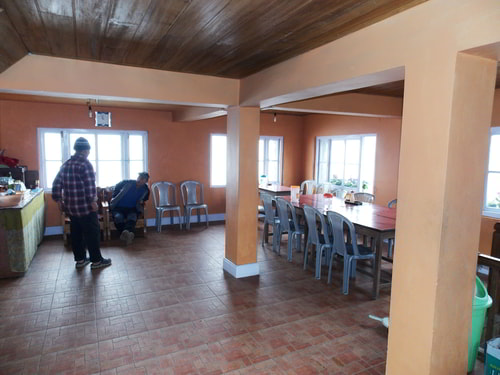 There is a toilet outside the restaurant. If you take tea or eat at the restaurant, you can ask the owner and he will open a small gate outside so that you can go down to the toilet. 
Right at the center of Meghma is a small cottage/tea house. The caretaker Indra Adhikari mentioned that this is the oldest hut in Meghma that caters to the tourists and trekkers. 
As you walk in, there is a wood finished cozy living room with low furniture. There is a large dining table at the center. 
On one side is the kitchen. During winter you can even get inside the kitchen, sit next to the earthen oven and warm yourself up. In fact several local villagers will also join you at times who walk in to have a cup of tea. 
Indra making eggs for us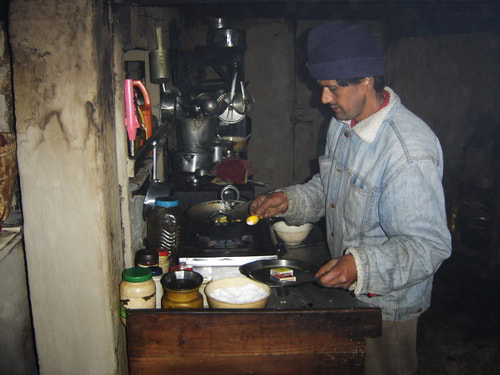 Indra is a nice man and living here since many years. He can prepare nice snacks. I loved the alu bhaja (homemade French fries) and Egg bhujia (scrambled eggs). 
At the back side of the cottage, there is an extension having couple of rooms for night stay. These are basic rooms and mainly meant for trekkers. However the rooms are clean and offer nice view of the surrounding areas. 
The toilet is downstairs and of Indian style. There is a large drum kept outside the bathroom filled with water and is the only supply of water for the toilet and bathroom. 
During winter, the top layer of water in the drum gets frozen, and you will need to literally break the icy layer to reach to the water below. However, good news is that Indra does provide hot water in buckets if you need. 
Some of the security guards posted here are quite friendly. Many of them actually welcome tourists to chat with them. In a place where life is virtually standstill, they too look forward to talking to tourists and get some diversions in life. 
This is where I met with Rigzing Gospel, a Nepali border security guard on duty at Meghma. He later became a great friend of mine. He has been on duty here for the last three years, and still had no idea how long he would need to continue. 
Rigzing on the left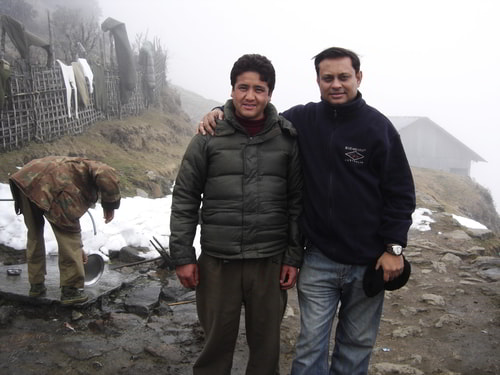 Rigzing mentioned that they were allowed to go home twice a year, once for 60 days and again later for 30days. But they can't bring their families here. 
Related Articles
Visitors' Reviews/Comments
Share your experience or stories.