Tumling
A village on the way to Sandakphu
What to expect
Tumling is a tiny village or a hamlet in the eastern Himalayas, located at an altitude of 9,600ft and on the way to the popular trekkers' destination Sandakphu. From
Manebhanjan
where the
trek to Sandakphu & Phalut
and the
Jeep ride to Sandakphu
starts, Tumling is at a distance of about 11kms and takes about 45 minutes by a vehicle. 
As you approach Tumling, you will notice small cottages and huts from a distance. There are only 12 to 15 Nepali families who live here. There are also few private lodges and huts that have come up here to cater to tourists & trekkers heading towards Sandakphu. 
Road passing snow covered Tumling village. 
This road leads all way to Sandakphu.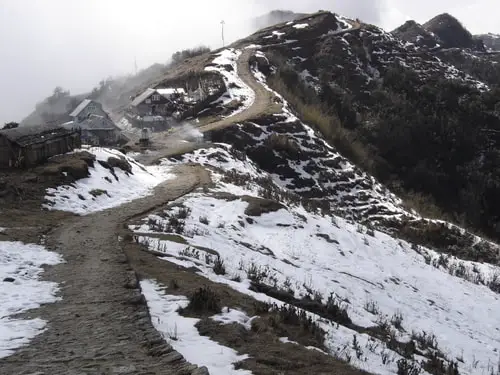 Tumling actually is part of Nepal although there is no restriction to visit the place for Indians or even foreigners with Indian visa. In fact the border between India and Nepal in this part is quite blurred and it's kind of a free way for all. You won't know when you are crossing the border. 
Tumling village in summer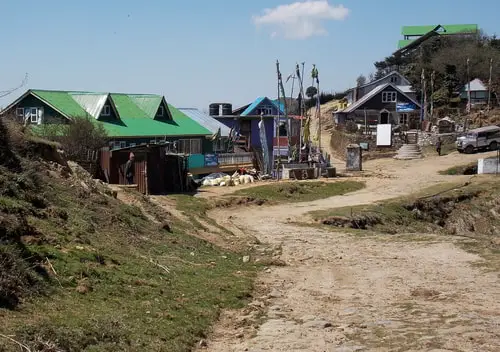 During winter (December through February) there can be heavy snowing in Tumling and it gets covered with thick snow. While trekking is possible during winter (requires adequate trekking & snow gears), vehicles may not be able to ply beyond Tumling as the roads can get blocked. 
What to see & do
Tumling is a tiny hamlet and there is not much the place itself offers to the tourists other than enjoying the serenity and lovely views of Kanchenjunga range and the mountains around. 
Right at the center of Tumling, there is a lovely view point which is more like an open field. From the edge of this area you get magnificent views of the Kanchenjunga snow peaks. On the far left is the Sandakphu peak. There is a signboard here pointing towards the
Singalila National Park
ahead. Entry to the park is about 1km from Tumling. 
Kanchenjunga from Tumling viewing area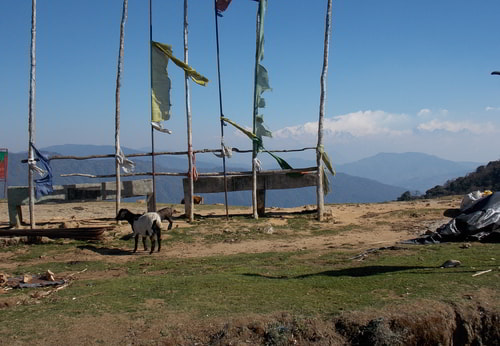 The viewing area in Tumling is just a small elevated land with couple of concrete benches which have not been maintained for years. Often cattle like cows, ships etc are left loose by the villages for grazing. Sometimes several goats or even roosters would be sitting on the benches instead of human beings. But on a clear day the view around is awesome. Kanchenjunga snow peaks appear to be at a stone's throw distance. 
Many Buddhist prayer flags are hoisted at the viewing area that flutter in passing breeze. The locals believe that fluttering of the prayer flags brings in purity and holiness to the area. During peak winter the view area gets completely snow covered. 
Tumling viewing area in winter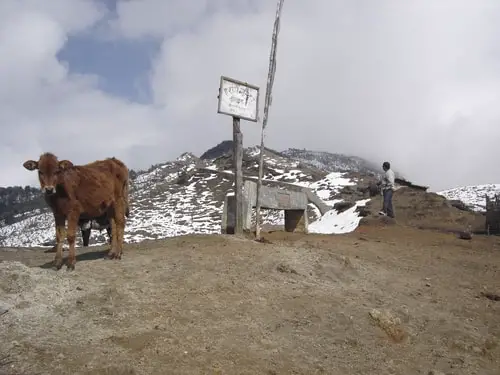 Close to the viewing area you will see the trekking trail of
Tonglu
coming from a higher altitude and merging at Tumling. This gravel road is used both by trekkers and 4-wheel drive vehicles. If you want, you can do a short trek up to Tonglu (will take about 45 minutes to 1 hour) and come back. It's a boulder road and you will need sturdy shoes to negotiate the rough trail. Tonglu is known for its spectacular sunrise views and for the views of Kanchenjunga. 
Trekking trail coming from Tonglu to Tumling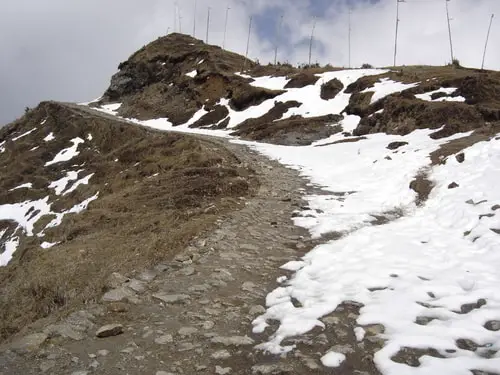 Most tourists and trekkers stay at Tumling for a day or two and then make an onward journey to
Singalila National Park
and further to
Sandakphu
. The entry gate to the core area of the national park is only 1km away from Tumling. If you are lucky, you can see some exotic high altitude Himalayan wildlife such as the rare Red Panda, Himalayan Black Bear, Pangolin etc. Since you need to look for the wildlife only from the road and can not enter the forests, animal sightings are not common. 
Red Panda captured on my camera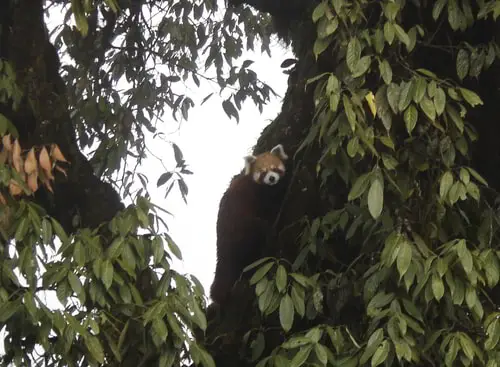 The road through Singalila National Park leads all the way to Sandakphu, another mountain village located at an altitude of around 12,000ft and about 19kms from Tumling. The road is concretized up to Gairibas and then becomes a boulder (gravel) road there after. It would take around 1 hour The last stretch from Bikheybhanjan to Sandakphu is the steepest. 
Sandakphu is a coveted place for both trekkers and tourists... and there is a reason for that. This is one place that offers sweeping views of many of the greatest peaks of the Himalayas such as Mt. Everest, Mt. Makalu, Kabru, Lhotse and of course the 5 peaks of Kanchenjunga (also known as 'The sleeping Buddha'). Read:
The Sandakphu Experience
to know about it all. 
Kanchenjunga from Sandakphu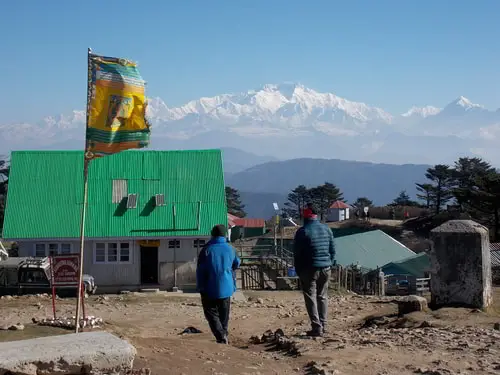 Accommodations
Several private accommodations are available in Tumling.
Shikhar Lodge
is presently the best accommodation and is owned by Neela Gurung, a native Nepali woman. Opened in 1993, the lodge has cottages with pink tinned roofs and surrounded by majestic mountain landscapes. Recently they have constructed a main building as well which has superior amenities. This lodge is the first one visible as you approach Tumling from
Meghma
or
Tonglu
. 
Some of the other well known accommodations here include
Hotel Siddhartha
and adjacent to it Mountain View Lodge, both of which are located close by and facing the viewing area. 
During the high season (March - April, and October - November), there is heavy demand for these lodges. Many tourists visiting the
Singalila National Park
come and stay here overnight and enjoy the scenery around. Earlier there was no electricity in Tumling and most lodges used solar powered lights for limited time during night and would offer hot water in buckets which they warm up in kitchen. 
Amenities in Tumling
There is now electricity available in Tumling since 2015. Although water is available, hot water is still supplied in buckets in most lodges (an exception is the newly constructed building of Shikhar Lodge where there are geysers in the bathrooms). Most lodges continue to use solar lights as electricity is unreliable and often there are prolonged power cuts. Only Vodafone mobile network and BSNL work at Tumling in patches and that too at some specific spots. 
There are couple of small stores at the main village area selling packaged water, snacks, dry food, biscuits and even alcohol (unlicensed). In fact almost all hotels and lodges here can offer beer and spirits. Some lodges like Hotel Siddhartha make local rice beer (called Chhaang in Nepali) and offer it in large aluminum container with a straw. 
How to reach
You need to first get to Manebhanjan. From NJP Station or Bagdogra Airport, Manebhanjan takes about 4 hours by car. From Darjeeling, it is about 1hr 15min drive to Manebhanjan. Outside vehicles are not permitted to go further beyond Manebhanjan. You will need to take a 4-wheel drive vehicle (usually old British Land Rover) through Singalila Land Rover Association to proceed towards Tumling and onward to Sandakphu. It takes about 45 minutes to reach Tumling from Manebhanjan.  
Transport fares & other costs
(Fare updated: January 2020) 
The fares and rates below are indicative. 
NJP/Bagdogra to Maneybhanjan: Rs. 3,500/- for reserved small car. 
Darjeeling to Maneybhanjan: Shared Jeep fare- Rs. 50/- per person; Reserved small car fare - Rs. 1,200/- 
Land Rover Fare Maneybhanjan to Tumling (round trip): Rs. 2,500 + Night Halt Charge 
Land Rover Fare Maneybhanjan to Sandakphu (round trip): Rs. 5,500 + Night Halt Charge 
Night Halt Charge for Land Rover: Rs. 1,500 per night (applicable for night stays) 
Singalila National Park entry fee: Rs. 100/- per person per day of stay inside the park (Rs. 200 per day for foreigners) 
Still Digital Camera: Rs. 100/-; Video Camera: Rs. 400/- (if you visit the park) 
Vehicle Entry Charge to the park: Rs. 100/- 
Contact nos. of Singalila Land Rover Association: 8145822708; 9800667075; 9647790545 
Related Articles
Visitors' Reviews/Comments
Akanksha (July 2020) 
We are planing to visit Darjeeling in August end. And I want to know will we be able to see snowfall in Tumling at that time? 
Raj (darjeeling-tourism.com) July 2020 
It's quite unlikely there will be any snowfall in Tumling in August. There are good chances only November onwards. 
Aritra Saha (March 2020) 
Hi Raj, I really love your blog as it has great details about the Sandakphu trail. My query is: If I stay in Tumling, will it be possible to go to
Tonglu
early morning to catch the Sunrise? How is the road and how long will the hike take? Thanks! 
Raj (darjeeling-tourism.com) March 2020 
Hi, Tumling to Tonglu is a 2.5km trek and will take about 45 minutes to 1-hour hike along a boulder trail. In March/April, sunrise at Tonglu takes place around 5:30 - 5:45am, and it might be dark when you start from Tumling if you try to catch the sunrise at Tonglu. It's not advisable to hike on that trail when it's dark... it can be unsafe due to the nature of the trail. 
Taniya Mukherjee (March 2020) 
Wonderful experience at Tumling, great view of Kanchenjunga and its neighbours referred to as "The sleeping Buddha". It's a tiny quiet and peaceful Hamlet - ideal for rest and spending lazily. Also enjoyed our stay at Gurung homestay there, just beside Shikhar lodge. The Gurung family took care of us so well that we were overwhelmed by their hospitality, warmth and homeliness! It's a new homestay , the name is not there in the net but it's worth mentioning. Great view, rooms neat and tidy, good food served hot! 
Somnath Mitra (May 2016) 
Now Siddhartha Lodge and Sikhar Lodge, Tumling provide solar electricity from dusk to around 10PM. Mobile and cameras can be recharged during this period. 
Lucy Browne (April 2015) 
We have just returned to the UK from our family holiday in northern India and all agree that the 2 nights we spent at Shikar Lodge was the highlight. Neela greeted us so warmly and looked after us with hot water bottles (April so chilly nights) and delicious food. I can't remember the name of the bread we had for breakfast but it was yummy! Sitting around the fire drinking millet beer and chatting to other travellers was very memorable. The surrounding landscape was spectacular. Despite some fog we were rewarded with a clear early morning view of Kanchenjunga which was quite amazing. The rhododendrons were also quite stunning although we were a little early so plan to return in May next time. We even have happy memories of the cockerel loudly announcing his presence at 5am, although I don't think we were quite so happy at the time! 
Sunit Ghosh (May 2013) 
Raj, disturbing you once again. I along with 5 more men & 5 women and 5 children want to visit Tumling in October 19 to 23. As I learned from your article there is no electricity in Tumling, is the evening and night are enjoyable in Tumling? Especially for childrens? Is it better to stay for 2 night in Tumling & stay another 2-3 nights in nearby another village which have electricity? If so what should be our next stop? Actually we are comffortable in Risyap-Loleygaon like destinations. 
Raj (darjeeling-tourism.com) May 2013 
Rishyap, Loleygaon are proper tourist places having hotels with standard amenities. Tumling is not a family vacation place. It's a trekkers place. You should choose Tumling only if you like raw nature, there is nothing else. Hotels are very basic and there won't be any entertainment for kids. From your query, it looks like you all would be more comfortable with a standard tourist place like Mirik/Jorpokhri. You can even try Chota Mangwa. You will find details of these places in my site.