Happy Golden Cafe Darjeeling
Happy Golden Cafe is actually a small tea stall, basically a shack located just outside the Happy Valley Tea Estate. It's a small unassuming stall set up in a rustic environment. A gravel road goes past the stall to an interior village. 
The stall is run by Kusum Rai, a middle aged woman whose entire family works in tea plantation. In fact several of them work at the Happy Valley Tea Estate. She proudly says that her father in law has been a very successful professional tea taster. 
Her stall is a gem when it comes to tasting a cup of fine tea plucked fresh from the adjacent
Happy Valley Tea Estate
. The entire production of the estate is exported to places like Harrods of London and you don't get the Happy Valley Darjeeling tea in India. The only way to get it is to either buy the packaged tea from the factory gate, or to come here at the Happy Golden Cafe and have a cup of tea prepared by Kusum right in front of you. 
So how does she get the Happy Valley Darjeeling Tea in her stall? No she does not buy that from the factory. That would make a cup of tea too costly. Actually her family members who work in the estate garden, get free quota of tea. She uses that to make her living out of the stall and makes her contribution to the family. 
Happy Golden Cafe, Darjeeling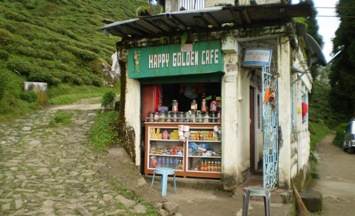 The stall has a small front counter selling tidbits and snacks. Short steps from the side lead into the back section of the stall. As you walk inside, there is a small sitting area on one side having cushioned cane chairs. There is a kitchen counter along the wall where she makes her tea. Behind the sitting/kitchen area, there is another nice little cozy room with cushioned sofas. 
This is where you can often find her daughters or interested tourists looking into many tea samples laid on the table and learning about tea. There are number of books on the shelf on the subject of Darjeeling tea including its history, production process, types, flavors, grades etc. 
Being in the family of tea workers, Kusum has developed keen interest towards Darjeeling tea and is now very knowledgeable about the subject. She offers lessons to all those who are interested including many foreign tourists who are keen to learn about it and how it is cultivated. 
On one occasion she offered to make the best black tea of Happy Valley for me. It's known as SFTGFOP (Super Fine Tippy Golden Flowery Orange Pekoe). This is the first flush (plucked during the spring). The best 2nd flush (Summer) black tea of Happy Valley is known as Supremo. Kusum believes that SFTGFOP is the best tea in the world. She asked me to be with her and watch how she prepares the tea in just five seconds after the water is heated up. 
Kusum making Happy Valley Darjeeling Tea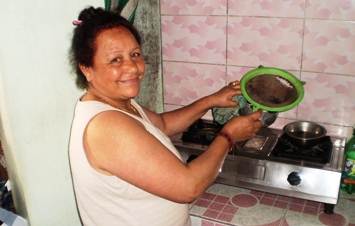 I watched her heating up the water in a steel container and remove it from the oven just before it started to boil. She had earlier put some tea leaves (SFTGFOP) in a strainer. She then poured the hot water into the strainer that percolated down into the porcelain cup placed underneath. She looked at me & said "Over". Well the beautiful orange colored and muscatel flavored tea was made in few seconds. I asked her not to put milk or sugar in it as that would spoil the original flavor and the aroma. 
Sipping SFTGFOP Black Darjeeling Tea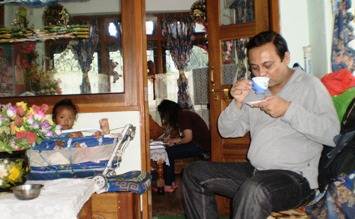 Toddler (Kusum's grand daughter) looks on and her youngest  
daughter can be seen in the next room studying tea 
Kusum mentioned that the same tea leaves can be used for making tea three times. They won't lose their flavor because it's organic tea. It was then I learned that Happy Valley Tea Estate practices organic tea plantation, which means no synthetic chemicals, fertilizers or pesticides are used during the plantation and production process. As a result the tea, even after being brewed can stay fresh for 2nd and 3rd time use. She said however that if milk and sugar had to be added, she needed to boil the water and keep the tea infusion for 3-6 minutes to make stronger liquor. In such case the used tea leaves could be brewed only once more.  
Her tea costs Rs. 25/- per cup. It's a great deal considering that you are having world's best tea when the actual price of such tea goes to several thousands of rupees per kg. 
Location of Happy Golden Cafe
Next to the entrance of Happy Valley Tea Estate in Darjeeling. It is located 3km from Chowk Bazaar. By car or taxi, you can approach it from the Lebong Cart Road. There is a narrow road that leads to the T P Banerjee Road at the end of which the stall is located. 
Related Articles
Visitors' Reviews/Comments
Share your experience.