Best places to drink & buy tea in Darjeeling
While Darjeeling is the producer of the best teas in the world, it is also a great place where you can drink or taste a cup of tea made from the leaves freshly plucked from one of its renowned gardens and even buy some of the finest packaged tea. 
There are many tea factory outlets and tea lounges in Darjeeling town where you can drink a cup of black, green, Oolong or white tea while you enjoy the mountain views and learn about the tea types, their flavors and grades from the outlet owner. And then take back home garden fresh packaged tea of your choice. 
Packaged Darjeeling tea from Darjeeling hills is one of the prized souvenirs that very few tourists like to miss. And there are some Darjeeling teas that you will get only here at the factory outlets and no where else in India. For example the teas plucked at the Happy Valley Tea Estate are meant for 100% exports to places like Harrods of London. So you won't get that anywhere in the country unless you buy them directly from the factory outlet. 
So which are best tea lounges for drinking Darjeeling tea and the retail stores selling quality teas in Darjeeling town? I shall answer that question shortly from all our experience. 
However remember that there are several stores that are not authentic sellers of Darjeeling tea, even in Darjeeling town. After all more than five times the tea produced in Darjeeling district are actually palmed off as Darjeeling tea in the market.  
Unless you are having or buying tea from one of the original and branded stores of the tea company itself, check out for the logo below. Such logo on the package ensures authenticity of Darjeeling tea. This logo from Tea Board of India certifies that the tea is authentic Darjeeling Tea and unblended. All authentic Darjeeling tea also comes with its GI tag that is printed on the package. 
Here are some of the best retail outlets in Darjeeling hill town that offer great tea by the cup or pot and some of them also sell packaged Darjeeling tea leaves. 
Nathmull's
Nathmull's has been a very reputed tea merchant of Darjeeling tea operating since 1931. Their original outlet is on Laden La Road (Opposite to State Bank of India) which stocks some 50 varieties of tea sourced both from Tea Auctions as well as directly from various tea gardens in Darjeeling. The original store only sells tea leaves across the counter including loose tea which you can buy in any quantity. It doesn't have a tea lounge where you can taste tea. The store is known as Nathmull's Tea Room. 
There is another Nathmull's tea outlet located right on Chowrasta Mall. It sells packaged tea (containing blended as well as tea leaves from individual gardens of various grades) and beautiful tea accessories at the front section. There is a section behind (called the 'Sunset Lounge') where you can drink tea by the cup or pot. Here too  you will get great teas from different companies, all at one place. 
My cup of Darjeeling tea at Nathmull's Sunset Lounge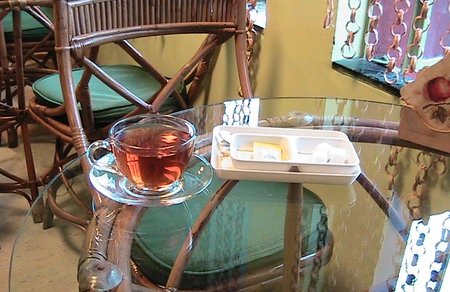 There is a snack counter in front. Shailesh Sarda, a young member of Sarda family that owns Nathmull's business, runs the outlet. He is a very friendly and enterprising person. Just talk to him and he will let you know about their family business and many insights into tea gardens. He once told me about the snob value of white tea and how that drives its sky rocketing price in the market. 
Golden Tips Tea Lounge
This is another tea lounge/retail outlet of packaged teas located at the Chowrasta Mall and next to the Nathmull's outlet. This too is owned by one of the Sarda family members that own the Nathmull's and has been a well known tea merchant. Golden Tips stocks Darjeeling teas as well as others like Assam teas that are sourced through auctions and the gardens. In the spacious lounge, you can relax on a sofa and have tea by the cup or pot, and munch sone of the day's special vegetarian snacks. There is also a section for gift and souvenir items. 
Happy Valley Factory Outlet
Located a short distance away from Chowk Bazaar area off Lebong Cart Road,
Happy Valley Tea Estate
is a one of the top tourist attractions in Darjeeling. Other than visiting the factory and witnessing all the stages of tea processing, you should also visit the factory outlet. Happy Valley tea is considered one of the premium teas in the world. Most of Happy Valley Tea are exported. However, at the factory outley you can get freshly plucked tea that are packaged in pouches. 
The first flush (plucked during the spring) is known as SFTGFOP (Super Fine Tippy Golden Flowery Orange Pekoe). The best 2nd flush (Summer) black tea of Happy Valley is known as Supremo 
There is a small tea stall in front of the factory known as Happy Golden Cafe.  The tea stall is run by Kusum Rai, whose entire family works in tea gardens and most in the adjacent Happy Valley Tea Estate. She will make the tea right in front of you as she tells you stories about her family and their lives in Darjeeling tea gardens. You can have all varieties of tea here that are plucked in the Happy Valley Tea Estate, which are otherwise wholly exported. As Kusum says, she will make "World's best tea" in just five seconds in front of you.  
Go through
Happy Golden Cafe
and find out the secret of how you can drink finest of Darjeeling teas here at such cheap rates. 
Makaibari Factory Outlet in Kurseong
Almost all who visit Darjeeling would pass by Kurseong town on the way. Only about 3.5 kms from Kurseong town on Pankhabari road is the entry to the factory of
Makaibari Tea Estate
. You can park your car outside the gate and walk inside the factory premises. As soon as you enter, to your left is the factory retail outlet. 
Earlier this retail outlet of Makabari tea estate used to be located outside the main entry gate and on the road. However, recently the outside retail stall has been dismantled and shifted inside the factory premises. Walk into the outlet and you will see varieties of Makabari Tea kept in pouches and boxes that are showcased. Although all types of Makaibari tea are harvested in the tea gardens here and processed in this factory, they are all packaged in the headquarters in Kolkata for sale, some of which are brought back to this outlet. 
Inside Makaibari Retail Outlet 
However, if you specifically want first or second flush tea leaves that are freshly plucked and processed, ask the lady at the counter and she will let you know if it is available. If available, she will help get it packaged and sealed from the factory in a standard pouch made of aluminum foil without any trade marks. You may need to wait for 15 minutes. These pouches come in 500gms each. Second flush freshly plucked tea costs Rs. 4,000/- per kg as in June 2022 when I bought a 500 gms pack as well as several 250 gms packages of Makaibari Apoorva Tea.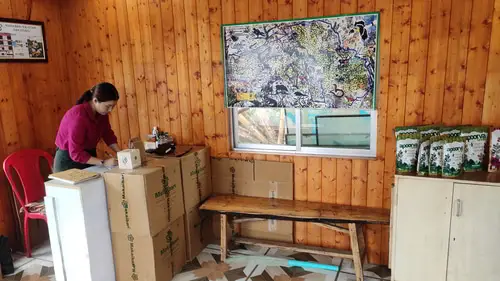 Although, Makaibari tea has been highly coveted and one of the finest of all Darjeeling teas, my personal experience last time has been a little disappointing. After the Luxmi group has taken over the estate from Rajah Banerjee, there seems to be a decline in the quality of the tea. The Rs. 4000 per kg second flush tea, which I was told sells for Rs. 7,000 a kg in the domestic market in pouches, did not have the same muscatel flavor that I had experienced all along in the past when I came time and again at this factory to pick up my ration for the next several months. Having said that, it is still worth giving it a try. 
House of Tea
This is an exclusive outlet of Goodricke Tea located on Nehru Road and is run privately by a family. It is a tea lounge as well as an outlet that sells all the well known brands of Goodricke Tea at a price which is much lower than the market rate. You can have black, green or white tea by the cup or pot. There are also snacks (muffins, cakes etc.) availavle at the front counter. 
You will get tea packages of different weights. Some of the great teas offered by the outlet includes Margaret's Hope Spring and Summer Teas, Castleton Muscatel's Second Flush, Castleton Clonal Light & Fragrant, Thurbo First Flush, Thurbo Tippy Clonal, Badamtam First Flush, Barnesbeg Tippy Clonal and Green Tea, Castleton Moonlight White Tea etc. Talk to the owner Mr. Vijay Puri and he will  let you know all about the Goodricke's gardens in Darjeeling and the tea making process. 
Cafe Coffee Day
X Closed 
Although known for freshly brewed coffee, the CCD which is located at the Mall also offer nice Darjeeling tea. You can have your tea with choice of several snack items kept at the counter while enjoying great view of the mountains and valleys through the large windows. There is also a lovely outdoor terrace. 
Afternoon Tea at Windamere
This one is for the privileged few who have booked their stay at the colonial luxury hotel Windamere located above the Mall in Observatory Hill. The Ada Villa, the colonial property of the hotel which once used to be the planters boarding house, has retained the original British tradition of Afternoon Tea served to its guests between 4 - 6pm in a grand style. 
With authentic China porcelains, highest grade Makaibari or Castleton tea, homemade cookies and sandwiches, and the British colonial aura of its lounge which is complete with fireplace and antique furniture, it is an ambience which is rarely matched by any other hotel in the country. 
Related Articles
1) Check out
Darjeeling Tea
to know all about the tea that has made it large in the world platform. 
Visitors' Reviews/Comments
B K Roy (January 2021) 
Thanks for the huge and authentic information about anything Darjeeling. I recently visited the place and found information in this site extremely helpful. 
I bought some tea from Nathmulls Tea outlet at Rink Mall, also on Laden la road. Is it really a Nathmulls outlet or Golden Tips outlet? I saw the original outlet of Nalhmulls, as mentioned in your site on Laden la Road later. 
I feel cheated as the credit card message shows the Rink Mall outlet as Golden Tips Tea. Also I felt later that the tea they sell from this shop is artificially flavoured, as two varieties of different product name and different flush have the same aroma. How can they sell openly like this bearing the same name Nathumalls but belonging to two different entities? 
Thanks again for useful information in your site. 
Raj (darjeeling-tourism.com) January 2021 
Hello, I too have seen the outlet at Rink Mall and was surprised to see the Nathmulls logo that they use here. Just to let you know, Golden Tips is an offshoot of Nathmulls family business... one of the Sarda brothers (Madhav Sarda) branched out of Nathmulls and started Golden Tips. It is possible that he might still retain some rights on using Nathmulls' name or the other brothers might have jointly made some investment into this outlet at Rink Mall... however, the original and the authentic Nathmulls is the one at Ladenla Road which is manned by Girish Sarda and my experience with this store has been consistently good since many years. On the contrary and quite strangely, my experience with Golden Tips has been consistently sub-par over the years.