Best places to drink & buy tea in Darjeeling
While Darjeeling is the producer of the best teas in the world, it is also a great place where you can drink or taste a cup of tea made from the leaves freshly plucked from one of its renowned gardens and even buy some of the finest packaged tea. 
There are many tea factory outlets and tea lounges in Darjeeling town where you can drink a cup of black, green, Oolong or white tea while you enjoy the mountain views and learn about the tea types, their flavors and grades from the outlet owner. And then take back home garden fresh packaged tea of your choice. 
Packaged Darjeeling tea from Darjeeling hills is one of the prized souvenirs that very few tourists like to miss. And there are some Darjeeling teas that you will get only here at the factory outlets and no where else in India. For example the teas plucked at the Happy Valley Tea Estate are meant for 100% exports to places like Harrods of London. So you won't get that anywhere in the country unless you buy them directly from the factory outlet. 
So which are best tea lounges for drinking Darjeeling tea and the retail stores selling quality teas in Darjeeling town? I shall answer that question shortly from all our experience. 
However remember that there are several stores that are not authentic sellers of Darjeeling tea, even in Darjeeling town. After all more than five times the tea produced in Darjeeling district are actually palmed off as Darjeeling tea in the market.  
Unless you are having or buying tea from one of the original and branded stores of the tea company itself, check out for the logo below. Such logo on the package ensures authenticity of Darjeeling tea. This logo from Tea Board of India certifies that the tea is authentic Darjeeling Tea and unblended. All authentic Darjeeling tea also comes with its GI tag that is printed on the package. 
Here are some of the best retail outlets in Darjeeling hill town that offer great tea by the cup or pot and some of them also sell packaged Darjeeling tea leaves. 
This is an exclusive outlet of Goodricke Tea located on Nehru Road and is run privately by a family. It is a tea lounge as well as an outlet that sells all the well known brands of Goodricke Tea at a price which is much lower than the market rate. You can have black, green or white tea by the cup or pot. There are also snacks (muffins, cakes etc.) availavle at the front counter. 
You will get tea packages of different weights. Some of the great teas offered by the outlet includes Margaret's Hope Spring and Summer Teas, Castleton Muscatel's Second Flush, Castleton Clonal Light & Fragrant, Thurbo First Flush, Thurbo Tippy Clonal, Badamtam First Flush, Barnesbeg Tippy Clonal and Green Tea, Castleton Moonlight White Tea etc. Talk to the owner Mr. Vijay Puri and he will  let you know all about the Goodricke's gardens in Darjeeling and the tea making process. 
This relatively new tea outlet is located right on the Chowrasta Mall. However Nathmull's has been a very reputed tea merchant of Darjeeling tea operating since 1931. Their original outlet is in Laden La Road. The Mall outlet sells tea packages and tea accessories at the front section. There is a section behind (the sunset lounge) where you can have tea by the cup or pot. Nathmull's sources some 50 varieties of tea both from Tea Auctions and directly from the gardens in Darjeeling. So here you will get great teas from different companies, all at one place. 
My cup of tea at Nathmull's Sunset Lounge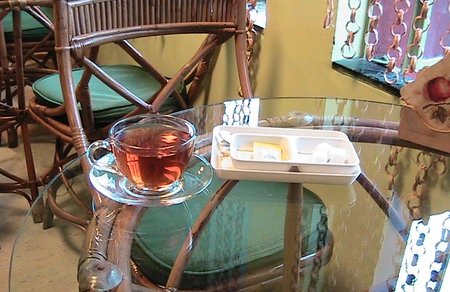 There is a snack counter in front. Shailesh Sarda, a young member of Sarda family that owns Nathmull's business, runs the outlet. He is a very friendly and enterprising person. Just talk to him and he will let you know about their family business and many insights into tea gardens. He once told me about the snob value of white tea that drives it sky rocketing prices in the market. 
This is a small tea stall run by Kusum Rai, whose entire family works in tea gardens and most in the adjacent Happy Valley Tea Estate. She will make the tea right in front of you as she tells you stories about her family and their lives in Darjeeling tea gardens. You can have all varieties of tea here that are plucked in the Happy Valley Tea Estate, which are otherwise wholly exported. As Kusum says, she will make "World's best tea" in just five seconds in front of you. Find out the secret of how you can drink finest of Darjeeling teas here at such cheap rates. 
This is another tea lounge/retail outlet of packaged teas located at the Chowrasta Mall and next to the Nathmull's outlet. This too is owned by one of the Sarda family members that own the Nathmull's and has been a well known tea merchant. Golden Tips stocks Darjeeling teas as well as others like Assam teas that are sourced through auctions and the gardens. In the spacious lounge, you can relax on a sofa and have tea by the cup or pot, and munch sone of the day's special vegetarian snacks. There is also a section for gift and souvenir items. 
Although known for freshly brewed coffee, the CCD which is located at the Mall also offer nice Darjeeling tea. You can have your tea with choice of several snack items kept at the counter while enjoying great view of the mountains and valleys through the large windows. There is also a lovely outdoor terrace.  
This one is for the privileged few who have booked their stay at the colonial luxury hotel Windamere located above the Mall in Observatory Hill. The Ada Villa, the colonial property of the hotel which once used to be the planters boarding house, has retained the original British tradition of Afternoon Tea served to its guests between 4-6pm in a grand style. With authentic China porcelains, highest grade Makaibari or Castleton tea, homemade cookies and sandwiches, and the British colonial aura of its lounge which is complete with fireplace and antique furniture, it is an ambience which is rarely matched by any other hotel in the country. 
Related Articles
1) Check out
Darjeeling Tea
to know all about the tea that has made it large in the world platform. 
Visitors' Reviews/Comments
Share your experience.