Bengali food in Darjeeling
Vast majority of tourists in Darjeeling are Bengalis who mostly come from Kolkata and its suburbs. One of the primary considerations of most Bengalis is the food. They can't simply survive without 'Maach-Bhaat' (i.e. fish curry & rice). Often they come through tour operators who need to ensure that the hotel where they are put up serves Bengali dishes, otherwise the hotel won't qualify for stay. 
While there are several eateries and restaurants in Darjeeling that offer Bengali food in order to capitalize on this demand, unfortunately there aren't many authentic places. 
Here are the ones that should be your targets: 
A good option is to walk down the road below Keventer's (Robertson Road) and you will shortly come across a Bengali restaurant on the left known as Mahakal Restaurant. It's only a half-a-minute walk from Gandhi Road Traffic Police Point. It's a restaurant which is part of a hotel, but the restaurant is the one which is popular out of the two. 
Mahakal Restaurant Entrance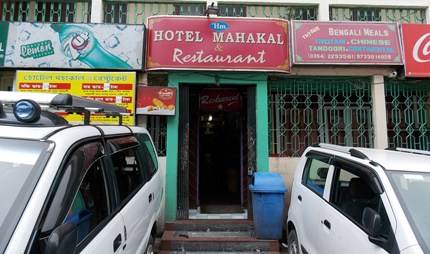 You will need to enter through rows of cars parked just outside its entrance. A big board outside proudly displays 'Bengali Meals'. The dining area is not big. There are two sections, one on the right of the reception (only two tables with windows facing the road) and another on the left with about six tables. 
The food served is quite nice and in large portions. You can get fish, chicken, mutton or even egg meals... and all very reasonably priced. I tried the mutton meal which comprised of rice or roti, alu sheddo (mashed potato), daal, mutton curry, fried papad, two types of vegetables, curd, pickle, and onions with green chilly. The cost was very reasonable and I could not finish it. 
Mahakal Restaurant Seating 
In fish meals, they usually serve rui maach (rohu fish) along with other accompaniments. But remember that fish in Darjeeling is likely to be frozen and sometimes can be an old stock (particularly during low season). There are no fresh water lakes in the hill town where fish is cultivated. Frozen fish is brought in from Siliguri and stocked by the restaurants. However, chicken, eggs and lamb are more likely to be fresh. 
My mutton meal at Mahakal... delicious and huge!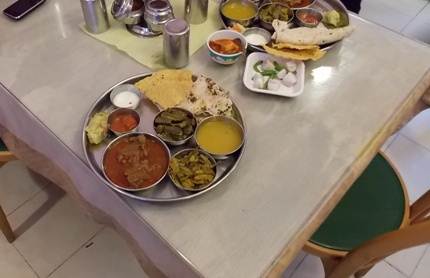 During breakfast you will get luchi, begun bhaja, etc at Mahakal. They also serve momos, coffee etc. For Bengalis, another place which is great for breakfast is Ankit Sweets & Snacks located next to to the Clock Tower on Ladenla Road... A couple of minute's walk from Keventer's. There you can get mouth-smacking luchi and aloo sabji and accompany that with hot gulab jamun. 
Another restaurant which serves great Bengali Thalis is Padma Restaurant... it is also located on Robertson's Road on the left and few steps before Mahakal Restaurant. In fact, it is located below and opposite to Keventer's. This is a small restaurant... although they have different cuisine on their menu such as Chinese, North Indian, etc, they also serve Bengali type thalis like Egg/ Chicken/ Mutton/ Veggie Thali. 
The Thali prices are about Rs. 20 more compared to that of Mahakal, but in my recent experience I found that the taste and quality of Padma Restaurant is much better than that of Mahakal. The portions are also good. 
The Kolkata residents will be happy know that Sholo Ana Bangali has recently opened an outlet in Darjeeling. It's located centrally on Nehru Road that leads up to the Mall (Chowrasta). This restaurant, with its origin in Kolkata, specializes in all kinds of traditional Bengali food. You can expect some of the great Bengali delicacies such as Chingri Malai Curry, Posto Bora etc. 
Sholo Ana Bangali, Darjeeling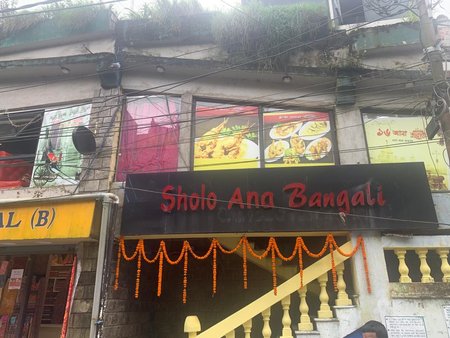 There is another restaurant where I like the Bengali food too. The in-house restaurant of the
Broadway Hotel
(located right next to the BSNL telephone office building, off Gandhi road). The restaurant is very simple and unassuming. But if you order in advance (talk to Amit, the owner who is usually there at the reception after 10am), they can make nice Bengali dishes. 
One of my favorites here is the steaming Khichri (rice with daal preparation) and maach bhaja (fried fish). Amit mentioned that this dish is also a favorite of Anjan Datta, the singer and film maker, who at times comes to the restaurant when he is in Darjeeling. Price range is budget to mid-scale. 
The in-house restaurant of Chanakya Hotel (located near Gandhi Road Police Point and below Keventers) is often crowded with many Bengalis. They offer Bengali thalis like Maach bhaat (fish & rice), Mangsho bhaat (mutton & rice), Dim Bhaat (egg & rice) etc) at a reasonable price. 
I don't like the ambience here personally. As you enter, the overpowering smell of food in the dining room repels me a bit. But that doesn't stop large numbers of Bengali tourists lining up here for a table. This is probably because of the low price for the food. Visit
Chanakya Restaurant
to know about how things are there. 
The in-house restaurant of
Hotel Meghma
also serves Bengali food (price: mid range). It is located on Gandhi Road and close to Hotel Synclairs. Several tour operators accommodate Bengali groups in Hotel Meghma and as a result the restaurant prepares Bengali food. When the hotel gets full during high season, the restaurant also gets quite crowded. 
Another option on Gandhi Road is Hotel Zodiac located opposite to Bethany School. It's in-house restaurant also serves Bengali food (price: mid range). Address: 27 A/1 Gandhi Road. 
The
Shangri La Restaurant
on Nehru Road located close to the Mall also prepares fish curry, rice etc. However this is an upscale restaurant and the preparations here are little rich and have north Indian touch. They may not taste like typical Bengali preparations. But over all quite good. 
However if you are interested in Nepali food (I like the preparations and some dishes are quite close to Bengali cuisine), try out the
Revolver Restaurant
located very close to Synclairs hotel on Gandhi Road. I stayed in their hotel once and had a great time. 
However the best place to try Nepali Thali is at Penang Restaurant, on Laden La Road opposite the State Bank of India Building. They prepare authentic Nepali thali. 
Related Articles
Visitors' Reviews/Comments
Santanu Chatterjee (November 2018) 
Dear Raj, I have recently been to Darjeeling for the first time. I had a blast during my stint. However, one utterly sore point was the food at the Mahakal Restaurant. It was awful - is an understatement. I should have said - it was not eatable. Now, cuisine is dependent on one's own preference, but, when you sale your products as "Authentic Bengali food" while in West Bengal, then I have to expect a class of food that matches the expectations of most of the Bengalis in West Bengal, who experience it daily at their homes. 
Sadly, I experienced a class of cuisine at Mahakal that tastes and looks like Nepali cuisine disguised as Bengali, with ample masala and chillies in everything, literally everything! I have never had "aloobhaja" with chillis & masala in any Bengali restaurant or "biyebari", nor did I taste a "Chilli Masala Daal" in the name of Moong Daal anywhere. May be my experience is very limited to different parts of Bengal, that's why I didn't know about its existence. But I just want to bring to the notice of my fellow Bengalis wishing to have lunch/dinner at Mahakal, what to expect and what not. May be there are plenty of them having absolutely no problem with this kind of cuisine, but I believe many more certainly may be up to a severely awful surprise, and I would like to caution them, if they ever want to venture at Mahakal Restaurant. Thanks & regards,