Siddhartha Lodge, Tumling
Category: Budget 
This is a nice budget hotel run by a local Nepali family (a lady and her brother). They have a couple of staff to help with cooking and housekeeping. The main advantage of the hotel is its frontage. It's located right next to the Kanchenjunga viewing area. The gravel road towards Sandakphu passes between the viewing area and the hotel. 
And from the front facing rooms, you get marvelous view of the snow peaks and the mountain landscapes around. You can also see a gravel road on the right moving up towards Tonglu (which is another peak of Singalila range). 
The entry to the hotel is into a small ground floor lobby which looks more like a common sitting are for the staff and locals. On the right is a kitchen, straight ahead is the dining room which is simple with several tables and chairs laid out. 
In one corner of the dining room is a fire place which they lit up during night to combat the cold. Adjacent to the dining room is a living room and a private room which are mainly used by the owners. 
An wooden stairway from one side of the lobby leads up to the upper floor which has several rooms, most are triple bedded. If you are a couple, the third bed can be quite handy and you can use it to keep all your suitcases and other stuffs. 
Siddhartha Lodge, Tumling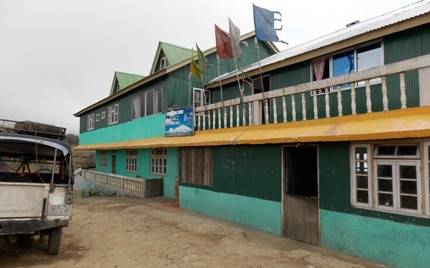 As you come up the stairway, you first get to a small lobby area with cushioned seating and a table. If you wish, they can also serve your meals or snacks there. In fact it's a lovely place to have a cup of tea or a beer and watch the wonderful sights of Kanchenjunga peaks right ahead through the windows. 
I was initially a bit surprised to see a dressing table with a tall mirror at the upper floor lobby. Later I realized that none of the rooms have mirrors. So this is the place where you need to come to shave your beard or comb your hair. 
Rooms are quite okay for a place like Tumling and have lights including solar bulbs. Electricity in Tumling is unreliable and power may not be there for prolonged period. Due to high altitude, it's always cold here and you will only need lights at night. And the hot water is provided by the staff in buckets if you request for it. Since log wood fire is mostly used to heat up water, the hot water supply is limited. 
My room - a triple bedded one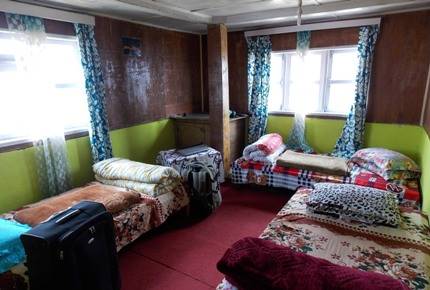 Most rooms have attached bath with western toilets. Toilets are good enough although small. There is no geyser in the bathrooms. But there is a small sink. Water in tap is available almost all the time but water pressure could be a problem at the upper floor. Expect only thin flow of water out of the taps, so keep your buckets always full. 
The attached bathroom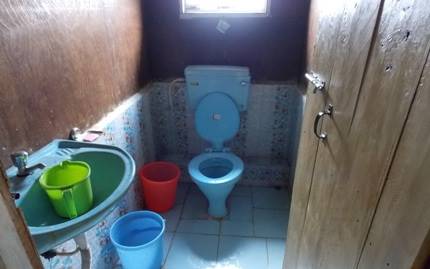 At one end of the upper floor, there is a nice balcony. While it's great for views of the landscapes, it can also be useful to dry your wet clothes. From the upper floor, there is another wooden stairway which leads up to a dormitory above. There are several beds there. 
Upstairs Balcony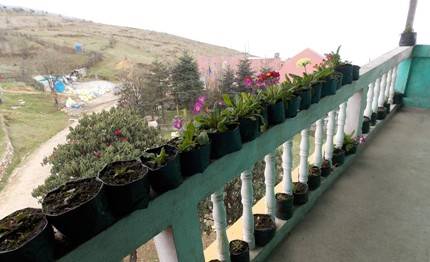 I mentioned about beer earlier. The hotel actually offers beers and even spirits in bottles. They also serve local rice beer called Chhaang. In fact the brother of the lady makes the rice beer himself at one section of the ground floor. 
Hotel Siddharth has another section a few yards away. However the kitchen and the dining room is located in the main hotel. So if you take a room there (which could be a bit cheaper), you will still have to come to the main building for your meals. 
Food is charged as per order. They usually offer rice, roti, daal, vegetables, eggs etc. Chicken or meat are usually not available. Food is nice and simple, and the portions are good enough. You need to order for all your meals in advance. Dinner to be taken by 8pm. 
Another hotel Mountain Lodge is available right adjacent to Hotel Siddharth, although that one is a smaller hotel. There is a small convenience store below Mountain Lodge which can also be easily accessed from Hotel Siddharth. You can get packaged snacks, soft drinks, biscuits and even cigarettes there. 
Indicative price
Rs. 1,500 per night for a triple bedded room (Updated: April 2016) 
Contact Information
Mobile: (+91) 95933 20408, 97350 00615, 95932 92971 
Related Articles
Visitors' Reviews/Comments
Share your experience.