Sherpa Chalet, Sandakphu
This is the most prominent and arguably the best hotel in Sandakphu. Prominent because of its location and the strange structure. The wooden building of Sherpa Chalet is located on top of a hill, in Nepal and right next to the gravel road which leads all the way up to Phalut. In fact the road to Sandakphu leads straight to the open patio of this hotel and then turns right towards Phalut. Because of its elevated position, the hotel can be seen from far as you approach or leave Sandakphu. 
And the best advantage of the hotel is the view of the snow mountains. On a clear day you can see the entire snow range (locally known as the sleeping Buddha) with Everest at the western and Kanchenjunga straight ahead, and several other prominent and famous peaks in between. And you can see the entire range through the windows of the front facing rooms, both at the ground floor and upstairs. 
The roof structure of the hotel is also unique in the entire area. The 2-storied fairly large hotel has a roof which is the first thing that strikes you. It's a multi gabled roof with several triangular structures. 
Sherpa Chalet, Sandakphu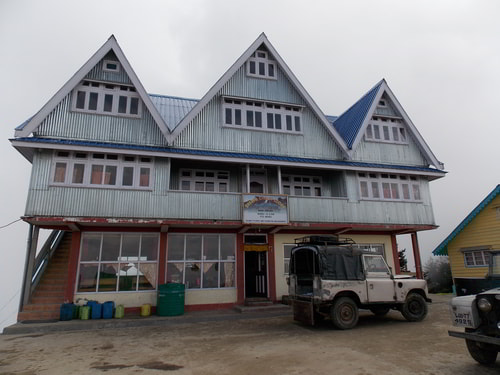 The ground floor has four rooms along with a reception counter, a fairly large dining room and the kitchen. You need to order all your meals well in advance because every thing is prepared to order. The rooms at the ground floor are double bedded rooms and are a bit small, although quite cozy. 
There is hardly any furniture in the rooms other than a bed (can barely fit two), a stool or a plastic chair, and a small table. There is no TV in the rooms although there is one at the dining/lobby area. There is no electricity at Sandakphu. They use generators and solar panels for lights. The TV is seldom switched on though. 
The rooms have attached bathroom which too is small. In order to preserve power, there is a translucent glass on the wall between the bedroom and bathroom, so that when you switch on the bedroom light, the bathroom is also somewhat illuminated. There is no separate lights in the bathroom. 
My ground floor view room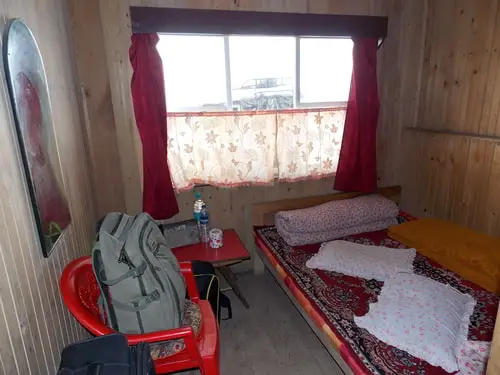 Although most toilets are of western style, there is no tap or running water. Rationed water is supplied in buckets. Sandakphu has acute water shortage. 
Two persons in a room would be expected to manage the whole day with one bucket of water (although bit larger in size) and that should be used for both freshening up and flushing the toilet. You are not expected to take a full bath here, the water is biting cold anyway. 
Upstairs however the rooms are larger (there are 2 bedded, 3 bedded and 4 bedded rooms) and they are much costlier as well. A stairway from outside leads up to the upper floor. Windows are larger so that you get much better views. All rooms in the hotel are wood paneled. 
In the morning they place a plastic container with a tap outside. It is filled with warm water. This needs to be used by all guests for face washing and brushing teeth. At night, they light up a huge kerosene burner at the reception area to warm up drinking water. All are offered to take a bottle of warm water at night just in case you are unable to drink the ice cold water. 
Toilet (see the bucket)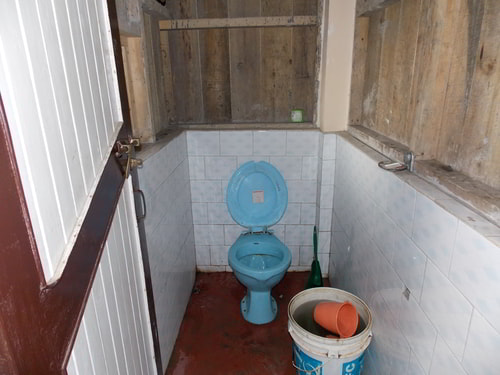 The food served is nice. They have a cook who usually comes in during lunch and dinner time and help in cooking. You can get standard Indian dishes including rice, roti, daal, vegetables (mostly potato based though), eggs (omelets) and even chicken. The hotel brings daily ration from Manebhanjan by jeep. 
The counter at the reception has glass cases stuffed with alcoholic and soft beverages, as well as packaged snacks. You can also buy peanuts, mixtures etc which are kept in glass containers on the counter. You can also make STD and ISD calls from the counter. They have a paid telephone call system and use BSNL network. 
A Personal Note
Sherpa Chalet is a family owned and run hotel. Even the youngest of the family, a small girl known as Dicky is also full time in the service. She is usually seen at the counter receiving calls, otherwise with her smart phone perhaps playing games. 
The only downside to this hotel is its service. 
Because of the on-going demand and having realized that almost all tourists would prefer this hotel over others because of its location and amenities, they are not much bothered about guests. 
The nonchalant attitude is apparent with almost everybody including the owner himself, his wife who joins at the reception and even down to the small girl Dicky. In fact if you ask for service like some more water for washroom, don't be surprised if they look at you with a frowning face and even speak a few unwelcome words. I say this because I faced it. 
On one occasion I have heard the owner responding to a phone call. The caller seemed to have asked how to book rooms, and the owner sounded rude as he mentioned that full payment must be made through bank transfer and no receipt will be given, and that's the system here. He then abruptly handed over the phone to the little girl to carry on the conversation, with an attitude of why such ignorant callers disturb them. And this attitude of carelessness and rudeness has percolated to all the staff as well. 
So it's a place where you go, pay full in advance, stay for a night, be on your own with minimal or non-existent service and move on. You won't like to remember the owners or any staff here. 
Reception and Dining Area  
(Dicky at the counter playing with her smart phone)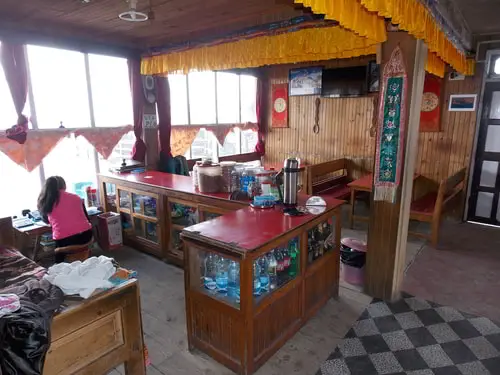 At nights sometimes they put on loud music at the dining area, particularly when tourists have fun with alcohol and demand such music. It can be difficult to get your sleep if you stay at one of the ground floor rooms which are all quite close to the dining area. 
Sherpa Chalet however is still the best choice for a hotel in Sandakphu. If you do not go there with expectations of good service, you can live through it nicely and after all, the location of the hotel is great, and the food is quite okay for a remote place like this. I only hope the family learns the basics of manners and service, otherwise eventually that would catch up and be the cause of their downfall. 
Update July 2019: Response from the owner 
Dear Mr Raj and all our dear readers, we are really sorry to hear the inconveniences you may have faced during your stay. We are here to acknowledge the flaws we might have committed and the services we failed to render. We are at our best foot forward now. Please feel free to contact us via phone call or whatsapp in 8509252318. We missed out on the mark somewhere in the past but you and I both know that we cannot change the past. You and I also know that the present and tomorrow is within our power. Yes we all learn from our past. No matter how good or poor our reviews were we believe "we have a new day, we have our next customers to host". Keep calm and wish us luck dear folks. See you at the reception. Thank you.... Pemba Sherpa (Sherpa Chalet, Sandakphu) 
Indicative Price
The double bedded room in the ground floor costs Rs. 1,500 per night. 
Upstairs the rooms are much costlier and are in the range of Rs. 3,000 and above. 
Contact Information
Sherpa Chalet Lodge 
Sandakphu, Mabu - 8, Ilam, Post Office: Mabu 
Phone: (+91) 85092 52318, (+91) 9332599261, (+91) 9933488159, (+91) 7407276989 
(+977) 9742621760 (Nepal ISD), (+977) 27691127 (Nepal ISD) 
Related Articles
Visitors' Reviews/Comments
Ramyani Sarkar (November 2021) 
we had a booking for two nights. the rooms and the food was good. even the people who cooked and served us were very warm. 
The problem was the man who managed the whole place. On reaching, he made us wait for quite some time before giving rooms even though we had a booking. he did not attend to any enquiries or help we needed. he was extremely indifferent and at 2 degrees temperature at night, when I asked for some hot bags (as heater could not be arranged due to power cut), he said he will arrange it but later on enquiring I found out he never conveyed the message to the kitchen for the hot bags. As a result we got them quite late at night (after multiple requests) and were shivering by then. 
This treatment was far from the 'best' hotel reviews we saw before going to the hotel. We felt alienated in a new place honestly. 
Taniya Mukherjee (November 2019) 
Nice and cozy rooms. Good food served hot. Well mannered staff. Excellent View from the hotel rooms. Although there is no 24 hour running water supply but the hotel is not to be blamed for that. They provide adequate water in drums. Pemba Sherpa with his gentlemanly behaviour was extremely helpful. He not only helped us in booking but also guided us with important information. 
Sudip Mitra (September 2019) 
I second the author about this place. Location is at the hill top, but service is exactly what you have mentioned. They all behave like why the hell did you come here? So I would strictly recommend not to stay at this place unless you want to spoil your day fighting with those idiots. 
Dr. Sourav Ghosh Dastidar (November 2018) 
Thanks Mr. Raj for this wonderful informative blog/ website. I want to share that contrary to popular opinion I had a wonderful experience at Sherpa Chalet in Sandakphu. I visited them in 1st week of November 2018. May be due to now a competition from neighboring hotel Sunflower they have started to value their guests. We received very good service from them especially Mr. Pemba who now manages this establishment. 
PS. The neighboring Sunflower lodge/ hotel is now a favourite of all the agents. Whoever I called for accommodation at Sandakphu all said that they will only arrange that at Sunflower. So I tried to arrange on my own. Sunflower didn't respond to my inquiry so I opted for Sherpa Chalet. Later on somebody from Sunflower informed me over Whatsapp that due to demand they were not taking direct booking. And yes Sherpa Chalet has the best location advantage in Sandakphu apart from the GTA trekker's hut.