Ranka Monastery, Gangtok
Ranka Monastery (also known as Lingdum Monastery) which is located about 20kms from Gangtok town is one of the most wonderful monasteries in east Sikkim. The monastery is spread out in a vast area with great scenic views. Since it's relatively a new monastery and does not have much historical or strategic significance like Rumtek Monastery, it is not much talked about. 
But I would personally give up several other attractions around Gangtok in order to make it to Ranka. No wonder several bollywood movies have this monastery featured. 
The monastery follows the Zurmang Kagyud lineage of Buddhism and under the direction of the 12th successor of the lineage Zurmang Gharwang Rinpoche. It's surrounded by forested mountains in all sides. This in my view has to be one of the most picture perfect monasteries in east Sikkim. 
Ranka Monastery, Gangtok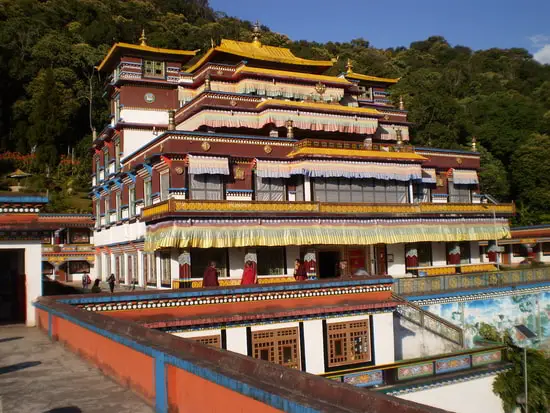 But the road to Ranka has been lying in treacherous condition since quite some time and the journey would be backbreaking. You should ideally take a larger vehicle like a Scorpio or Innova. However the rewards are also awesome for this 8km journey from Gangtok. 
Unlike in Rumtek, there is no long uphill walk required in Ranka. Once you reach the car park, you will see series of prayer wheels fixed on a long wall. Enter through the main entrance into a large courtyard having a tall pillar like structure in the middle. 
The surrounding 2-storey building along the periphery of the courtyard has several classrooms where the young lamas undergo training. During breaks, the courtyard gets full with the young monks wearing their red & saffron robes ... it's a wonderful sight to see them so active, not only learning ways of Buddhism but also actively participating in upkeep of the monastery. 
If you want, you can take pictures with them... they will be more than glad to pose with you. If you look at the 2nd floor balcony above, you will find senior lamas keeping a close eye on the activities of the younger ones. The best part is tourists are allowed free access to almost all parts of the monastery. You can freely roam about along with the monks. 
Stairways from the courtyard lead up to the inner sanctum at an upper level. This is where the main monastery building is located. You can see the receding terraces of the building which ends with a beautiful pagoda top. 
As you enter the prayer room you will see a huge golden statue of Buddha right ahead. There are low tables lying in rows where the lamas read their prayer books. The walls have intricate hand paintings and thankas hanging on them. There is an wooden donation box at the entrance to the prayer hall. Up on a hill and behind the main building, there is a retreat center where the lamas meditate. 
Prayer Room, Ranka Monastery, Gangtok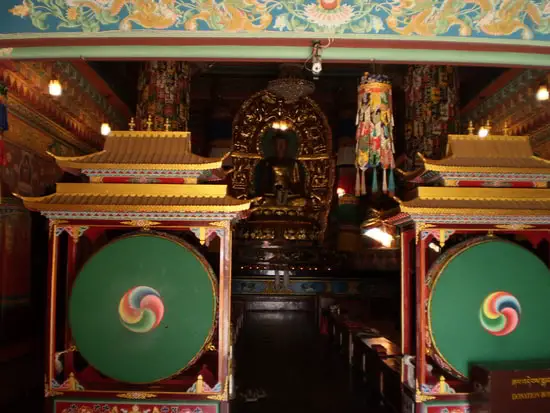 Outside the prayer hall, stroll around in the extended terrace and get magnificent views of the mountains. The sunset view from the terrace is wonderful. From the inner sanctum at the upper level you can see the young lamas training and playing around in the courtyard below. 
There is a restaurant and a nice gift & souvenir shop outside next to the car park. The restaurant claims that bollywood star Amir Khan took his lunch in this restaurant during a film shoot here. The restaurant serves Chinese food, north Indian food, momos, cold drinks etc. A decent place to take your lunch. 
Young Lamas at Ranka Monastery during their break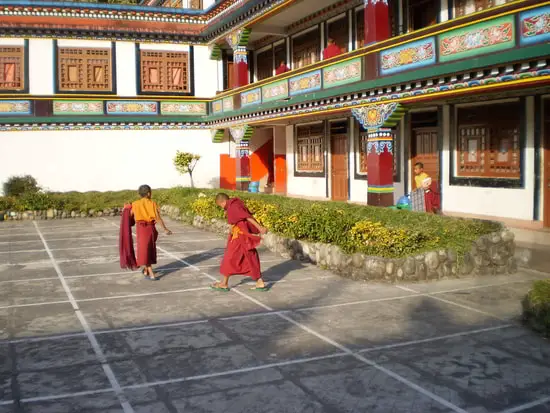 Admission & How to reach
There is no admission fee for Ranka Monastery, donations are accepted. The monastery is open to tourists from early morning until sunset. Masked dance takes place during Losar (Tibetan New Year). 
Ranka is usually not covered under any standard tour package of Gangtok. However you can hire a reserved taxi and cover Ranka Monastery, Banjhakri Waterfall and Rumtek Monastery. It's about 20kms from Gangtok town. Rumtek Monastery is about 15kms from here. 
A great attraction
Banjhakri Waterfall
is located close by. So that is another reason to visit the Monastery. If you are planning for paragliding (medium fly), it takes place from an area nearby. 
Related Articles
Visitors' Reviews/Comments
Share your experience.