Nathula Pass
A Day Trip From Gangtok
Located at an altitude of 14,140 feet and 52kms from Gangtok, Nathula Pass was the place through which the famous Silk Route used to operate until 1962. This used to be a trade route between India and Tibet. Lines of mules used to carry silk, gold and many other items from Tibet to India and take daily essentials back to Tibet. 
The route in Tibet goes down the Chumbi Valley to Yathung, a place about 30kms away which once used to be a major trading township (no longer so). In fact on a clear day you can see this route winding down the valley. If you look at the eastern horizon, you can see the magnificent peak of Chomolhari of Bhutan. 
The fenced Indo-China border is also few meters away and you can see both Indian and Chinese soldiers guarding the border. The guards are friendly. A stairway leads to the border. There is no 'no mans land' here. Even today, mails are delivered across the border on certain days of the week. There is an engraved stone here called Nehru Stone which marks the visit of former Prime Minister of India Jawaharlal Nehru who visited in 1958. 
When the war broke out between India and China in 1962, the Indo-China border at Nathula was relatively quiet. But in 1965 a firing across the border took place because of a dispute around the location of the fenced border. In 1967 a major confrontation took place here between the two countries and many lives were lost on both sides. You will find a memorial here constructed in honor of the Indian soldiers who lost their lives in this battle. 
Nathula Pass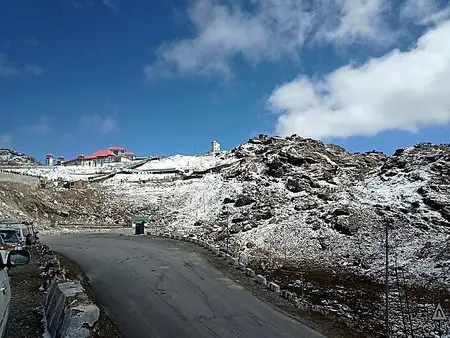 After some 44 years of closure, the old Silk Route again reopened in July 2006 allowing limited trade between India and Tibet. Items for present trade includes yak hair and tail, silk brocades, clothes etc, however it is limited to border trade and participated by 100 odd businessmen. 
A nearby place is Sherathang which has a well developed shopping mart and India's highest altitude internet Cafe. Close to it is another place called Kupup which mostly remains covered with cloud. It has the second highest golf course in the world. Among other things in Kupup, you will find the Gnathang Monastery, and Gnathang War Memorial which was built in memory of the British soldiers who died in a war with Tibet in 1800s. 
On the way to Nathula, you will come across a place called Thegu which has an ATM. This is the highest altitude ATM in the world. It operates with a generator and a special fuel that does not freeze in such high altitude. You can take cash or just check your balance and take the slip as souvenir. 
A note of caution 
Because of the high altitude at Nathula, oxygen level in the air is quite low. Few (adults or children) can face breathing problems at Nathula. If you already have breathing or other health problems, you should consult a doctor before the visit. You can take Acetazolamide Tablets (consult doctor for dosage) while visiting Nathula. It helps retaining oxygen in the body. 
You may also consider carrying portable oxygen cylinders. They come at various sizes. Larger ones last continuously for 3-4 hours. There are also small cylinders. Each small one lasts for about 15 minutes. If you start having breathing problems, you should immediately come down. You will get portable oxygen cylinders in Gangtok at Medical shops. Your hotel can also arrange if necessary. If unused, they are returnable but refund is usually partial. 
How to reach (Tsomgo, Baba Mandir, Nathula package) 
You can take a round trip tour package from an authorized tour operator in Gangtok. Vehicles from Sikkim government approved tour operators are usually allowed for Nathula.
Click here for some of such well known operators
. From Gangtok shared jeeps and reserved vehicles like Scorpio, Innova, Bolero, Sumo etc are also available for group tours that operate on per person rates. 
Nathula is on Gangtok-Nathula Highway. It will require a full day trip from Gangtok to visit Nathula. It is usually combined with visits to
Tsomgo Lake
and
Baba Mandir
. 
The road condition is not good. Only Jeep or SUV type vehicles (like Bolero, Scorpio etc) should be taken to approach Nathula. Sometimes due to snow, landslides and other road conditions, traffic gets held up for hours on this route. 
The cost can vary depending on season. During high season (like April to June, and October to November) shared vehicle would cost about Rs. 700/- per person for Tsomgo lake, Baba Mandir and Nathula including permit fee. A reserved vehicle like Scorpio or Innova would cost around Rs. 7,000/- including all permits. Reserved Sumo or Max would cost Rs. 5,500/-. In low season, shared vehicles are usually not available. Reserved vehicles cost lower (rates negotiable). 
Permits for Nathula 
Note that Nathula is a protected area. Foreign tourists are not allowed here. Indians require a valid Protected Area Permit to visit Nathula. Permit is issued by the Sikkim Tourism Department in Gangtok. You can get it through a registered tour agency or ask your hotel to get it. You will need photo ID proof (PAN card not accepted) and two passport size photos each. You should apply for the permit at least one day before your planned visit. If you plan to visit Nathula the very next day you arrive at Gangtok, you should then send your documents and photos to your tour operator in advance to get the permits done before you arrive. Permit cost is Rs. 200/- per person. Permits are not required (or issued) to children below 4 years. You can however take an infant at your own risk. 
Note that Nathula Pass being an Indo-Chinese border area, photography and videography are not allowed. However tourists do take pictures and this prohibition is not strictly implemented. 
When to visit Nathula 
First you should note that Nathula is open only from Wednesday to Sunday of the week. It's closed on Mondays and Tuesdays to public. Good time to visit is between May to October when the temperature hovers around 10 to 15°C. On a clear day you can see the entire pass and the landscape with towering mountain peaks in the background. You won't usually get any snow during this time. 
Winter starts from November and peaks between December to February. This is when heavy snowing takes place and the temperature can easily go below -25°C. Often the route to Nathula remains closed during winter when it snows heavily. However if the route is open and you make a visit during the winter, pick up snow boots and heavy winter-wears along the way. There are stalls that offer such snow gears on rentals. The two months - November and March are good time to see Nathula covered in snow. The route usually remains open on these two winter months. 
However from Mid December till third week of April you can get snow at Nathula. From may onwards the snowing usually stops although there can be exceptions on certain days. 
Related Articles 
Visitors' Reviews/Comments 
Mamatha P (March 2017) 
Hi, Thanks. It was very informative. We are planning to visit Nathula pass during 2nd week of May 2017. Will we able to experience snow as we are coming from South India we do not want to miss touching snow :), Please help. 
Raj (darjeeling-tourism.com) March 2017 
Snow in Nathula is unlikely in May unless you are very lucky. April beginning is a better time for snow. 
Ramkumar (January 2017) 
Hi Raj, Thanks for your informative website. I am planning to travel to Darjeeling and Gangtok from 26th Jan till 31st Jan. I am also planning to visit Nathula pass. So, please let me know whether it is open during this time. Also, I want to know whether shared cabs are available during this time to Nathula and other places (since it is winter). As we are two persons, I think taking a private taxi would be expensive for us. 
Raj (darjeeling-tourism.com) January 2017 
Nathula route can be closed due to snow. Shared jeeps (i.e. group tours on per person rate) usually operate in high season. You won't likely get that in January. 
Selvam Cyril Abraham (May 2016) 
Dear sir, Your advise and suggestion will be very helpful for us. So I humbly request you to reply. In our tour, 4 people are senior citizen aged from 60 to 69. Is it advisable for me to  take them to Nathula pass on 18th may 2016. Secondly is it possible to cover tsomgo lake, baba mandir and Nathula pass and we have to catch the train at 9.00 pm on same day at new jalpaguri onward journey to Kolkata. 
Raj (darjeeling-tourism.com) May 2016 
While catching the train is possible, but you may be cutting it too fine. Suggest you make a trip to Tsomgo lake and get back to Gangtok by early afternoon so that you have enough time for transfer to NJP. As for seniors, they can make it, but going up the long flight of stairs at Nathula is not advisable. 
SV Varun (September 2015) 
Dear Sir, Planning to visit Gangtok and Darjeeling in end of February 2016. we are aged about 52 years My doubts are: 1) whether I can see the snowfall at Nathulla at that time 2) is it advisable to visit nathulla during last week on February 3)whether any road obstructions at that time. 
Raj (darjeeling-tourism.com) September 2015 
Route to Nathula is often closed around that time due to heavy snow. 
D S Bansal (September 2015) 
Dear Raj Sir, Planning to visit Gangtok and Darjeeling in jan 1st week 2016. My doubts are: 
1. Does it rain during this period? 2. Is Nathula pass open during this period? 
Raj (darjeeling-tourism.com) September 2015 
It doesn't rain that time. But route is likely to be closed due to snow. 
Jitendra Kumar Pandey (July 2015) 
Dear Raj, Is it advisable to travel to Tsomgo lake, Baba mandir and Nathula pass in mid October with kid of age 21 month. I have heard about the problem of low level of oxygen and very low temperature there. Kindly advise me. It will be of great help. Thanks. 
Raj (darjeeling-tourism.com) July 2015 
You should avoid Nathula with kids (actually kids below 4 are officially not allowed at Nathula although one can take an infant at one's own risk), and with Tsomgo and Baba Mandir you should be extremely cautious and take all necessary measures. Better to avoid. There have been ample cases of kids having problems including nausea, headaches etc. Lack of oxygen is the main issue.