Baba Mandir, Sikkim
Located between Nathula and Jelepla pass at an altitude of 13,123 ft and about 52kms from Gangtok, Baba Harbhajan Singh Temple is popularly known as Baba Mandir. One usually covers this temple along with a visit to
Tsongmo Lake
and
Nathula Pass
. 
There is a touching story associated with this temple. Harbhajan Singh was a Sentry of Punjab Regiment and was posted here as part of border patrol force. The border with China is nearby. In October 1968 he disappeared. It is said that while escorting mules carrying provisions, he fell into a stream and drowned. After a few days he reappeared in the dreams of one of his sentry colleagues and asked him to make a memorial here on his name. 
The sentries then made a samadhi and later this temple was built. Although Harbhajan Sing is no more, the sentries and guards here believe that his spirit is still alive and he is therefore treated as a living being. They all believe that Harbhajan will guard and protect them in this very difficult terrain. 
In fact there has been reports that Chinese soldiers across the border having seen a turbaned sentry doing his rounds at night. Many sentries here believe that Harbhajan comes here every night as his camp bed sheet gets crumpled every morning and his polished shoes turn muddy by the evening. 
Baba Mandir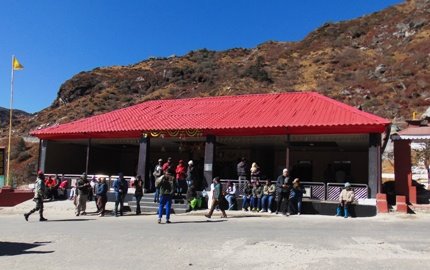 Photo: Devraj Bhattacharya 
While Harbhajan Singh is dead since long, his live memories have resulted in several actions from the army which is rarely seen. Out of sheer belief that he his spirit is still around, he has been promoted to the rank of honorary Captain. 
Every year during his annual leave, Harbhajan is known to visit his hometown in Punjab even today although he is well past his retirement age. Two soldiers actually accompany his uniform in a jeep up to Siliguri then in a train to his hometown. In fact his salary is still sent to his home. 
Over the years the temple has become a place of pilgrimage. Inside the temple you will find large photo of turbaned Harbhanaj Sing which is worshipped. Many who come here leave a bottle of drinking water which they arrange to collect a few days later. It is believed that one can fulfill one's wishes by drinking that water. You will often find that army trucks passing by stop here and soldiers come and offer quick prayers before proceeding. 
On one side of the temple is Harbhajan Sing's Office where he is believed to be carrying out his day to day work. Next to it is his dining place. A room has his bed, shoes and uniform. There is a souvenir shop here and a cafe. Although this temple is on a roadside, it is surrounded by mountains in all sides and the views all around is magnificent. If you are lucky, you will get lots of snows here, particularly during the winter time (November to March). 
NOTE: 
This temple is also known as the New Baba Mandir because the original bunker of Baba Harbhajan is located further up near Nathang Valley (located on the historic Silk Route) where the original or the Old Baba Mandir was built. But due to its difficult terrain, many tourists can not make it to the old mandir. One also requires to climb several steps in high altitude to reach up to that temple. 
So for tourists' convenience a new Baba Mandir was constructed here on 11th November 1982 at the junction of the road leading to Kupup/Nathang and the trail to Menmecho lake. If you want to visit the old Baba mandir and like to know what else can you see there, then read
historic Silk Route
. 
Old Baba Mandir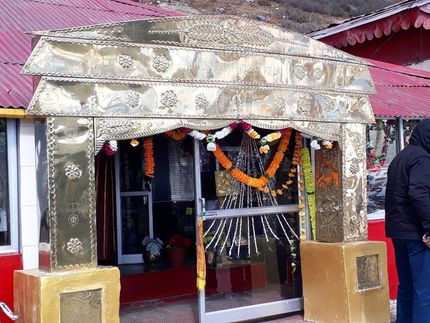 How to visit
Baba Mandir is usually included during a day trip to
Tsomgo lake
or
Nathula Pass
. You need to go through a registered tour operator or travel agency in Sikkim to organize the day trip. Since this is a protected area, you will also require a
Protected Area Permit
which the tour operator will take care of. You need to provide a photo Id proof (Passport or Voters ID Card) and two passport size photos. Permits should be applied a day before your trip. Hotels can also mediate through a tour operator. 
A round trip from Gangtok including Tsomgo Lake and Baba Mandir costs about Rs 5,500 by a reserved large vehicle like Scorpio. Group tours on a per person rate are also offered in high season. It takes about 3 hours one way from Gangtok to cover both Tsomgo and Baba Mandir. So start early. 
Due to the high altitude, there is lack of oxygen in the air. You should take adequate precautions and consult a doctor before visiting the Temple if you have any health or breathing problems. 
NOTE: Foreigners are not allowed to visit the New or Old Baba Mandir or Nathula Pass (permit is not issued). They can however visit the Tsomgo Lake but can not proceed any further. 
Related Articles
Visitors' Reviews/Comments
Dinesh Kukreja (January 2018) 
Hi Raj, thank you for great information. I am a Canadian citizen coming to Darjeeling and Gangtok end of March. As your website mentioned that foreign nationals are not allowed to Nathula pass only up to changu lake. My question is are we allowed to visit baba mandir. Thanks 
Raj (darjeeling-tourism.com) January 2018 
Hi, foreign nationals, NRIs and OCIs are not allowed to visit Baba Mandir. You can go only up to Tsomgo lake.