Do-Drul Chorten Stupa
This huge stupa or monument is located at a short walking distance from the Research Institute of Tibetology and on a hillock. Car will drop you at the base from where a short but steep uphill pathway leads to the stupa. The Chorten Stupa is marked by a golden top dome. This golden top can be seen from various places in Gangtok. 
It is believed that this entire place was once haunted by evil spirits and many people who wandered around this place became victims and died. Later a very respected and celebrated lama of Tibet Trulshig Rinpoche who followed Nyingma Order of Buddhism came to this place for hermitage. He built this stupa in 1946 to drive away the spirits. 
The deity enshrined on top of the chorten stupa is known as Dorjee Phurpa or Vajra Kilaya. This chorten is regarded as one of the most important chortens of Sikkim.  
Chorten Stupa, Gangtok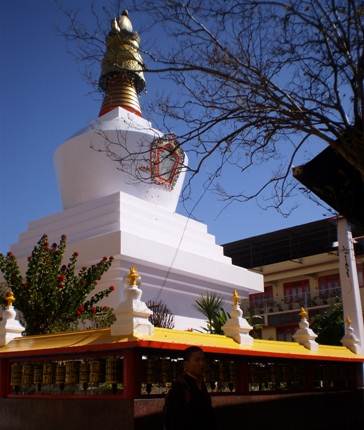 The stupa is surrounded by 108 prayer wheels all of which have mantras inscribed on them in Tibetan. If you rotate the prayer wheels, do it in clockwise direction. Inside the Chorten Stupa are Kanjur holy books, relics, complete mantras and several other religious objects. 
There are several other small stupas around the main one. One of them is Jhang Chup Chorten which was built in memory of Trulshig Rinpoche after his death. 
Prayer Wheels at Chorten Stupa, Gangtok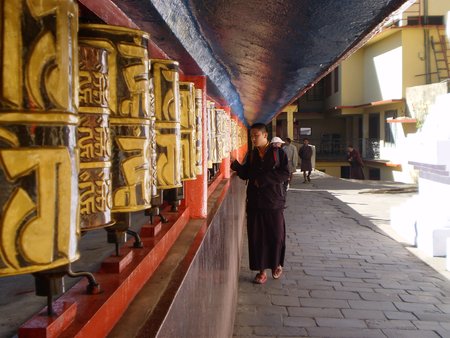 Following demise of Trulshig Rinpoche, another celebrated lama Dodhrubchen Rinpoche came here and established his dharma preaching center in the same premises. The building can accommodate about 700 monks. You too can also enter and offer your prayers there. 
There is no admission fee. However donations are accepted. 
Lamps at Chorten Stupa, Gangtok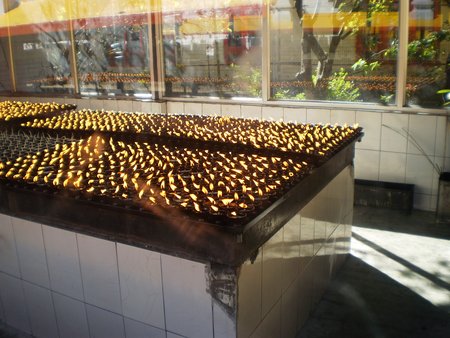 How to reach
Chorten Stupa is covered under all standard local packaged tours offered by the taxi drivers. It's only 2kms from Gangtok Town in Deorali area. You can otherwise just take a taxi and reach here in 10-15 minutes. Within short walking distance is
Institute of Tibetology
. 
Related Articles
Visitors' Reviews/Comments
Share your experience.