Namgyal Institute of Tibetology
It is one of the most important and famous institutes in the world that does research in the areas of Tibetan language and culture. It also has in its premises a museum, a Tibetan library with rich collections and also a reference center about Tibet and Himalayas in general. 
Located in Deorali and less than 2 kilometers from the main town of Gangtok, the institute is perched in a small forest of birch trees, oak and magnolia ... a wonderful serene ambience. 
Namgyal Institute of Tibetology, Gangtok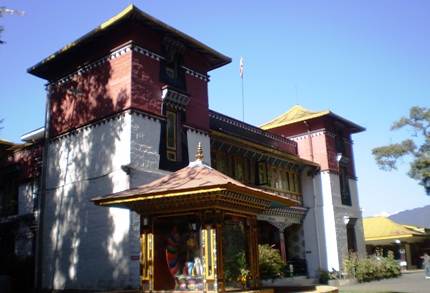 The main building is built on Tibetan architecture and remains as one of the finest traditional Tibetan designs in the world. The foundation stone of the Institute was laid by 14th Dalai Lama in February 1957. It was inaugurated by Late Prime Minister Jawaharlal Nehru in October 1958. 
Namgyal Institute of Tibetology, Gangtok (Close up view)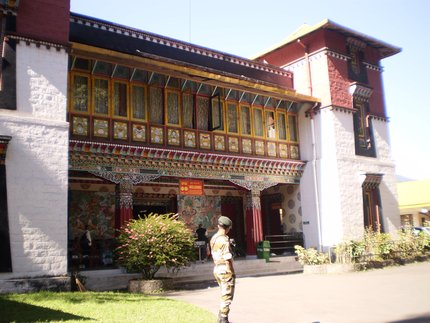 The museum is located in the ground floor and has many rare collections of statues, coins, thangkas (that are scrolls with hand paintings & embroidery work), Tibetan art work & objects etc. However the most prominent of all is the grand and majestic image of Manjushri (bodhisattva of knowledge and wisdom) made of silver which was brought all the way from Tibet. 
Among many other things in the museum, you will find five models made of sandalwood - one is of the first Chogyal (King) of Sikkim, three are those lamas who selected the first king of Sikkim, and the fifth is that of Guru Padmasambhava. 
Inside Institute of Tibetology, Gangtok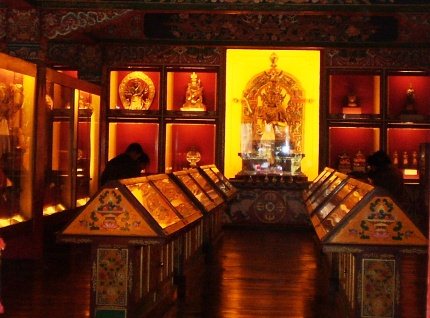 Apart from this. there are various modern art and murals at several sections of the walls around. These have been created mainly by the renowned painter Ringzen Laripa and his pupils. These are great examples of how art trends were in Sikkim in mid 20th century. 
The library is located in the first floor of the building and holds one of the largest collections of Tibetan documents and literatures in the world. It has rich collections of ancient manuscripts of four languages - Tibetan, Sanskrit, Chinese and Lepcha. 
The library has over 60,000 volumes that includes translation of original teachings of Lord Buddha, thesis and articles from imminent Buddhist scholars from all over the world, and xylographs (that are created from wooden plates where the transcripts are embossed in reverse order). 
The Historic Background
The land area of the institute was donated by the late King of Sikkim Tashi Namgyal and hence such name of the institute. However the institute and its objectives were conceptualized by his son Palden Thondup Namgyal who was then performing all royal duties including looking after the administration of Sikkim on behalf of his father, the King. 
In 1950 China invaded Tibet and occupied it. Having understood Chinese views and intents, the Tibetans felt that the priceless religious books and manuscripts that were stored in their ancient Buddhist shrines were under threats of damage or might even be transferred out by the Chinese. 
They realized that it was time to store them somewhere securely outside Tibet where researchers from all over the world could access them, understand them and delve deep into the research of Tibetan culture and heritage that was over 1,500 years old. It is for this reason that this institute was conceptualized... to store the precious Tibetan literatures and enable research. Then Prime Minister of India Pandit Jawaharlal Nehru gave consent to this proposal. 
1956 was the year when 2500th birth anniversary of Gautam Buddha was to be celebrated in India and Dalai Lama and Panchen Lama had consented to join the celebration. Sikkim's prince went to Lhasa in Tibet and requested the lamas to visit Sikkim enroute to India and both agreed. 
The lamas came on horses back all the way through
Nathula Pass
and arrived up to a point called Karponang, about 10 miles from Gangtok. From there they came by a Jeep up to the point near Gangtok where paved motorable road began. This is where the king joined them in his Buick car. During this visit of 1956, Dalai Lama laid the foundation stone of Namgyal Institute of Tibetology. 
Two years later in 1958 on October 1st, the institute was inaugurated by then Prime Minister of India Jawaharlal Nehru. The first Director of the institute was appointed from Kolkata - Profession Dr. Nirmal Kumar Sinha. Under his able guidance, it became a world class institution. 
Next to the institute's main premises you will find a bronze statue of the last king of Sikkim - Chogyal Palden Thondup Namgyal, who was coronated as the king in 1965. 
Facilities and Nearby Attractions
Just opposite to the Institute premises is a nice Gift & souvenir shop known as Asta Mangala Art. It has many nice and intricate items including German silverware, typical Sikkimese clothing for women etc. All items are very reasonably priced. I bought an exquisite small model of Hukkah made with German Silver for Rs. 700/-. The lady packed it nicely and told me that it would never blacken or lose its shine. I trusted and she was right. 
Souvenir Shop Opposite Institute of Tibetology Gangtok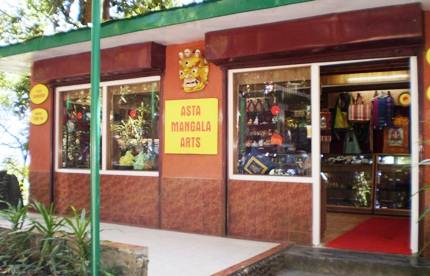 Adjacent to the gift shop is a cafe which is a branch of original Baker's Cafe of MG Marg. You will get coffee, cappuccino, pastries, patties and even ice creams here. Several nice cute tables with chairs are laid out under shades and with plants all around creating a nice cozy ambience. 
Baker's Cafe opposite Institute of Tibetology 
Nearby within 100 yards or so is the
Do-Drul Chorten
, a Buddhist Stupa and another great attraction of Gangtok. You can easily walk up to the stupa which is located on a hill top. 
Admission & Hours
The museum and the library is open to public between 10am to 4pm from Monday to Saturday. It is closed on Sundays, public holidays and second Saturdays of every month. The admission fee is Rs. 10/- per person. You need to take your shoes off before entering the museum. Photography is not allowed inside, but you can take a picture through the open door.  
How to reach
Namgyal Institute of Tibetology (NIT) is covered as part of all standard local sightseeing tours of Gangtok. It's only 2kms from Gangtok town. You can also take a taxi and reach. 
Contact Info
Address: Namgyal Institute of Tibetology, Deorali, Gangtok, Sikkim - 737 101, India 
Related Articles
Visitors' Reviews/Comments
Share your experience.