Gangtok Shopping Guide
In the whole of Sikkim, Gangtok is the best place for shoppers. Some of the great items that Sikkim is famous for includes Thangkas or Thankas (religious scroll paintings by Tibetan Buddhists), decorative Sikkimese Cups, figurines of Lord Buddha, Buddhist Prayer Flags, high quality package tea from Temi Tea Gardens etc along with many souvenirs and art & craft, and Gangtok has them all. 
Below I have described the main shopping areas in Gangtok along with the best buys: 
Great Buys at MG Marg
(Mahatma Gandhi Road) 
This is the main marketing area of Gangtok for tourists. The road is lined with all types of shops on both sides. A section of the shopping area here (towards one end of MG Marg) is known as New Market. The shops on MG Road and New Market usually open by 8am in the morning (some shops open later in the day) and close by 7pm. The New Market is closed on Tuesdays while the Old Market (the other section of MG Marg is closed on Sundays). So, on all days of the week, at least one section of MG Marg remains open. However, restaurants, eateries, and medical shops on MG Marg remain open on all days of the week. 
M G Marg, Gangtok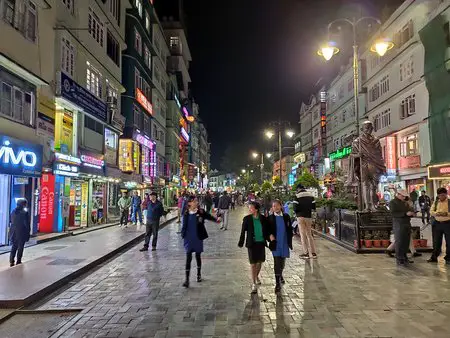 While there are large number of shops selling men's and women's dress materials, shoes, souvenirs & gifts, trinkets etc, one of the unique things here to buy is Sikkimese Cups. These have unique and attractive traditional Sikkimese designs printed on them and come in different color combinations. 
I purchased these Sikkimese cups from New Market area, Gangtok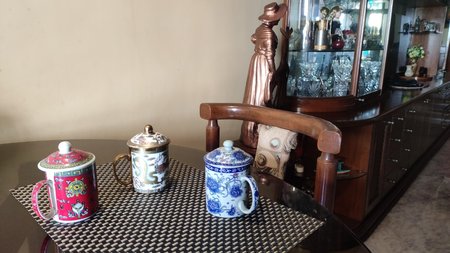 The cups usually have a lid. They are made of ceramic (china) material and cost in the range of Rs. 75 to 85 per piece. The ones with golden stripes are costlier. They pack it nicely so that you can carry it in your check-in luggage. You will find several stores along MG Marg with good stocks of these cups. They are excellent for having coffee or tea, and the lids help in keeping it hot. 
New Market Area, Gangtok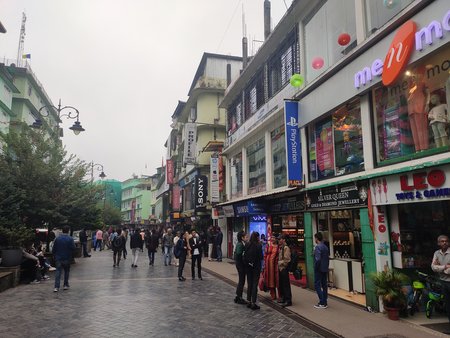 Another popular item for purchase is woolens... Shawls for ladies and Jackets for men. You will find a number of shops in the New Market area that sell a large selection of these. These shops are loaded with all kinds of warm clothing and usually quite crowded during the high season. 
The price of shawls start as low as Rs. 150 and there are more expensive ones. The men's jackets are a little expensive though... they usually start from Rs. 1000, but the quality seems to be quite good. 
New Market Area, M.G. Marg, Gangtok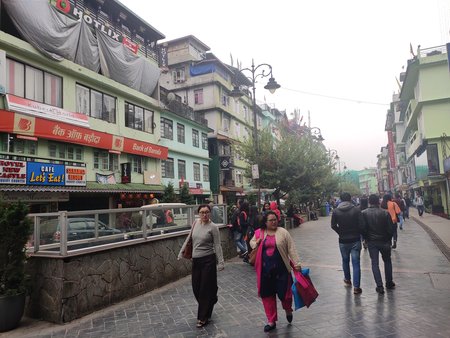 If you are looking for jewelry items, one of the shops to consider is Babu Shakya & Sons in New Market, MG Marg. They are excellent in designs like dragons on gold pendants, ear rings, finger rings and even in metal craft. 
Handcrafted Items
The Directorate of Handicrafts & Handlooms (DHH) is located at the end of Tibet Road and has a large Sales Emporium. It sells all types of traditional Sikkimese handcrafted items and artwork made by local and well known artists & craftsmen. Some of the great items to look for are the Thangkas (Buddhist religious scroll paintings), as well as many different types of wood carvings, Lepcha weaves, wall hangings, woolen carpets, Choktse (carved wooden foldable tables) etc. 
Paintings being made at Gangtok Handicraft Center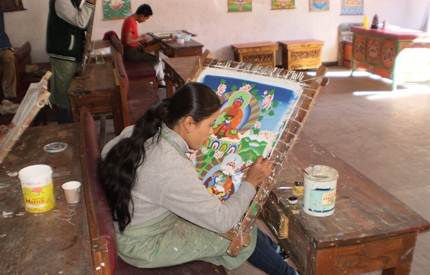 United Progressive Organisation of Sikkim (UPOS) is a body which works towards upliftment of poor tribal people in three villages of Sikkim. They have an outlet at Namnang in Gangtok that offers different types of locally made handcrafted items including cane and bamboo made products. 
UPOS Store, Gangtok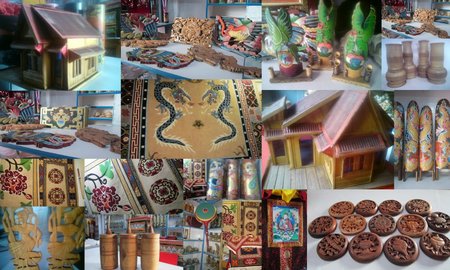 Photo: UPOS 
The souvenir and gift shop Asta Mangala Arts located right opposite to Institute of Tibetology at Deorali also has great collection of artwork, handcrafted products, bags as well as Sikkimese dress materials for women. This is an excellent place to pick up souvenir items - I purchased an exquisite Hukka made of German Silver at a reasonable price. The lady at the counter told me that it would never blacken. She was right. They pack the items nicely so that it won't get damaged in transit. 
Asta Mangala, Opposite Institute of Tibetology Gangtok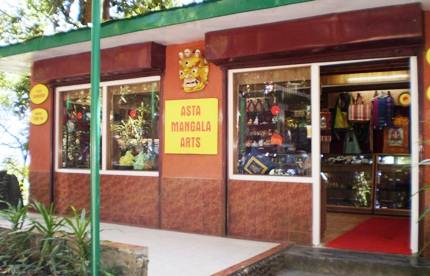 Local Items at Lal Bazar
This buzzing market area is located below MG Marg. A nicely paved and broad stairway at the corner where MG Marg curves towards the New Market area leads down to Lal Bazar. 
Lal Bazar market was first established in 1956 as an open area market full of shops and named after J. Lal who was a Dewan of the Chogyal (i.e. King) of Sikkim. However in 2005/2005 the old market was demolished and a multi-storied shopping complex was built here which also accommodated a vegetable market. This was then renamed as Kachendzonga Shopping Complex. 
Stairway leading down to Lal Bazar, Gangtok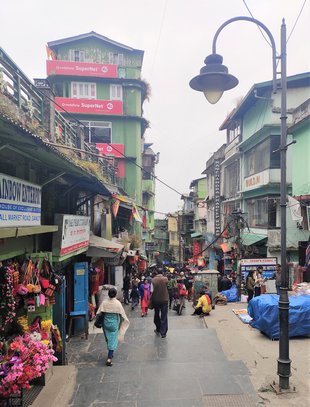 You get all sorts of diverse items here including cottage cheese, incense sticks to even electronic gadgets. Sunday is the Haat day at Lal Bazaar. If you want to experience the diversity and blend of cultures in Gangtok, you must come to this Market on a Sunday. You will see the villagers in traditional Bhutia and Nepalese dresses, Bihari businessmen in dhotis and residents of Gangtok in fashionable wears all mixing together and talking to each other in Bhutia, Lepcha, Nepalese and Hindi. It's a scene by itself and many tourists come here only to soak in the atmosphere. 
Lal Bazar at night, Gangtok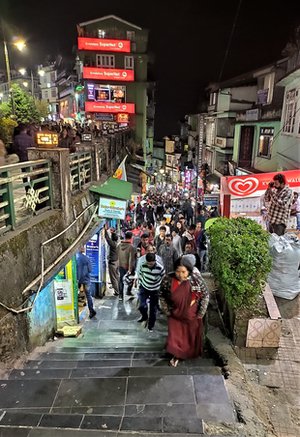 So what should you buy from Lal Bazaar? On the Haat Day (i.e. on Sundays) you will get lots of rural items to buy, for example Churpi (dried cheese made from Yak milk), organic vegetables etc. However one of my favorite items here is the Alpine Cheese made from pure cow milk and is a product of Sikkim Dairy Products (P) Ltd who makes it in collaboration with the Swiss. 
You will also get various other items like pottery, prayer flags, Khukri (traditional curved Nepali knife), cut flowers etc. Look for Daalo - baskets made from bamboo and cane, a great item to buy here. 
Note that Lal Bazaar and the shops on Lal Bazaar Road (the street that connects the market with MG Marg) remain closed on Thursdays. 
Temi Tea of Sikkim
Like Darjeeling Tea which is produced only in Darjeeling, Temi tea is special and original of Sikkim. Temi Tea Garden is the only tea garden of Sikkim and they produce world class black, green and white tea among others. Bulk of such tea are exported, but are also available in some outlets in Sikkim. 
The tea at Temi gardens is produced organically using orthodox methods and has a rich flavor. You will get Temi Tea in Gangtok and it's a must buy. It comes in packets of 250gms. Another variety from the same garden is Mysteaque tea. You will get Temi and other varieties at select retail stores in Gangtok. 
A good place to buy Temi tea is from Golden Tips Tea Shop. While their original outlet is located at Sonam Tshering Marg, Kazi Road, Gangtok, they have a fairly large outlet on MG Marg next to Canara Bank (1st Floor, M.G. Marg, near Gandhi Statue, Gangtok. Phone: 03592 208111, Mobile: +91 8670291113). From MG Marg you can see the large window-panes on the first floor of the Building.  
They have hundreds of varieties of packaged tea including black, green and white. Golden Tips is a collector of tea from various gardens and also a blender. They are an offshoot of Nathmul's of Darjeeling and originally belong to Darjeeling. So you will get a large varieties of Darjeeling tea at these outlets as well. But the prices are pretty steep. A standard first flush black tea would cost well over Rs. 8,000 a kg (they keep small packets of 250gms as well). However, there are tea of lower cost also but do not expect anything less than Rs. 2,500 a kg. 
The outlets are air-conditioned Tea Bars and there are a few tables laid out near the windows where you can sit and enjoy a cup of tea of your choice. They also give you an option to sample tea before buying it (but this option may not be always available, as per our experience). Golden Tips also sells tea accessories including exquisite tea pots, cups, mugs, infusers etc (but prices are way too high). Expect the sales persons (usually a few ladies) to keep pushing you to buy more. 
A more reasonably priced outlet on MG Marg (opposite to Axis Bank) is Chai Chun... this too is a tea bar and has large floor-to-ceiling glass windows to get wonderful views of the promenade while sipping a cup of tea sitting in a cozy atmosphere next to the windows. They have an extensive selection of tea that you can choose from the menu and have it there along with some nice Indian snacks. 
Chai Chun, MG Marg, Gangtok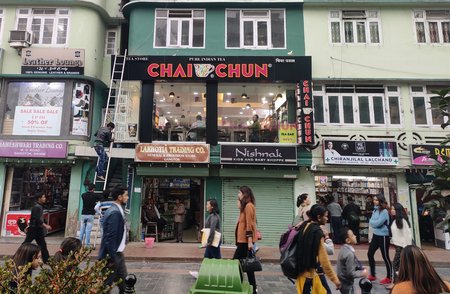 Chai Chun too keeps nice selection of packaged tea including Temi Tea and a large varieties of Darjeeling Tea which you can buy. I found the prices are comparatively more reasonable here. 
Another good place to get Temi tea is the souvenir shop Asta Mangala Arts located right opposite to Institute of Tibetology in Deorali (about 2kms from the town center). So if you are visiting Tibetology or Chorten Stupa (located close to it), you can keep this purchase in your agenda. 
If you like to get the cheapest version of Temi Tea or for that matter Darjeeling Tea in Gangtok, then visit Lal Bazar below MG Marg (as described above). From MG Marg, as you go down by 6-7 steps, look to your right and you will see couple of small tea stores. One of them (Sikkim Tea Centre) is run by Anil Saha, a man who is originally from Siliguri and now a resident of Gangtok. He speaks fluent Nepali and his store is frequented by many locals buying the cheapest varieties of tea. 
Sikkim Tea Centre, Lal Bazar, Gangtok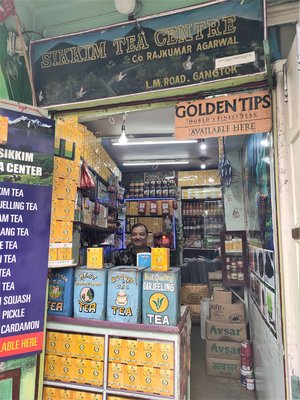 Both these stores sell varieties of Darjeeling tea and blended tea that are sold loose (you can buy any quantity) and even packets of Temi Tea. However, the Temi Tea sold here are not the high quality ones. Those tea are mostly plucked during the end of the year and mixed with tea dust. 
And when it comes to buying Darjeeling tea from these stores in Lal Bazar, my experience is mixed... some times the flavors are good, and sometimes you end up buying sub-par tea. So even if you get good flavor out of the dry leaves after rolling them on your hand, the flavor might disappear soon after you start using the tea back at home. They also sell branded Darjeeling tea such as 'Golden Tips' but why would you buy it from here when the original Golden Tips outlet is only steps away. 
Dalle and Bamboo Shoot Pickles
If not for tea, there is one other good reason to come to the above small tea stores (like Sikkim Tea Centre) at Lal Bazar. You get Dalle, this is kind of red round chilli that grows in the hills. You can buy a bottle of Dalle that is stored in preservatives, or buy Dalle Achaar (pickles made of Dalle) that too are stored in bottles. Note that one of the unique and great buys in Gangtok is Sikkim's home made pickles made from dalle chili and bamboo shoots with cherry pepper. 
I purchased these bottles of Dalle and pickles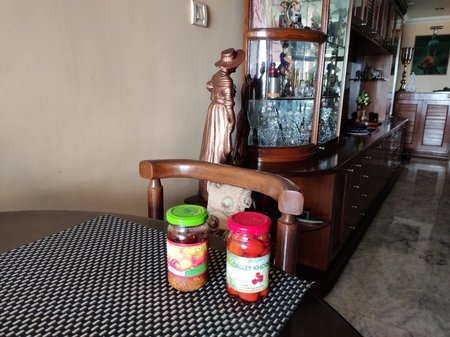 Dalle is extremely popular with the locals, in fact most Nepalis here would accompany their main meals with Dalle or its achaar. I had purchased both... they are really hot and have a flavor of their own. It may take a while to get adapted to the flavor of Dalle. If you are the one who love to explore local food, then this is the one to go for. A bottle of Dalle pickle comes for about Rs. 200. 
Wooden Face Masks
Making wooden face masks is an ancient craft work of Sikkim and you get these face masks in Gangtok in abundance. These masks resemble the faces of various gods and goddesses that are worshiped by the local communities. There are also animal faces. While all these colorful and expressive masks are traditionally used in religious and festive occasions and dance programs, they have also become very popular with tourists as authentic souvenirs from Gangtok and Sikkim... nowadays, these face masks are also used as wall hangings.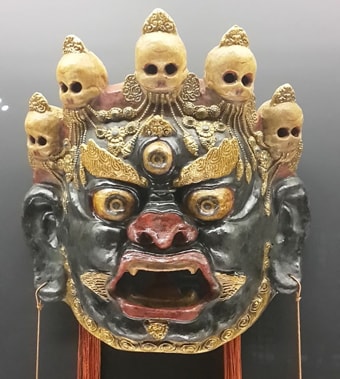 Photo: Tcapper1, cc by-sa 4.0 
These masks are intricately and skillfully made out of a kind of light yet tough wood which is known as 'Zaru Shing' or Zaru wood which is mostly available in high altitude areas of Sikkim. 
Although you can get these Wooden Face Masks at a few local stores on MG Marg, one of the best places to check out for these masks is at the Sales Emporium of
The Directorate of Handicrafts & Handlooms
which is located at Zero Point and about 1km away from MG Marg. 
Great Bookstores
Whenever and wherever I travel, one thing I never miss out is buying books on local people & culture, traditions & customs and of course places of interest. If you too keep the same interest, then I can recommend a few book stores. 
The bookstores Jainco, Citinews and Goodbooks are all located on MG Marg and have nice collection of books. Pashupati Nath in Lal Bazaar is also well stocked. 
There are few religious bookstores like Kandoika in New Market on MG Road which sell books on Buddhism (if that is of any interest to you) and many other types of Buddhist artifacts. There are a couple of bookstores at the end of MG Marg (where there is the pedestrian over-bridge to cross the high way). You will get nice collection of books here including ones on Sikkim tourism, culture etc.  
The main and the most popular bookstore in Gantok is Rachna Books located at the Development area (walking distance from MG Road, you can also take a short taxi ride - shared or private). While there is great collection of books, it has also become a social and cultural hub for locals and tourists.  

Photo: Rachna Books 
Old and young come to Rachna Books and listen to jazz, or hear out poetry readings, or watch the photo & art exhibitions and even film screenings. The book store was established in 1979 and specializes in literary fictions and also have a wide range of collections on poetry, philosophy, biographies, literature, travel, art, music, children's books and more. 
Open Monday through Saturday: 10:00 am - 7:00 pm 
Address: Rachna Books, Jeewan Theeng Marg, Development Area, Gangtok 
Related Articles
Visitors' Reviews/Comments
Share your experience.