Visit Temi Tea Garden
Know What to See & Do
About Temi Tea Garden
Located in South Sikkim in the Tandong mountain range and laid between the altitudes of 4000ft to 6,000ft with a steep slope of 30-50%, Temi Tea Garden is a hidden secret of the state of Sikkim. The sprawling and scenic tea estate is located between the Damthang settlement and Temi Bazaar. Many tourists make day trips to Temi from Namchi and Ravangla and some even come from Gangtok before proceeding to other destinations, and the real lovers of tea gardens, stay here for few days. 
Temi Tea Garden. Sikkim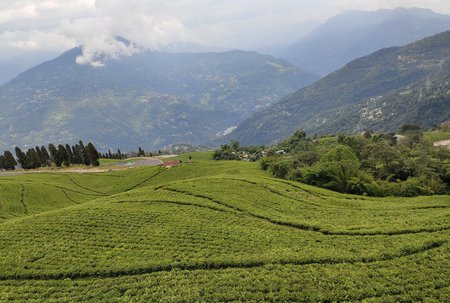 Spanning across more than 440 acres of verdant land, the garden is one of the finest producers of organic tea in the world, and commands high demand and price at the international tea auctions. 
Many connoisseurs of tea will vouch that Temi Tea can easily compete with some of the best quality tea produced in Darjeeling and some may even go a step further offering the accolade of 'Champagne of tea' to Temi. In fact, initially Temi Tea was branded under Darjeeling Tea Logo to leverage some impetus in sale. In the year 2000, Temi separated itself from Darjeeling Tea and it is now exclusively sold under the branding of 'Sikkim Tea'. The tea garden initiated organic method of cultivating tea in 2005 and started producing 100% of its tea using organic method from May 2017. 
Darjeeling or Temi, whichever tea you might vouch for, there is one distinct difference between the origin of the two. Unlike plantation of Darjeeling tea which was initiated by the British planters across nearly 100 estates in Darjeeling hills for their own financial gains, Temi Tea Garden, which is the only tea garden in the entire state of Sikkim, had its humble beginning due to a far more humane reason. 
The motorable road through Temi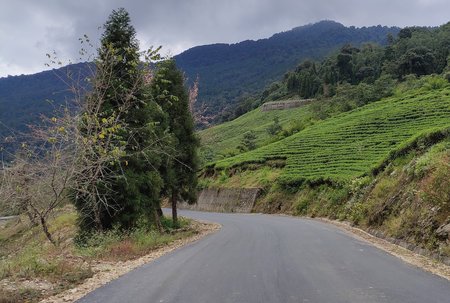 During 1950-51 when China invaded Tibet, large number of Tibetans fled their homeland Tibet and flocked into both Darjeeling and Sikkim hills to find refuge. The last king of Sikkim (Palden Thondup Namgyal) initiated a small tea plantation in a village called Kewzing in order to provide livelihood to the Tibetan refugees so that they could live with dignity. 
The king also had set aside a Sherpa village. This village was acquired by Government of Sikkim in 1954 and Temi Tea Garden was established in 1959 in this village where a larger number of Tibetan refugees could be employed. The plantation and workers in Kewzing were moved to Temi. Unlike all of Darjeeling Tea Estates which were later leased out to individual Indian businessmen after independence, Temi tea estate and its factory continue to run directly under the Sikkim Government. 
Today there are over 400 workers in Temi Tea Garden and over 40 support staff. The garden produces about 100,000 Kgs of tea annually that are sold under various brands out of which the brand 'Temi Tea' offers the best quality tea (known as Golden Flowery Orange Pekoe 1 or TGOFP1). This brand is followed by other Temi brands such as 'Sikkim Solja', 'Mysteaque', 'Orthodox Dust Tea' and 'Kanchenjunga' tea... all produced in Temi Tea Garden. 
Other than excellent Black Tea, Temi produces delicate White Tea made out of buds and unfurled new leaves, Green Tea made through a process of steam distillation and offering flowery liquor, and Oolong Tea (a semi fermented range) with fruity flavor. And for each type, there is First (or the Spring) Flush which is the most expensive, followed by Second (i.e. Summer) Flush, Monsoon Flush and Autumn Flush. 75% of the tea produced at Temi is exported (mostly to Europe) through tea auctions at Kolkata and the balance 25% is packaged and sold in the domestic market. 
Things to See and Do
The discerning tourists visit Temi to enjoy a serene and picturesque tea garden life, walk through the villages to get a glimpse of the simple yet charming life of the people here, be with the different shades of nature, trek through the lush ferns and dhupis, take long walks through the pink mist of Cherry Blossom trees during the Autumn time (particularly in the month of November), get marvelous view of Kanchenjunga snow peaks to the north on clear days, get a glimpse of river Teesta down the 6,000ft gorge to the south, experience tea plucking at the gardens, and take a guided tour of the tea factory and witness tea processing. 
Kanchenjunga View from Temi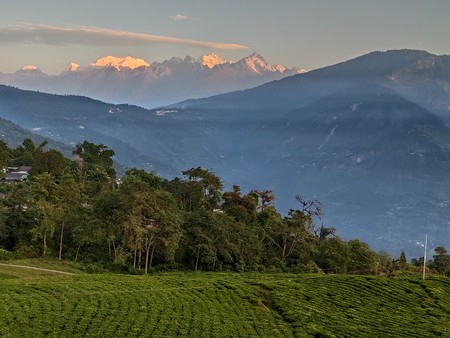 You don't come to tea gardens to undertake hectic activities and adventure sports, although Temi does offer some of those too... I shall come to it later. After all you are on a holiday and the whole idea is to relax and unwind yourself with nature and warmth of the people... and Temi perfectly fits the bill. 
Village Walk
There are several villages in Temi area. However, one of the most developed and lively villages in Temi is Nametadhura. It's most convenient to explore the village if you stay at Cherry Resort, which is arguably the best accommodation in Temi. There is a gravel pathway behind the hotel that leads down to this village. Initially, the walkway is steep downhill and passes through lush tea gardens on the slopes of the hills, gradually flattens and then enters the village. 
Nametadhura Village, Temi (Entry pathway to the left)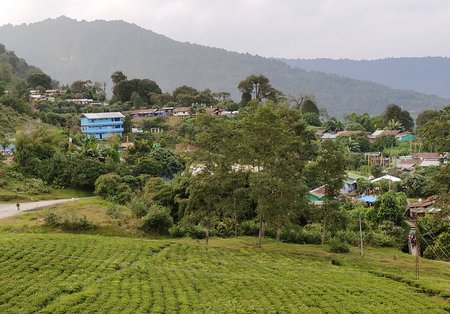 In the mornings and late in the afternoons on weekdays, the sight of giggling school girls are so common on the village paths here. I often found them walking in groups, taking breaks along the way to their school or back home, chatting for a while, laughing on a joke before starting to walk again. 
You will first pass by a playing field... during the day time you can often find village kids playing football there. You will soon enter the core of the village. 
There are few narrow lanes that branch off to different sections of the village. The lovely quaint village has so many pastel huts and cottages, and almost all have roosters moving around them. 
A village house in Nametadhura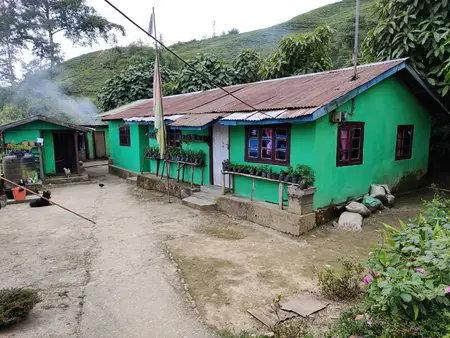 As I walked along, I came across an elderly lady. I heard from my hotel staff that there is a small shop in the village that sells essentials like few grocery items, candies etc. I asked the lady if she could show me the way to the shop so that I could buy some candies. I was surprised when the lady asked me to follow her, and she took me all the way to the shop and then left with a smile. 
The shop was a residential village house with a window on a side which was used as the shop's counter. Seeing nobody at the window and not knowing what to do, I tried to peep through and then came the real surprise. Two large roosters flew out of the window almost right on my face and I was lucky to be able to dodge them. They were then happily playing on the courtyard. I realized that somebody from inside the shop drove away the birds through the window. And soon the man appeared at the window with a smile but very apologetic about the incident. 
The shop at Nametadhura Village. 
See a rooster that flew out of the shop.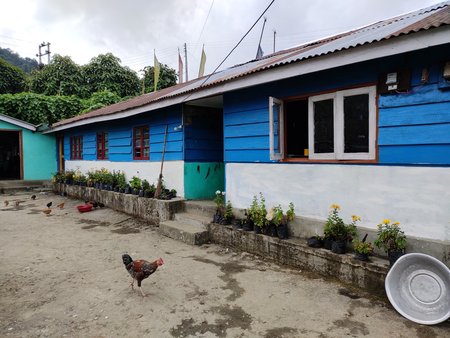 We chatted for a while in Hindi... the man said the roosters enter the shop to eat grains and it's a regular occurrence. I bid good bye, picked up a few candies and carried on my walk through the village. 
I met with another elderly lady soon, she actually came on my way, stood in front of me, watching me with a smile and eager to converse. She said something which I could not understand, then she asked me in broken Hindi if I could speak Nepali. When I said no, she started to converse in Hindi mixed with Nepali, but this time I could somewhat understand what she said. Her first question was, where I came from. When I mentioned Kolkata, she got excited and promptly said she too visited Kolkata once and that was the first and the only time she experienced flying on a plane. 
Through our long conversation I came to know that the villagers here are a happy community. They are content, and at least one member of every family is employed in the tea garden or factory. In fact a little later, I came across several young lady staff of Cherry Resort who were loitering in the village in their off time, came forward with a smile and I figured out that they were resident of this village. 
There is a centrally located elevated platform with a thatched roof where the elderly villagers meet and discuss news. There is a cheery air in the village which is so evident from how the villagers greeted and talked to each other. People of Temi in general are known to be extremely cordial and friendly. 
While returning, I met two other young lady villagers near the entrance to the village. They were returning from their work having plucked tea at the gardens. They looked cheerful and were dressed immaculately and wore long shoes that are required for such garden work. Both were carrying empty conical tea baskets that were hung using a band around their head that supported it. 
The two young village ladies of Nametadhura 
They stopped smilingly and knowing well that I went to explore their village, asked me in clear Hindi what was my overall impression about their village. When I told them that I was overwhelmed with the warmth of the people and the sense of peace and tranquility, they giggled and were quick to add... the urban persons like me who ventured into their village earlier, left with similar impressions, perhaps all city dwellers need to visit the village and see how a simple life can be so beautiful. 
They however mentioned that, life could get a little monotonous here particularly for young generation like them, but life is peaceful and they would still prefer that over a city life. Both willingly agreed for a photo shoot before we parted. You can see in the photo, the backside of Cherry Resort at a distance, nestled right within the tea garden. 
Walk through Temi tea gardens
You want to be amidst the tea bushes, and may be even pluck a leaf just for the sake of experience. You can fulfill this desire to your heart's content in Temi. There are several options to experience a tea garden walk at Temi and there is no cost for that. 
We stayed at Cherry Resort which itself is nestled deep within the tea gardens and surrounded by tea bushes on all sides. There can not be a better experience if you want to sea lush tea bushes in any direction you see. If you stay here, do take a walk along the gravel road in its backside which leads to the Nametadhura village. The pathway goes right through a beautiful section of the tea garden. 
Gravel pathway through Temi Tea bushes. 
See the kids in their school uniform.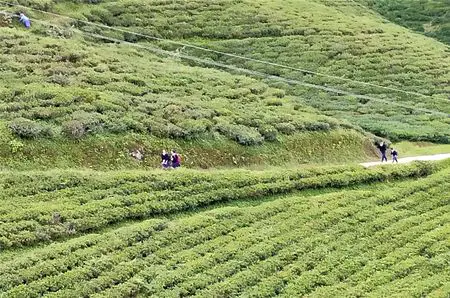 Before you enter the village, there is a narrow dirt trail to the right which leads through the garden and eventually to a wonderful tea garden area where the elevation has such a sudden drop that for once you will feel that you are heading towards a deep gorge... you are not, you will get to a beautiful section of the garden. And all along you are among the green tea bushes. During plucking season you will also be accompanied by many lady tea pluckers within the garden itself. 
Dirt trail through Temi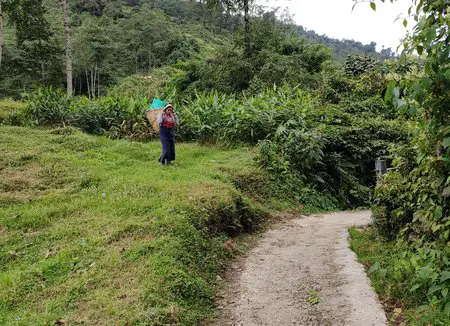 On another day we decided to walk down to the factory which is located 2.4kms away at a lower elevation. So the walk was downhill and comfortable. There is a single motorable road that winds through the tea estate for miles and goes all the way down to Temi Bazaar. 
Walking down the road through Temi 
The walk was perfect and very scenic, and the road all the way goes right through the tea gardens and you can enter the garden and be among the tea bushes for photo shoots at various points along the road. Along the way you will also find a cafeteria with nice views. There is an old man at the counter. You can have a cup of tea here if you want or pick up some candies, and continue to walk. 
Tea bushes right next to the road at Temi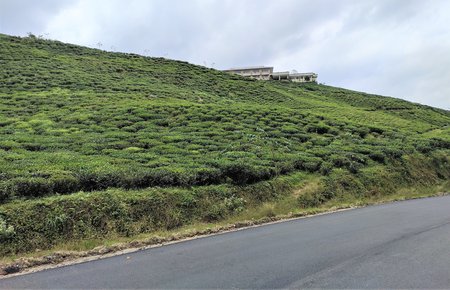 Although in late October the Cherry Blossom trees start blooming, in November they are in full bloom with light pink flowers. Fresh leaves come up after November and you can not see the flowering after that. They are essentially autumn time flowers at Temi, although elsewhere in Sikkim, you can see some cherry blossom trees flowering even in spring (April), but they are a darker shade of pink. 
This road has rows of lovely Cherry Blossoms on both sides and it's a sight to watch as you walk along and see the pink mist and through them the magnificent snow peaks of Kanchenjunga. 
Cherry Blossom at Temi Tea Garden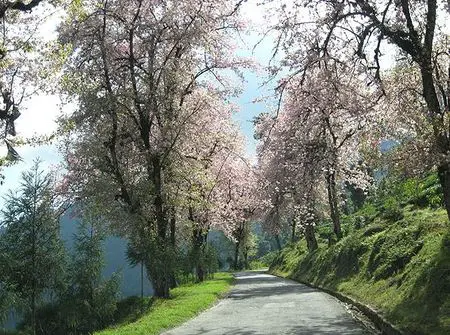 As you walk along, look right beyond the vast tea gardens sloping towards a gorge and you can see
river Teesta
flowing... another splendid sight. 
After about 30 minutes of leisure walk, we reached the section of the road where you can see the Temi Tea Factory only a few feet below the road and its entry-way only yards away. But before we entered the factory premises, we decide to explore this interesting section of Temi, because there were not only a few tea stalls on the road, there were also several tourist vehicles parked here, and some tourists were up in the tea garden on the opposite side of the road. 
Kanchenjunga view from Temi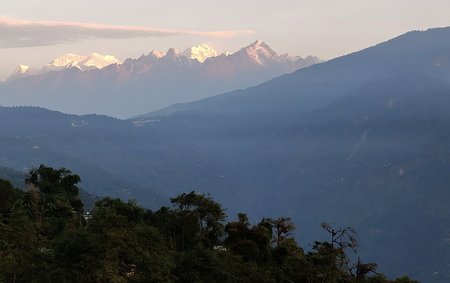 Since this is the factory and estate office area of Temi, it's considered the central section of the garden. We realized that this is the point up to which tourists making day trips from Namchi, Ravangla and Gangtok are brought by the taxi drivers, are left to hang around for a while before heading back. 
We saw several of them walking up the pathway through the tea bushes, taking photographs and going up to a large board placed on a concrete block saying..."I Love Temi" at a higher elevation within the garden. This is probably the most prominent landmark in Temi and is visible from afar. 
'I Love Temi' board in Temi Tea Garden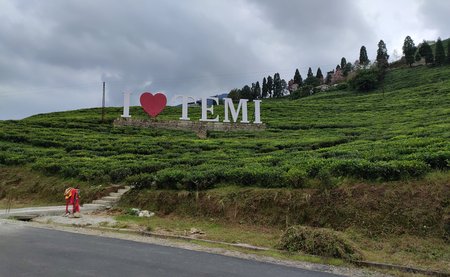 The above in fact is showcased by the Temi authorities as one of the main garden attractions and you can explore the gardens and Temi tea bushes here as long as you want. The roadside tea stalls here have a special significance and I shall discuss that later below as part of Temi factory tour. 
Visit the Temi Factory
From the roadside tea stalls, the entry gate of Temi Tea Factory is only a few yards away. You can actually see the factory clearly from the road where the tea stalls are set up. 
The approach road from the main entry gate leads down to the factory through wonderful flowery plantations on both sides of the road. At the end of this approach road, turn right and you will reach the factory door after a short walk. Usually there will be guides (who are staff of Temi factory) standing near the door and will guide you to the ticket counter in case you are interested in taking a guided tour of the factory and witness and gather knowledge about tea processing. 
Temi Tea Factory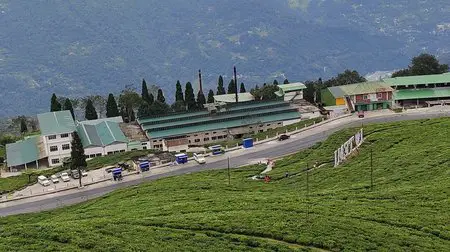 The guided tour of Temi Factory costs around Rs. 150 per person. As I have already mentioned, Temi produces organic tea of various types and grades. The Sikkim Government operated Temi Factory uses traditional method of tea processing. If you have already visited
a good tea factory in Darjeeling
, the processing stages are similar here and you need not take the factory tour. Otherwise it would be really worth your time to know how tea is processed. 
Entry to Temi Factory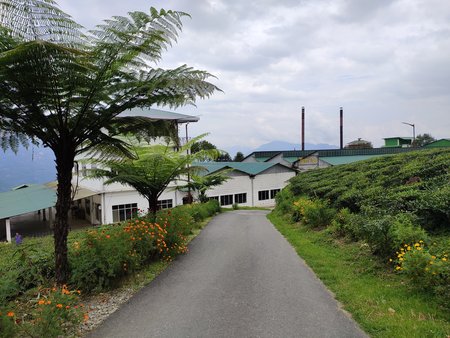 They will show you all the different stages of tea processing including Withering (where warm air is blown through the freshly plucked tea leaves), followed by rolling, fermentation, drying, then sorting (to separate out the different grades or quality of tea leaves) and then finally packaging. 
The guide became so friendly with us that he asked me if we would like to take some snacks (like pakoras) and tea. There is a worker's canteen within the factory premises and behind the factory. I mentioned that we would only like to take a look. 
The Workers Canteen at Temi Fatory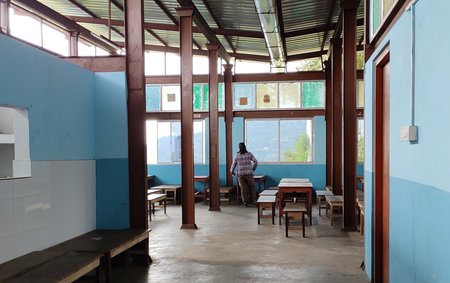 See the counter on the left (a hole on the wall) 
through which food is served 
We walked down to the canteen through a covered walkway... the canteen was at a little lower elevation. One thing which is striking here is the wonderful views of the mountains and rolling tea gardens from the backside of the canteen. I was impressed. 
View from Canteen's Backside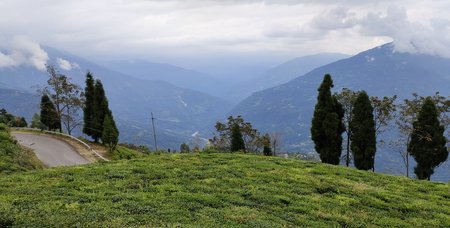 The guide mentioned that there is a society run by the tea garden workers known as the Tea Garden Employees Consumers' Co-operative Society. This society has been authorized by the estate to sell various types of Temi Tea. It's this society that operates the tea stalls on the road above the factory. 
There are couple of stalls there that sell Temi tea leaves of different grades in 250gm packages. The prices for regular Black Temi tea (which is available throughout the year and not the best quality) is Rs. 500 per 250gms. The First Flush and even the Second Flush are lot pricier. 
Roadside Tea Stalls just above Temi Factory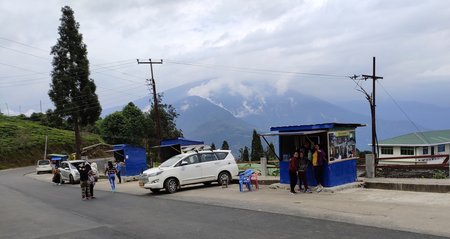 There is one stall among the few which is run by a lady and offers hot cup of Temi tea. She will prepare it right in front of you on a gas oven. The tea used is a low quality Temi tea (she will let you check the package of the tea leaves she uses) but tastes nice although it hardly has any flavor. A cup of tea costs Rs. 30. If you want mineral (bottled) water to be used for the tea, you need to buy the bottle from her (we did that and paid Rs. 15 for a small bottle of water). There are plastic chairs laid out in front, you can relax, watch the lush tea garden across the road and enjoy a cup of tea. 
If you don't want to walk back up to Cherry Resort (it's a fairly steep uphill walk of 2.4kms), there are usually taxis available near the stalls offering drop to the hotel. Otherwise, let a stall person know and he will make a call and get a taxi from Temi Bazar. Taxi takes Rs. 300 for a drop to Cherry Resort. 
Cherry Tea Festival
In the month of November when the Cherry Blossom trees are in full bloom, a festival known as Cherry Tea Festival is held at Temi Tea Gardens (usually between November 15 to 17 every year). This festival is supported by Sikkim State Tourism Department to promote tourism in the Tarku region as well as Temi tea. Hundreds of domestic as well as foreign tourists arrive during this festival. 
Apart from soaking in the mesmerizing views of the Cherry Blossoms against the backdrop of Mt. Kachenjunga, you can enjoy several activities that are organized here during this time such as cultural programs including ethnic dances and music performed by the locals, stalls offering local Sikkimese cuisine, various adventure activities including trekking, paragliding, mountain biking etc. You can also buy Temi Tea at promotional rates. And there are stalls that sell various handicraft products. 
Day Trips to Namchi and Ravangla
Both Namchi and Ravangla are equidistant from Temi Tea Garden (about 20kms each) but in opposite directions. Although you can make a road trip to see both places on a single day... it is recommended to dedicate one day each for the two destinations to do justice. 
Namchi is known as the cultural and religious capital of Sikkim. The biggest attraction in Namchi is the famous Char Dham where all the four dhams of the country have been replicated. On the way to Namchi you can also visit the well-known Samdruptse Monastery and Rock Garden. 
Ravangla is famous for Buddha Park with its large ornate sitting Buddha statue in a huge and attractive parkland with great facilities. There are several excellent monasteries here as well. 
Go for Adventure Activities at Temi
You have a young heart or some young ones are accompanying you and therefore some adrenaline gush is important as part of your holidays. No problems... Temi can fulfill that desire too. There are two main adventure activities that take place in Temi Tea Gardens... Zip Line and Paragliding. Ask your hotel staff, and they will guide you how to reach out to the local operators. 
One of the longest Zip Lines of Sikkim operates at Temi Tea Gardens. The Zip Line (a cable made of steel with a pulley hanging from it) is mounted at one end on a pole on a hilltop and it goes all the way over lush tea gardens downward at the other end to another hill area. You will be harnessed to the pulley and zip down the cable enjoying wonderful vistas of tea bushes below and the mountains afar. 
Tandem Paragliding also operates at one section of Temi Tea Garden. Tandem means there will be a certified pilot with you to guide the flight. There are sections earmarked for take off and landing. Medium Flight has been operational where you can fly at an altitude of 1000-1200 meters. You get wonderful aerial view of Tarku township as well as the Himalayan snow peaks on a clear day. The flying time is about 5-10 minutes depending on wind conditions. The cost is Rs. 2,500 per flight. 
The nearest major railway station to reach Temi Tea Garden is at New Jalpaiguri (NJP) and the nearest airport is Bagdogra. You can get reserved taxis at both NJP and Bagdogra to get to Temi. There is no shared taxi service available up to Temi. You can also ask your hotel to arrange for a pick up. 
From NJP and Bagdogra the route is initially along NH10 via Sevoke, Teesta Bazaar up to Melli (the route up to this point is same as the
route to Gangtok
). However, near Melli you will leave NH10 and take a circular diversion into another road that passes through settlements such as Melli, then Sumbuk, Kitam etc.
Melli
is a busy place and has several eateries. It's 60kms from NJP and you will get there in 2 hours 15 minutes. This is where you can stop for lunch if you want. 
The Teesta River and Bridge near Teesta Bazaar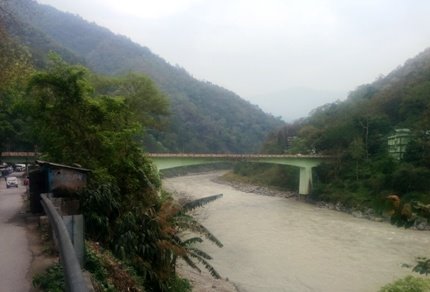 We stopped for lunch at Pradhan Restaurant in Melli (they serve non-vegetarian food and looked decent). The food offered was simple…. mutton thali, chicken thali, fish thali, veg thali (all options cost 180 INR). I tried the fish thali (after all river Teesta flows through this place, so fish should be fresh)... rice, lentils, potato crisps, mixed vegetable curry, papad, pickle and delicious Bengali style fish curry. They also provide onion slices, green chilies and a piece of lemon as an accompaniment. 
The Fish Thali at Pradhan's Restaurant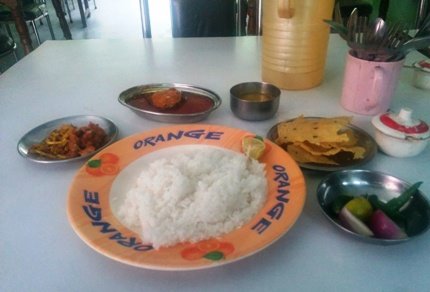 The quality of food was quite good and the restaurant seemed quite popular amongst tourists as a stopover lunch option. If you are vegetarian, you can hop in next door at Gupta's restaurant that serves Veg Thali's, dosas and pastas amongst other dishes. 
The route continues from Melli and then passes close to Sikkim's cultural and religious hub -
Namchi
. The route finally passes through Damthang Bazaar before getting into Temi Tea Garden. 
The total distance between NJP and Temi Tea Factory is 113kms and will take about 4 hours 15 minutes by car. The distance between Bagdogra airport and Temi Tea Factory is 122kms and takes about 4 hours 30 minutes by car under normal traffic conditions. 
Since a short diversion along the way can get you to Namchi, many tourists stay overnight at Namchi and proceed a day or two later, or make a day trip to Temi Tea Garden from Namchi. The distance from Namchi township to Temi is 21kms and takes about 50 minutes by car. 
From Gangtok the route to Temi is via Singtam and Tarku. The distance is 55kms and takes around 2 hours 20 minutes. Singtam is a township and about 27kms from Gangtok and takes about 1 hour. 
Once you leave behind the busy settlement of Singtam, in about 4kms distance you will cross a bridge over Teesta and almost immediately thereafter on a turning, there is an eatery known as Sirwani Cafeteria. This is the last decent eatery on this route. From the open terrace of the restaurant, you can see Teesta flowing right below you... an excellent sight. There are tables and chairs laid out on the open terrace with garden umbrellas, there is inside sitting as well. 
Sirwani Cafeteria, Sikkim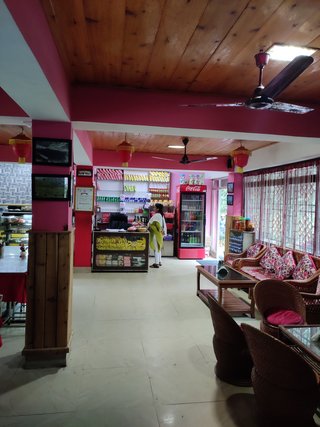 Chicken momos and chicken Wai Fai are popular here. They also make standard Indian snacks including samosas, parathas, puris etc as well as some Chinese items. You can also get hot Temi tea, coffee, cold drinks here. Washroom facilities are available. The restaurant is open until 7pm. 
Once you go past Sirwani Cafe, in about 15 minutes (4kms), you will see the large structures of Mankind and Cipla pharmaceutical companies to your right. Seeing the remoteness and the difficult mountainous terrain of the area, a thought will surely pass through your mind wondering how such companies are setup in places like this with practically no facilities around. 
In another 20-25minutes (5kms) you will reach Tarku. Tarku is a small settlement and a village which is located below and at the base of Temi tea garden. Tarku has a Higher Secondary School and a community medical dispensary. The road for Temi actually starts from Tarku and soon meanders through picturesque settings of tea gardens for 16kms before reaching the tea factory area and continues beyond to places like Cherry Resort. 
If you are coming from Gangtok, then a good plan would be to proceed to Namchi after visiting Temi Tea Garden, rather than making a round day trip from Gangtok. Ravangla too is nearby. From Ravanga township the distance to Temi is 20kms and takes about 50 minutes. The route eventually gets into Damthang and then leads to Temi. 
A note on the road conditions 
Getting to Temi Tea Garden is an adventure of a kind by itself, because, there are several sections of the road that are in bad condition. Particularly if you are coming via Singtam and Tarku, long stretches of the road after Singtam are in extremely bad condition... some would argue that road doesn't even exist there. So you ideally need a large vehicle, although small vehicles too ply on that route. Even the roads between Temi and Namchi as well as between Temi and Ravangla are bad in several sections. 
This is because road widening is taking place in several areas (locals call it 'back cutting' because rocks and cliffs are being cut to widen the roads), and it is also very difficult to maintain roads in such remote and difficult terrain. The local drivers would say that it is for such bad roads that Temi has not been able to achieve its full potential as a tourist destination. But that's a blessing in disguise too... you will never find Temi getting over-crowded with tourists. 
Best time to visit
You can visit Temi Tea Garden any time of the year. However, April and May is the summer time when the temperature remains very comfortable, there is usually no rains and the views of the Kanchenjunga snow peaks are beautiful. During April/May, the day time temperature at Temi averages between 14 to 20 degree Celsius although the night-time temperature can fall to 3 - 7 degree Celsius. 
The first flush or the spring flush of tea is plucked in March/April. So tea plucking at the gardens is another great sight you get around this time. 
From mid-June the monsoon starts and usually continues through September. This is not the time when you can expect good views due to cloudy sky. Tea plucking continues through monsoon. 
Another great time to visit Temi is between October and December. In October the temperature remains pleasant while November onwards the winter starts settling in. However, views are usually excellent during this entire period and there are no rains. In October, the day time temperature is pleasant and averages 12 to 16 degree Celsius although night time temperature can go to sub-zero towards the end of the month. December is cold with day time temperature averaging between 3 to 7 degree C while nights or early mornings can see temperatures between -7 to -15 degree Celsius. 
In November, Cherry Blossom trees that line the road that passes through Temi, bloom in full... a spectacle which combined with the views of snow peaks is unforgettable. However in December, tea plucking stops. 
Where to stay
Many tourists make a day trip to Temi from nearby tourist destinations such as Namchi, Ravangla or even Gangtok, come up to the Tea Factory, enjoy a cup of Temi tea at the roadside stalls, take a walk through the gardens for a photo-shoot and some take a quick factory tour and buy packaged Temi tea leaves from the stalls before hurrying back. Little do they know that staying at Temi for a few days can be a life-time and a soul-healing experience. Tea garden life here can't be seen in few minutes through bare eyes, it can only be felt through an experience over few days. 
Cherry Resort (3 Star)
This is undoubtedly the best and the largest tourist accommodation in Temi and the beautiful property sits right amidst the vast stretching tea bushes on all sides. The property belongs to Sikkim Tourist Development Corporation (STDC), however it has been leased out and is now run privately. 
Cherry Resort, Temi Tea Garden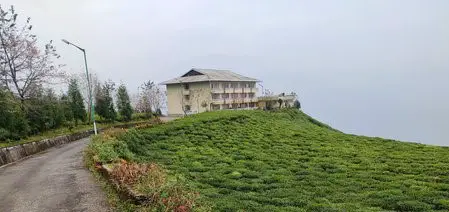 There are rooms across three floors (Ground + 2) and each room has a private balcony. There are rooms both on the front side (facing south) with views of lush tea gardens and the backside facing north with marvelous views of both tea gardens and the snow peaks of Kanchenjunga. The in-house restaurant serves breakfast, lunch and dinner (mostly Indian dishes plus some Chinese items) and you can also get alcoholic beverages here. There is also a huge open terrace on the first floor. 
The rooms are well done up and have modern facilities including Flat TV, geysers in bathrooms etc. The hotel front-desk can organize transports and local sightseeing tours. There is ample parking space. Many tourists who come here to stay for few days, have a reserved vehicle of their own so that they can move around freely. Actually there is no need of doing this, keeping a reserved car overnight can be quite expensive. The hotel is quite efficient in organizing transports at reasonable rates if you let them know in advance about your movement plans. 
You can make a booking by calling or emailing: 
Phone.  +91-8016488737, 9800013666 
Temi Dak Bungalow
This Bungalow was built by the British during the colonial days and is owned by STDC, however this too has been leased out to be run privately. The Bungalow is located at a short distance from the tea factory. It has been restored and you can enjoy the aura of the British days if you stay here. 
There are two fully carpeted rooms with amenities such as geysers in bathrooms, wooden wardrobes etc. The living room has a fireplace. The large veranda overlooks a nice garden. The chowkidar or the caretaker doubles up as the cook and you can let him know in advance the food you would like to take. 
Home Stay at Temi
There are several homestay options in Temi area. 
One of the popular ones is Aansham Kutir Homestay located a little below the tea garden. You can enjoy excellent hospitality of the host's family, beautiful garden settings, great homemade food, bird life and nice clean rooms. Temi Tea Garden is at a walking distance. The hosts can arrange for any transport you want. For booking, call the homestay directly: (+91) 94746 48884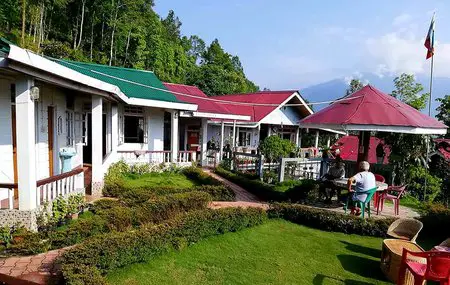 Photo: Aansham Kutir Homestay 
Related Articles
Visitors' Reviews/Comments
Arun Kumar Ghosh (January 2022) 
Thank you Raj, for unique style of communication and vivid description of Temi Tea Garden tour. I am regular and avid reader of your blogs.  Please tell me whether Cherry would be in full bloom in last week of February and a suitable time to visit Temi Tea Garden. I shall be highly obliged if you kindly let me know. 
Raj (darjeeling-tourism.com) January 2022 
Hello, at Temi, one can see Cherry Blossoms in full bloom in November. You can not unfortunately see cherry blossoms flowering in February at Temi Tea Gardens. 
Minakshi Bhattacharya (December 2021) 
Hello! Your blog is beautiful! I'll be highly obliged if you let me know whether the cherry trees remain in bloom in mid-April or not. Thank you in advance. 
Raj (darjeeling-tourism.com) December 2021 
Cherry trees bloom in winters. By April middle, the summer starts and the flowers can not be seen.