Ging Tea House Darjeeling, A Tea Estate Stay
Category: Upscale 
About Ging
Ging Tea Estate is only a 30-minute drive from Chowk Bazaar, the lower town area of Darjeeling. This rolling tea estate spreads across an area of 600 hectares on the slopes of Darjeeling hills with altitude varying between 2,000ft to 5,000ft. However being a bio-organic garden, 60% of the estate has been left uncultivated to retain the ecological balance. The uncultivated areas mainly comprise of natural forested land full of flora and fauna. 
Ging Tea House, Darjeeling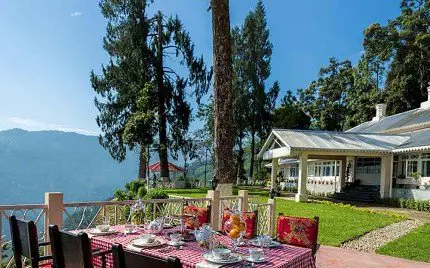 Photo: Ging Tea House 
Ging is part of the well known Chamong Group. The estate employs around 600 workers and the tea sold from this garden is branded under Chamong for retail in India. However most of it is exported under the name Ging itself. This is one of the oldest plantations in Darjeeling Hills. 
Ging Tea Estate 
The Ging Tea House is a British planter's bungalow which was originally built in 1864 when the tea plantation was set up here by Darjeeling Tea Company for the first time. The bungalow has been now restored & renovated to its old glory and grandeur. The tea estate however, had changed hands couple of times and was finally taken over by the Chamong Group in 2004. 
The Ging Tea House
The Tea House (i.e. the bungalow) is now offered to tourists to enjoy a tea garden life which was once a privilege only for the British planters and later for the Directors of the company who owned the estates. The bungalow has all-wooden floors, high ceilings exposing the rafts and antique furniture & drapes that collectively recreate the aura of the period. The lounge is spacious and there is grand piano as well a billiards table at the lounge... both belong to the same era as the tea house.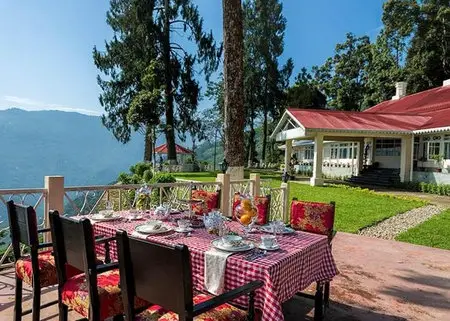 There is a wonderful lush lawn in front of the bungalow, a small gazebo across the lawn at one corner, and an open viewing deck in front. On a clear day, the view of Kanchenjunga snow peaks from the lawn and the viewing deck is simply magnificent. You can have your breakfast served at the gazebo or at the open viewing deck. 
Accommodation & Dining
There are six private suites, all very tastefully done up and have antique four poster beds. In-room amenities include mirrored dressers, Flat Screen TV with digital channels, electric kettle with complimentary tea/coffee, hair dryer, room heaters, spacious attached baths with modern amenities, geysers, toiletries etc. The suites also have fireplaces which can be lit up on request.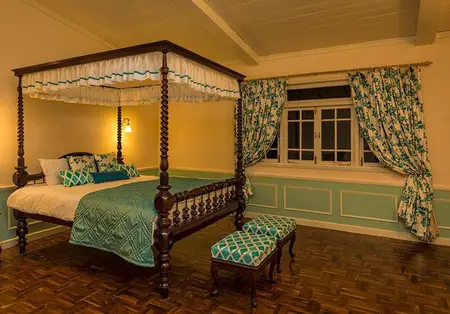 There are 11 staff in the Bungalow and few of them speak good English. They also have a host in the bungalow who is the manager and she is available on call at night for any emergency services. 
Photo Source: Ging Tea House 
The dining hall is spacious and attractive. The food offered for breakfast is Continental - cereal, fruits, sandwiches, eggs, sausages, Indian hot breakfast with tea and coffee. One of the best places to take morning tea as well the breakfast is at the Gazebo in the lawn. You can enjoy the sun, the lovely views of the peaks and the lush mountains around as you sip your Darjeeling tea. 
In-room Fireplace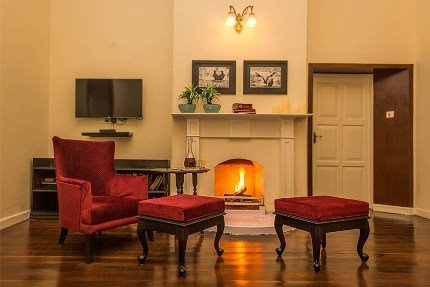 Photo: Ging Tea House 
They serve both vegetarian and non-veggie items. For lunch, they usually serve Indian meals (there are variations as well) and same for dinner. They also make nice Chinese dishes. If you like pork, then you must try out the pork with spinach... it's excellent. 
Dining room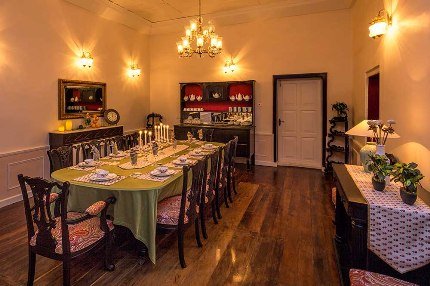 Photo: Ging Tea House 
All meals are three course with soups + starter, main meal and deserts. They also offer Momos and Thukpa in snacks (popular Tibetan dishes) so that tourists can enjoy local delicacies. You can bring and enjoy your own drink, there is no in-house bar or wine bar at Ging Tea House. 
Activities
You can pursue several activities during your stay at Ging Tea House. Here are some of them... 
Take a walk through the gardens and see tea plucking (during season). The guide will show you how Darjeeling tea is plucked from the gardens (two leaves and a bud).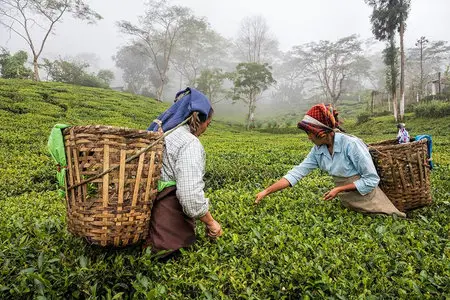 Visit the factory which is about 30 minutes walk from the bungalow and see the different stages of tea processing. 
Join a traditional tea tasting session and understand how tea is graded. 
Take a walk down to the river Rungdung that flows through the estate. It will take about one-hour downhill walk to reach the river. Alternatively ask for a vehicle ... takes 20 minutes. 
Walk or trek along one of the several curated walking trails that pass through lovely tea gardens, small local villages and forested land. Excellent way to explore the nature. 
Tea Garden Landscape, Ging 
The lobby area is long and spacious, and has excellent views... an ideal place to read books during the day. 
In the evenings you can engage in one of the several in-house activities like playing English Billiards on a vintage table, carom or a board game, or visit the library with a drink, or pick a music of your own choice, or even try your hand at the antique piano. 
Make a day trip to Darjeeling town, Mirik or Kalimpong. 
So what is different in Ging?
A great advantage of Ging Tea House is its location, close to Darjeeling town with fantastic views and great service. So you can actually enjoy best of both the worlds - Darjeeling and a great tea estate stay. Secondly, the Tea House is a restored heritage bungalow that was built during the British colonial days. You can relive the time the way the British planters did and enjoy the rolling tea gardens and scenic views in complete tranquility. 
Inclusions
All-inclusive rate includes the following: 
Pick up and Drop at Bagdogra Airport/ NJP Station / Kalimpong / Darjeeling. 
Chauffeur driven car for day trips to Darjeeling Town / Mirik / Kalimpong. 
Accommodation in your preferred suite. 
Breakfast , Lunch, Evening Snacks and Dinner 
Tea/Coffee, Juices, Soft Drinks (all through the stay) 
Guided walks through marked tea trails with packed lunch. 
Gardens & Factory visit plus Tea Tasting 
Access to all in-house activities. 
Rates provided by booking.com 
How to reach
From Bagdogra or NJP, you need to first reach Darjeeling lower town known as Chowk Bazaar (takes about 3 hours). From Chowk Bazaar you need to go towards Singamari along Lebong Cart Road, then towards Lebong Valley - from there towards Bara Ging on a dirt road and you will reach the tea house. It's about 30 minutes drive from Chowk Baraar. 
Contact Info
Mobile: +91-9831076877 
Related Articles
Visitors' Reviews/Comments
Sadhana (December 2022) 
We have been here in 2022. A few points: 
1. Excellent location 
2. Good food and service by staff on ground 
3. Hopeless communication by manager there - never replied to messages sent before 
4. for a place like this, there should have been some better service when being picked up at airport - no water bottles or communciations about where and when we shall reach the place. Started at 6 in the morning from Bangalore, we reached the place at 2:30pm. No lunch or snacks available, only at 4pm we managed to get something to eat - few limited pakodas. 
5. No briefing on when and what we could do at the estate - only  later we found out that tea factory would be closed on the rest of the free day we had!! 
6. TV never worked and messages sent to the manager never were responded. So, 4 days nothing to do late in the evening. 
7. The same taxi that picked us up - we requested to come drop us at airport - 1 hr before departure , the taxi guy says he can't make it! Manager says he can't do anything. Only time we actually saw him face to face was the day we were leaving - no real services provided -for suggestions on where to go when to go etc. 
8. Accommodation can do with an uplift - everything from sheets/floor rugs need some updates. 
This place can do so much better by just a few upgrades and better customer service at manager level.