Tinchuley - Visit & Stay
About Tinchuley
Tinchuley is a small mountain village (rather a hamlet) in Darjeeling district and located at an altitude of 5,800ft, and just 3kms above Takdah. The word Tinchuley means Three Ovens (i.e. Tin Chullahs). And such name to the village has been given because of the three prominent hill tops that surround the place and which from far look like a formation of an oven or chullah. Tinchuley faces the Kalimpong hills. 
It's a developing tourism place. In fact the organization WWF (World Wide Federation) has been actively assisting some 17 families here to develop a model organic village and promote village tourism. Some of the village homes have been extended and converted into guesthouses or homestays for tourists. The villagers with support from WWF have adapted modern farming methods and developed floriculture, vermiculture, and other organic projects. 
On the way to Tinchuley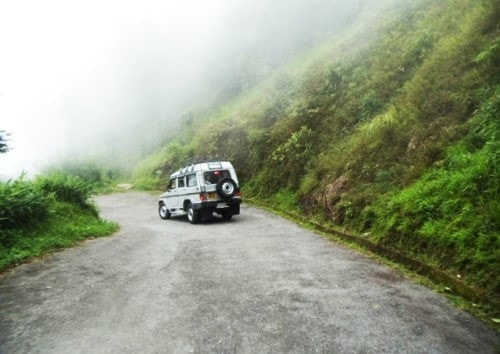 So why should you plan a trip & stay in Tinchuley? Simple. If you love nature, the lovely views of the Himalayan range, like to see the meandering Teesta flow through the mountain landscapes, enjoy tea gardens, orange orchards, want to walk along village trails, watch varieties of birds, experience local culture, people and food, then this is the right place for you. 
On top of it, you are away from the typical crowd of Darjeeling hill town. Tinchuley is a calm and quiet village offering the tranquility and nature which most city dwellers long for. And there are several great attractions, beautiful places and view points nearby. 
Attractions & Activities in & around Tinchuley
1) Visit the lovely Orange Orchards of Nirmal's (8kms drive from Tinchuley). This family owned property also has a factory producing fresh orange juice, marmalades and pickles which you can buy at reasonable prices. 
2) Visit the Tinchuley Monastery. Here a Lama had meditated for 17 long years. You will see the long line of prayer wheels on outside wall. 
Monastery at Tinchuley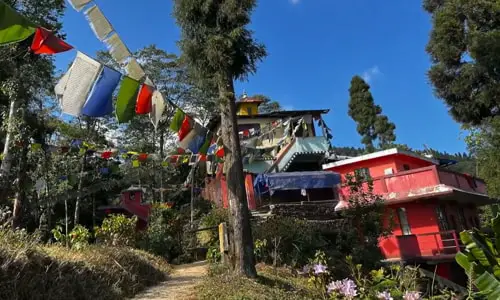 3) There are six tea gardens within short distances where you can experience the garden life, watch tea plucking, visit the factory and see tea processing. The nearest tea estate is the well known Rungli Rungliot. Another one is Peshok Tea Estate. 
View of Peshok Tea Garden from Tinchuley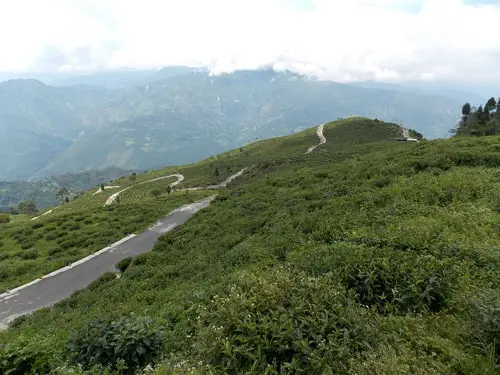 4) Watch the magnificent sunrise from Tinchuley View Point and see how the snow peaks of Kanchenjunga and other Himalayan peaks sparkle as the day light breaks. From here you can also get a lovely view of Kalimpong township and Teesta Valley. 
5) Walk for about 20 minutes through forest of ferns and reach Gumbadara Viewpoint, another great place from where you see the river Rangeet and a part of Sikkim. You can also get great views of Kanchenjunga from here on a clear day. The large rocks here have historical significance. They are great training grounds for rock climbers. There are also several caves here which you can explore. 
View of River Teesta at Melli (from Tinchuley)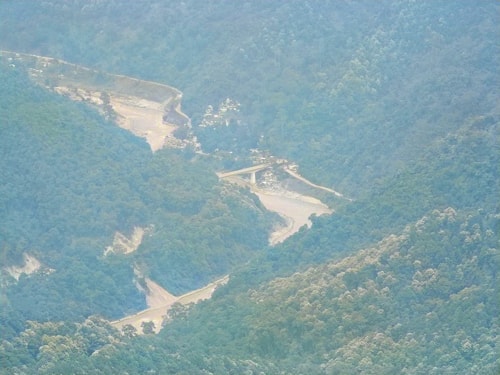 6) Walk through the lovely nature trails, trek and explore the nearby villages. Your guesthouse or homestay can arrange for a local guide which is recommended. Although the local villagers apparently seem to be shy, once you chat with them in a friendly manner, they too can be very friendly and hospitable. Almost all village houses here are adorned with flowering pots. 
8) You can also visit all attractions that I have described under
Takdah
as well. Tinchuley is only 3kms away from Takdah. 
How to reach Tinchuley
Tinchuley is 32kms from Darjeeling (1.5 hours by car),  73kms from NJP (about 2.5 hours), 77kms from Bagdogra (about 3 hours) and 35 kms from Kalimpong (about 1.5 hours drive). 
While coming from NJP/Siliguri by taxi, you will need to take Sevoke Road (NH10) and go towards Teesta Bazaar. Along the way you will go past places like Kalijhora, Rambi Bazaar etc., and before the Teesta Bridge there is a sharp semicircular turn to the left starting an uphill journey... this is Peshok Road which is fairly steep and condition of the road is usually not good. Initially from forests of bamboo and pines the landscape changes to forest of tall trees. 
You will pass through three tea gardens... Teesta Valley, Rungli Rangliot, and Gille tea gardens all offering marvelous views of the expansive tea estates on hill slopes. You will then go past places such as Takdah Club and Takdah Bazaar and then head to Tinchuley. 
You can get reserved taxis from NJP, Bagdogra, Siliguri, Darjeeling and Kalimpong. Occasional shared taxis/Jeeps are available from Siliguri (Sevoke Road, behind Vishal Cinema Hall or from Ranjit Garage behind 9/10 Hotel Sevoke) up to Takdah. From Takdah you will need to take a private taxi (like a Maruti van) for a short drive up to Tinchuley. From Darjeeling you can get buses up to Takdah (leaving in the afternoon).  
Best time to visit Tinchuley
October to May is the best time to visit Tinchuley. This is the time when the sky remains clear and you get great views of the mountains and valleys all around. However November to February would be quite cold in Tinchuley. 
Where to stay in Tinchuley
There are several homestays and guesthouses in Tinchuley that are reasonably priced and offer nice accommodation with basic amenities. Most tourists stay at the homestays or guesthouses. Recently a hotel has also been developed here that offers luxury amenities. 
Tinchuley Ratna Vajra Vatika Resort 
This is a relatively new hotel and arguably the best accommodation in Tinchuley where the room tariffs are pegged at levels similar to 2/3 star hotels of Darjeeling. It is located near Gumbadara Viewpoint and perched on a hilltop at an elevation. As a result, the dining room as well as the premium rooms in the upper floors have wonderful views of the Kanchenjunga snow peaks (you can see the entire 'Sleeping Buddha' from these rooms). The sunrise view too is awesome. However, the ground floor rooms have no such views. 
There are three categories of rooms - Deluxe Double, Premium Attic Double and Premium Attic Triple. The rooms are modern and well furnished. There is TV, electrical kettle with cups and tea bags/ coffee pouches, geysers in bathrooms, etc. There is free wi-fi but most times there may not be any network. There is also electricity power problems... but these are mostly to do with the location and not specifically with the hotel. 
The food is average and may seem to be a little pricey because the portions may not be enough depending on your appetite. They mostly make Indian dishes such as Chicken thali, Paneer, rice/roti etc. However, the complimentary Darjeeling tea in the morning is very refreshing. 
The service in general is friendly and good. The hotel is owned by Nabin Gurung, a local, who visits the hotel occasionally when all the staff members become super professional. While the location of the hotel is good for views and enjoying the serene nature, the approach road leading to the hotel is not in a good condition. 
Mobile: +91 97759 43790, +91 7908699355 
Gurung's Guesthouse 
Villagers have developed several guesthouses. One such guesthouse (more like a homestay, the most popular and the largest) is Gurung's Guest House with slanted roofs. This simple yet charming guesthouse has four double bedded rooms, four 4-bedded rooms, two deluxe rooms, and one cottage. It's spread out in a nice garden setting. 
Gurung's Guesthouse, Tinchuley 
Indicative Rates: Double Bedded rooms: Rs. 2016.00; Four Bedded: Rs. 2464.00; Cottage: Rs. 3540.00; Deluxe Rooms: Rs. 3540.00; Super Deluxe: Rs. 4720.00. 
Additional 10% service charge is applicable. Note: You need to bring your own towels. They serve Indian meals (Rs. 650/- per person which includes morning tea, breakfast, lunch, evening tea, and Dinner). Atypical meal woud include rice, ghee, daal, alu bhaji, a vegetable curry, fish or chicken, chutney etc (portions are good). Child between 5-10 gets 50% rate on food. Child below 5 is free. There is a separate dining area. They organize local tours and treks. 
Phone: +91-9933036336, +91-9434514614, +91-9733326309 
Abiraj Homestay 
Abiraj Bhandari runs this accommodation (a 2-storey wooden building)... it's more like a hotel with a touch of homestay and overlooks tea gardens with lovely views. There are double, triple and four bedded rooms (both standard and deluxe) with attached bath fitted with geysers. The deluxe rooms additionally have TV. 
Abiraj Homestay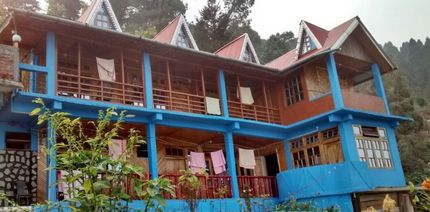 Indicative Rates: Double bedded room (standard): Rs. 800.00, Triple bedded room (deluxe): Rs. 1200.00. Food Rs. 500 per person and includes all meals, tea, snacks. You can get room heaters at extra cost. 
Phone: 09749370965, 07602985032, 09635562957 
Related Articles
Reviews/Comments
Pradip Kumar Bhattacharya (April 2022) 
Dear Mr.Raj, Your blog is very much helpful. Thanks for that. However I just want to know whether it will be a suitable time to visit Tinchuley during middle of May. Also for a team of 5(five), what kind of vehicle would be suitable to reach there from NJP/ Darjeeling. And are vehecles available from there to reach Darjeeling/ NJP? 
Raj (darjeeling-tourism.com) April 2022 
Hello, mid-May is a high tourist season and a good time to visit Tinchuley. You should take a 7-seater vehicle such as Tata Sumo, Bolero, etc. These vehicles are available at NJP/Darjeeling taxi stands. For luxury vehicles like Innova or Scorpio, you need to
book one through an operator
. 
Avik Chakraborty (December 2021) 
Sir, first of all I want to thank you for your blog. It is so informative , your way of description is absolutely fantastic. My question is whose location is better... Rai Resort Tinchuley or Gurung Guest House Tinchuley? And the second one is, whether we get a 30 seater bus from NJP to Tinchuley? Thanks in advance for your kind co-operation. 
Raj (darjeeling-tourism.com) December 2021 
Hello, Gurung Guest House is located quite conveniently and centrally. Rai Resort is a little off the way and located at an elevation, but the Kanchenjunga view from there is great. From Gurun's guest house, you can get a view of the Teesta river below. You need to contact a Siliguri based travel agency to book a coach for your pickup at NJP... you won't get one at the station after reaching there. 
Kamalika Kanji (October 2020) 
Sir, can you please tell me that how can we plan to visit Tinchuley around 17-19th October,2020. How many days stay you recommend for Tinchuley? We are really eager to visit, but not sure that this places are open for tourists yet or not. 
Raj (darjeeling-tourism.com) October 2020 
Hello, most places including Tinchuley in Darjeeling hills are opening up. However, you should call up any specific accommodation where you plan to stay and check if they will be geared up adequately when you arrive. You can stay at Tinchuley for 2 to 3 nights. 
Rakesh Das (September 2020) 
First of all I would like to thank you for this resourceful website you made. I would like to ask you about the frequency of availability and timing of the shared Cabs from NJP to either Tinchule or Takdah in day time. Thanks in advance. 
Raj (darjeeling-tourism.com) September 2020 
Shared taxis to Takdah are available only from Siliguri behind Vishal Cinema Hall on Sevoke Road (and not from NJP). From NJP you can get there by an auto (will take about 20 minutes). There is no fixed frequency. Under the new guidelines following Covid-19 pandemic, shared taxis can carry up to 5 passengers (half of earlier numbers), so expect the shared taxi fare to be double or more. There is no direct shared taxi from NJP or Sililguri to Tinchuley. 
Soumyadeep Ghosh (November 2017) 
Hello Sir, We are planning to Tinchuley via Lepchajagat in the second week of January. My question is about the communication between Lepchajagat and Tinchuley. May we get the cab or shared jeep(s) from Lepchajagat to Tinchuley and approximate fare(s) of the journey? I shall be highly obliged for your kind answer? Thanking you, 
Raj (darjeeling-tourism.com) November 2017 
There is no jeep/taxi stand at Lepchajagat. You need to go down to Sukhia (your lodge can arrange for a vehicle up to Sukhia) or stop one passing by and hop on (if it's a shared Jeep). Go up to Ghum/Jorebungalow and then catch another one to Tinchuley. A reserved small taxi from Lepchajagat to Tinchuley would cost around Rs. 1400. 
Rajib Banerjee (May 2017) 
Dear Mr. Raj, I will visit Tinchuley in the month of Oct-2017 from Darjeeling with my family 2 Adult & 2 Child. Please let me know which type of car I have to hire to drop Tinchuley from Darjeeling, small cab can be suitable or I have to hire big car like Sumo, Bolero, Safari etc. Also I want to know when we will back from Tinchuley to NGP, car can be arrange from Tinchuley. 
Raj (darjeeling-tourism.com) May 2017 
You can take a small car from Darjeeling to Tinchuley. Your Guest House at Tinchuley can arrange for a car to drop you at NJP. 
Sreeya Bhowmik (May 2017) 
Hello Sir, Greetings! 1st of all I would like to congratulate you for the website. Its very useful for us who don't have any idea about North Bengal and Sikkim. we would like to visit Tinchuley on 9th June -13th June, group of 4 people. Could you suggest what would be the weather over there during that session ? I mean shall we postpone our trip or should travel to some different places of North Bengal or Sikkim? ( comparatively dry ). Please suggest. 
Raj (darjeeling-tourism.com) May 2017 
You should expect showers wherever you go in North Bengal or Sikkim around that time, but it may not be always raining and you can still find time for some sightseeing. But views of snow range would be limited. 
Nilava Maitra (January 2017) 
Dear Mr. Raj Bhattacharya, I would like to mention that my wife & I had the privilege of visiting & dining at the " Gurung Guest House ", Tinchuley on 20th December. Apart from the excellent home made food, the warmth & hospitality extended by Dwipendra Gurung and his family members simply bowled us over. 
Bidisha Sarkar Datta (November 2015) 
Review of Abiraj Homestay 
Accommodation: Timber finished triple bedded rooms (deluxe) at Rs 1200 per night with a common balcony that serves as the view point to witness amazing sunrise and snow capped peaks. A 2-minute walk down through the homestay area reaches the tea garden. Service: personalised, courteous, very warm, everything required was served on asking. Geyser fitted in the bathroom, operated at guest's wish, not owners' as in Darjeeling. Food: At Rs 500 per person, they served morning tea, with a full biscuit packet!!!, breakfast, lunch, evening snacks, evening tea, dinner, and all in super quantities, very delicious, and fresh from their farm (veggies). The bamboo shoot pickle, and their home made ghee from their own cow's milk is also unforgettable. In one word- SUPERBBBB!! Rating- Veryyyy Good. 
Bidisha Sarkar Datta (July 2015) 
Can I get shared car from Darjeeling to Tinchuley. If yes , what is the fare and timings of he same. Thanks in advance and genuine gratitude for the comprehensive details provided on your site 
Raj (darjeeling-tourism.com) July 2015 
You will get shared jeep from chowk bazaar (lower town) taxi stand up to Takdah. From there you need to take a cab for Tinchuley (3kms). Shared jeeps don't have fixed timings. They will leave when they get full. You get them during the day time and usually up to 3pm. 
Sanjib Mandal (October 2014) 
Hello Raj, Thank you very much for a great website. I will go to Darjeeling on 28th November,2014. I want to visit Tinchuley from Darjeeling, stay overnight and back to siliguri next day. We are 2 members and so trying to avoid personal car booking. In that case I need some information. 
1. Are the buses from Siliguri to Darjeeling quite comfortable. 
2. If any bus / share jeep available to reach Tinchuley from Darjeeling. 
Raj (darjeeling-tourism.com) October 2014 
There is only one bus in the morning from Siliguri to Darjeeling these days and it remains full. These are ordinary buses and not quite comfortable. Take a shared jeep instead from NJP or Siliguri. From Darjeeling you will get occasional shared jeep for Takdah from Chowk Bazaar (i.e. lower baazar) motor stand... Rs. 100/- per person. From Takdah you need to take a reserved car (only 3kms). Buses are also available from Darjeeling up to Takdah.