Takdah - A beautiful mountain village
Near Darjeeling
Want to avoid visiting tourist congested hill towns like Darjeeling? But still like to enjoy the lovely mountains & scenic views, the tea gardens, blooming orchids, the walking trails through the coniferous forests on mountain slopes? Then Takdah can be a perfect answer. 
Rungli Rungliot Tea Garden, Takdah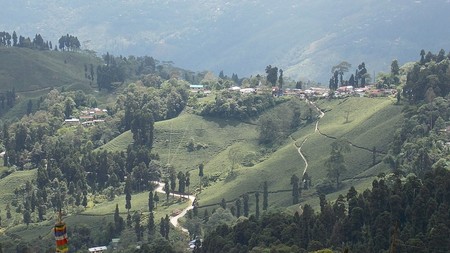 Not many know about this small hamlet, a treasure secret, because it's yet to develop as a full fledged tourism place. Takdah is located at an altitude of 5,100 ft and close to Darjeeling (about 28kms away), yet far enough to be isolated, quiet and serene. 
Although the altitude is much lower than Darjeeling town, the place is cooler compared to its surrounding area. 
The original name was pronounced as 'Tukdah', which is a Lepcha word meaning mist or fog. And the name is aptly given as the place often remains covered with fog. 
So what can you expect? Misty meandering roads, chirping of the birds, nature trails passing through dense forests, sound and sight of fountain streams coming down the slope of mountains every few yards you walk, and rolling tea gardens on the hill slopes - this is what Takdah is. 
Takdah started as a military cantonment during the British colonial days in early 1900s. During those days, many senior British officers frequently visited this place. And therefore many bungalows and houses came up here for their accommodations. Those houses were built in traditional British architecture with slanted roofs. 
While after India's independence the British have left the place, the houses and many other establishments they built were left behind. most of these houses were built between 1905 and 1915. They now either belong to some locals or have been taken over by establishments like schools. 
And some locals have renovated the houses and offer them as guesthouse accommodations. So that gives you a rare opportunity to stay in a heritage bungalow and enjoy the old colonial charm & aura in such houses which belonged to the British once. I shall come to the accommodations later. 
Attractions & Activities in & around Takdah
So what can you see and do in Takdah? Surprisingly there are several great places of interests and sightseeing attractions here within short distances. There are nice soft trekking routes as well. You can take a vehicle and visit the places. But you can't cover them all in a day. Here are the main attractions: 
1) Some of the most picturesque tea gardens of Darjeeling district are located in Takdah. You can walk down or take a local taxi tour to some of them and enjoy the tea gardens on rolling hills. The main tea estates in Takdah are Rungli Rungliot, Gielle, Namring, Jinglam, Poomong, and Teesta Valley estate. You can also visit the estate factories and watch the tea processing (in winters the factories usually remain closed). 
Rungli Rungliot Tea Garden, Closeup View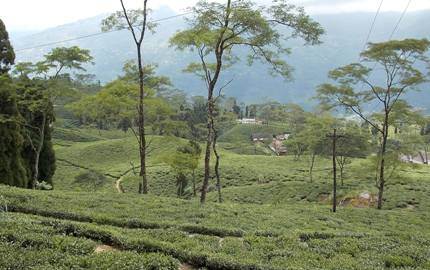 I have visited many tea estates in Darjeeling district, but Rungli Rungliot is one of the prettiest ones and most picturesque. It's about 2kms downhill from Takdah market area. The lush tea garden landscapes surrounded by mountains and Teesta flowing far below makes a stunning ambience. 
There is a saying that a monk had apparently named this tea garden when he was searching for the best tea in Darjeeling district. In fact the name Rungli Rungliot actually means 'Thus far and no further'. The former Director's wooden Bungalow on a hill top has four luxury rooms with lovely views. 
2) Further down from Rungli Rungliot you will reach the Gielle Bhanjyang Bazaar, also known as Gandhi Chowk. Once there used to be a statue of Mahatma Gandhi here, but no longer so. This is the border point of Jinglam Tea Estate and Gielle Tea Estate. 
Approaching Gielle Bhanjyang Bazaar, Takdah Block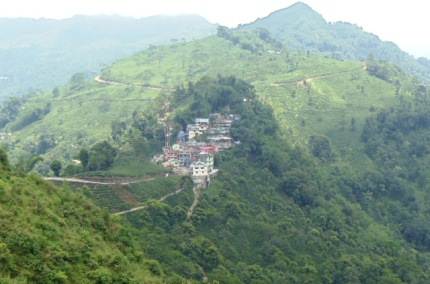 From Gielle Bhanjyang Bazaar crossing point, if you go downward you can reach Namring, Jinglam and Poomong tea estates. But why should you come to Gielle Bhanjyang? Because from here you can see many places in one go like Kalimpong Town, Durpin Dara, Mangpoo, Rambi Khola, Takdah, Ranju vally, 6th mile, Tiger Hill etc.  
3) Takdah has a great Orchid Center spread across vast stretch of area. It's about half  a kilometer from the market area towards 6th mile. Here you can see many different kinds of unusual and colorful Himalayan Orchids being cultivated and grown. Many tourists come to Takdah particularly to visit the Orchid Center. 
Orchid Center, Takdah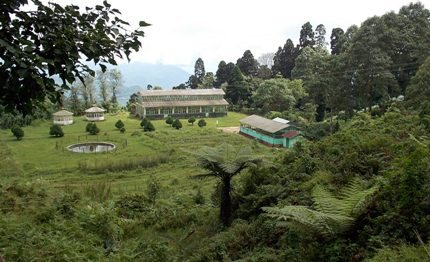 The Orchid Center which was one of the best in Asia, was neglected for a long time. But now the state government has taken a fresh initiative to revive the center. 
Himalayan Orchid - Takdah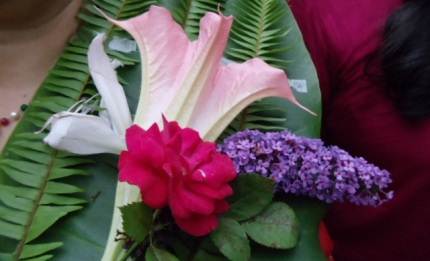 4) There is a small monastery in Takdah whose actual name is Dechhen Pema Tshoiling Monastery, but locally known as Takdah Monastery. A steep uphill boulder road after the market area leads to a steep stairway. You will need to climb several flights of stairs to reach up to the Monastery. 
Takdah Monastery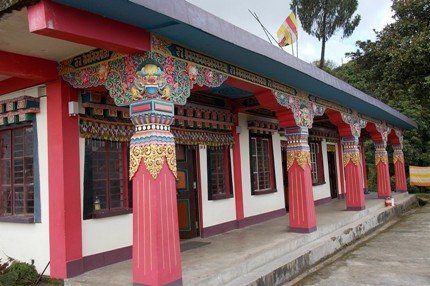 But once there, the views are awesome. From here you can get sweeping view of Rungli Rungliot Tea Gardens, Teesta Valley Tea Estate and Durpin Dara View Point, Kalimpong etc. I had taken the first picture of Rungli Runliot Tea Garden on this page from the monastery premises (near the entrance). 
The monastery was built in 1985 and follows the Buddhist Nyingma sect. Lama Karma Gyaltchen was in charge and head monk of the monastery until 2007. While everything is nice about this monastery, the pet dog of the head lama can be a nuisance. The small dog is not yet used to the visitors and keeps barking incessantly. 
Inside Takdah Monastery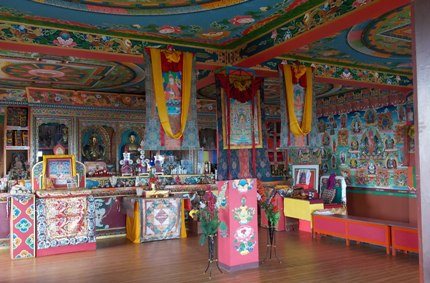 4) Visit
Tinchuley
, another lovely hamlet about 3kms away from Takdah and famous for its lovely views of Himalayan range including the snow peaks of Kanchenjunga and spectacular sunrise views. 
5)
Lamahatta Village
with its magnificent gardens and views of Kanchenjunga is about 12kms from Takdah (40 minutes). 
6) A nice place to visit by car is the
Lovers Meet Viewpoint
which is located on Peshok Road and about 10kms below Lamahatta. You can get wonderful view of
Triveni
- the confluence of rivers Teesta & Rangeet. The confluence is located near Melli and can be reached via Melli. The sandy delta formation here is a popular spot for
Teesta White Water Rafting
. 
7) Another nearby place is
Mongpu
where you can visit the orchid nurseries, the famous museum of poet Rabindranath Tagore, and see the vast Cinchona plantations. 
8) Visit the lovely orange orchards located in Bara and
Chota Mangwa
(both about 12kms from Takdah). The small factories here produce fresh orange juice and you can buy a few bottles of them. Tastes delicious and absolutely fresh. 
9) Visit the Durpin Viewpoint located about 10kms from Takdah. You can get a spectacular view of Teesta river meandering through the mountain landscapes. You can also get lovely view of Kanchenjunga from here. 
10) Peshoke Tea Garden Viewpoint is about 14kms away and offers wonderful view of the tea gardens on hill slopes. 
11) As I mentioned earlier, several British bungalows and houses were built in Takdah in early 1900s (some 14 of them) during the British Raj days. I love to go around watching the amazing architectures of such houses, the lovely gardens they have and the aura around them. 
Some of the well known houses are The Takdah Club House (about a km away, was abandoned for a long time but now a Forest Rest House), Rani Kotthi (now converted to a church), Forest Guest House, Sonpur House also known as Takdah Palace built in 1911 and located near the Club House (it's in ruins now), Old British Post Office etc. Some have been converted into schools like Green Shields Academy, Griffith High School etc. 
Note that you won't find tea stalls anywhere in Takdah other than in the market. So while on local sightseeing tour, you may like to carry a flask full of tea. 
12) You can take a nature walk through pine and cedar forests, or through villages. The thickly wooded coniferous forests here are maintained by the Forest Department. You can take a shorter trek path through the forest up to Lamahatta, enjoy the views of Kanchenjunga and return via Tinchuley. The entire trek takes about 4-5 hours. 
13) Dokan Dara is a local haat (i.e. bazaar) that sets up weekly on Thursdays. If you visit Takdah on a Thursday, don't miss this out. You will see villagers coming from nearby places to pick up vegetables and other essentials. It's a great way to get a glimpse at the local life and culture. 
How to reach Takdah
Takdah is about 60kms from NJP (the nearest railhead) as well as Bagdogra (the nearest airport). It takes about 2.5-3 hours to reach Takdah by car from NJP or Bagdogra. Township of Siliguri is about 52kms from Takdah, Darjeeling town is 28kms away (about 1.5 hours by car) and Kalimpong about 40kms (2 hours). 
While coming from NJP or Bagdogra, you will need to take Sevoke road (NH10) and then come via Rambi Bazaar, Teesta Bazaar etc, and then a road to the left climbs up and goes via places like Bara Mangwa, Chota Mangwa etc before reaching Takdah. 
You can get reserved taxis to Takdah from NJP, Bagdogra, Siliguri and Darjeeling. There are also shared taxis/Jeeps available from Siliguri to Takdah Bazaar. They leave from Sevoke Road, behind Vishal Cinema Hall or Ranjit Garage behind 9/10 Hotel Sevoke. However, the shared cab service is not frequent and you may not get one when you reach the stand. There may be a good amount of wait time involved. Usually shared taxis do not operate after 2:30pm. 
When coming from Darjeeling, you need to come up to Jorebungalow (shortly after Ghum) and take a left to Peshoke road. At a place called 6th Mile take right towards Takdah, while the original road continues towards Teesta Bazaar (Note: here the places such as 3rd mile, 6th mile, 9th mile etc are named based on their distances from Jorebungalow). Buses are available (in the afternoon) from Darjeeling to Takdah. However there is no shared taxi service between Darjeeling and Takdah. 
Go through
Transport fares from Darjeeling
to know about bus, taxi, shared taxi fares and distances from Darjeeling to various destinations including Takdah and Tinchuley. 
Best time to visit Takdah
October to March is the best time to visit Takdah and the nearby areas. This is the time the sky remains clear and you can enjoy the chill of the winter. 
Where to stay in Takdah
Takdah is a developing tourism place and there aren't many hotels here. But luckily there is a great option. After all Takdah's history is firmly connected with the British colonial days and there can't be a better option than staying in a heritage bungalow which has been now converted into a guesthouse with modern amenities while retaining the original British architecture, sprawling lawns and the colonial aura. 
Takdah Club E.T Resort (Forest Rest House) 
In 2017, Takdah Club has been converted into a Forest Rest House and tourists are allowed to stay there although department officers and government bureaucrats get priorities. It belongs to the State Forest Department. There are five rooms, three of them are very big and spacious (suites), and all the rooms have attached bathrooms. All the rooms are well furnished. 
Takdah Club ET Resort (Forest Rest House)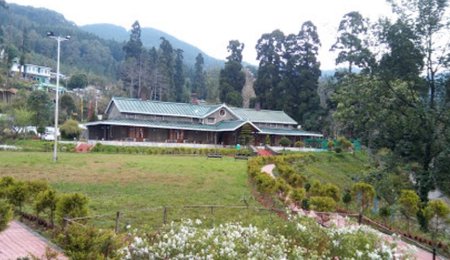 The dinning/ drawing room of the bungalow has a fire place. The cushioned wicker sofas are comfortable and where you can relax, read books or chat up with other guests.  
Indicative Room Rates -- Rs.2000/-,  
VIP Suites -- Rs. 3000/- . 
The quality of the food is excellent (Rs.600/- per person per day, includes breakfast, lunch and dinner). 
Lounge (Takdah Club)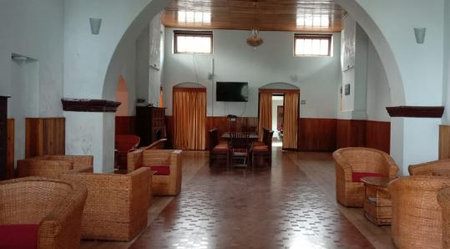 The staff are well behaved and very helpful. You can relax at the lawn (previously tennis court) attached to the main building of the club campus. In fact, it can be considered as a view point and you can see the green surroundings... pine forest, tea gardens and mountains from here. Overall, this is one of the best accommodations in Takdah and offers a serene and relaxing ambience with wonderful greenery and views all around. 
A room in Takdah Club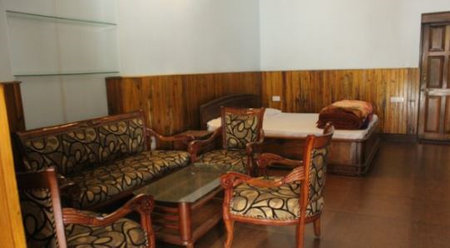 You can book a room in this bungalow online through the
West Bengal Forest Department's Website
. You can also book a room through the DFO (Divisional Forest Office) at Kurseong. You can find the postal addresses and phone numbers of all Forest Offices of West Bengal
on this webpage
. 
Saino Guesthouse 
This is a colonial house and now a guesthouse is Saino - owned and run by the Moktan family. This used to be a bungalow of British officers and built in the year 1907. 
It has been nicely restored by the Moktan family. Rooms have been refurbished with standard yet modern amenities. This is a nice budget lodge. 
Saino Heritage Guesthouse, Takdah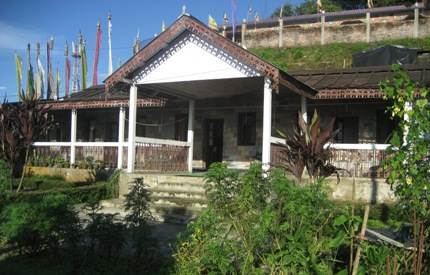 There are double and triple bedded rooms, which are large, airy and have beautiful views of sunrise through the windows. All rooms have attached western toilets with geysers and showers. The double bedded rooms have fireplaces which is an added boon during the winter time. 
Related Articles
Visitors' Reviews/Comments
Arindam Sinha (July 2023) 
Hi Raj, I was once immensely guided by your website when I visited Darjeeling. Thank you for your wonderful work and response! 
This time I have plans to visit Takdah and wish to stay at ET Club Resort for 3 nights. I don't know whether Kanchenjunga is visible from there or not. Could you please usher some light on this. Also, I was thinking about going for a day's sight seeing from there to Tinchuley, Lamahatta, Tribeni and Panbu. 
Is that possible to cover in a single day? On the 4th day I will stay at Morgan House. Please share if it is possible to go for the above mentioned sightseeing on my way to Kalimpong from Takdah. 
Raj (darjeeling-tourism.com) July 2023 
Hi, for a day trip from Takdah, you can visit Tinchuley, Lamahatta and Lovers Meet Viewpoint to watch Triveni (this viewpoint is about 10kms from Lamahatta down Peshoke Road). Triveni (the Teesta rafting point) itself is further down by another 9kms via Teesta Bazaar. 
Panbu is in Kalimpong district and out of the way. You can not cover it on the way to Kalimpong either (will require a long detour of one and a half hours each way). 
You can cover the rest as a day's sightseeing on the way to Morgan House in Kalimpong. Takdah Club ET Resort overlooks the Sikkim Hills and the forests. 
Charu (March 2022) 
Hi, I am so glad that I stumbled upon this website and had a chance to read such detailed reviews. I am planning to spend a few days in and around Darjeeling but away from the hustle and bustle of the touristy locations. 
After reading your article would love to stay at the Takdah Forest ET Resort. But I am only concerned from a safety point of view if it would make a sense for a couple to stay at such a secluded place, also when we won't be self driving to the location and be dependent on a shared taxi. 
Raj (darjeeling-tourism.com) March 2022 
Hi, haven't heard of any safety issues at Takdah Club ET Resort... after all, it belongs to the forest department and is often occupied by visiting dignitaries and VIPs. Since this is an old property and a little secluded, you might feel a little eerie at nights, particularly if no one else is staying in the bungalow at that time. 
Anshuman Dutt (December 2020) 
We are a family of 6 going on a trip from Calcutta to Tukdah for 3 nights from 12th December to 15th December. The flight of 12th arrives quite late to IXB, hence we will reach late evening. Effectively, we will have 13th and 14th all day and night and 15th morning before we drive down to IXB in time for the 1700 flight back to Calcutta. Is there anything in particular that you would like us to include as a must do in our itinerary? You may want to know that four of the group members are in their late 40's and 2 are 20. And we shall have a car at our disposal throughout the duration of the trip. Look forward to hearing from you. 
Raj (darjeeling-tourism.com) December 2020 
Hello, On the first day, do local sightseeing in Takdah including tea gardens like Rungli Rungliot, Takdah Monastery and also visit the Orchid Center. On day-2, you can visit Tinchuley, then take the route through Peshok tea garden and reach Lamahatta (see the roadside manicured garden... take a stroll), from Lamahatta, about 10kms down Peshok road, you can visit the Lovers Meet Viewpoint to watch Triveni - the lovely confluence of the rivers Teesta and Rangeet. 
Chander Santani (March 2020) 
Dear Raj, I am reaching Bagdora on 6th April around 12.30pm and leaving back on 9th around 5pm. I am booked in my bank holiday day home at hotel Pink Mountain, but still I read across the horrible stories of traffic in Darjeeling. This is my second visit and hence not interested in usual sightseeing of Tiger hill, Japanese stupa, zoo etc. I shall be coming by a self drive car and rather interested in a quiet and offbeat place around the area. 
I read  about Takdah on this site and also came to the guest house of Morkel family. What about the FRH and how to book it. Can you throw some light on it. Will you advise to forgo my booking at Hotel Pink Mountain and come to Takdah. And then where to stay at Takdah or Tinuchuley. 
Raj (darjeeling-tourism.com) March 2020 
Hello, the Forest Resthouse at Takdah (also known as Takdah Club Bungalow) can be booked through the Divisional Forest Offices (DFO) as it's run by the Forest Department. One option is to book through the Kurseong Divisional Office. You can search the internet and get the contact info. Other nice places to stay would be Saino Heritage Bungalow at Takdah and Gurung's Guest House in Tinchuley. Whether to cancel your Darjeeling hotel booking or not is really your personal decision and I am unable to comment on that. 
Maitrayee (September 2018) 
I came across this immensely helpful site, although it's written that no such shared cab is available from NJP to Takdah, still I want to confirm. And what'll be the fare if I reserve a cab to takdah? It's a budget trip so it's needed to know the approx cost of fare. Thanks in advance Sir. 
Raj (darjeeling-tourism.com) September 2018 
There is no shared taxi from NJP station area to Takdah. You need to go down to Siliguri by auto / rickshaw / cab to get one, however the timings could be erratic. Normal fare for a small reserved cab from NJP to Takdah is around Rs. 1,800 - 2,000, but it can vary widely depending on the season. You should first try to get a reserved cab from the pre-paid counter where the taxi rates are fixed. If you don't get a pre-paid taxi for Takdah, you can try out other ones from the stand at NJP. Best is to ask your lodge to arrange for a pickup and negotiate the fare. 
Debdeep Ghatak (February 2017) 
This is an extremely good work, can't find this sort anywhere else. First of all a big thanks to you for this work. Can you please share me the shared Jeep fare from NJP to Takdah? (Approx). It is not discussed in the forum and it will help me immensely to complete my estimated budget. 
Raj (darjeeling-tourism.com) February 2017 
You won't get a shared jeep from NJP to Takdah. You however can get shared taxis/Jeeps from Siliguri to Takdah. They leave from Sevoke Road, behind Vishal Cinema Hall or Ranjit Garage behind 9/10 Hotel Sevoke. Cost will be around Rs. 175 per person. But frequency and timings can be an issue. Another option is to go up to Ghum (around Rs. 150/175 in shared Jeep), then another one to 6th Mile or Takdah depending on what you get (Rs. 75). 
Amava Bhattacharya (February 2016) 
Hello, I follow your site with avid interest and have planned many trips to the hills successfully thanks to the details provided there. I am planning to go to Takdah (Saino) and Darjeeling next week. I am a bit confused about whether I should ask Saino to send me a pick-up vehicle to NJP or should I opt for the pre-paid service at the station. I think the pre-paid service will be cheaper and we are only two people so we need a small car. What I want to ask you, is whether we will get cars to Takdah from the pre-paid counter or do they cater only to fixed locations like Darjeeling, Gangtok and so on. I would be much obliged if you could clear my doubts. Thanks. 
Raj (darjeeling-tourism.com) February 2016 
The pre-paid counter won't likely have any fixed pre-paid fare for Takdah. However they often talk to the taxi drivers waiting outside and arrange for a taxi when it is not a regular destination. They will quote a fare to you. I have seen it happening several times in my case. Alternatively you can go out of the arrival area and talk to the drivers yourself, it might even be cheaper that way. But taking the taxi from the pre-paid counter would have a taxi tracking mechanism in place should anything go wrong. 
Veronika Kuhrner (April 2015) 
I just wanted to say a huge thank you to the author of this portal for suggesting Saino guesthouse in Takdah, where we have recently spent four delightful days! I am so grateful to this portal, without which we would possibly not have come across this wonderful town and guesthouse. After Takdah we visited Darjeeling and have to say that Takdah seems to us superior in every way if you are looking for unspoiled natural beauty and warm-hearted local people! Thanks again,