How to reach Kalimpong
Transport & Fares
Kalimpong is well connected by road from various places including NJP (New Jalpaiguri), Siliguri, Bagdogra, Darjeeling and Gangtok. 
From NJP the distance to Kalimpong is about 73kms by road via Teesta Bazaar and takes about 2.5 hours to reach. You will need to first take Sevoke Road, then National Highway NH10, come to Teesta Bridge and cross the bridge over river Teesta. While NH10 continues all the way to Gangtok, you will soon take a right into Rishi Road that goes uphill through Kalimpong hills and leads to Kalimpong town. 
If you are visiting during Autumn or Spring, watch the beautiful flowering wild poinsettia and bougainvillea along the way when you go up the Kalimpong hills. 
From Siliguri the distance to Kalimpong is 65kms (2.5 hours drive) and from Bagdogra airport 75kms (2 hours 45 minutes drive). The journey is similar. From Bagdogra the route initially passing through the townships of Bagdogra, Matigara etc before getting on to Sevoke Road and then it's the same journey. 
On the way to Kalimpong, if you want to have a meal or some snacks, then a decent restaurant on NH10 is Santa Banta Dhaba - a modern dhaba-style restaurant on the first floor of a building (known as Jeevandepp Commercial Complex located near Buddhist Gumpha, BSF Road). It's located outside the Siliguri town (about 10.4kms from NJP station and will be to your right). 
Santa Banta Dhaba, Siliguri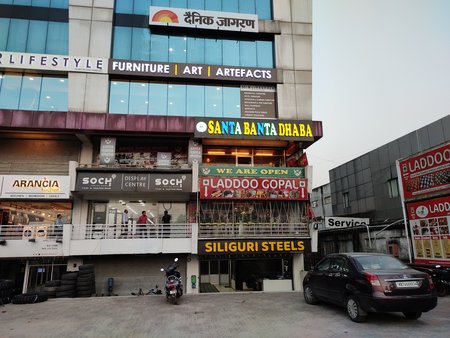 The restaurant is large, air-conditioned and looks impressive inside. The menu is mostly north-Indian and quite exhaustive and includes tandoori dishes as well. Food is nice but on the expensive side (this is surely not a budget restaurant). If you have a weak stomach, then better avoid the spicy dishes. Servers were all ladies and the service is very nice. They will voluntarily serve the food to all on the plates unless you feel uncomfortable and ask them that you will help yourself. 
Inside Santa Banta Dhaba, Siliguri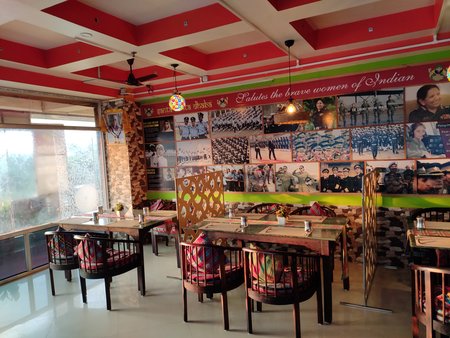 Note that while
Bagdogra Airport
has an in-house restaurant which is in mid-price range and serves okayish Indian food, at NJP there are many budget stalls and eateries, most of which are not quite Hygienic. It is better to avoid food outside the NJP station. 
If you are looking for typical Bengali food, they try out Goutam Hotel about 13kms ahead of Santa Banta Dhaba and located at Sevoke. This one is surely a budget eatery and a great favorite of the locals. This is like a roadside eatery with hardly any atmosphere to talk about... people come here to eat and go. The most popular dish here is the Parota with Kosha Mangsho (parota is a fried bread and accompanied with mutton in thick spicy gravy). 
Further down, you will sometimes find that the local taxi and truck drivers briefly stop at the Sevokeshwari Kalibari (temple of goddess Kali) on Sevoke road, offer a short prayer and then move on. This is to take the blessings for a safe onward journey through the winding roads of the mountains. It's a nice way to start the uphill journey anyway. 
You will then reach a place called Kalijhora. This is where a massive road construction work is going for the past several months. This place is quite dusty and prone to traffic jams. Sometimes the workers make it one way and allow traffic to pass only in one direction at a time. 
However from Darjeeling, the drive to Kalimpong is wonderful. You will need to first come to Ghum (which is 8kms from Darjeeling, takes 20 minutes) and then shortly ahead from Jorebungalow take the Peshoke road towards east. The road passes through lovely forest of cryptomaria and further down through the forest of sal, oak, maple and fern. You will be amazed looking at the landscapes of dense forests interspersed with rolling tea gardens. 
Halfway down Peshoke road and just after a bend you will reach a lovely view point, known as Peshoke View Point. This is from where you get a spectacular view of the
confluence of river Teesta and Rangeet
in the beautiful valley below surrounded by towering mountains. 
Soon you will pass by Peshoke and Lopchu Tea Estates. The road descends by about 6,000ft in the last stretch of 19kms down to Teesta. Finally you will come down to Teesta bridge, and from here on it is the same road to Kalimpong as the one from NJP or Bagdogra. 
Distance & time between Kalimpong and other places
Darjeeling: 55kms (2.5 hours by car) 
Gangtok:  75kms  (3 hours by car)                        
New Jalpaiguri (NJP): 73kms (2.5 hours by car) 
Siliguri: 65kms (2.5 hrs by car) 
Bagdogra: 75kms (2hours 45mins by car) 
Lava: 34kms (1.5 hours by car) 
Loleygaon: 52kms (2.5 hours) 
Rishyap: 29kms (2 hours) 
Pedong: 20kms (1 hour) 
Kalimpong Transports
From NJP station and Siliguri, you will get private taxis (small and large vehicles) and shared vehicles like Sumo. Buses are available from the Tenzing Norgay Bus Terminal located in Siliguri on Hill Cart Road. There are pre-paid taxi counters available both at Bagdogra airport and NJP railway station where you will get pre-paid taxis for Kalimpong. 
In Siliguri shared taxis for Kalimpong are available at several places during the day time (usually up to 3pm). Some popular taxi stands includes one near Tenzing Norgay Bus Terminal on Hill Cart Road, Darjeeling More, Vishal Cinema etc. 
From Darjeeling, you will get both shared and private Jeeps to Kalimpong from the stands (Clubside stand and Chowkbazaar stand). Shared Jeeps are also available between Kalimpong and various other places including Gangtok, Lava, Loleygaon etc. Note that the shared Jeeps are usually available between 7am and 3pm. They take about 10 passengers and keep the luggage on the roof. 
At Kalimpong you will get the shared Jeeps from the bus stand area. Sikkim Nationalised Transport (SNT) buses as well as several private buses leave for Gangtok from the Kalimpong bus stand. GTA (erstwhile DGHC) mini coaches also ply between Kalimpong bus stand and Darjeeling. You can make reservations on the mini coaches at Kalimpong Tours & Travels located at the motor stand. 
The road condition between Kalimpong and Lava as well as Loleygaon are quite bad. I would suggest that you take a larger vehicle like a Scorpio or Sumo. From Lava area the road to Rishyap can't be negotiated by a small car. It's broken and full of rocks and boulders. Take a Jeep or similar vehicle. 
Indicative Taxi Fares to Kalimpong
(Fare updated: January 2020) 
Small cars are makes like Alto, Maruti Van, WagonR etc and can accommodate up to 4 persons. The larger vehicles include Sumo, Jeep etc. They can take up to 8 persons. The luxury vehicles like Innova, Tavera take up to 7pax and usually have higher rates. Shared vehicles take 10 persons other than the driver and operates on per seat rate (which means a person can take two seats for comfort). 
Bagdogra/NJP to Kalimpong (small car 4pax ): Rs. 2200/- 
Bagdogra/NJP to Kalimpong (bigger car 8pax): Rs. 2500/- 
NJP to Kalimpong by shared taxi: Rs. 175/- per person 
Siliguri to Kalimpong by shared taxi: Rs. 175/- per person 
Darjeeling to Kalimpong (small car 4pax): Rs. 2500/- 
Darjeeling to Kalimpong (bigger car 8pax): Rs. 3200/- 
Gangtok to Kalimpong (small car 4pax): Rs. 2500/- 
Gangtok to Kalimpong (bigger car 8pax): Rs. 3200/- 
Related Articles
Visitors' Reviews/Comments
Daipayan (March 2020) 
Do I get shared car like Sumo or anything to reach Kalimpong directly from NJP Station? 
Raj (darjeeling-tourism.com) March 2020 
Yes, you can get shared taxi from NJP to Kalimpong... but the frequency drops after 2pm and you won't likely get one after 3pm. 
Arup Chakraborty (August 2019) 
Hello  Raj, Hope you are fine with good health... Please inform me whether it will be wise to travel From Bagdogra Airport to Kalimpong through Medical more to Garubathan  via Gazole Doba//Odlabari to avoid jam via Matigara,  Siliguri and Sevok bridge. 
Raj (darjeeling-tourism.com) August 2019 
Hi, Gorubathan route from Bagdogra would be almost double the distance compared to Sevoke route, and is likely to take around 5 hours compared to 2.5 hours to Kalimpong under normal traffic conditions. The fare will also be double. 
Mathilde (August 2019) 
Hey! Thanks for this very complete article. I have one more question, is it also easy to find transportation (bus, shared taxi) from Kalimpong to Siliguri? Many thanks for your answer. 
Raj (darjeeling-tourism.com) August 2019 
Hi, during the day time (up to around 3pm) it's easy to get shared taxis from the motor stand located next to the bus station (near the main market area). There are also private as well as North Bengal State Transport Corporation buses that operate between Siliguri and Kalimpong, and several of them connect NJP as well. Most of the state transport buses depart Kalimpong in the second half. Inquire the timings at the bus station and try to purchase the tickets in advance. 
Moupiya Banerjee (June 2019) 
Hi, can you please tell me how to reach Kalimpong from Dhotrey? Will be really obliged. 
Raj (darjeeling-tourism.com) June 2019 
Hi, there are occasional shared jeeps you can avail from Dhotrey to come down to Manebhanjan. From there you can take a private taxi to Kalimpong via Ghum - Peshok Road - Teesta Bridge. From Manebhanjan you can also take a shared taxi up to Ghum and then change to another one for Kalimpong. Alternatively, you can ask your hotel/homestay at Dhotrey to get a private taxi which can drop you all the way at Kalimpong (would take about 3.5 hours). 
Avisekh Bose (January 2016) 
Dear Raj, Wish You a Very Happy 2016.. I have some queries regarding local transport. I will be visiting Lava, Lolegaon, Pedong this Jan end. Total 5. Shared transport cost from NJP to Kalimpong, Kalimpong to Lava, Kalimpong to Pedong. Can we get shared jeep to Lava from NJP? Can we get local transport from Rishop to Pedong? 
Raj (darjeeling-tourism.com) January 2016 
Hi, happy new year. Shared jeep fares below are indicative... NJP to Kalimpong: Rs. 150 per person. Kalimpong to Lava: Rs. 100. Kalimpong to Pedong: Rs. 100. You can get shared jeep from Siliguri to Lava, not NJP. From Rishop, you need to book a vehicle in advance (through your hotel) to go to Pedong, you may not get one on the spot. 
Ritaprava (October 2015) 
Hi, I want to know the exact condition of road between darjeeling to lolegaon and from lolegaon to lava. My mother underwent a few operations for last few years. She is advised by her doc to avoid too much jerk while traveling. Am planning a tour to darjeeling-lava-lolegaon from 25/12/2015.could u pl let me know what is the condition of roads there? 
Raj (darjeeling-tourism.com) October 2015 
From Darjeeling you will need to go via Kalimpong to reach Lava and then Lolegaon. Road up to Kalimpong and beyong along highway #12  (aka Rishi road) via algarah is okay. However do not take the short cut from Lava to Loleygaon (backbreaking journey), instead take Rishi road and continue. The narrow road that branches off from Rishi road towards Lolegaon through the forest is in a bad condition (for about 30 - 40 minutes) and expect bumpy ride. You should ideally take a large vehicle like Sumo/Scorpio etc for better comfort although small cars can also make it.