Bagdogra Airport
Bagdogra Airport is located about 16kms from Siliguri township and is the nearest airport for Darjeeling and Sikkim. This small airport has become a gateway to many tourist destinations in North Bengal and Sikkim for both domestic and international passengers. 
Although the airport can accommodate some five flights at a time, there are no aero-bridges here. So once you land, you will need to walk along the tarmac unless the airline provides a short bus ride. 
This airport actually serves as a military air base and also allows the civilian flights to operate. Night landing facilities are planned to be installed shortly. I have come to this airport numerous times, while heading for Darjeeling and Sikkim, and also while leaving for Kolkata. And over the years, I have hardly seen any changes other than some cosmetic touches inside and to the exterior of the building. Being a military airbase, there is heavy patrolling though. 
While road transport is the only means for those making onward travel to Darjeeling area, the Gangtok passengers have an additional option. There are regular
helicopter services
from Bagdogra airport to Gangtok. As you walk in to the arrival lounge, on your left are two conveyor belts where your checked-in luggage will arrive. You will also see a red and a green channel along with an immigration counter. This is meant for tourists from Bhutan. 
Passengers disembarking at Bagdogra airport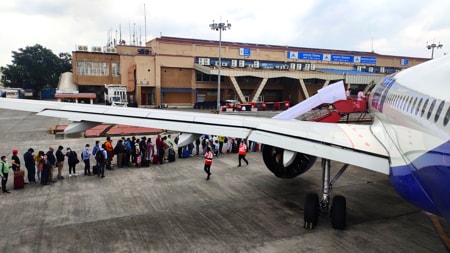 Once you enter the arrival lounge, the toilets are to your right. And straight ahead before the exit and on your right you will notice three tourism counters adjacent to each other - West Bengal Tourism, Gorkhaland Territorial Administration (GTA) Tourism and Sikkim Tourism counters. 
For Darjeeling, approach the Gorkhaland counter for any information about hotels and travel bookings, pocket map, printed pocket guides, literature etc. You can approach the West Bengal counter for information about other areas in north Bengal such as Dooars. 
Heading towards the arrival lounge, Bagdogra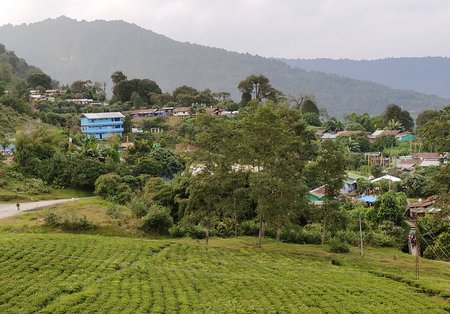 The Sikkim counter not only provides tourism information and free brochures, foreigners can also get their Inner Line Permit (also known as Restricted Area Permit) here in order to visit Sikkim. However they do not issue Protected Area Permits here which is required to visit places like Nathula etc. 
Tourism counters at Bagdogra airport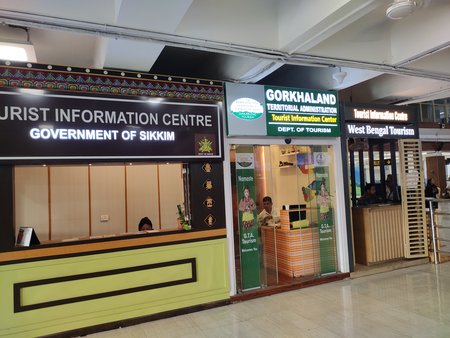 You will see signs for a restaurant upstairs. You can access the restaurant both on arrival and while departing. I always plan to take my lunch here on my way back from Darjeeling to Kolkata. It's a large dining hall with many tables laid out in rows seating four each. While departing, I usually come here a little early and spend about an hour relaxing in the restaurant. 
Take a table next to the large windows facing the runway and you will see planes landing and taking off. My favorite here is grilled fish (usually betki fish) with boiled vegetables. Another favorite is the chicken cutlet - two large pieces served with a portion of French fries. I love to accompany that with a beer. The restaurant has a full bar as well. Outside the restaurant, there is a bookstore and a gift & souvenir shop. 
Once you pick up your luggage at the arrival hall, walk towards the exit gate and just left of the exit door and inside is the pre-paid taxi counter. You can get taxis from here to various places in North Bengal and Sikkim including Darjeeling and Gangtok. 
There are no shared taxis or bus available from Bagdogra airport. The pre-paid taxi counter at the airport is usually open till about 7pm (depends on flight and availability of taxis). 
Prepaid Taxi Counter, Bagdogra Airport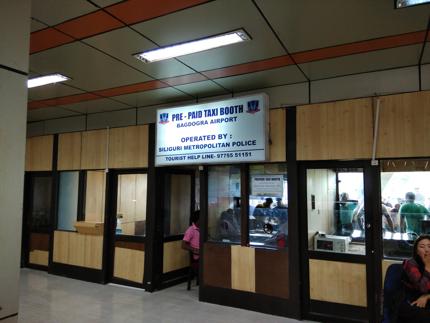 Next to the taxi counters, there is also a currency exchange booth. Inside and on the right side of the exit door, there are a series of airline counters, an office of the Assistant Manager and also a small coffee shop. Here you will also find a small booth saying "May I Help You?", basically an assistance booth for the arriving passengers. 
As you walk out of the exit gate, you are likely to be circled by the numerous drivers asking you for your destination and offering you attractive rates. 
TIP: If you want to save money, instead of taking a prepaid taxi you can come out and directly negotiate with the drivers. You can get much lower rates (sometimes half the prepaid rate). So what's the story? The prepaid counter will usually give you a West Bengal state registered taxi, which is a local private taxi (of Siliguri area). 
The local cab driver then starts negotiating with other drivers outside who have come from Darjeeling, Gangtok and other places to drop their clients and waiting for a return customer. Once the deal is struck (often at half the rate), you will be transferred to the other taxi. So if you come out and negotiate directly with those taxi drivers, you can cut out the brokering local driver, directly strike the deal yourself and get the benefit of lower rates. 
Another way of saving money would be to group with some fellow passengers who have arrived at the same time, come out and take a taxi together. This way you can further split the cost. In fact, you will often find large vehicles like Sumos outside who take groups. But officially there is no shared jeep/taxi available at Bagdogra airport. 
Bagdogra Airport Building From Outside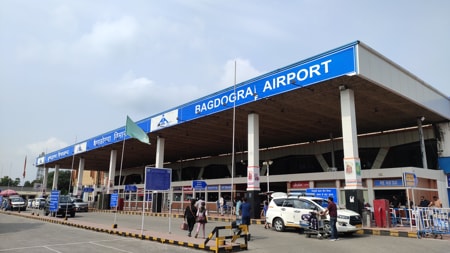 If pre-paid is too expensive for you and you find no other option on arrival, then you can take a pre-paid taxi up to Siliguri taxi/bus stand (about 30 minutes). From there you will get buses to Darjeeling & Gangtok (limited number of services per day, so there might be a wait involved), as well as shared taxis/jeeps. 
A problem with prepaid taxi: While pre-paid taxi from Bagdogra airport is the prescribed transport to your destination, there is a huge shortfall with this when you are travelling to Gangtok. A West Bengal registered taxi will be allowed only up to the lower taxi stand (Deorali stand) in Gangtok which is 2kms below the town center. From there you will need to take another local taxi to reach your hotel in Gangtok. But if you happen to get a Sikkim registered taxi, you won't have this problem. Since Bagdogra is part of West Bengal, the men at the taxi counter usually give preference to local (WB registered) taxis. 
The car park is about 50 yards away from the airport building. If you are travelling to Darjeeling, then check out
Bagdogra to Darjeeling
to know about the route and the journey to the hill town. 
Related Articles 
1)
Flights to Bagdogra
: Information about flights that are operating between various cities of India and Bagdogra, flight timings etc. 
5) Visit
How to reach Darjeeling
for complete information on reaching Darjeeling from various places in India and neighboring countries. 
Visitors' Reviews/Comments 
N.C.Behera (May 2016) 
Respected Raj ji, I want to know what government vehicles travel from Darjeeling to Bagdogra airport for general public (Tourists) and price per pax? We are three persons, what will do for this? one more question, any government transport system available for public from Bagdogra Airport to Gangtok? Thanks & Regards 
Raj (darjeeling-tourism.com) May 2016 
There is no Government transport like bus service at Bagdogra airport. You can get buses for both Darjeeling and Sikkim at the bus terminals on Hill Cart Road (Siliguri). You need to take a taxi to Siliguri which takes about 30 minutes from Bagdogra. There are also shared taxis at Siliguri that operate on per person rate (Rs. 200 for Darjeeling). 
B S Gulati (April 2016) 
Hi! I just want to know that in case I come out from the Bagdogra airport to negotiate with the private taxi for Darjeeling and fails to finalize, is it possible to come back to the prepaid booth? Thanks in advance. 
Raj (darjeeling-tourism.com) April 2016 
Security guards may not initially allow you to get back to the arrival lounge. But show the boarding pass and tell them that you did not notice the pre-paid taxi counter inside, then they would usually let you get in. 
Dr Dhiman Bhattacharya (March 2016) 
Respected Mr Raj Bhattacharya, If I want a shared taxi/other car from Bagdogra to Darjeeling, what is the best and cheapest option? When I shall return from Darjeeling where from and what rate I shall get the shared taxi? Thanks and regards. 
Raj (darjeeling-tourism.com) March 2016 
Good day, There is no shared taxi from Bagdogra airport. The only option is pre-paid taxis. You can otherwise come out of the arrival hall and negotiate with drivers to get a better rate, but not recommended. While returning, there is no shared taxi to the airport either. You can however come down to Siliguri by a shared taxi and then take a private taxi to Bagdogra. From Darjeeling, the usual small private taxi fare to Bagdogra is about Rs. 2,500/- (it can be much higher in high season). 
Prasad Hajare (December 2015) 
Hi Raj, your article is very informative and in lucid language. Are there any visiting points near Bagdogra airport to be covered in 3 hours time? while coming from Darjeeling we will reach at Bagdogra airport at 11am, so we'll have lots of time for our flight at 5pm ,so if there are such places we can enjoy them in between? 
Raj (darjeeling-tourism.com) December 2015 
There is nothing much near Bagdogra. You can spend your time at City Center Mall on the main road near Bagdogra. From Darjeeling, come to Bagdogra via Mirik. 
Ajay Upadhyaya (October 2014) 
Hi, Just wanted to know till what time pre-paid cabs are available from Bagdogra to Darjeeling in the evening. 
Raj (darjeeling-tourism.com) October 2014 
Usually until about 7pm. However private cabs that have come to drop passengers are usually available till the last flight arrives. 
Prasad Jakhadi (June 2014) 
It would be really good if you guide me for a decent budget restaurant which offers good veg. food near by Bagdogra airport or on the way to Darjeeling. I have 6 adults out of which 4 are elderly people and 1 kid of 2 year old. We need budge hotel having decent North Indian/South Indian food. We are coming from Maharashtra, Mumbai. We are planning to get down at Bagdogra by noon traveling from Mumbai very early in the morning, so would like to know the hotel name and address which should be close to airport with decent food quality and within my budget. 
Raj (darjeeling-tourism.com) June 2014 
There are not many veg only restaurants in Bagdogra or on the way. But some restaurants serve vegetarian dishes. You can try the Bagdogra airport restaurant (upstairs) ... which is a multi-cuisine mid-range restaurant and serves some veg dishes. Alternatively you can go to Marina's restaurant (mid range) at Marina's Motel which is about 2.5kms from Bagdogra airport. They serve Indian, Chinese, Tandoori items (both veg and non-veg). Further down (about 1km from Marina's), there is a veg South Indian restaurant (Dyke). Another option is the multi-cuisine restaurant at Kurseong Tourist Lodge run by West Bengal Government. It's about 1hr 45 minutes from Bagdogra and on the way to Darjeeling. Prices are budget/mid-range. 
Panjak Jain (April 2014) 
Hi, I want to know how do I reach Tenzing Norgay bus stand from Bagdogra terminal. I am to catch Bhutan bus from there. And what would be the fare. Thank you in advance for the help 
Raj (darjeeling-tourism.com) April 2014 
You will need to take a taxi. Siliguri bus stand (Tenzing Norgay) is about 16kms from Bagdogra airport. Taxi would cost about Rs. 300. Go out of the arrival hall and talk to the drivers directly. Pre-paid fare is likely to be higher. 
Pete Fitz (June 2013)  
Hello do you know if there is a business class lounge in the airport please? Many thanks 
Raj (darjeeling-tourism.com) June 2013 
Hi, There is no Business Class lounge available at Bagdogra airport. However there is wi-fi at the general lounge area. Regards. 
Sujata Dey (June 2013) 
Are prepaid taxis readily available from the airport? I would imagine asking for a drop to Darjeeling from an operator based in the hills would be impractical and more expensive. But I don't want to take a chance with my parents and thus the question. 
Raj (darjeeling-tourism.com) June 2013 
Pre-paid taxis are available as long as there are flights arriving or departing. No need to get a taxi from Darjeeling which will cost you far more than pre-paid fare.