Shopping in Kalimpong - Top Buys & Stores
There are essentially two main market areas in Kalimpong that are full of shops. The most popular is the market along Rish road which is the main road here. From the tri-junction main market square, the road leads through the market area. There are numerous stores selling all kinds of goods on both sides of Rishi road. You can certainly bargain the prices here. On one side of the street, you will find taxis lined up (this is also the main taxi stand where you can get taxis for sightseeing and transfers). 
Main Market on Rishi Road, Kalimpong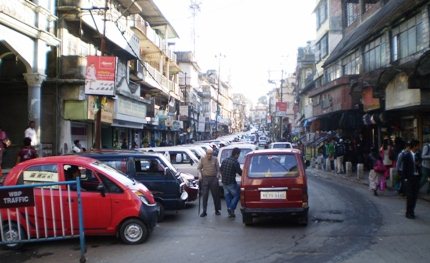 On the left are taxis 
The shops on Rishi Road (or the Main Road) sells items such as woolens, clothes, handicraft, shoes, grocery items  etc. There are also a number of
eateries and restaurants
and even a good bakery in this market area. There are also couple of liquor shops here. 
The second market area is at 10th mile, further down along Rishi Road. You can walk down to this place (about 1km from the town square). However this is the whole sale market and prices are fixed. But prices are also very reasonable and you can buy in small or large quantities as you wish. 
This market used to be once very popular. During first half of 1900s when heavy trading took place with Tibet through the Silk Route with mules carrying the loads, lots of imported goods including silk material, gold jewelry etc used to be parked here and sold. The market is still popular for quality clothes and dress materials that are sold at low prices. In fact if you visit the RC Mintri road at 10th Mile, you will find large many Marwadi stores selling clothes at very attractive prices. 
Another place you must visit is the Haat Bazar of Kalimpong. It's a local village market which sets up weekly on every Wednesday and Saturday between 7am to 6.30pm. The approach to this market is from Rishi road and it is often very crowded with locals. The moment you enter the market area, you can get the distinct smell of vegetables and fruits. Villagers from nearby areas come here in their colorful village costumes, set up stalls and sell all kinds of village produce including vegetables & farming products, spices, clothes, umbrellas, bags and more. 
And they are all very cheap. Probably the cheapest you can ever get. The bazaar is a scene by itself to get a good feel of the local people and their culture. You will also get the opportunity to try out local street food like momos, alu thukpa, phambis and lot more. 
What to buy in Kalimpong?
Kalimpong town is quite well developed and the district is large. So you virtually get everything here. But you don't want to buy stuffs that you can also get back at home. So here are the stuffs that you should be looking for. You will get most of these from the market places I have discussed earlier: 
Dallay Khorsani: They are round and red, and look somewhat like cherries. Although they look cool, they are some of the hottest chilli peppers I have ever had. But they add a great flavor and aroma when used in curries or Chinese dishes. You will get fresh ones at the Haat Bazaar and also with local roadside vendors. Some shops on Rishi road also sell them bottled with preservatives. 
Kalimpong Cheese and Lollypops: Ask any locals and they will vouch for this. There used to be a Swiss Dairy in Kalimpong which no longer exists. Catholic Swiss priests had originally introduced this rich cheese and also showed the method of making such mouthwatering cheese to some locals. The tradition still continues and you will get them in Kalimpong all through the year in several stores. 
Fing: This is also known as Glass Noodles. Locally made noodles available in packets. It's made by the cottage industry in Kalimpong during the dry months of October to June. It tastes different and great ... do take some back home. 
Handmade Paper Products: You will get various paper products that are so beautifully handmade in Kalimpong. You won't get them anywhere else in Darjeeling hills. Items like shopping bags, wrapping papers, stationery and more. 
Tibetan Art & Craft: There is a lot of Tibetan population in Kalimpong. Over the years Tibetan art & handicraft industry has flourished here. You will get items like Thangkas which are intricately made religious scroll paintings, woolen garments, various wood crafted items serving as great souvenirs, tapestry bags & purses and lot more. 
Darjeeling Tea: If you visiting Darjeeling as part of tour plan then there is no better place to buy Darjeeling tea than Darjeeling itself. But if Darjeeling is not on your itinerary, then you can get hold of some quality Darjeeling tea in Kalimpong as well, although Kalimpong itself does not have many well known tea gardens (but it does have some). You can get ample stores selling Darjeeling tea in Kalimpong's main market on Rishi Road as well as in the 10th Mile market area. 
Some nice shops to visit
As I already mentioned, you will get most items of interest in the main market along Rishi Road, and also at 10th mile market area and Haat Bazar. Below I have mentioned a few stores & establishments that are special and worth a visit: 
Kashi Nath & Sons - A Book Store. There are two shops adjacent to each other having excellent collection of books on tourism as well as culture & religion. This in my view is the best book store in Kalimpong. You will get books on Buddhism, how Tibet has evolved and its history, culture of Nepal, Sikkim tourism and lot more. 
Kashi Nath Bookstore, Kalimpong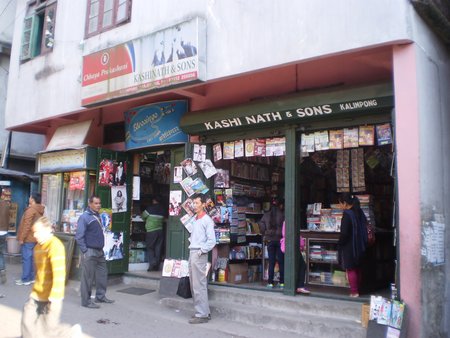 When I asked Girish to show me some books on Kalimpong and surrounding areas, he kept on piling books on the table until I asked him to stop. Kashi Nath & Sons is located on DB Giri Road (further down from Main Market). Phone: 03552-255856, Mobile: +91 9434310541 
Girish Kaul, Owner of Kashi Nath & Sons Book Store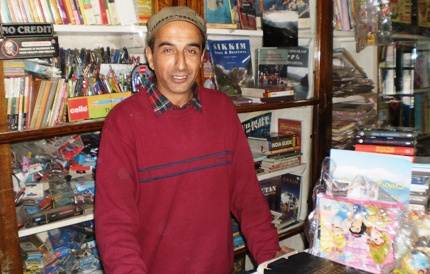 Tashi Takgye - A great Souvenir, Art & Craft Store located at 10th Mile. This is a very well known store in Kalimpong. You will get great collections of paintings, glass & crystal items, Thankas & wall hangings, masks and lot more. Prices are very reasonable and fixed. 
Phone: 03552-256897, Cell: +91-9434007076 
3C's Chocolate, Curl and Cakes - This bakery shop is located at the main market area and arguably the most popular bakery in Kalimpong. If you are looking for some delicious cakes, pastries, buns, breads or chocolate products, head off to this shop. It's a good idea to store some such bakery items that can serve as great snacks when you feel hungry or go as an accompaniment with tea. 
3C's Bakery Entry, Kalimpong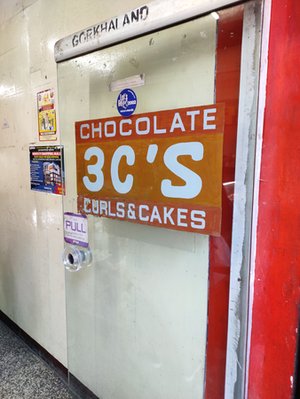 3C's Bakery, Kalimpong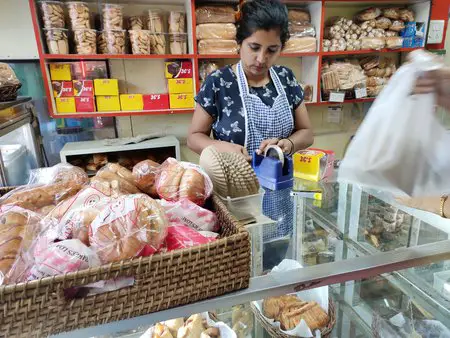 3C's also make lovely birthday and wedding cakes. 
3C's, Kalimpong Main Road (Main Market). 
Phone: 099320 46958 
Kalimpong Art Gallery - This is a nice art gallery tucked in one corner and not well known to the tourists. I must say I was impressed with the painting collections which are mostly created by local artists. There is an entry fee of Rs. 10/- per person. Photography is not allowed inside. However the lady manager Rupa made a special allowance for me. After all I am a travel writer :) .  
Kalimpong Art Gallery 
It's open 7 days a week. The main entrance to the gallery is common with Summit Garden Retreat & Spa. Address: Barsana Road, Upper Cart Road, Kalimpong. Update October 2019: Kalimpong Art Gallery has closed down. 
Related Articles
Visitors' Reviews/Comments
Share your experience.