Saino Heritage Guest House, Takdah
Saino Heritage Guest House is located in
Takdah
and owned by the Moktan family. It has been restored from what once used to be a British officers house during the colonial days. There are double and triple bedded rooms with modern facilities including attached bathroom (European style) with geysers and showers. You will find rates, contact and booking information at the bottom of this page. 
Entrance to Saino Guest House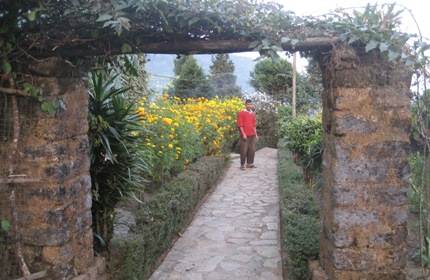 The lodge is however located at an elevation. An uphill boulder pathway from the main road goes up to the staircase. You can walk up (takes 5 minutes), and even drivers with good skills can bring the cars up to stairway. From there you will need to climb some 30-40 steps to reach up to the lodge. It's quiet and beautiful. 
The heritage guesthouse has a large verandah with lovely view of the garden with seasonal flowering plants and lush green Mexican grass. The garden has two vintage & classic fountains that were setup when the house was built. 
Saino Heritage Guest House, Takdah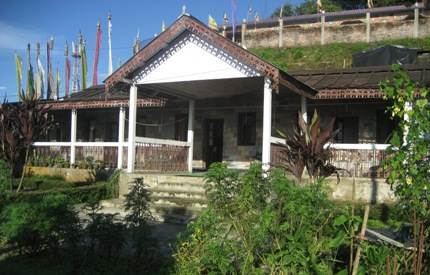 The staff can set up camp fire in the garden at night at a nominal extra cost. You can see Moktan's dog which adds to the aura of colonial ambience. 
Lawn and the Dog - Saino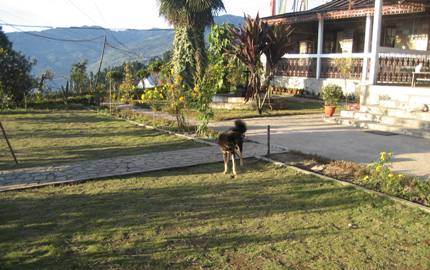 The garden is full of seasonal flowering plants. There are couple of vintage fountains in the lawn that were installed when the lodge was originally built in 1907. 
Garden full of Marigold - Saino 
You get wonderful view of sunrise through the windows of the rooms. Don't miss it. 
The rooms with double beds have fireplaces as you can see in the picture below. Takdah can get very cold during the winter and a fireplace can serve as great comfort. Two rooms in the original heritage building are open to guests. Two other rooms have come up in the new extension just next to the heritage building. 
A room in heritage building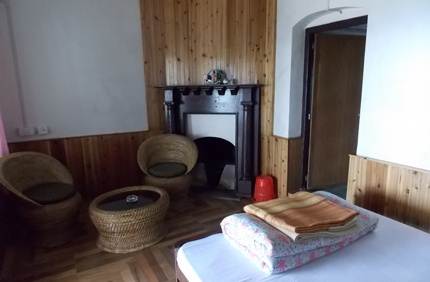 There is a separate living/dining hall which is located in the extension building. Homely Indian food is served. They make nice onion pakodas for snacks as well. 
Living/dining room, Saino 
You get wonderful view of the mountains ahead as you sit on the veranda of the heritage bungalow or at the lawn. On the right you can see the lovely Rungli Rungliot tea garden on the sloping hills and Teesta Valley Tea Estate. 
View from the lawn 
You can see a vintage fountain (installed on the lawn) in the picture below. 
Moktan family members enjoying lunch at the lawn 
Indicative Rates
(Effective 1st January 2020) 
The charges are reasonable and includes room and all meals. However you can decide not to take food in case you are planning to spend the day outside. 
Room rent for double bed room.............Rs.1800/- per day for 2 persons 
Room rent for deluxe double bed room..Rs.2000/- per day for 2 persons 
Room rent for triple bed room................Rs.2100/- per day for 3 persons 
Food (includes bed tea, breakfast, lunch, tea with light snacks and dinner) 
2 yrs and below..........................................Free. 
3 - 5 yrs.....................................................Rs.100/-per child/day 
6 - 10yrs....................................................Rs.300/-per child/day 
11yrs and above.........................................Rs.650/-per person/day 
Extra cot.....................................................Rs.400/-per day 
Driver's accommodation..............................Free. 
Driver's food...............................................Rs.150/-per day 
The cost for fire logs at fireplace in double bedded room is Rs.350/- per night (6pm-10pm) and room heater is Rs.250/- per night (6pm-10pm). 
How to book Saino Heritage Lodge
You can get
Darjeeling Tourism Card
and directly book this hotel. The card entitles you to great discount in this hotel and their car, and also at many well known restaurants, bars, shops, tours, transporters etc in Darjeeling giving you all-round benefits. While booking directly using Darjeeling Tourism Card, use the contact information given below. 
Contact information for Inquiry & Booking
Ms. Sujala Moktan 
Saino-The Heritage Guest House, 
Takdah Cantt., P.O.Takdah, District-Darjeeling, West Bengal, Pin-734203 
Mobile no:- +91-94344 62806/ +91-8637367437 
Related Articles
Visitors' Reviews/Comments
Sayantan Majumdar (March 2016) 
Dear Raj, First of all I want to thank you for your detail suggestions and prompt answers to the travelers. I visited Takdah and stayed at Saino Heritage from 01 March to 3rd March 2016. Visited with my wife and two kids. It was wonderful, old style British Bunglow at the hilltop sharing same boundaries with a small monastery placed just top of the Bunglow. The owner Mr. Anand Moktan is a very welcoming gentleman, along with his in-law Mr. Pradhan & his family did everything they could to make it memorable. You can have a 270 degrees view of the whole valley from the lawn. Food is homely and served hot with care. A young and simple Prakash is always at your service with a smile. The place has two double bed rooms with fireplace and two triple bedrooms. All rooms are valley view rooms. Two double bed rooms will be refurbished and opened for guests shortly. Don't miss the breakfast at the lawn. I spent the most peaceful two days of my life till date at Saino. Will come back again with my parents. 
Veronika Kuhrner (January 2016) 
We found the Saino guesthouse through this website and we are very grateful for this as we had an absolutely wonderful few nights there. Initially, we were only going to stay a couple of nights but we extended our stay because the guesthouse and the surrounding area were so blissfully peaceful and lovely that we didn't want to move on. I can't say enough good things about the host family, who are just the most gentle, helpful and kind people. Their home cooked meals were one of the healthiest and most delicious we had during our 1 month stay in India. We would love to return at some point in the future! 
Tulika Dhar (December 2015) 
Hi, We went to Takdah on 28th of Nov'15 with our friends for a couple of days . This is certainly one of my most memorable trips .The serene beauty of nature as well as the warmth of hospitality of Mr. & Mrs.Pradhan and Sr. Mr. Moktan is simply unforgettable .The main attraction of the bungalow is the wide varandah from where one can enjoy the sunrise as well as the moonrise. To make your homestay experience awesome, there are three wonderful friendly doggies .....Simba, Dancy & Beta.......love you Takdah Saino homestay. 
Sudeep Mukherjee (November 2015) 
Hi Raj, I booked Saino and spent two nights there. So I thought I would come back and say thanks to you for recommending this place. I had a fantastic time, both with the hosts and fellow guests. Do keep up the good work. Gratefully, 
Papiya Gupta (March 2015) 
Hi Raj, I have planned to stay at Saino Guesthouse in Takdah for a day but with parents who are senior citizens. From your website, i found there are 30-40 steps which is shocking to me. Both of my parents have knee problems. Since I have already planned the entire trip and have proceeded with bookings accordingly, it would be a bit difficult for me to change the plan now. So, can you please give me a fair idea as to how the stairs are. If the stairs are very steep, then I will need to drop the idea and cancel the bookings and replan. Otherwise if the stairs are manageable, then I will go ahead. In a nutshell, I seek your advice as to whether I should go ahead and book the Saino Heritage Guesthouse or not. I have booked Gurung Guesthouse at Tinchuley and I found Saino Guesthouse is also beautiful. Your earliest response in this regard will be highly appreciated. Thanks. 
Raj (darjeeling-tourism.com) March 2015 
Hi, Saino is really nice but there are several steps to negotiate. The steps are made of stones and not very uniform either. So if your parents have serious knee problems, then it may not be suitable. I would suggest if you can call them up to see if they can provide any special support to your parents. They have young staff who can give helping hands. Also remember, while cars can negotiate the steep boulder lane climbing up from the main road to reach up to the stairs, but with quite some difficulty. Although it's a short lane of about 100 yards or so, but if you take a normal taxi, the driver may refuse go up and instead drop you at the base. That would compound your problems further. So do coordinate with the guesthouse to take care of persons with mobility issues and then take a call. In fact you need to carefully plan your entire trip because hills will require effort to walk wherever you go.