Great hotels near Bagdogra airport
I shall certainly not plan to stay at Bagdogra for the purpose of tourism. I would rather proceed for Darjeeling or Gangtok by all means. But sometimes your flight timings may be such that you don't have an option other than spending a night in Bagdogra. Because it is not advisable to drive up the steep hilly roads of the mountains late at night. The fog and the mist can lay a white blanket and it can be quite risky driving at nights. And sometimes drivers could also be drunk at nights. 
Here are the nice hotels in and around Bagdogra which you can consider for staying overnight here: 
Marinas Motel
It's a nice mid-range hotel (3 star) and only 2kms from Bagdogra airport (about 20kms from NJP station). The great plus points of this hotel is its proximity to the airport and also it's nice & quiet ambience with lots of greenery. Once inside, it's quite wonderful with lush lawn and trees surrounding it. 
Marinas, Bagdogra 
They have standard rooms, executive, junior & senior suites. The in-house restaurant prepares nice Indian, Chinese and Continental dishes. It has a bar as well. The rooms are all nice and the complimentary breakfast spread in the buffet is great. They have a bakery section too. The hotel offers complimentary pickup and drop to the airport if you ask for it. Overall a good value for money. 
Marinas, Bagdogra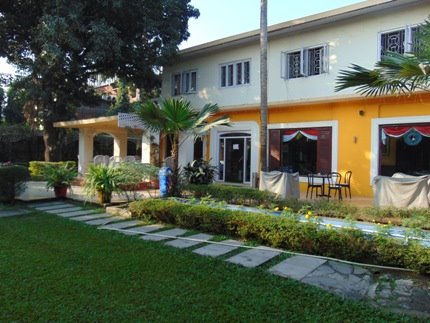 Rates provided by booking.com 
Contact info 
Bihar More, Bagdogra, West Bengal 734014 
Phone: 0353 2551371, Cell: 9749093020 
Hotel Monarch Aachal
This is a 3-star equivalent hotel which has come up recently. The hotel is located in the Shibmandir area and about 5kms from the Bagdogra airport. If you are visiting Darjeeling or Gangtok, it'll be on the way. It takes about 10 minutes by car from the airport. It is touted that the hotel is owned by the Hindi movie star Mithun Chakravorty, he came to inaugurate the hotel. The rooms are well furnished and have wifi and LCD TVs. They have a restaurant serving Chinese, Indian, Continental and Tandoor dishes, another restaurant serves Bengali dishes. 
Rates provided by booking.com 
Contact info 
Barsana Hotel & Resort
A 3-star property which came up in 2010 and owned by the Beekay group. It's located in Matigar (about 7kms from the airport and on the way to Darjeeling). There are 59 well appointed guest rooms of various types including suites. 
Facilities includes a grill restaurant with great views of the mountains, a multi cuisine vegetarian restaurant serving Indian, Chinese and International cuisine, bar & coffee lounge at the entrance, in-house bakery, safe deposit lockers etc. 
Rates provided by booking.com 
Contact info 
Khaprail Road, Matigara, Siliguri. West Bengal - 734010 India 
Phoner: +(91) 353-2571662 / 63 / 64; Cell: 99333 00909 
Orbit Hotel Bagdogra
This is a budget hotel located only 3kms from Bagdogra airport and behind the Summit hotel. They have several AC Deluxe rooms (with queen or twin beds). Rooms are non-smoking, well appointed with flat screen TV, coffee/tea maker, wardrobe, safe etc and are quite spacious. The hotel has an in-house multi-cuisine restaurant. The hotel is located in a building which has several other shops and commercial outlets. It's a convenient option if you have a flight to catch next day and do not want to get caught up in Siliguri traffic. 
Contact info 
Airport Plaza, Upper Bagdogra (near Bihar More) 
Phone :7604081665, Kolata No.: (033) 4025 1111 
Related Articles
Visitors' Reviews/Comments
Share your experience or stories.