How to reach Paro from Phuentsholing
Once you are done with the
permit process
to visit Paro in Bhutan, you can avail one of the several options to get there. If you speak to the local taxi drivers near the immigration office, they too will help with the transport options. There are three ways of getting into Paro: 
1. Book a full cab SUV for 3000 INR or a smaller vehicle for 2500 INR.  
2. Book a seat in a shared cab for 500 INR ….in which case you will be dropped at Taxi stand 
3. Book a seat in the bus service (it is very regularized and buses leave every half an hour from Phuentsheoling to Paro). In this case too you will be dropped at the Bus Stand. 
I chose option-1. Phuentsholing to Paro is 160 km and ideally it should take 4.5 hours by Taxi. However, the seductive beauty of Bhutan (especially unpopulated unexplored parts of it) took away 1.5 hours more. 
The very first place I crossed was Rinchendling which has the beautiful Peling Resort and Spa. Near Phuentsholing there is this beautiful view point that provides a breath-taking snapshot of the Bhutan mountains. After roughly 45kms (took me 1.5 hours) I stopped at Gedu at Lhamu Restaurant and Bar. 
I stopped at 3 places for coffee and at Sorchen for soaking in the magnificent view. Sorchen incidentally has a huge electric tower from where lines go to Bhutan. The Taxi driver was helpful and quite well informed and he told me that Bhutan Government earns a lot by selling electricity. A new tower which would supply electricity to Delhi amongst other places, is almost fully completed at Thimphu. 
The view point near Sorchen 
enroute from Phuntsheoling to Paro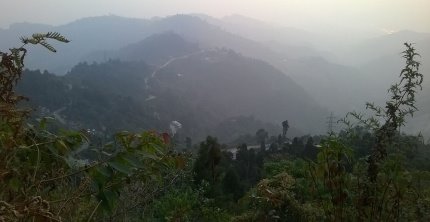 He seemed very happy and content with his country and categorically told me "Visiting India makes my blood pressure go up. Too many people…too much dirt and too many lies!!!". He also went on to say that electricity, education and medical services are almost free for Bhutan citizens. He has two daughters both are studying in Schools where education, hostel expenses and food is completely free for just INR 80 every month. In cities like Paro, Thimphu etc., merchants and home owners to pay 2 per unit but in rural Bhutan electricity is free. 
I had started off at 3.45pm from Phuentsholing and the sun had set at 5.20pm which meant that I spent the last four hours of my journey under the moonlit sky (12th Jan…yesterday was a full moon night) and a fast dipping Celsius. Initially I was apprehensive about travelling up the mountains after sunset but the moon provided a great source of light. There was something strange and eerily beautiful about the wild ragged mountains bathed in moonlight…a kind of beauty that grows on you subtly and then seduces your soul. I deeply regretted not bringing along a DSLR but perhaps what I witnessed during that moonlit 4-hour ride is not something that can be expressed through words or pictures. 
Bhutan has this amazing array of natural springs which push out water from the very bowels of the mountain. I stopped at Bjagay Menchu (near Paro) and there is another one…Dobji Menchu (Paro). My taxi driver emptied his bottle, filled it up with water from the spring and urged me to do the same. The water tasted sweet and very refreshing. I found my travel induced headache creeping away after that. 
I reached my Hotel at around 9.30 p.m. and found that Paro goes off to sleep at around 8 p.m. it took a lot of time for us to find somebody who could guide us to the Metta Resort and Spa. 
Related Articles
Visitors' Reviews/Comments