Hotel Shovraj, Srikhola
Category: Budget  
Shubhasish Sengupta, the proprietor and owner of the property once proudly mentioned to me that they are the only resident Bengali family living permanently in the whole of Singalila Himalayan region where Srikhola is located. He has been running the hotel successfully since 2003.  
Hotel Shovraj is located besides the Srikhola River. A river or stream is locally known as Khola. It is this river on which the place
Srikhola or Sirikhola
has been so named. Shubashish lives here with his family ... wife Sharmistha, son Shovraj, and daughter Shubhangi. So you can easily make out why the hotel has been so named. It is more like a country house or a home stay... 'hotel' is a misnomer. 
Hotel Shovraj, Srikhola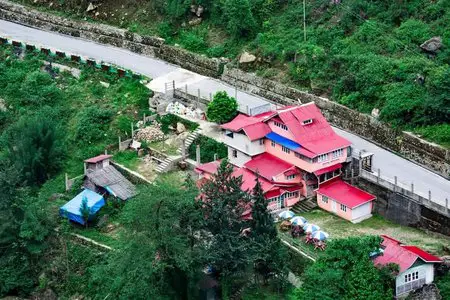 From the road level, the wooden building is constructed through 4 levels below. There are a total of 7 guest rooms in the entire property and all have attached bathrooms. Couple of rooms have independent entrances so making them look like independent cottages. 
Although the road that passes the hotel is now nicely tarred, not long ago this it used to be a gravel mud road and not suitable for small cars. In 2016, PWD has built this new tarred road which of course ends shortly ahead and there is no road beyond that point yet... there is only a trekking trail. 
Earlier when it was a mud road, Hotel Shovraj, Srikhola 
The rooms are of various capacity... there are two double bedded rooms, two triple bedded rooms, one 4-bedded room, one family room for 6 persons and a dormitory room for 10. A combination of single and queen beds are offered in these rooms and no extra bed is provided. So, this hotel can accommodate a maximum of 30 persons (beds) at a time. 
While most rooms have western style toilet, one of the double bedded rooms and the four bedded room have Indian style toilet. Child below 2 years of age stay free while child above 2 pay full adult rate. All rooms are wooden and non smoking. You can however go out and smoke at the open courtyard. They can also pitch tent on their courtyard, however that is separately chargeable. 
Shovraj Hotel, Srikhola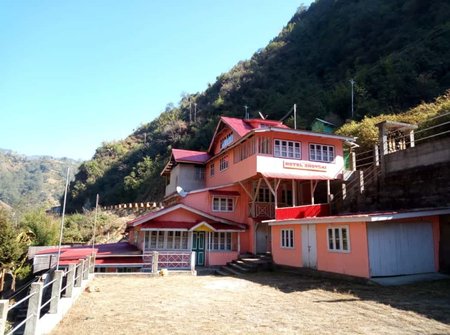 Being located by the side of the river, few rooms and vantage points within the lodge have nice views. The open terrace is one such place to get wonderful view of the river flowing below and the mountains around. It's a great place to have tea and soak in the nature. 
However do not expect this to be a luxury accommodation by any means. It is after all a budget hotel meant primarily for trekkers and budget travelers, and provides very basic amenities. Most rooms do not have TV, but there is a common room with TV, music system etc. There are few rooms that have balconies and nice views of the forest and the stream. 
A room in Shovraj Hotel 
Water is available 24-hours at the bathrooms. However, if you need hot water, that is separately chargeable and provided in buckets. There is no geyser in the bathrooms. Power situation here is not good. Although they have a power backup, the generator, if required, is switched on only between 6pm to 10pm... and after that, you need to use a candle should you need lights. 
The best accommodations are the all-wooden cottages, and they all have LED TV with DTH Connection, intercom phones, river view veranda, attached bath with western or Indian toilets. 
Dining room, Shovraj Hotel 
There is wi-fi but chargeable. The hotel can arrange for Bonfire and Barbecue at additional charges. The hotel offers free car parking only for guests' own cars (not rented or chauffeur driven vehicles). Drivers will be charged for overnight stays at the hotel. 
Room rates are on AP plan and includes all meals such as breakfast, lunch, tea & snacks, dinner (both vegetarian and non-vegetarian). Food is mostly Bengali type, although Chinese dishes are also offered. 
Hotel Shovraj is affiliated to International Youth Hostel Federation. 
Some of the other facilities offered by the hotel includes: 
1) A small children's park and memorial stage. 
2) A mini library. 
3) A common room with TV, music system, indoor games etc. 
4) STD/ISD phone, postal facility etc. 
5) They can organize local tribal dance and cultural programs on request. 
6) Room service and laundry facilities. 
7) Local sightseeing tours, treks, fishing, horse riding, camping etc. 
Booking & Contacts
Rates provided by booking.com 
Hotel Shovraj, Sirikhola, PO-Rimbick, Darjeeling-734201. 
Phone: (+91) 9933488243/ 9932216197/ 9832375546 
Related Articles
Visitors' Reviews/Comments