Srikhola, Darjeeling
Srikhola (also known as Sirikhola) is a lovely scenic village in Darjeeling district. There are trekking routes from Sadakphu and Phalut that pass through Srikhola towards Manebhanjan. You can also come here by road from Darjeeling or NJP/Siliguri. 
From Sandakphu, the trek route to Srikhola comes via Gurdum over a distance of 16kms. While from Phalut, you will need to come through Gorkey and Rammam traversing a distance of 36kms through forests of magnolia, chestnuts, oaks and rhododendrons. 
There is a river at Srikhola by the same name. While on trek, relax by the side of the river, take a bath and have your packed lunch here before commencing your trek towards Srikhola village and onward to Rimbik. Many trekkers coming from Sandakphu or Phalut prefer to stay overnight at Srikhola and there is a reason for that. Other than enjoying the wonderful natural beauty of the place, you can start early next morning, go down to Rimbik and catch a shared jeep for Darjeeling or Siliguri.  
How to reach Srikhola by road
First, check out the
Route Map
to see the location of Srikhola. You can take a vehicle from NJP, Siliguri, Bagdogra or Darjeeling and reach via Manebhanjan, Dhotrey and Rimbik. Some times reserved taxis may not go all the way up to Srikhola. In that case, change to another one at Manebhanjan. 
Alternatively you can take a shared jeep from Siliguri at 'Darjeeling More' (leaves at round 1pm). Shared jeeps are also available from Darjeeling (6am-7am, 11am-2pm). Note that shared jeeps from Siliguri usually go up to Rimbik, but if you pay a bit extra, they will drop you up at Srikhola. However from Darjeeling, the shared jeeps always go up to Srikhola as their scheduled destination. 
Srikhola - GTA Lodge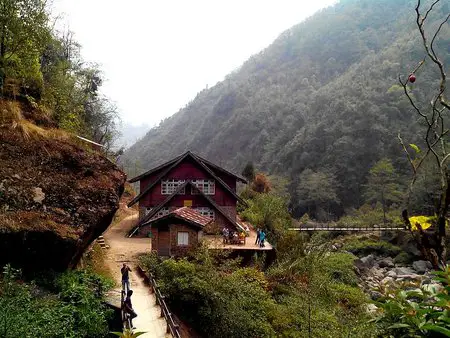 Siliguri/NJP to Manebhanjan route takes over 4 hours and goes via Mirik, while Darjeeling to Manebhanjan takes about 1.5 hours by car. From Manbhanjan, Srikhola is another 3.5 hours by car. 
Update August 2016: 
The road up to Srikhola has been tarred by PWD. So normal vehicles can now make it to Srikhola all the way from Manebhanjan. Earlier the tarred road was available up to Sepi (a village 2kms before Srikhola while approaching from Rimbik) and beyond that it was a gravel road which required a large vehicle like Scorpio or Jeep to negotiate. However motorable tarred road does not still exist beyond Srikhola although the efforts are ongoing by PWD to make roadway here, but it takes time.  
There is no bridge over the river Srikhola. On the other side of the river the road bifurcates, one section goes to upper Srikhola towards Gurdum (it's under construction), while the other (a jeepable mud road) to Daragaon towards Rammam. Temporary bridges are often made on the river and only 4-wheel drive Marshal vehicles and Land Rovers can make it on that route during dry season. I will strongly recommend not to try and take any vehicles on that route beyond Srikhola, it's extremely risky and can be easily fatal. 
Where to stay in Srikhola?
There is a nice GTA (Gorkhaland Territorial Administration, erstwhile DGHC) hut located next to Srikhola river. You can book a room or a dormitory bed by visiting a GTA Tourism office (see
Tourist Information Centers
for location & contacts of GTA offices). 
There are few private hotels also in Srikhola. 
1) Goparma Lodge 
Tshering Sherpa, a very cordial and friendly man runs this budget hotel. The hotel has 7 rooms including double, 4 and 5 bedded rooms with attached or common baths. Mobile: +91-9733261799. Hot water is provided in buckets. 
It's located by the river side, has 7 rooms with 1 to 10 beds with attached as well as common toilets. They have a few cottages with river view balconies and an in-house restaurant as well. Phone: (+91) 9933488243 
Both hotels organize local tours and trekking. 
What to See & Do in Srikhola?
It's a paradise for nature lovers. Here are the main attractions in Srikhola: 
1) Beautiful meandering & bouncing Srikhola river. Sit on the bank and enjoy. 
2) Hanging wooden bridge. 
3) Beautiful landscape with wooden cottages having flowering gardens. 
4) Srikhola is located at the foothill of
Singalila National Park
. You can visit the park and see animals like Red Panda, Himalayan Black Bear, Barking Deer etc in natural habitat. Of course you must be lucky to spot them. 
5) In season, you can see a range of flowers like rhododendrons, magnolia and orchids. 
6) Walk through the forest of birch, oaks and pine trees and enjoy the atmosphere. 
7) Do fishing in the river ... lots of trout fish. Shovraj Hotel provides fishing gears. 
8) Visit gardens of cardamom (large variety), peas and corn. 
9) Spot birds like sparrows and blue magpie. 
10) Take a sightseeing tour of Srikhola Village and visit monastery, temple and the hanging wooden bridge. 
11) Take short trekking tours and visit nearby villages like Rammam village, Timburey & Gurdum village, the holy lake known as Jareao Pokhri etc. 
Srikhola Climate
(Average Temperatures) 
December to January : 5° - 9°C 
February to March : 8° - 18°C 
April to May : 12° - 22°C 
June to September : 15° - 29°C 
October to November : 10° - 20°C 
Best time to visit Srikhola
April to May, and October to November are the best times to visit Srikhola.... less or no rains, relatively mild temperature, clear sky. 
Return from Srikhola by road
There are two shared jeep services from Srikhola, one at 6am and the other at around 11:30am. Both go to Darjeeling via Manebhanjan, Sukhiapokhri and Ghoom. You should get the shared jeep ticket in advance for your return journey from Srikhola. If you want to go to Siliguri/NJP, get off at Manebhanjan or Sukhiapokhri and take another shared jeep. You can also ask your hotel to book a reserved Jeep. 
Trek from Srikhola to Rimbik
Some trekkers on their return route from Sandakphu or Phalut end the trek at Srikhola and take a jeep from Srikhola for onward travel to Darjeeling or NJP. However most prefer to continue the trek up to Rimbik. The road initially rises and then levels out at Rimbik. From Srikhola the distance to Rimbik is 7kms and takes about 2-hours walk. Rimbik is a small village and there is a village market (bazaar) here. You get a marvelous view of Darjeeling hill town from Rimbik. 
Accommodations in Rimbik include Rimbik Forest Bungalow, Youth Hostel, Hotel Green Hill and Kanchenjunga Hotel (a budget hotel run by Sudip Chakraborty in Rimbik bazaar email:
[email protected]
) etc. Stay near the market (bazaar) area, so that you can easily catch a shared jeep early next morning for Darjeeling or Siliguri. Shared jeeps leave early in the morning and go to Siliguri via Mirik. Darjeeling is about 4 hours by jeep from Rimbik. 
A trek route variation from Rimbik
I know of many trekkers who do not give up even after reaching Rimbik from Sandakphu or Phalut. They want to complete the entire circuit trekking and won't take a transport for the last lap. If you belong to the same clan, then from Rimbik take the trek route via Jhepi.  
The route descends steeply for about 8kms, passes through beautiful cultivated landscape and reaches a stream known as Lodoma Khola (at an altitude of 3,572 ft). Cross over the bridge. From here the route somewhat levels out. Trek along for another 9kms to reach the Jhepi Bungalow (4,100 ft). You can take some rest here and refreshments. 
The route from Jhepi initially goes uphill for a while passing through the spur of Kaijali and then descends all the way up to
Bijanbari Village
which is about 6kms away and at an altitude of 2,500 ft. If you think you had enough of trekking by now, take a shared jeep from Bijanbari for Darjeeling which is 36kms away. 
Otherwise stay overnight at Bijanbari. There are some basic accommodations here. Next morning go over to pulbazaar which is 2kms from Bijanbari. From here take the 16kms long uphill route through Singtam and North Point to reach Darjeeling. 
A second trek route variation from Rimbik
From Rimbik there is another trekking option for the Kanchenjunga lovers. This route in my view offers one of the best views of Kanchenjunga. The route goes to Palmajua (7,250 ft) at a distance of about 18kms from Rimbik. This is from where you get the breathtaking view of the Kanchenjunga massif. Spend some time here soaking in the beauty and then trek along. Or alternatively
stay back in a jungle lodge
for a night and feel the place before you move along. 
From here the route initially climbs up to Deorally (8,412 ft) and then starts descending all the way to Batasi (6,884 ft) which is 11kms from Palmajua. The last stretch of the route descends quite steeply. There is a forest bungalow at Batasi where you will need to stay overnight. You should book this bungalow through the state forest department or a tour operator. Next morning, trek for 14kms up to
Manebhanjan
. From here you will get ample shared jeeps for Darjeeling town which is 26kms away. 
Related Articles
Visitors' Reviews/Comments
A. Kundu (May 2019) 
Dear Raj, Thank you for your extremely informative website. Just a few more questions. Are there shared taxis available from NJP to Shrikhola and what could be the fare in late October? 
Raj (darjeeling-tourism.com) May 2019 
Hello, there are no shared taxis from NJP to Srikhola. You may need to change several times (at Mirik, Sukhiapokhri etc) and once you get to Manebhanjan, you may be able to get one depending on the timing. But it's not quite practical. Better to go to Siliguri and get one. 
Suman Sengupta (March 2018) 
Hi there! Kudos on this awesome and helpful website. I along with my friends are planning to go to Srikhola this April and I wanted to get some information. 1. What will be the cheapest way to reach Srikhola from NJP? 2. Is it possible to hike from Srikhola to Sandakphu and return to Srikhola on the same day? I would be grateful to you for help. Thanks in advance! 
Raj (darjeeling-tourism.com) March 2018 
Hi, take a share jeep/taxi to Ghum, from there another one to Manebhanjan, and then a small private taxi to Srikhola. No you can not visit Sandakphu from Srikhola and return on the same day.  
Sampita (May 2017) 
Hi Raj. You are doing an excellent job.. I am very thankful to you for all the information you are sharing with us..I have a question to ask. Is it a very bad time to visit Srikhola at the month of June-July? Is there any kind of risk at that time? 
Raj (darjeeling-tourism.com) May 2017 
June/July is heavy monsoon time... there are possibilities of landslides blocking routes, otherwise okay. 
Raktim (January 2017) 
Hi, This is really a wonderful site that you have prepared. The vast information and continuous updation make this site really unique. I was wondering that during winter times what is operation time for the private taxis in hills. Actually, I am planning to reach Bagdogra by 3pm and planning to go to Srikhola. Will it be possible to reach Srikhola by the same day by hiring a private taxi from Bagdogra? Looking forward to your response. Thanks in advance. 
Raj (darjeeling-tourism.com) January 2017 
You can get taxis at 3pm in winter, but it'll be too late to reach Srikhola and taxi drivers won't agree to go. Pre-paid taxis at Bagdogra airport don't have service up to Srikhola. 
Fran (January 2016) 
Hi, this is a great website indeed. I am going to travel to India for the first time and my destination is Samten Monastery, next to Rimbik. Considering that I am flying over Bagdogra, what's better for me? I asked some people and they suggested to go to Darjeeling first and then take the shared jeep to Rimbik, but I would rather prefer to go straight to Rimbik from Bagdogra, is there any chance to do it? Otherwise, how do I get to Darjeeling from Bagdogra? Taxi/shared taxi only, from what I have read so far, am I right? Cheers. 
Raj (darjeeling-tourism.com) January 2016 
Hi, You can take a private taxi from Bagdogra and get to Rimbik directly via Manebhanjan. It can take over 6 hours. There is no shared taxi or jeep at Bagdogra airport. You can however reach Manebhanjan (about 4 hours from Bagdogra) and then take a shared jeep to Rimbik. But shared jeeps do not operate usually after 2pm in the hills. A second option is to go down to Siliguri taxi stand (a place known as Darjeeling More) which is about 30 minutes drive from Bagdogra. From there you will get shared jeep to Rimbik, but the last one leaves at 1pm (as per the last timings I know of). If you miss it, you need to take a reserved vehicle. Third option is to go to Darjeeling (3 hours from Bagdogra) and take a shared jeep from the lower town motor stand. This will require that you each before 2pm or stay overnight and start the next day. It takes about 3.5 to 4 hours from Darjeeling to Rimbik. 
Partha Pratim Mitra (October 2013) 
Dear Raj, Though detailed information is given in your site about return route from Sandakphu via Gurdum- Srikhola- Rimbik. I would still request you to please let me know if my below plan is viable. I will reach Sandakphu on 22nd Oct. On 23rd Oct I will trek down to Srikhola. On 24th Oct I would like to avail a share jeep from Srikhola to catch Darjeeling Mail same day at 8 p.m. from NJP. Is shared jeep available from Srikhola? When I need to start from Srikhola to catch the evening train at NJP. My major concern is to catch the train same day from NJP at 8 p.m. Regards. 
Raj (darjeeling-tourism.com) October 2013 
Hi, Your day wise plan is okay. But note that there is no shared Jeep service right from Srikhola. Limited Jeep service is available from Sepi which is about 2kms from Srikhola. It's an easy hike from Srikhola to Sepi. A second option is to pre-arrange a reserved Jeep or Scorpio (if you can afford) through the lodge. 4-wheel drive Jeeps can come up to Srikhola. A third option is to trek down to Rimbik (7kms / 2hours) early in the morning and avail shared Jeep from there to Manebhanjan/Siliguri. You can easily catch the evening train from NJP on the same day. Regards, 
Update: Shared jeeps are now available in the morning (6am and 11:30am) from Srikhola to Darjeeling via Manebhanjan. If you want to go to Siliguri/NJP, then get off at Manebhanjan or Sukhiapokhri and take another shared jeep. 
Sibasish Das (June 2013) 
Hi, we are planning to go Rimbik in August 2013, I want to know the car/jeep fare of NJP - Rimbik, by booked car. how much time taken? is it available from NJP? is there compulsory to take a guide for the route Rimbik - Sirikhola - Rimbik? (if I know the entire route previously). 
Raj (darjeeling-tourism.com) June 2013 
From NJP you will get a car for Manebhanjan. From there take another car or jeep to Rimbik. There is a Guides & Porters Association at Rimbik who will insist that you take a guide for the trek. So, it's become mandatory even on this route. You will get the fare information below. 
Chandan Roy (June 2013) 
We are planning to stay at Srikhola DGHC lodge in October. My queries are: 
Q1) Is it possible to catch Darjeeling mail from NJP if we start from Srikhola soon after breakfast? 
Q2) Is the taxi service available from Srikhola to NJP. Thanks. 
Raj (darjeeling-tourism.com) June 2013 
A1) Yes, it's highly possible. Start by 8am and keep couple of hours of buffer time in hand in case of any delays along the way. I'm assuming you will take a jeep from Srikhola and not walk up to Rimbik. 
A2) Take a jeep (pre arrange with the lodge and they can get you one). Otherwise you must start very early in the morning (by 5am) and hike down to Rimbik in about 2 hours, and take a jeep from there. You might need to change at Manebhanjan. There is no taxi service from Srikhola. 
Shantanu Roy (January 2013) 
Hi, Your suggestions are really helpful. This year I along with my 3 friends have decided to go to sandakphu for the second time and follow the: 
Manebhanjan-Sandakphu-Falut-Rammam-Srikhola-Rimbik-Siliguri route in the last week of January. Now please suggest me if it will be better to stay at Srikhola or Rimbik? I also want to know if we can get any bus from Rimbik to go to Siliguri? If 'yes', please tell me the time when it leaves Rimbik and when it reaches Siliguri. I'll be very grateful to you. Thanking you. 
Raj (darjeeling-tourism.com) January 2013 
Bus service from Rimbik is very limited and it leaves early in the morning (around 6am). So if you want to catch the bus, you should plan to stay in Rimbik market area. Bus timings change, so you will need to find it out there. Otherwise stay at the DGHC Trekkers hut in Srikhola. I prefer that. It's quite scenic out there. Next day take a 7km easy walk (2 hours) to Rimbik and plan to take a shared jeep to Manebhanjang and another one from there to Siliguri/ NJP. You may also get a direct shared jeep from Rimbik to NJP. 
Sanghamitra Aich (October 2012) 
Hi! We have booked in Shrikhola for two days on 21st & 22nd Sept 2012 and then to Darjeeling. We want to know: 
1. Rate of private cab for dropping us to Shrikhola from NJP/Siliguri 
2. How much time will it take and what route they opt. 
Please let us know the information and oblige. Thanks & Regards, 
Raj (darjeeling-tourism.com, October 2012) 
Hello, Please take the rates as indicative as on October 2012. It may vary depending on the season. You can take a small private car from NJP/Siliguri for Manebhanjan (via Mirik and Sukhiapokhri). The current rate is Rs. 2500/- (approx.) for a small reserved car. 
From there if you want to go directly to Srikhola, you will need to take a 4-wheel drive like a Jeep or a Land Rover, because Rimbik to Srikhola stretch is on a gravel road. Normal cars can't make it. The Jeep/Land Rover fare from Manebhanjan to Srikhola is Rs. 2200/- (approx). You can however take a small car from Manebhanjan up to Rimbik (Rs. 1500) and then a shared jeep up to Sepi and then walk the remaining 2kms to Srikhola. 
A cheaper way of reaching Manebhanjan from NJP/Siliguri is to take a shared jeep up to Sukhiapokhri (Rs. 150 per person), and then a bus or another shared jeep over a short distance to Manebhanjan. It takes roughly five hours from NJP/Siliguri to reach Manebhanjan (via Mirik). The other shorter route via Hill Cart Road is not accessible at present.