Where to stay in Lava and Loleygaon
Lava and Loleygaon are small mountain villages in Darjeeling district. Although tourism is what these places mostly depend on for survival, you won't still find many tourists here. This is mainly because of lack of infrastructural development. As a result, there are not many high quality upscale hotels, although there are a few that are quite nice. 
HOTELS IN LAVA
Here are some of the best accommodations in Lava: 
WBFDC Forest Resort 
(Category: Budget) 
The nature resort of West Bengal Forest Development Corporation is the best lodging option in Lava.  Although it's in budget category, it does a nice job of offering a secluded forest environment amongst large concentration of pine trees. The resort area is clean and spread out. Cottages & huts are spread across vast stretch of area. 
WBFDC Forest Lodge Office. A log cabin behind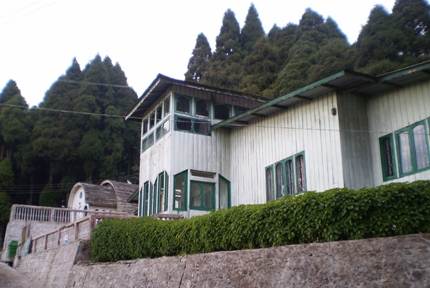 The reception or the office is on the road level, while you will need to climb down a stairway to reach out to the cottages. Other than several cottages, the resort also has log cabins as well as dormitory accommodations all with attached bath. 
The accommodation is simple but nice. Interiors of cottages and log huts are wood finished. There is no TV in the rooms. However geysers are provided in the bathroom although power availability may be a problems at times. If power goes off at nights, there are candles in the rooms. But carry a match box because it might be quite a while before you get a staff to light the candle in your room. Service is average. 
Pathway to the cottages through forest 
Food (Indian & Chinese) is quite good and there aren't much options outside anyway. Surprisingly the resort offers good internet connectivity. And the views of the mountains are awesome. However some of the cottages can be deep inside, and going down and up could be quite cumbersome. But overall a very nice experience. 
Contacts for Booking and Inquiry 
You can book online through the website of WBFDC or by visiting their office. 
West Bengal Forest Development Corporation Limited 
KB19 Sector-III, Salt Lake, Ground - Floor, Kolkata-700106. Phone No. - 033 23350064, 23358320 
Hotel Orchid 
(Category: Budget) 
This hotel is centrally located in Lava Market area and at one end of the jeep stand with open space in front. It has 14 rooms. The ones at the backside have great views of the mountains, forests and Neora valley. There is a 7-bedded dormitory as well. All rooms come with attached bath, TV, geysers, intercom etc. 
Hotel Orchid, Lava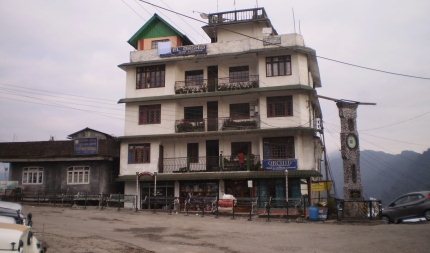 Some of the rooms have private balconies. The hotel has in-house restaurant. The Indian and Chinese food prepared are quite standard. They also prepare momos and some Bengali food. There is a stationery store at the ground floor selling essentials, souvenir items as well as chips, chocolates etc.... quite handy. Service is okay. 
Contacts for Booking and Inquiry 
Hotel Orchid, Lava Bazar, Kalimpong - 734301 
Land Phone: (03552) 282213, Mobile: +(91) 99328 92506 
Hotel Devika 
(Category: Budgey) 
This is a smaller hotel located at the Lava market area. Front rooms face the jeep stand and the open area of the market. There the double and four bedded rooms with attached bathrooms and color TVs. The hotel offers in-house food. 
Hotel Devika, Lava 
Contacts for Booking and Inquiry 
Hotel Devika, Lava Bazar, Kalimpong - 734301 
Mobile: (+91) 90071 43944 
HOTELS IN LOLEYGAON
Lovely Resort 
(Category: Budget) 
This is a small budget hotel with 11 rooms. As you approach the market area (about 2 -3 minutes before the market), a stairway from the road level leads up to the hotel. Elderly people may have some problems climbing the flights of stairs but it's manageable for most. This is a simple hotel and managed by Mr. Indranath Chatterjee. 
Lovely Resort from the road, Lolegaon 
There is a lawn and open space in front. You can have your breakfast or tea sitting under garden umbrellas. The rooms have wood paneling. All rooms have attached baths with geysers, color TV, carpets  etc. However due to power issues, all rooms can not simultaneously operate the geysers. You need to ask the reception and they switch on the geysers depending on electrical load. 
They can however provide buckets with hot water (takes time though). The service is average although Mr. Chatterjee himself is a nice man and quite cooperative. There is a restaurant (actually a dinning kitchen) at the basement. It offers Indian food with limited menu. Some rooms have lovely views of Kanchenjunga. Overall a nice budget hotel. 
Lawn at Lovely Resort Loleygaon 
Contacts for Booking & Inquiry 
Lovely Resort is a unit of Sea Shell. 
Sea Shell, 309 B.B. Ganguli Street 2nd Floor, Room No. 8, Kolkata: 700012, India 
Phone: 033 22252787/54210; Mobile: 09830154264 / 09433258157 
Resort Tree Fern 
(Category: Budget) 
If you are looking for a secluded serene place which is away from the locality, then Tree Fern can be a nice choice. From the main road and before the market, a narrow lane (a dirt road) veers out along the ridge and after about 400 yards or so, you will find the resort right at the end of the lane. This is where you can park your car (it will require some skills though to turn your car around when other cars are parked here).  
Resort Tree Fern, Main Building, Loleygaon 
While it's called a resort, this is after all a budget stay and run by a local family (a lady) along with her staff. There are 9 cottages on the hill slope. All are identical with a small private balcony offering lovely view of the valley and Kanchenjunga. 
Rooms are wooden but simple, 10ft by 12ft in size, can accommodate a family of three each, beds and linens are clean, have attached western style toilets with geysers. There can be problem of insects in the evenings, so it's better to keep the windows and doors closed before it gets dark. You can actually hear the sounds of cricket at night. 
The dining room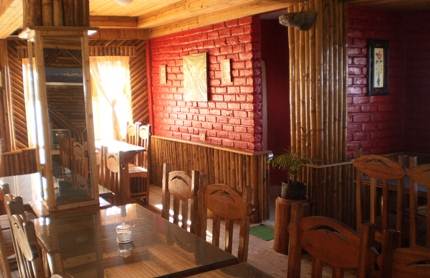 A stairway goes down to a sitting/viewing area below. This is a great place to soak in the nature and viewing the mountains. The main building has a restaurant. They prepare Indian and Chinese dishes with limited menu. Food quality is average. The hotel has generator backup in case the power fails but geysers won't work. 
Contacts for Booking & Inquiry 
Mobile: (+91) 9932371313, 9434467951, 9832375903 
Other Hotels on or near market 
There are couple of other hotels in Loleygaon like Hotel Sunrise and Yankee which are located very conveniently and next to the market area. The market area is small with only few stalls and stores and quite uncluttered. Both hotels (located almost next to each other) are on the main road and have enough open space in front.  
Hotel Sunrise Lolegaon 
The in-house restaurant of Hotel Sunrise extends to an open terrace where you can sit under the sun and have your meals (they call it roof top restaurant). It overlooks the road in front and the Eco park beyond with nice views. 
Rooms in both hotels have standard amenities like TV, attached bath with geysers etc. 
Usually you can get rooms as you walk in. You can also book through travel agents. 
Related Articles
Visitors' Reviews/Comments
Share your experience.