Lava & Loleygaon Tours
Lava and Loleygaon are two quaint hill stations in Kalimpong district and surrounded by forests of pines, oaks and cypress. Altitude of Lava is 7,700ft while Loleygaon (also known as Kaffer village) is at a lower altitude of 5,500ft. Since they are close to each other (about one hour driving distance between the two), most tourists make a combined visits to these two places. 
From NJP/Bagdogra, You can reach Lava or Loleygaon via Kalimpong or Gorubathan. If you are visiting Kalimpong, you can make a great day trip to Lava and Loleygaon from there. 
From New Jalpaiguri (NJP), the distance to Lava is about 105kms via Kalimpong and 119kms via Gorubathan. It takes about 3.5 hours by car from NJP. From Kalimpong, both Lava and Loleygaon are nearby and ideal for day trips. Lava is about 34kms along Rishi Road (the main road here) and Loleygaon is further 22kms away (i.e. 56kms from Kalimpong). 
Tips for the day trip from Kalimpong
From Kalimpong Lava takes about 1.5 hours drive and Loleygaon about 2.5 hours. Since Loleygaon is further away, on a day trip from Kalimpong you can visit Loleygaon first, then visit Lava and return via Algarah along Rishi road. 
In order to take a short cut, the driver will invariably take the Relli road from Kalimpong towards Loleygaon. And the moment he does that, you should be prepared for an ever increasing bumpy ride along roads that haven't been repaired for ages. And that route should not be traversed by a small car other than a Jeep. After a while Relli road leads to some unnamed village roads which are even worse. So if you want to avoid a continuous backbreaking road journey, ask the driver to stick to Rishi road, although the route might be a bit longer but actually takes less time. 
Update October 2019: The Relli road has gone through repair work and is in a better condition now. 
There is one advantage of taking the Relli road though. It crosses the Relli river (on which the road is named) and you can see the beautiful meandering river from the bridge. The river side is a popular picnic spot for the locals. If you happen to take a paragliding flight in Kalimpong (not in Deolo), you will most likely be landing by this river side. A vehicle will take you back to the town. 
Relli River (Dried up)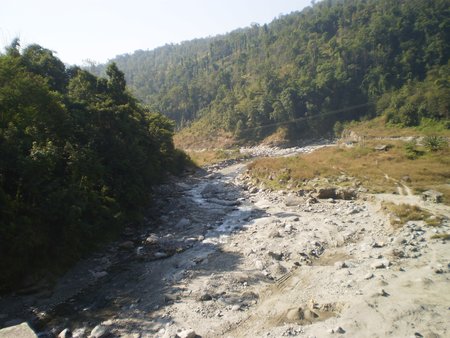 Finally a narrow road branches off the main road towards Loleygaon, which is also not well maintained. You can not avoid this last stretch (of about 12kms or so) which is full of potholes and passes through dense Dhupi forest. While returning from Loleygaon and heading towards Lava, the driver will again try to take a short cut (which is probably the bumpiest ride I have ever experienced). Like before, ask him to take the main road instead and then the diversion to Lava. 
Bridge over Relli river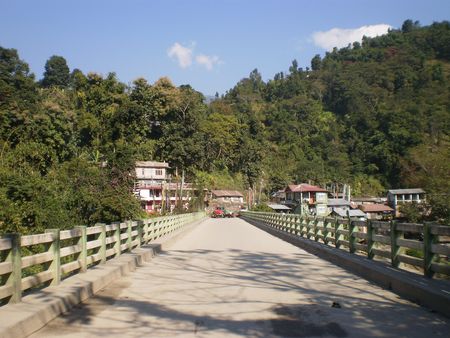 Loleygaon - A quaint village
Loleygaon is a quiet and peaceful hamlet located at an altitude of 5,520ft and surrounded by towering dhupi and cypress forests. Several locations in the village offer sweeping views of Kanchenjunga range. You can also see a range of orchids and other flowering plantations here. It's also a great place for bird watchers. From NJP railway station Loleygaon is about 125kms and can be reached in about 4 hours by car via Kalimpong. The route via Gorubathan takes a bit lesser time. 
Eco Park - Loleygaon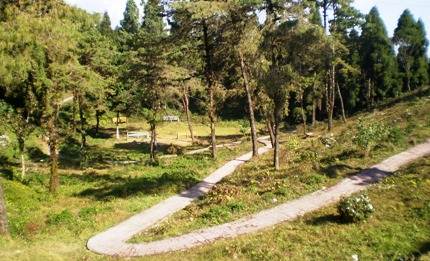 At the center of the village and opposite to the bazaar area  there is a large green space full of plantations... this is the Eco Park. There is a walk way through the park and you can enjoy a walk while enjoying the greenery and listening to the birds. There is a flat land opposite to the Eco Park, where there are few small tea stalls and shops. This is the only bazaar area where you can buy small stuffs or eat. On a day trip, you may carry your packed lunch. 
Buddha Statue near Eco Park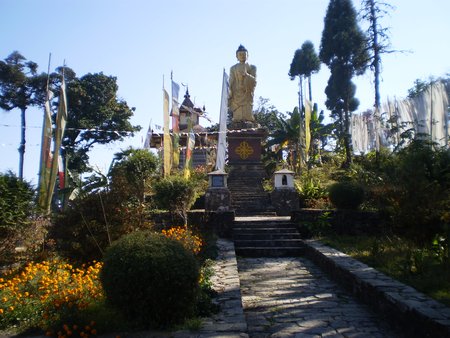 At a short distance from here is the most popular attraction - The Canopy Walk. There is a 180-meters long hanging wooden tree-top bridge that goes through the dense jungle. The bridge slowly rises in height and you will find yourself walking through the tree tops amidst dense forest. At the start, there are few stairs to climb to the bridge and then you start the fairly long walk at a height and through the jungle. 
Canopy Walk (Hanging Bridge) - Loleygaon 
The bridge swings at times and you need to catch the wired fence on both sides. Look around in the forest and you can see many different kinds of birds here. It's an amazing experience. 
This is only a one way walk and lasts for few minutes. There is also restrictions to the maximum number of persons who can walk simultaneously on the bridge. You get down from the other side and walk back below the bridge. 
Canopy Walk (Hanging Bridge) - Loleygaon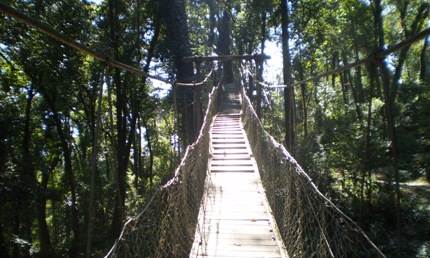 There is a ticket counter at the entrance. Once you buy the entry ticket (Rs. 25 per person), you will need to walk through the forest for few minutes before you reach the hanging bridge to take the Canopy Walk. If you want, you can explore the forest even beyond the bridge after getting down at the other end. 
After Canopy walk, you can visit the Jhandi Dara Viewpoint. It's actually a sunrise point where you get wonderful view of sunrise amongst the Himalayan range. 
While cars can go up to a point (very bad road though), it's essentially a pathway that leads through the dense jungle, then to a stairway and then to the elevated view point. If you plan to stay at Loleygaon, trek up to this view point early in the morning to see sunrise. 
Visit the VIP Bungalow View Point. It's a manicured lawn area below the VIP bungalow which has nice viewing galleries. Unfortunately they are not well maintained, but you still get excellent views of Kanchenjunga snow peaks from here. When I was there, the gate was closed and there was nobody inside. I had to somehow scale over the gate to get to the viewing area. 
VIP Bungalow View Point - Loleygaon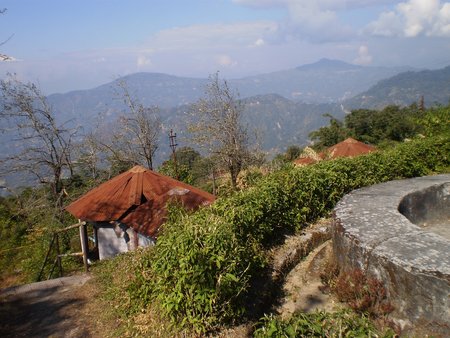 A boating complex known as Nok Dara Boating Complex has come up in November 2019 only 5kms from Loleygaon (9kms from Lava). The complex is setup over 2.5 acres of area out of which the lake occupies 9,900 sq. meters. The complex is surrounded by forests. There are manicured gardens and walkways around the lake. It's a great place for a family picnic, however carry you food as there are not much facilities there. You can however do paddle boating on this picturesque lake. 
Only about 15kms from Loleygaon there is a quiet and charming hamlet known as Charkhole. This is coming up as an emerging destination and there are few budget resorts and home stays that have come up here. Other than the serene nature, Charkhole is probably one of the best places to get a view of Kanchenjunga snow peaks in Kalimpong district. In fact, there are vantage points from where you can get a 180 degree view of the range. 
Lava - A quaint hamlet nestled in forests
Lava is a small sleepy village located at an altitude of 7000ft. From Loleygaon the distance to Lava is 22kms and takes over 1 hour drive. From NJP station, Lava is about 105kms via Kalimpong and takes about 3 hours by car. 
Lava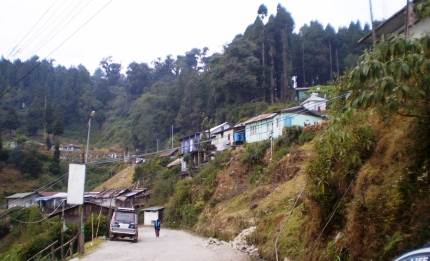 Lava is the base and the gateway for the famous
Neora Valley National Park
and surrounded by dense forest of coniferous trees. However, you should stay overnight at Lava or Neora Valley for a visit to the national park which is full of exotic flora and fauna. Entrance to the park is about 10kms from Lava town center. 
Lava also attracts many trekkers. Trekking to Samthar Plateau starts from a place called Gompa Dara which is located close to Lava. The forested areas around Lava is also a paradise for bird watchers. You can see many different birds like Blue Robins, Fulvetta, Finch, Wren Babblers and lot more. 
Close to the local market (bazaar) is Lava Monastery (the original name is Lava Jamgyong Kongtrul Monastery). This should be covered as part of your day visit. The ambience in the monastery with typical Tibetan architecture is serene and wonderful. If you can visit early in the morning, you can see and hear the young lamas offering prayers and chanting, and you can also join the prayers. 
Lava Monastery (with a monk)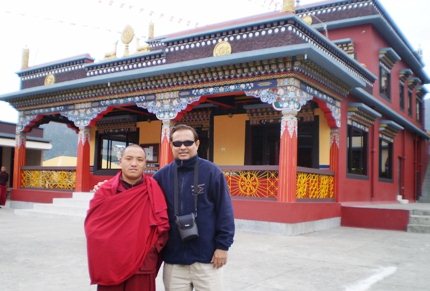 Go towards the backside of the monastery and you get lovely view of the surrounding and a playing field below along with that of Lava village itself with mountains in the backdrop. On a clear day, you get lovely views of Kanchenjunga snow peaks from Lava Monastery premises. 
Backside view of Lava Monastery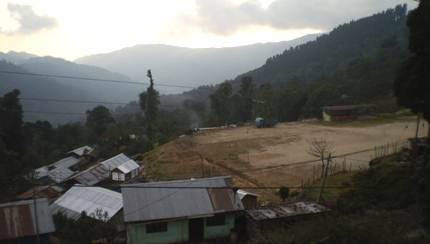 Toilet facilities are available in the monastery complex outside and below the car park. 
On your way back, visit the
Nature Interpretation Center
of Neora Valley National Park which is located in Lava itself. As you walk down the pathway and through the lovely plantations all around, the center is at the end. Here you will understand the nature and the flora and fauna that you can expect in the
Neora Valley National Park
.  
Neora Valley Nature Interpretation Center at Lava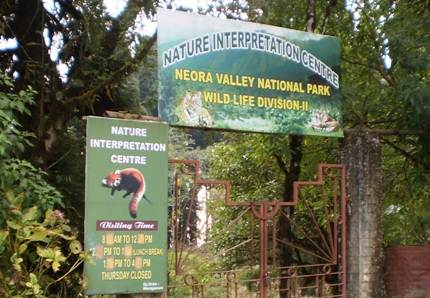 The Nature Interpretation Center is open from 8am - 12noon, 1pm - 4pm. It remains closed on Thursdays. 
Changey Waterfall is about 12kms from Lava. You should take a jeep type vehicle as the narrow winding road is full of boulders and can hardly be negotiated by a small car. It'll take about an hour to reach the Changey base and then walk down for about 20 minutes to see the wonderful waterfall gushing down from high above and disappearing into the lush foliage below. It's a quiet lovely place with nobody around. 
Changey Waterfall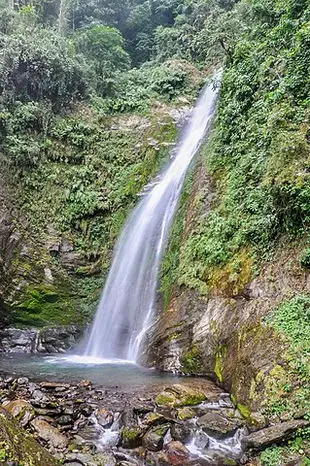 Rishop is another quaint hamlet which is located only 11kms from Lava by road. You can take a vehicle from the local syndicate and get there in about 40 minutes time from Lava. The road from Lava to Rishop is a boulder road and is in a bad condition, small cars can not make it. There is also a steep 4kms trekking trail from Lava to Rishop, in case you like to hike. 
Rishop is known for its several vantage points that offer sweeping views of many Himalayan peaks at one stretch including that of Kanchenjunga. The small village is surrounded with forests of pine, birch, orchids and colorful rhododendron trees. 
Hotels in Lava & Loleygaon
You won't find luxury accommodations in Lava and Loleygaon. In Lava the most popular stay is at the forest lodge of WBFDC, while Loleygaon has several private hotels and small resorts. 
Transports to Lava & Loleygaon
(Fare updated: January 2020) 
From Siliguri stands  (at Darjeeling More) you can get occasional shared jeeps to Lava. Syndicate operated shared jeeps also ply between Lava and Loleygaon. There is also a bus to Lava from PC Mittal bus stand at Siliguri. From Kalimpong, buses leave for Lava in the morning at 6:30am and 10am. Reserved or private taxis are also available in plenty at Kalimpong, NJP and Siliguri. 
From NJP/Siliguri the fare for Lava in a small reserved car via Gajoldoba-Gorubathan is Rs. 2,800/- and via Kalimpong is Rs. 3,200/-. It takes about 3 hours via Gorubathan and 3.5 hours via Kalimpong. 
For a day trip from Kalimpong, you should ideally take a reserved car. A round day trip from Kalimpong covering Lava & Loleygaon will cost about Rs 2,800/- in a small vehicle and Rs.3200/- in a larger vehicle. 
Recommended Resources
If you are planning to visit Darjeeling or Sikkim, the eBook on Darjeeling & Sikkim can be very handy in knowing all the best places, sightseeing tours & operators, eateries, nightlife, shopping and lot more, and would serve as a guide to effectively make your tour plan. 
In order to get great discounts in Darjeeling from many great hotels, restaurants, tour operators, shops and transporters, look into Darjeeling Tourism Card. 
Related Articles
Visitors' Reviews/Comments
Ankan Banerjee (November 2020) 
Dear Raj, At first I would like to express my gratitude for your efforts in Darjeeling Forum as it helps a lot to plan a trip. Me and my friends are planning to explore Lava-Lolegaon-Rishop in 3 days, we are four in the group and we will stay at lava and Rishop and explore other parts with a car. I will not ask about itinerary rather I have few queries. In the present COVID situation are tourists allowed there? As we are four in a group so any smaller vehicle is good enough to travel hilly roads of Lava-Lolegaon-Rishop? We are planning to use public transport up to Kalimpong and then private car. How much is taxi fare if we take one from Kalimpong? Thank you, 
Raj (darjeeling-tourism.com) November 2020 
Hello, you can go but all hotels/homestays are not open in that area... so call up and check with the hotel before you go. A small car is okay for travelling to Lava and Loleygaon. But, you need a large vehicle with good ground clearance to negotiate the gravel road between Lava and Rishop. 
Note that you can not use a private vehicle from outside (such as from Kalimpong) for local sightseeing when you stay overnight at Lava, Loleygaon or Rishop... you need to use a vehicle from the local syndicate. Otherwise, you may end up paying double the fares... first for your private car which is likely to get stranded there and additionally for the syndicate vehicle. I suggest you go to Lava, and use the local syndicate vehicles for touring to Rishop and Loleygaon. These vehicles are available at all these places. A small reserved taxi fare for a drop to Lava from Kalimpong would be around Rs. 1,500. 
Jayanta Mondal (February 2020) 
Can I visit Lava, Lolegaon and Rishop in a single day from Kalimpong? I will visit Kalimpong in March 2020 with my family (3 persons). What will be the cost of car hiring? 
Raj (darjeeling-tourism.com) February 2020 
It's not practical to visit all three places on a single day from Kalimpong, you won't have time to see any place properly. You can visit Lava and Loleygaon on a day, but must start early. A small reserved car from Kalimpong would take between Rs. 2,800 to 3,000 for these two places. 
Biswa (December 2019) 
Hi Raj, I am very fond of your Darjeeling-tourism updated information. So reached out to you to get a geniune information. We have planned a tour from NJP to NJP via Murti, Lava, Rishop, Lolegaon, Kalimpong along with the sightseeing of the places. My concern is that can we make a round trip with a car taken from NJP covering all these places or do we need to take local cars for sightseeing at each place? 
Raj (darjeeling-tourism.com) December 2019 
Hi, in Lava, Loleygaon, Rishop and Kolakham, the transport syndicate is quite strong and do not allow outstation vehicles to do local sightseeing. This is done in order to protect the interest of local drivers. Outstation vehicles can only be used for pickup and drop. However, before checking in or after checking out of your hotel at any of these places, you can use the outstation vehicle for local sightseeing. This means, while staying in a hotel, you can not use an outstation car for sightseeing. So if you plan to stay at any of these destinations for 2 or more nights and do not want your reserved outstation car to idle, it's better not to use an outstation vehicle for the entire trip and instead use local vehicles for sightseeing and transfers. 
Dibyendu (November 2019) 
Hello, Kindly let me know is there any shared cab available from lava to Siliguri/Njp. We already know about the reserved cars from lava to NJP/Siliguri. 
Raj (darjeeling-tourism.com) November 2019 
Hello, There are occasional shared jeeps that leave from Lava to Darjeeling More (in Siliguri). Better take a shared jeep to Kalimpong and then change over to another one for Siliguri/NJP. There is also bus service between Lava and Kalimpong. 
Sourav Naskar (May 2019) 
Hello Sir, I am planning to visit Darjeeling Rishop, Lava, Loleygaon in coming October with my family (4 adults and my 2 years old daughter). Please give me the shortest route plan and how to reach those places (transport) and how many days would be required. Also help me with public transport around the plan. Please help me. I am waiting for your reply. 
Raj (darjeeling-tourism.com) May 2019 
From Darjeeling you can take a private taxi and visit Loleygaon via Kalimpong... takes around 3 hours 15 minutes (you can alternatively take a shared taxi from lower town and change to another one at Kalimpong for Loleygaon). From Loleygaon visit Rishop (via Rishi road and Lava, takes over 2 hours) and then get back to Lava. There are syndicate operated shared vehicles that ply on those routes. From Lava you can get back to NJP via Gorubathan by private taxi (you can alternatively take a shared vehicle via Kalimpong). You need 6-7 days between these four places. 
Kaushik Mukherjee (March 2019) 
Hi Raj. thanks for the useful and delightful information about the tour. Would you please share with us the taxi fare from Siliguri to Lolegaon? 
Raj (darjeeling-tourism.com) March 2019 
Hi, a small reserved cab fare from Siliguri to Lolegaon would be around Rs. 2500, but can be negotiated in low season. High season fares can shoot up though. 
Somenath Banerjee (February 2017) 
Hats off at first. You have made my day. Finally found some Indian who throws away safe and secure for adventure and wild. I am going to visit Rishop, Lava and Lolegaon tomorrow. We actually stay in Rishop for 1 night and Lolegaon for 2 nights. We are adviced to visit Rishop via Gazoldoba-gorubathan. Then from Rishop we will come to Lolegaon & from Lolegaon back to NJP. 
I heard road to lava is very bad. We have 2 60+ people with us, so I am asking you how to reach rishop from NJP? then to lolegaon and then to NJP? Which route to take while returning back to NJP. Should we choose Bagrakote-sevoke-njp route? or Kalimpong-Sevoke-NJP route? Please mention which road to take and which to avoid (Like you mentioned relli road to avoid and rishi road to take when going to lava/lolgegaon from kalimpong). Another question is bad road here means bumpy only or narrow? is there high chance of falling into deep pitt? Thanks in advance. 
Raj (darjeeling-tourism.com) February 2017 
The road from Lava area to Rishyap is a very bumpy road. Only jeep type vehicle can negotiate and not a small car. You need not worry about falling into a deep pit though. Gajoldoba/ Gorubathan route to Lava would be the shortest, but Sevoke/ Bagrakote route is better for the first part (takes about 40 minutes more). Both routes however meet at Odlabari. You can choose either. You need not go via Kalimpong which is the longest route of all. 
Joydeep Banerjee (February 2017) 
Sir..to put it simply, I dont think a travel blog can be written and maintained more scrupulously and meticulously than yours...however, I want a piece of suggestion if you may please cater to....is it possible to travel to Loleygaon, Lava and Sillerygaon in 2 night 3 days' time...if yes, please let me be guided as to how the plan might be negotiated.... 
Raj (darjeeling-tourism.com) February 2017 
Reach Lava and spend the first night. Next morning start early, visit Lava Monastery and few other spots in Lava and start for Loleygaon by 11am. Get back and spend the second night at Lava. Next day visit Sillery Gaon and even Pedong, Damsung fort etc before heading for NJP/Bagdogra. 
Dibyendu Ghosh (October 2015) 
I am Dibyendu Ghosh from Kolkata, planning for family tour with my wife and 2.5 year old daughter. I would like to go for Darjeeling-Kalimpong-Lava-Lolegaon in end of February for 7 to 8 days. Request for your suggestion. I could plan up to NJP - Darjeeling - Kalimpong, after that I am not getting any idea about LAVA and LOLEGAON. Please suggest whether it is possible to cover LAVA and LOLEGAON with my daughter, considering safety ? I will be grateful , if somebody send a details tour plane for this route. 
Raj (darjeeling-tourism.com) October 2015 
There is no additional safety measures to be taken for your child other than what you plan for Kalimpong. But note that February will be very cold and you should take adequate woolens and full winter protection. Also, Lava & Loleygaon being a bit remote, there will be practically no medical help available there should you require some. You will need to get back to Kalimpong for that. Lava is only about 1.5 hours from Kalimpong and Loleygaon is further 1 hour from Lava. Ask the driver to stay on the main road (i.e. Rishi road) to get to both Lava and Loleygaon in order to avoid bad roads (there will still be some). From Kalimpong, you can take a taxi or bus for Lava. Stay there for 1 or 2 nights, after local sightseeing move to Loleygaon. There are shared jeeps available between the two places which are operated by the local syndicate. You can also take a private jeep/car. Spend 1 or 2 nights in Loleygaon for local sightseeing, and then directly return to NJP via local vehicle (the usual route is via Gorubathan). 
Swarup (November 2014) 
Hi Raj, while searching for shared car service from NJP to Lava I found your portal. I am planning to visit lava at the end of December. Can you please tell me whether any shared car is available from NJP / Siliguri to lava or I need to take a break journey at Kalimpong. Also is there any shared car available frequently from Kalimpong to lava. Waiting for your valuable message. 
Raj (darjeeling-tourism.com) November 2014 
You will usually get shared jeeps from Darjeeling More at Siliguri for Lava but not from NJP. From NJP  take an auto and go down to Darjeeling More (about 20 minutes) and then take a shared Jeep to Lava. 
Otherwise from NJP take a shared jeep to Kalimpong and then change to another one for Lava. However Kalimpong to Lava shared jeep service is not frequent. You will unlikely get any shared jeep after 3pm. 
Arnab Patra (October 2014) 
I am looking for the public transport information between NJP to LAVA and LAVA to Rishyap and also the reverse. Please help me if you have any information regarding that.I always prefer public transport because its economy and its saves at least few liters of oil :). Will wait for your reply 
Raj (darjeeling-tourism.com) October 2014 
You can get shared jeeps to Lava from Siliguri stands (Darjeeling More or on Hill Cart Road). There is also a bus from P C Mittal bus stand. From Lava, there is a 4km trek route to Rishyap. Alternatively you can get a shared jeep.