Hotel Alice Villa, Darjeeling
Category: Low Budget 
This is a small budget hotel and very unassuming. When you enter through the gate, come to the small porch and look at the slanted roof of the entrance, you feel you are entering someone's private house. Well this actually was a colonial house during the British days and still has some of its old aura inside. 
The owner Dhiren Pradhan has been careful of retaining some of the old colonial charm while keeping the atmosphere quite friendly and casual. The feeling is more of a guesthouse than a hotel. The reception area is small and the staff are quite friendly. 
The hotel is located at a convenient place and at one corner of the road. The mall is just 3-4 minutes walk through the Bhutia market which sets up on two sides of a narrow alley which goes uphill in front of the hotel all the way to the mall. The Bhutias set up numerous temporary stalls selling all kinds of woolens at reasonable prices. 
Alice Villa, Darjeeling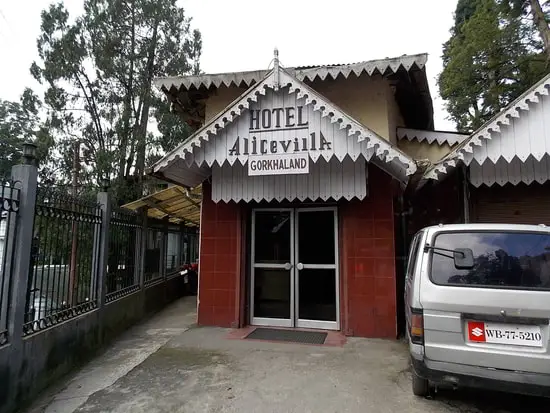 Next to the reception a door leads to the long red carpeted hallway which I think is the highlight of the hotel. There are sofas where you can sit, relax and read books. The wooden ceiling, wood framed glass windows on one side and the furniture remind you of the colonial days. You get nice views through the windows at the hallway. 
Long carpeted hallway or lounge, Alice Villa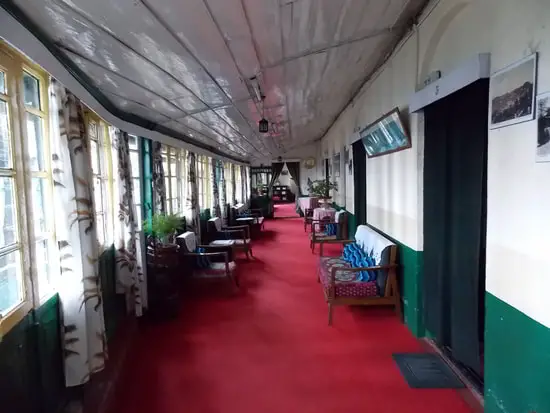 Another highlight is that rooms have fireplaces. They of course charge extra for the charcoal and log woods for lighting the fireplace. There are 17 rooms in the hotel of different types like standard, deluxe, 3 bedded and even duplex rooms. All rooms are carpeted and have attached bath with western toilets and geysers. The old wing of the hotel has wooden rooms. 
Double deluxe room with fireplace, Alice Villa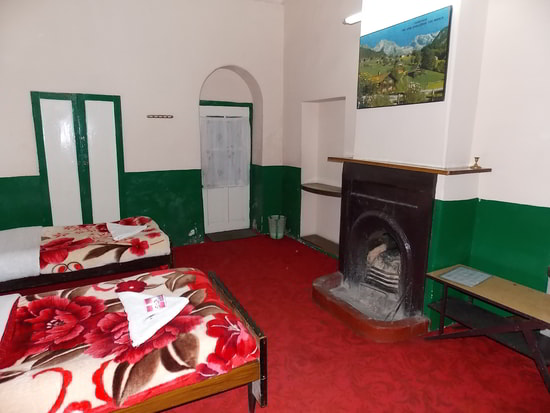 The duplex rooms are the costliest. They have sitting arrangement downstairs. An wooden staircase leads to the bedroom upstairs. The duplex rooms are fully wood paneled and feel quite cozy. However the toilet is downstairs which I think is a problem. If you need to use it at nights, you will need to climb down the staircase. 
Bathroom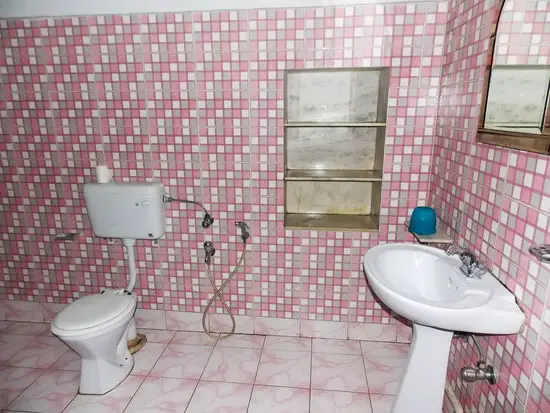 While the rooms are quite spacious, nice and clean, there are no mountain views from the rooms. However since the mall is at stone's throw, that is not a big problem. You can take a short walk and get the wonderful views from the mall road (east). 
The hotel has a kitchen dining facility. However you need to order the food in advance, They make Indian and Chinese dishes. The menu is limited but the food is quite okay. 
Duplex downstairs sitting room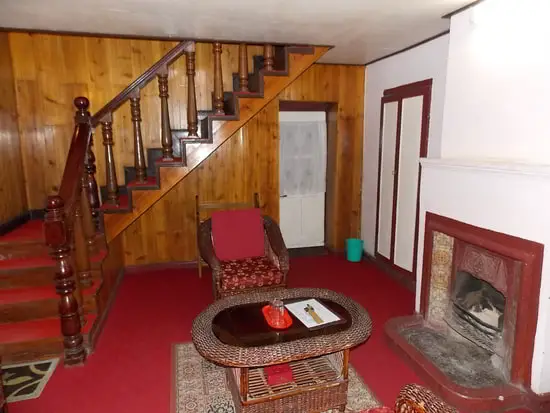 They can bring a private taxi for you for local sightseeing and transfers. One advantage of this hotel is that cars can come right up to its entrance. And there are rooms in the ground floor making it very accessible for those who may have walking problems. 
Another advantage is proximity to lot many shops and restaurants. In fact the hotel is within easy walking distance from the main stores and eateries of the town center. 
Duplex upstairs Bedroom 
Staff are friendly and the service is in general quite good. Pradhan himself is a focussed person and is available in the hotel most of the time. 
Pradhan of Alice Villa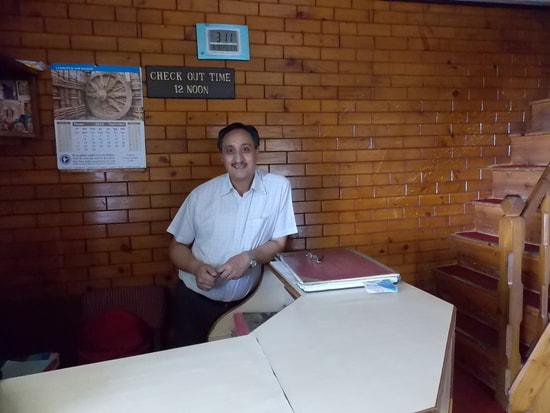 Here are my overall opinion about Alice Villa in Darjeeling
This is a nice hotel, rooms are clean and have standard amenities. The rooms and the facilities are well maintained. 
Hotel is located some 3-4 minutes walk from the Chowrasta Mall. 
The location is very convenient and cars can come right up to the entrance. There are plenty of shops of all kind and eateries around. 
Rooms do not have mountain views and this is probably the only shortfall of this hotel which otherwise scores high in all other aspects. 
Service is usually quite okay and the staff are friendly. 
Considering everything and low tariff, this is a good value for money hotel. 
Location and Contacts
41, HD Lama Road, Darjeeling 734101 
Phone: (0354) 2254181, 2258640 
Related Articles
Visitors' Reviews/Comments
Somraj Dasgupta (June 2023) 
I got the details from this website and booked it for my travel for 3 nights (29 - 31 May). We had 3 senior citizens with us. They got rooms on ground floor. We got 2 other rooms on 1st floor. Beautiful stay. 
The hotel is located in a great place. Its very spacious and service is excellent. Alice Villa has a taxi stand right opposite to their gate. So getting a taxi is very easy. Distance to the Mall is 3-4 minutes walk (can use both slope / stairs). 
Arnab Sinha (December 2021) 
Dear Mr. Bhattacharya, I take this opportunity to thank you for this great website from where I came to know about Hotel Alice Villa in Darjeeling. We stayed in the above hotel for 3 nights during our trip to Darjeeling last week and we had a very satisfying stay. Thank you once again. Best regards,  
S P Roychoudhury (February 2020) 
Hi, I visit Darjeeling at-least twice in a year. I don't go for visiting "points" as they call the "places of Interest". I usually go for a change after busy Office Days... Coming to my stay during my visits since 1996... Its Alice Villa & only Alice Villa's Old Colonial Wing that probably takes me back to Colonial era... enjoying Fire Place inside big clean rooms... big clean washrooms ... long colonial Varanda with rare study materials, sitting arrangements & photographs. Staffs & Manager are very helpful & well behaved. Moreover it's in the vicinity of ever charming
Darjeeling Mall
with road side shops and stalls and pool of eateries around it and another advantage...
Mahakal Mandir
just few minutes away. 
K. Seetharama Prasad (October 2018) 
Our stay at Alice villa recommended by you is wonderful. This hotel carries a charm of its own. Its budget and service are within reach of almost all categories of tourists. The credit goes to you entirely because, my dilemma in deciding on a particular place was cleared by Mr Bishal Tamang, the owner/driver recommended by your website. 
Subir Kr. Das (October 2015) 
I had stayed in this hotel during first week of October, 2015. In my opinion staying in Hotel Alice Villa is very good as far as hospitality is concerned. Also the location is good, specially the ambiance of hotel is charming. Mr. Pradhan is very cooperative and informative. Rooms are quite spacious and well maintained, nice and clean, carpeted lounge and book cases. Very much suited for family stay. Wish to stay again in future. Only thing needs to improve is Kitchen service. Room Tip: room no 21, 22, 23