Darjeeling Mall, Chowrasta
The Chowrasta or the Mall is the heart of Darjeeling town. Located on top of Nehru Road, this is a flat open promenade where tourists and locals come to lounge in the sun, take a seat on one of the many benches scattered along the periphery, have a cup of tea and watch the wonderful views of the mountains and valleys all around, and of course, see people go by. 
Mall is the town center or the social center of Darjeeling. This is where some of the old and heritage stores are lined up on one side, and there is open view on the other with many pine trees all around. If you want to feel the real vibe of Darjeeling, watch people and activities, this is the place to go. 
Darjeeling Mall - Nehru Road Entrance & Fountain 
So why is the place known as Chowrasta Mall? The word 'Chow' means four and 'rasta' stands for roads. So it essentially means that the Mall is where four main roads meet. Here they are... 
1) The busy Nehru Road that comes up from below where all the popular tourist shops are lined up including many eateries, clothing shops, curio shops, gifts & souvenirs stores, etc. Many locals confuse the tourists calling it the Mall road because it leads to the Mall... but this is not the Mall road. 
2) Dr. Zakir Hussain Road that comes in through a busy local market area near the Mall, 
3) The
Mall Road (East)
which goes around the eastern side of
Observatory hill
towards Governor's House and has couple of excellent view points to watch Kanchenjunga snow peaks along the way. 
4) The
Mall Road (West)
which too goes towards Governor's House around the western side of Observatory hill. Actually, both Mall roads (i.e. east and west) meet at Governor's House making it a single circular road around the Observatory Hill. Visit
Mall Road
to know about this scenic road which almost every tourist strolls along to soak in the charm and views. 
There are few other narrow lanes that also originate or terminate at the Mall that are not counted as part of the four main roads. So when you look around the Mall what do you see? Imagine that the Mall area is like a circle. Here is my full account: 
I shall start from the entrance to the Mall from the Nehru Road. Right after the entrance there is a small fountain that has models of golden colored fishes and pelicans with low iron fence around it. However I have seldom seen this fountain operational though. 
Darjeeling Mall - benches for relaxing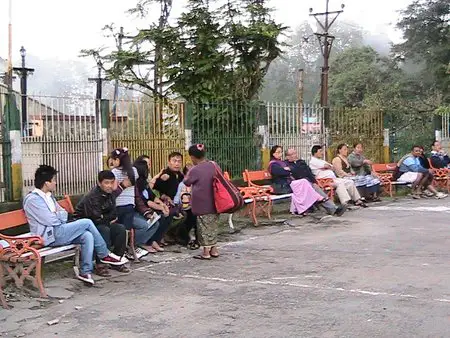 If you now slowly turn anti-clockwise towards left, you will see the building where the
Bellevue Hotel
is located overlooking the Mall. Further on the left you will see the Dr. Zakir Hussain Road entering the Mall through a crowded bazaar or market area. On that road you will get all sorts of grocery items, vegetables and fruits. Further left on the boundary of the Mall are a number of small shops selling items like tea, curios, art & craft, gifts and souvenir items. 
Next there is a narrow entrance to a budget hotel called Holiday Home with stairs going below. On its left is the Police Assistance Booth. This booth is manned 24 hours by Darjeeling Police. They also keep filtered drinking water in a steel water filter can with a tap and is available to the public as well. So if you are thirsty and don't mind having police supplied filtered water, you can come here and have a glass of water. It's free. 
One thing you will surely notice at the mall is many young local lads with their ponies offering horse rides to children. Many elderly tourists indulge in horse riding as well. A short ride up to the Ranga Manch Bhawan, an auditorium along the Mall Road (west) costs about Rupees 150/- and a full round along Mall Road (i.e. starting from Mall road west and returning by Mall road east covering a distance of nearly a mile) costs about Rupees 300/-. You can however negotiate the cost. 
A young lad with his pony at Darjeeling Mall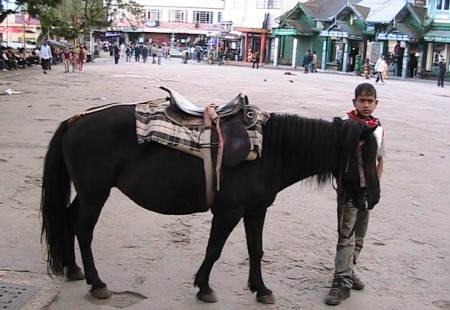 However, the Mall area is often made quite dirty and smelly by these ponies. And lots of stray dogs on the Mall sometimes add to the irritants. Perhaps, the municipality needs to be more sensitive to this special area. You will also find lots of pigeons at the Mall. I don't know where they come from, but they are there all around even in the early morning hours. They sometimes fly very low and can be quite scary. Shopkeepers and tourists feed grains and puffed rice to the pigeons and therefore the Mall has become one of their favorite feeding grounds. 
Pigeons at the Mall, Darjeeling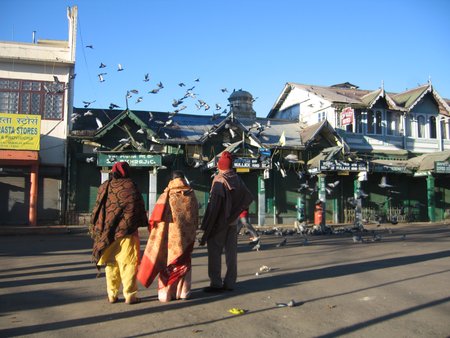 On the left of the police booth is the
Coffee Cafe Day
, a cafe having both large inside and outside terrace seating. Next to CCD is
Nathmulls Tea Store & Lounge
where you can relish a cup of Darjeeling tea with cakes. Nathmull's is an old family run establishment in Darjeeling and offers some of the largest collections of Darjeeling Tea in packets. They also sell tea accessories.  
Further left you will see benches laid out and people sitting there enjoying the Mall activities. There are local vendors who sell tea and other small snack items like alu dum (spiced boiled potato) that are favorites to many as they sit and enjoy the atmosphere. 
Further left on the boundary is the Hawa Ghar, a large two storied concrete structure where cultural programs like Nepali dance and music are performed during the high season. 
The triangular shaped structure is like an elevated stage. Chairs are laid out in the mall and people watch the shows sitting or standing on the grounds. The elevated platform facing the Mall is used for the program, while the lower space is used for preparations (more like a green room) and also as a kitchen to prepare food that are sold to the audience. Hawa Ghar is also used at times to deliver political speeches to the people of Darjeeling by ministers and dignitaries. 
Hawa Ghar at Darjeeling Mall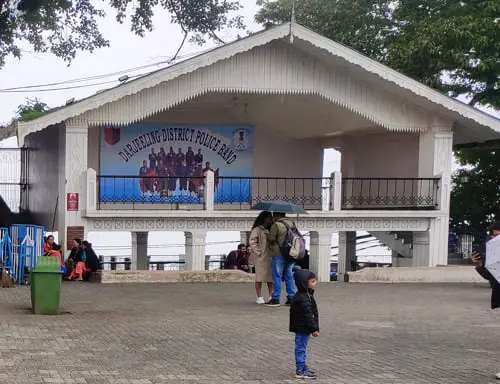 On the left of Hawa Ghar there are again benches laid out for people to sit under the pine trees behind which is the grand view of the mountains. As you look further left, you will the scenic Mall Road (East) that goes out and makes a full circle around the well known
Observatory Hill
for about a mile and returns to the Mall about 100 yards left of its origin. 
Hawa Ghar, Benches & Sign for Free Wifi in Mall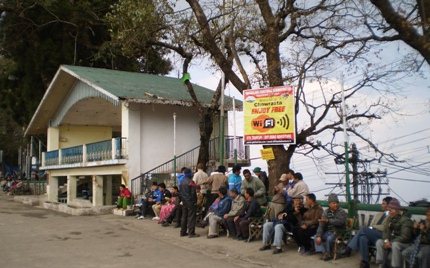 In between the two entrances of the Mall Road, there is a huge golden colored statue of the Nepali poet Bhanubhakta Acharya. He wrote the Nepali version of Ramayana translating it from Sanskrit. He was born in 1814 and died in 1868. This statue was originally erected on June 17, 1949 and reinstalled on July 13, 1996 by the Nepali Sahitya Sammelan, a Nepali community. 
Poet's Statue at Darjeeling Mall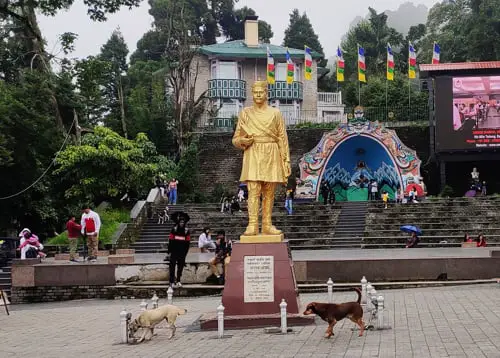 Just next to the statue and on its right there is a special seating with a shade and having a board saying "Senior Citizens Only". You will find several old people, mostly locals sitting here. 
Update 2014: The nice park behind the poet's statue has been converted into a large concrete stage area for holding functions. The senior citizens' shed is also gone. 
As you look towards left, you will now see a series of well known shops. First the outlet Tibet Art selling lots of artwork created by local and other artists. Right next to Tibet Art where a narrow lane goes below the Mall Road, you will see Phuchka walas - men selling phuchkas. 
Phuchkas are street snacks that are small hollow flour balls having fillings made out of spiced potato and tamarind water. They sell like hot cakes in various parts of India and are favorites to both kids and adults. Phuchkas are also also known as pani puris or golgappas. These men also sell masala muri and bhel puri, two other types of snacks made of puffed rice and various kinds of spice and ingredients. Price is reasonable and comparable to that of Kolkata. 
To the left is Life & Leaf - a store selling organic tea and honey cultivated by local farmers along with many small hand crafted items like mugs and tea sets etc. 
Adjacent to it is the well known tea lounge
Golden Tips
offering tea and snacks, as well as packaged Darjeeling teas of various types and grades collected from numerous gardens in Darjeeling.  
Darjeeling Mall with shops lined up on one side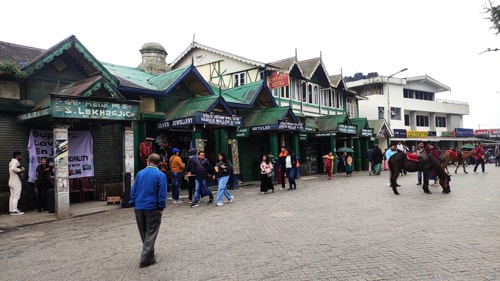 On the left of Golden Tip is the famous
Oxford Book & Stationery
, an old and one of the best book stores in Darjeeling. On its left is another famous store that was established in 1890 and has two sections run by two brothers, the
Habeeb Mullick & Son
that has been selling rare collections of artwork, curios, special jewelry and other souvenir items. 
Then there is a wine shop, and finally the last one close to the entry at the Nehru Road is the cafe and restaurant called the
Fiesta
that has both inside dining as well as outside seating under umbrellas. 
The Mall offers a great opportunity for shopping. If you like to know about the shops here and their offerings, check out
Shops in Darjeeling Mall
. 
Watch the video of Chowrasta (Mall) 
Location
The Chowrasta or the Mall in Darjeeling can be reached through different roads. The most popular is the Nehru Road that starts from Gandhi Road where the restaurant Keventer's is located. If you walk along Nehiru Road, it would be a little uphill walk through shops on both sides. It takes about 5-7 minutes by walk. Taxis are not allowed in the Mall area. 
Taxis can only come up to the stand near the junction of Nehru road and Gandhi road, or up to the Windamere hotel on the Mall road from where it would be a shorter and easier walk to the Mall. 
Open Hours
Mall area always remains open and there is a police vigilance round the clock. However it is not advisable to hang around here late at night. All shops generally close by 8pm around the Mall. 
Related Articles
Visitors' Reviews/Comments
Ashwini Pailoor(February 2022) 
We walked towards the Chowrasta mall ground and sat there for sometime with a cup of tea, enjoying the scenery, the people, the boys learning to flip on the skateboard, the chill in the air.  It was like time had just stopped for a while. It was lovely soaking in the surroundings. We then took the path on the right towards the Mahakal Market road. The shops were just opening. We found viewpoints with benches to sit on and people selling hot soup/ tea. Of course we did stop to enjoy a sip. 
Raj (darjeeling-tourism.com) February 2022 
Hi Ashwini, skateboarding in Darjeeling has picked up recently during the Covid time. I had hardly seen it before. With schools remaining closed over a long period of time, the school kids took up skateboarding as an activity they could spend time with, and the Chowrasta Mall and the Mall Roads being on flat terrain became their favorite grounds for skateboarding. 
Anindya Chatterjee (July 2013) 
Thanks Raj, obviously I shall share my experience on my return. I already have maximum of my questions answered from your helpful site. Another query, if I opt to stay near Darjeeling railway station (Mahatab Chand Road) how long shall I have to walk to reach mall, what will be the shortest route. 
Raj (darjeeling-tourism.com) July 2013 
Hi, From Darjeeling Railway Station the Mall (Chowrasta) is about 1km and it's an uphill walk (will take about 35-40 minutes). From Hill Cart Road (at Darjeeling station) take Laden la Road and then Nehru Road to reach the mall.