Samir's Homestay Darjeeling
Category: Budget 
This is a small homestay nestled in a typical quiet residential area of Darjeeling yet with a lovely location and mountain views, and gives you a superb opportunity not only to find a home away from home, but also to stay in a house of a local family, understand their way of life and have great homemade food. 
Samir, the young man has built a cottage like homestay on the roof of their 3-storey house. The homestay has only two but cozy rooms. Front part of the open roof which is a terrace to the rooms is one of the key attractions for this home stay. Not only you can relax and have your breakfast or tea sitting on the terrace as you soak in the sun, the view of the entire range of Kanchenjunga from here on a clear day is simply mind-blowing. You also get the views from the rooms. 
The homestay is located on Hermitage road, which is a narrow road which is an offshoot from the Mall Road and goes downhill. From the Raj Bhawan on Mall road, it would be hardly 3-minute walk and the Mall (Chowrasta) is about 10 minute walk. This is a vehicle free zone, so taxis won't come up to the door front. You will need to get off at Gorkha Rang Manch on Mall road and walk for about 500 yards.  
You can get porters to carry your luggage. If you are travelling light, then this is an easy walk mostly on flat terrain and only some 100 yards towards the end is little downhill. 
Samir's Homestay on the roof top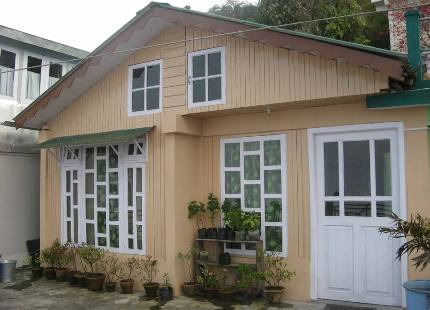 Samir is a nice & friendly host. His personal interests includes physical fitness, long treks and soccer. Once you reach his green colored 3-storeyed house, you need to climb the stairway to reach up to the roof top terrace. The entry to the homestay is from the terrace. You can book one or both rooms. 
The rooms are both nice and airy, have large windows to allow fresh air and sunlight. The double beds are comfortable, and walls of both rooms are wood paneled making them very cozy. There are small sofas or cushioned seats, a dressing table, TV with cable channels etc in the rooms. 
The main house - You can see the terrace & homestay 
Both rooms have attached toilets of European style and have geysers. You can have hot showers any time you like. There is also a fully equipped kitchen (a small one though) with gas oven and gas cylinders. There is also a dining table and few chairs in the kitchen area. 
So if you like to cook yourself, it's a perfect set up. However Samir's mother makes excellent breakfast. Others than eggs, toasts and tea, you can get banana pancakes etc. 
View from Terrace 
Another important feature - the homestay has wi-fi and it's free for guests. In one of the rooms there is a small table at the corner with a chair which is good for working with your laptop. 
Room in Samir's Homestay 
They provide small room heaters when it's cold. You can also ask for extra blankets. Samir organizes guided village and tea garden tours if you are interested. He also organizes treks and tours around Darjeeling and Sikkim. In fact if you have any requirement, just ask Samir and he will do his best to get it organized at reasonable rates.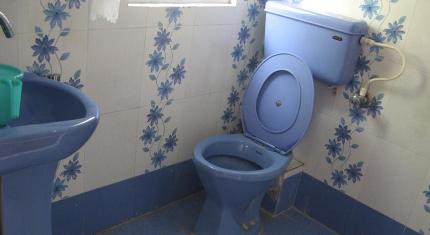 While you can book a room at the homestay at daily rate, they also offer weekly and even monthly rate which turns out to be quite attractive for longer term stay. 
If there is one criticism about the homestay, that would be availability of direct sunlight. Due to trees, the sunlight usually comes in at about 8:30am and stays till about 2pm. So in winter the rooms can get very cold although they are wood paneled. Also sometimes the terrace is used for drying clothes and bed sheets which can make it look a bit clumsy. 
Both rooms are non-smoking, but one can use the terrace for smoking. 
Rates provided by booking.com 
Contact Info & Location
10/A Hermitage Road, Darjeeling. 
Direction: From Gorkha Rang Manch (Bhanu Bhawan), walk past Raj Bhawan and continue along Mall Road (East). You will soon see a narrow lane on the left going downhill (next to Hotel Hermitage) - that is the Hermitage Road. It's about 500 meters walk from Gokha Rang Manch (taxi point). The Chowrasta Mall is about 12-15 minute walk from the property. 
Related Articles
Visitors' Reviews/Comments
Share your experience or stories.