Paro Taktsang (Tiger's Nest) Monastery
The visit to Taktsang is physically draining and spiritually overwhelming so it's highly recommended to keep a separate day for it. You will first need to reach up to the base camp by taxi which can take about 35 minutes from the lower Paro town and about 20 minutes from upper Paro. The journey to the base camp will offer you splendid views of evergreen woods. 
From the base camp, you can either hike up on foot or ride on horseback till the Taktsang Cafeteria. The hike is a good 4 km uphill and is likely to drain you a lot. In case you are not an experienced hiker you should op to ride on horseback which will cost you 600 INR per person (these are off season rates…in season the rate is 900-1000 INR).  
Drive towards base camp - Views of evergreen woods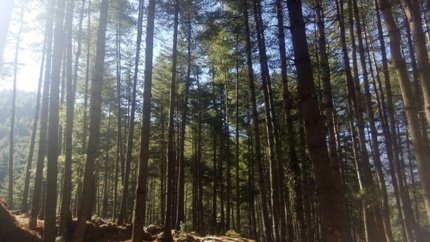 A beautiful prayer wheel & colorful prayer flags 
greeted us at the base camp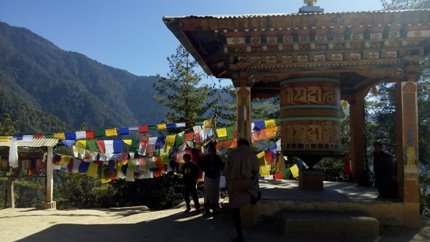 You can also hire a trekking stick (50 INR per person) as the road is steep and rocky and extra support is needed. You will be rewarded with magnificent views on your ride up to the Tigers Nest. I had this distinct feeling of entering a whole new magical world.  
Ride up on horseback for an hour 
to reach the Taktsang canteen 
After an hour of horse riding you will reach the Taktsang Cafeteria where you can refresh yourself and visit the washroom. The Cafeteria is well maintained and serves hot coffee (120 INR), tea (120 INR), Maggi (200 INR) apart from full meals (220 INR). 
View of Tiger's Nest (Taktsang Monastery)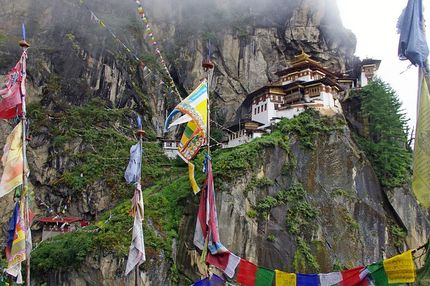 Do not eat a heavy meal here as there is a sharp hike ahead which can only be accomplished by foot. However, hydrating yourself and depositing any excess baggage in the cafeteria is a good idea. 
Fuel up here at the cafe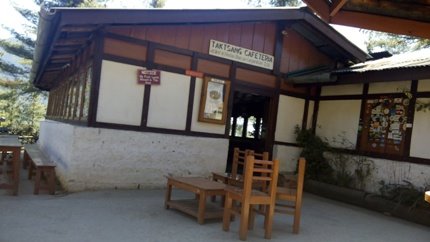 Of special mention is an umbrella shaped structure besides the Cafeteria where you can perch yourself on a chair and lose yourself in meditation and deep thinking. A couple of locals around me were doing just that but I had to tear myself away to attempt the hike up to Tigers Nest. 
It took me 2 strenuous hours to reach the Taktsang but like most difficult roads in life this challenge gave me priceless rewards. I had to hike up for 2 km and then walk down for 1 km before I reached the majestic array of steps (800 in total) that led to the Taktsang Monastery.  
Beautiful view on the way to Tigers Nest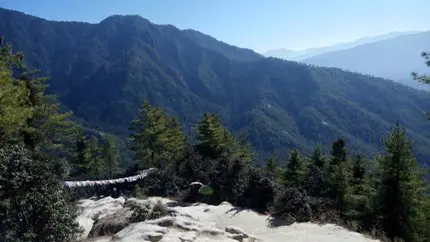 Bhutan is very aware about cleanliness and environmental sanctity in particular. This lady (Harka Gurung, picture below) whom I met on my hike up the Tiger's nest had come to survey the trail and file a report on the cleanliness and environment friendliness of the facilities. She works with the Bhutan Government Environmental Protection Cell and based in Paro. 
The lady from Environment Protection Cell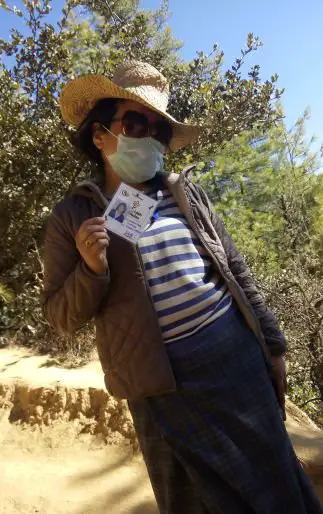 What to see
The Taktsang Monastery is built in accordance to Buddhist architectural principles and has pristine white walls along with gorgeous golden roof. The temple complex here was built in 1692. There are 4 main temples surrounded by several monk's dwellings and all the buildings are connected to each other by staircases deeply carved into rock. There is a gigantic prayer wheel in the courtyard that is swung at 4 a.m. by resident monks to signal the beginning of a fresh dawn. 
Taktsang Monastery, Paro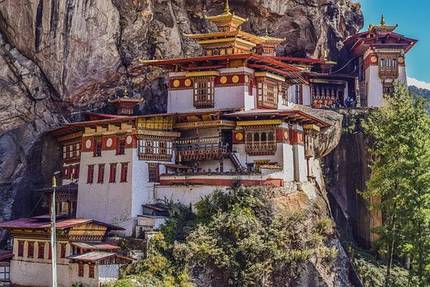 The interiors are unbelievably luxurious with hundreds of flickering lights and glimmering domes. Inside the hall of 1000 Buddha's, there is a huge tiger statue. According to popular myths a tigress brought Guru Padmasmabhava to this site on her back. Out of the 8 caves around the monastery, 4 are easy to reach. The TholuPhuk and PelPhuk caves are of special importance. Interestingly resident monks are supposed to dwell and live in these caves for 3 years in the footsteps of their Guru Padmasmabhava. 
How to reach
The standard rate from my Hotel (located at the upper part of Paro) to Tiger Nest is 800 INR (for one side of the journey). However, I was lucky to find a Taxi driver who took me to the base camp of the monastery and back in 800 INR. His name is Jam Yang (Mobile: 17554230). You can contact him for reasonably priced tours in and around Paro. Entry to Taktsang Monastery is free. 
Note
• you should ideally start your trek up the tiger's nest by 9.30 a.m. By mid-day the sunrays and the exhaustion can sap away your energy and make you feel dizzy. 
• If you have vertigo, ideally do not attempt the ascent to the monastery as there is a strong tendency to swoon while you are walking down and up the steps. Likewise, if you have cardiac problems, high blood pressure etc. maybe the tigers nest trek is not for you. You can ride on horseback to the Cafeteria where there is an excellent view of the monastery. 
• The reasonably fit will find the trek moderately strenuous and carrying a trekking stick is very important. Do not forget to carry a water bottle and an anti-dust mask (if you are asthmatic). 
• Begin your return journey from the Tigers Nest latest by 3.00 p.m. The sun sets at 5.30 p.m. and the journey becomes precarious after that. 
• Monastery is closed between 1 p.m. to 2 p.m. and photography isn't permitted inside. 
Related Articles
Visitors' Reviews/Comments