Top things to see & do in Paro
The most significant places to see around Paro are the Dzongs and Monasteries and it's important to understand the difference between the two. While a Dzong has official chambers and court of justice along with temple, a monastery is built for meditation and prayer only. 
It's possible to cover Paro in 2- 3 days but the atmospheric beauty, traditional buildings, swaying red rice fields and the small attractions around might as well inspire you to stay longer. Paro itself is a small town located in the Paro Valley at an altitude of about 2,200m. It is also the capital of the district. 
Paro Taktsang (Tigers Nest) Monastery
Arguably, the best tourist spot near Paro, the Taktsang is not for the faint hearted. What makes this Monastery different is that there is no way to access it apart from a steep mountainous hike. I stayed on the upper fringes on the Paro Town and it took me a good 20 minutes by taxi to reach the base camp for Taktsang Monastery. If you are staying in Paro Town, then it will take you 15 minutes more. From the base camp, you need to hike or take a pony ride. 
Takatsang Monastery perched high on a cliff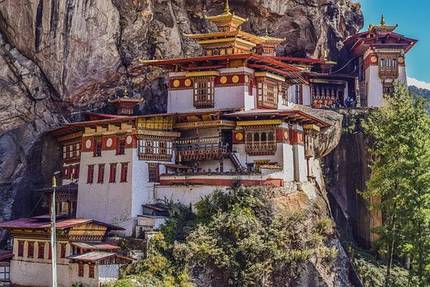 Chelela Pass
Entry: Free 
The 35-km driving stretch to Chele La from Paro is one of the most interesting rides you will be ever exposed to. The Chelela Pass separates the consecutive valleys of Paro and HAA and it's considered to be the highest motorable pass (altitude 3988 meters) in the whole of Bhutan. 
If you are visiting Paro in the summers, spring or autumn then do not miss the spectacular ride through larch and spruce woods. In summers the woods will be full of wildflowers making the whole journey exquisitely beautiful. If the day is bright and clear, you will enjoy beautiful views of the HAA valley along with Mt Jomolhari (sacred mountain) and Jichu Drake. 
Chelela Pass Highest Point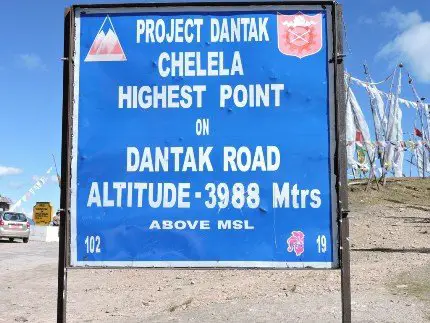 You can also consider hiking up to the Chelela pass especially if you are arriving in summer. There is a very popular hiking route that starts off at Kila Gompa Nunnery (on the cliffs below Chele La Pass). On this hiking route, you will find many retreat cottages and 7 small temples (all built into the cliff). 
The trail lets you walk through woods carpeted with rhodendrons and primula and other exotic flora before entering the ridge of Chelela. This is a medium intensity hike and the starting point (Kila Gompa) is 27 km from Paro. It will take you 30 minutes to hike downhill from Chelela to Kila Gompa and 50 minutes to hike up from Kila Gompa to Chelela. 
However, in winters and the monsoons… it's generally not advisable to travel to Chelela as the roads may be slippery with ice and water. Also, a lot of landslides happen along that area during monsoons which makes August and July avoidable for excursions to Chelela. 
Attractions in 5-Point Tour of Paro
A standard Taxi driver will charge around 1200 INR for showing you these 5 points around Paro. However, you can opt to see some of them on foot as the walk will be invigorating and blessed with magnificent views. I covered the Kyichu Lhakhang, Paro Dzong and National Museum (described below) on foot and thoroughly enjoyed the experience. 
Kyichu Lhakhang
Entry: Free 
This is Bhutan's oldest monastery that is only 5km away from Paro Town. From my Hotel, kyichu-lhakhang was just 1.5km away and I saw it on a morning walk. The road to the monastery is gentle and doesn't have a series of steep steps that characterize other monasteries in Bhutan. 
The complex is unremarkable but once you enter the spiritual aura of the place will move you. Elderly monks keep walking around spinning the many prayer wheels encircling the temples amidst gentle Buddhist chanting. 
The Kyichu Lhakhang temple complex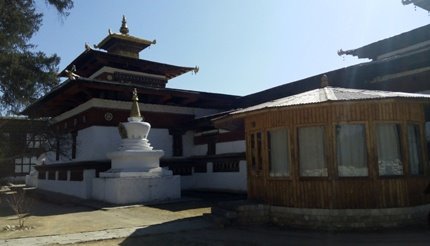 There are two beautiful temples adjacent to each other; the 7th century one was built by King Songsten Gampo of Tibet. Later another magnificent 19th century monastery was built. The 19th century monastery was Built on the instructions of Ashi Kezang Choden - wife of the 3rd king of Bhutan and the advice of lama Khyentse Rinpoche who is also the teacher of Dalai lama. 
Photography is strictly prohibited inside but the resident monk Kinga Tshering who has been serving the monastery since the last 1 year was kind enough to share information about the history and culture of kyichu-lhakhang. The 7th century monastery was built by First Dharma king of Tibet, Songsten who built 108 temples on the same day. Out of these, 2 temples are in Bhutan; Bumthang and Paro. The 19th century temple is dedicated to Jho Buddha of long life, red Tara and god of compassion (all wish fulfilling deities). 
The evergreen orange tree besides the 19th century temple 
The 7th century monastery is a tribute to Rinpoche...The vanquisher of evil spirits and demons. Other deities in the monastery include the many armed god of compassion and rare antique statues of Padmasambhava. Thingsey Rinpoche the famous lama died in 1981 and was reborn in Nepal in 1984. Lama' ashes are stored in 19th century Chorten where jewels and fragrant water is offered every day. Also on display is a photograph of Grey Mustaq, the revered founder of Bhutan. He is as important to Bhutan as Columbus is to America. 
One of the paintings in the monastery depicted the episode of Second Buddha Padmasambhava born from a lotus as an effect of the prayers of many gods and goddesses. The monastery complex radiates a strange mystical aura augmented by the presence of an evergreen orange tree which bears fruit the whole year through. This is an excellent place for meditation and deep thinking. 
National Museum of Paro
Entry Fee for SAARC Tourists 50 NU; Entry for Non SAARC Tourists 200 NU 
The Ta Dzong (National Museum of Paro) is situated about 1 km away from the Paro Dzong and is at an elevation of 2487 m above Paro town. The structure with the purpose of defending the dzong and protecting Bhutan's cultural and religious identity. The building has an unusual shape (like a conch shell) and has 2.5 m thick walls. 
National Museum of Paro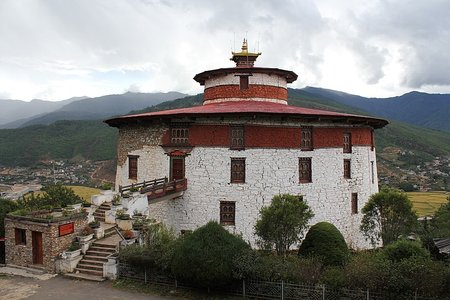 Photo: Arian Zwegers, cc by 2.0 
If you really want to know and understand the history of Bhutan, then the National Museum of Paro is a must visit. Shifting through its exhibits and looking at its neatly segregated array of artifacts will walk you through the transitions that Bhutan has been through. 
The museum underlines the 9 goals of Bhutan i.e. Psychological Wellbeing, Ecological diversity and Resilience, Health, Education, Culture, Living Standard, Time use and balance, Community Vitality, Good Governance. 
There are a stunning range of exhibits across several floors, the most spectacular of which are… 
National History Gallery containing 3D Map of Bhutan 
Heritage Gallery containing eccentricities like horn dedicated to Rinpoche and Mule Eggs 
Exquisite array of Thangkas (traditional Bhutanese scroll paintings) 
Array of festival masks demonstrating kings, saints and demons of Bhutan 
Once my tour of the museum was over, I walked down to the Paro Dzong and then back to the town (a good 4 km walk). I could see the Ugyen Pelri Palace in distant view. If you are interested in hiking then you can hike up your way to the Yuri Dzong from the museum. 
Note 
You need to walk around the museum in a clockwise manner 
Cameras are not allowed inside the museum 
Museum closes at 6pm in summers and 5pm in winters and the lunch break is from 1pm to 2pm. 
Drugyel Dzong
Entry: Free 
If you are an avid hiker then maybe you would like to attempt the trek from Khichu Lhakhang to Drugyel Dzog which is 10 km away as you will then be rewarded by magnificent views. However, for lesser souls, hiring a cab for the day is a good option as Drugyel Dzong is a part of the famous five points near Paro. Built by the Buddhist icon Zhabdrung Namgyal, the Drugyel is a point of strategic importance as its original purpose was to control the route leading to Tibet. In fact, the purpose of construction was to celebrate the victory of Bhutan over Tibetan invaders. 
What interested me greatly was the false entrance of the Dzong that led any attackers or invaders into an enclosed courtyard where they would be easy prey for attack by Bhutanese soldiers. I learnt from a resident monk that the Dzong was destroyed by Fire and orders of its reconstruction came after the birth of K6 The Gyalsey in 2016. (would be king of Bhutan…Bhutanese number their kings like they call the present king K5). 
UNESCO Lists the Drugyel Dzong as one of the most beautiful World Heritage sites and the ruins are well preserved. If you look carefully, you can distinguish stone wall structures and fallen window frames. The building was built in Shabkor style with formidable masonry walls that allowed entrance from a single point. Hidden tunnels for army passage way and water fetching are present. Cylindrically shaped buildings named Chu Dzong are connected to each other by complex paths. However, I was unable to see all this personally as Dzong is under construction and its only possible to get an external view of it as of now. 
Paro Dzong/ Rinpung Dzong
Entry: Free 
The Paro Dzong is only 1 km away from town though it has a steep flight of stairs leading to it. It is highly recommended that you take time to savor the walk as well as the picturesque ascent to the Dzong. The entry to the fortress like Dzong is by a suspension bridge overlooking the sparkling waters of Paro river. Once you start walking up you will not be able to put your camera away as the views compete for beauty. 
The Beautiful Paro Dzong as seen from the Paro Town 
Bridge leading upto the Paro Dzong. 
The river Paro flows underneath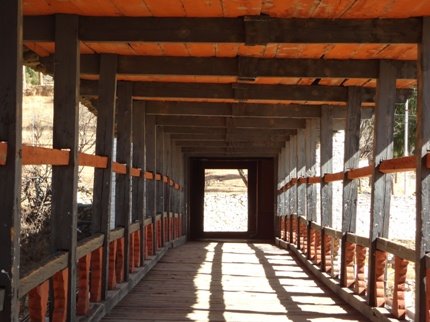 The steep flight of steps leading up to Paro Dzong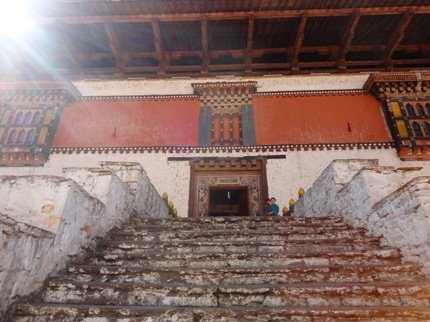 Up a flight of about 120 steps, you can see huge paintings of 
the four Kings of the world and the Circle of Life. 
I met a helpful resident monk there who explained that the original construction started in 15th century as Hungrel Crag was dedicated to Lama Drung Drung Gyal who then built a smallish fortress here. However in 17th century the dzong  was dismantled and the huge existing structure comprised of Kungarwa, Monks' assembly hall, Sandalwood stupa, Temple of the Guru's Eight Manifistations, Chapel of the head lama, Chapel of God Amitavus, The Clear Crystal Shrine, Chapels of the Eleven-faced Avalokitesvara, Akshobhya, Temple of the Treasure Revealer along with Apartments of the King (Gyalpo'i Zimchung). 
If you happen to visit in April, do not miss the gorgeous Ishechu festsival that comprises of series of masked dances and Thangka displays along with the unique public display of 8 forms of Padmasambhava. 
Other Attractions in Paro
Paro Weekend Vegetable Market
Seeing the vast array of indigenous local produce including red rice, cheese, chillies, huge brown eggs, dried sausages and interacting with the locals is a great experience. 
The market is open between 10 a.m. to 6 p.m. Friday to Monday. 
Locals sitting and selling their wares 
Look out for the popular local Yak Cheese… 
an integral ingredient of Ema Datsi (Bhutans national dish)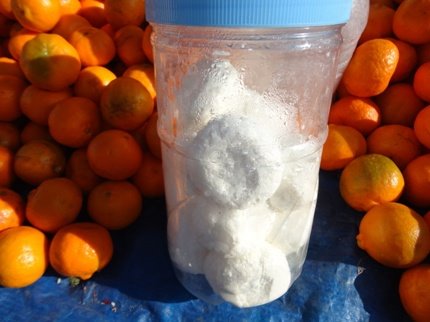 Juma (local sausage).... 
the locals keep chewing on this all the time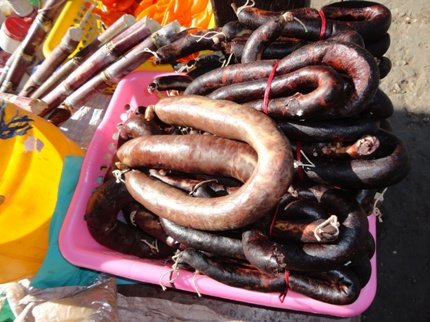 Fiery red chilly pickle…an integral part of every Bhutanese meal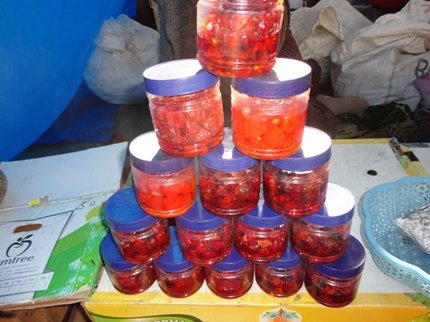 Local spices & condiments (good stuff to pick up as keepsakes). 
They are all meticulously packed and can be stored for months.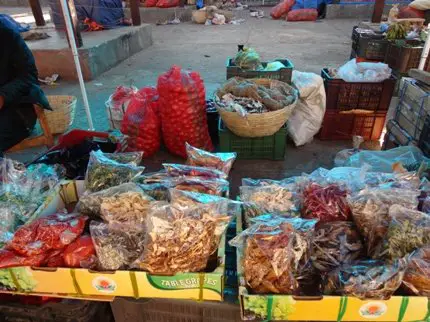 Festival Ground
Entry: Free 
A big stone paved circular area near the North East entrance to Paro, dancers perform at this point on important festivals and occasions. 
Dumtse Lhakhang
Entry: Free 
The Dumtse Lhakhang lies between Paro Dzong and Paro Museum. Home to Bhutan's oldest paintings this temple is literally shrouded in darkness. Carry a pocket torch when you visit. There are marvellous urals depicting heaven. Hell and earth on the 3 floors of Lhakhang 
6 Chortens
Entry: Free 
There is picturesque series of 6 Chortens lining up the path from Town to Paro Dzong and they are all encircled by Prayer wheels. Chortens are sacred structures that carry the ashes of renowned Buddhist religious figures.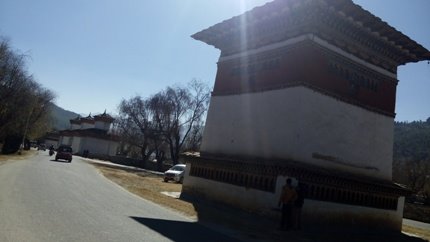 Pelri Goemba
Entry: Free 
Hike up for 15 minutes from the south east of Paro and you can see the Pelri Goemba that is an ancient Nyingmapa inspired Chapel. 
Ugyen Pelri Palace
Look down from the Paro museum of Dzong to get a good view of the Ugyen Pelri palace that was built by Tshering Penjor (Paro's governor) for the Queen mother. 
You can choose to travel to Thimphu, HAA Valley, Punakha, Bumthang from Paro. 
Related Articles
Visitors' Reviews/Comments