Udumwara Resort, Paro, Bhutan
Category: 4 Star 
The Udumwara Resort is about 5 km away from town and has a picturesque location. Check out if you are looking for a quiet sojourn away from the bustle of the main town. 
The Udumwara Resort is also meant for experiential Bhutanese inspired living and the name Udumwara means 'auspicious flower from heaven' - a flower which is supposed blossom once in 3000 years. 
There are two restaurants in the property; the In House main dining restaurant serves multiple cuisine including Indian, Chinese, Italian, Continental and a special selection of Bhutanese food. There is also Nyeltsho…a fast food restaurant with customized barbecue facility and a great bar. 
The Udumwara (took the picture from the main gate)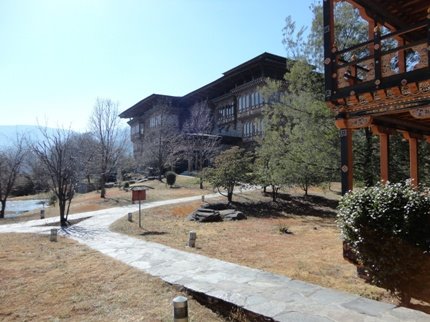 The Main Bar is named Pakshing (means Bamboo in Bhutanese) and serves traditional Bhutanese liquor right from the humble Ara to the expensive 1907. For global brands, you can walk down to Nyeltsho Bar that has a good selection of international wine, scotch, rum, vodka and beer brands. The open deck in Nyeltsho is a good place to sit and watch the sunset with your favorite drink in hand. 
There are 22 rooms out of which 10 rooms are in the main building and there are 3 villas with 4 rooms each. All rooms are priced between 8000 to 9000 NUS and there is 10% BST (Bhutan Service Tax) and 10% service charge are billed extra. 
The double bed room at udumwara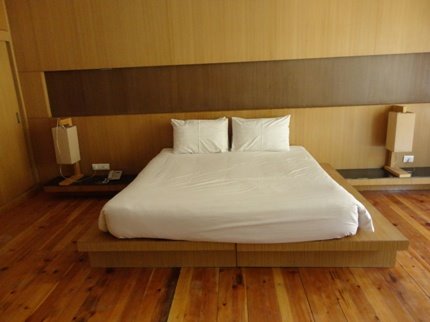 Rooms are attractive, spacious though I could feel a cold draft inside. There are heaters but no underfloor heating like in Zhiwa Ling hotel. There is a curtained shower area but no bathtub. There is free wi-fi, tv, mini bar and the usual amenities 
The prayer altar in the hotel lobby... 
This is found in most Bhutanese homes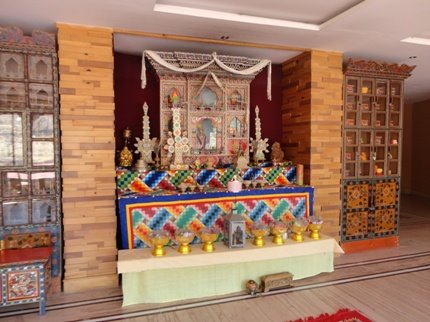 The Udumwara Group of resorts is owned by late hotelier Khipchu Dorjee's family. I was in the hotel in off season (January) and there were virtually no guests. The scenic beauty around is good and the facilities seemed well equipped if not outstanding. 
Location & Contacts
Somu, Upper Paro 
Phone No: +975-8-271133/271166/271199 
Direct Line: +975-17170171 
Related Articles
Visitors' Reviews/Comments