Best Ravangla Hotels
People visiting Ravangla come with either of these three purposes; they want to spend some time away from the noise and din of cities in the lap of nature or they want to make Ravangla a base for their travels to Namchi, Lava, and Rishop etc. the third option is also quite popular… to go birding or butterfly watching. 
For people who want to make Ravangla a base for their travels, a hotel near the Ravangla Taxi stand would serve the best. For those looking for tranquillity and the company of nature a hotel near Buddha Park, upper Ravangla or towards Ralong or Barfung would serve well. For birders, Borong near Ravangla offers best accommodation options. 
Buddha Retreat
Opposite Buddha Park, Ravangla, South Sikkim 
Phone: 03592-2026588 
Category: 2 star/ 3 star 
Yangthang Group 
Tariff: 3500 INR including breakfast 
I got a good deal online at 2850 including breakfast and tax. 
Location: Named after the glorious Buddha Park (the crowning glory of Ravangla), the Buddha retreat is just a 10 minute walk downhill from the giant Buddha Statue. The hotel is a good 20 minutes uphill walk from the town but it's a pleasant way to actually do some people watching as you stroll up.  
First Impression: The exteriors look like a typical Sikkim's building with its brightly coloured imagery of gods, warriors and dragons. The reception area is beautiful with its wooden floor, neatly decked up sofas, bunches of petunias and straw merry flowers and coffee table books.  
The beautiful sitting area besides the reception 
I stayed in room number 22 on the first floor (the hotel has 3 floors and no lift) and was intrigued to see that all the rooms were named after Kanchenjunga mountain peaks (mine was Narsingh). The boy who carried up my luggage to the room was incredibly soft spoken and polite and managed to say "no there is no other kind of meat served here apart from chicken" in a way that curbed by natural irritation on hearing this statement. The hotel offers free wi-fi. 
This hotel is a part of Yangthang group that's quite a big brand name. However facilities like Spa, swimming Pool, Bonfire facilities etc. are given in the more established hotel branches in Gangtok, Peling etc. while the one in Ravangla was much more basic. 
The cuisine was also basically limited to Indian and Chinese and the Wi Fi got shut off due to some BSNL line problems. Dinner had to be ordered by 7.30 p.m. and the food would be served latest by 9.30 p.m. so that was a downer. Garlic Chicken and fried rice…when it arrived for dinner didn't look like Chinese food at all but was passable though quite dry. I had a negative general impression by the end of the first night of my stay here.  
However, the breakfast buffet next day was quite good and I was quite impressed by the beautiful presentation and courteous service. I had aloo parantha, omelette and fruits and was satisfied with the quality of food. The dining hall was spacious and nice though I longed for an outdoor dining facility which would let me appreciate the fine mountain views. Dinner that day was good as I had ordered Indian food (butter chicken, salad and roti). 
The rooms were actually quite well maintained and had basic but aesthetically pleasing furniture. I ordered for two chairs in the room and they were immediately supplied. There was an electric kettle with tea and coffee supplies and bed was super comfortable. The washroom was spotlessly clean and the hot water supply was plentiful. Room service is also good as requests for extra towels, extra tea bags etc were immediately accommodated and the room was cleaned every day. There is an LCD TV in the room with a limited selection of channels. 
The Room (Narsingh)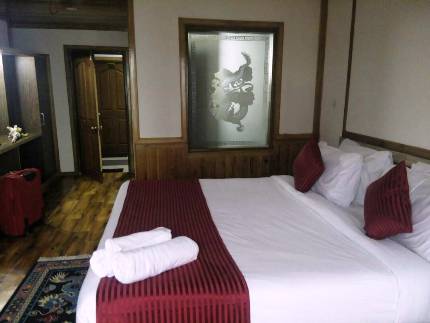 The best part: Every time I opened my window I saw incredibly lovely ice clad mountain peaks and if I walked out to the tea stall opposite my hotel, there is the gorgeous golden Buddha statue looming over the entire town. There was this spring Festival going on in Ravangla (happens every year in April) and sounds of laughter and gaiety. The Cho Dzo ground (3 minutes from my hotel) was filled with music, shops and colorfully dressed hills people and this gave me another attraction to explore. So you could say that the location worked as a great advantage. 
This is by far the best place to stay in Ravangla if you want to enjoy both the mountain views and the charms of the town. Hotels inside the town may seem a little cluttered and the views are mostly blocked. Hotels further up will be quite far from the town. I would give this hotel a 3.5/5 rating. 
Rates provided by booking.com 
Barfung Retreat
3 km away from Ravangla Town 
Barfung Town, South Sikkim 
Phone: +919733503347 
Placed at the foot of Himalayas, Barfung village is quite sought after by tourists who want to spend some time exploring the nuances of local Sikimese life. The Barfung Retreat is managed by a family and they have equipped the resort with all modern amenities and facilities and most of the views offer amazing Kanchenjunga views.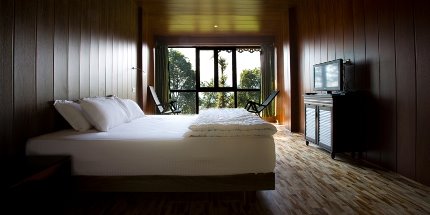 Source: Barfung Retreat 
The hotel has a big spacious library with a traditional log fire that's surely one of the best things about Barfung's retreat. Rooms are large and spacious and have neatly stocked attached washrooms with modern bathroom fittings. There are electric kettles and room heaters inside each room. 
The resort has gorgeous flower plantations inside and lovely landscaping on the grounds make it a good place for enjoying long walks. Meals are mostly cooked from garden sourced local produce and taste homely unlike standard restaurant fare. 
There are six cottages and the cottage in the middle in the ground floor is the largest. There are two friendly dogs inside the property. Double room tariff: INR 3,000/- 
Mount Narsingh Resort
Legship-Rabongla Road, Bakhim 
14th Mile, Ravangla (2 km from main town) 
Phone: 087686 30400 
The Narsingh Resort is always packed during season time and the owner Pemma C advises guests to pre- book. This is a big property which has two wings; one right alongside the main road and other annex property which is up a rather steep mountain slope. 
The annex property is difficult to reach but once you reach there you get a marvellous 360 degree view of the whole place complete with Kanchenjungha range and Tathagata Tsal along with entire Ravangla town. There is a luxuriant garden in the centre (with sitting and bonfire arrangements) and cottages surround it. The attached restaurant also offers great Himalayan views. 
Along with 8 regular rooms, the resort has the cottage system with two rooms and attached bath in each cottage. Try to book either the K2 or Everest cottage…they offer the best views. The hotel will arrange cabs for local sightseeing and trips to the town. 
The tariff ranges between 2835 INR to 3415 INR depending upon the kind of room you choose. Trip to town (round trip) will cost you 500 INR if you take the hotel cabs….and that's a bit steep. The approach road is quite broken down and that's the only downside. 
Icebeards Wildflower Resort
Borong Village, Ravangla District 
45 minutes away from Ravangla Town 
Phone: (91)98313 34253 / (91)960 985 3543 
This resort is inside Borong Village of Ravangla district and is mainly targeted by birders and naturalists. There are cottages (for couples and families) with beautiful wooden furniture and a balcony facing wild flower gardens & snow peaks, nd other standard amenities. There are also Deluxe rooms in the main building. The resort has some fixed rules which you have to abide by though the service is nice and courteous. The room tariff is 2800 INR per day for a cottage for two. 
Wooden Cottage in Wildflower Resort 
Stay here only if you are an avid nature lover… there is nothing much to do after the sun sets. The Borong Handmade Paper Factory is inside the Resort premises and this can be an added attraction. The home grown tea shrubs and organic vegetable garden are other attractions. 
Tea Shrubs inside the Wildflower Resort 
Ravangla Star
1 km away from Ravangla Town Square 
Kewzing Road, Below Power Colony, Ravangla 
Phone: +91-7365050630 /1/2/3 
One of the best known budget hotels in Ravangla, the Ravangla star is good for travellers who want to make the town a base for their many expeditions. The food served in the hotel is great quality and the staff will happily pack lunches and dinners for you. 
The rooms on the 4th and fifth floors have great views with Kanchenjungha from one window and the golden Buddha of Buddha Park from another window. The tariff ranges between 1500 INR to 3800 INR depending upon the type of room you choose. 
One thing I really liked about the hotel is its investment in ecological practices like rain water harvesting and solar heating. Conference room, meeting room and concierge service is available. 
Tip: do order from the Chinese menu…Indian food is not that great and try staying in the upper floors of the hotel 
Related Articles
Visitors' Reviews/Comments