Ravangla, Sikkim
Ravangla is a sleepy little Himalayan town in South Sikkim at an altitude of 7,000ft. Tourists mostly use it as a base for covering nearby attractions like Peling, Kaluk, Namchi etc. 
However, the place has a distinctive old school beauty about it and if you are the type who love the company of nature over attraction hopping then a couple of days spent here would be a great investment. 
Mountain ranges as seen from Ravangla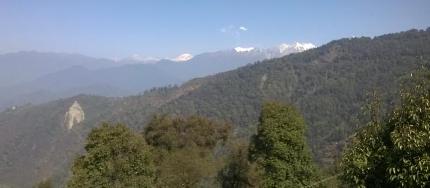 The nearest airport to Ravangla is Bagdogra Airport (124 km away) and it takes 5 hours to cover the distance between Bagdogra and Ravangla town via the Jorethang road (road condition near Ravangla isn't good). Cabs and Taxis are available from outside the airport. 
The nearest railway station to Ravangla is New Jalpaiguri Railway station (119 km) and you will take 4.5 hours to reach Ravangla by road as the road condition is not good. 
There are multiple roads leading to Ravangla and average taxi fare is 3000 INR (taxis are available outside station). 
There are road routes connecting Ravangla to various places such as Gangtok (66 km, and 2 hour 30 minutes), Kalimpong (74 km, 3 hours), Pelling (49 km, 2 hour 10 minutes), Namchi (26 km, 55 minutes) and Yuksom (56 km, 2 and a half hours).  
These road are usually in good condition and tourists usually combine visits to two or more of these destinations during their trip to this part of Sikkim. 
From New Jalpaiguri station, we drove on till we reached Siliguri where we stopped for breakfast. Driving on straight we reached the Teesta Bazaar which is a little settlement offering vegetable markets, brightly painted houses and a few nondescript eateries.  
The Teesta River at a point near Teesta Bazaar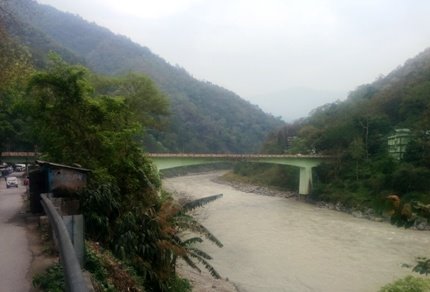 After a 20 minute drive further uphill, we reached a place called Melli and its there that we stopped for lunch at Pradhan Restaurant (this was not a vegetarian place and looked decent). The food offered was uniformly simple…. mutton thali, chicken thali, fish thali, veg thali (all options cost 180 INR). 
I ate the fish thali which had rice, lentils, potato crisps, mixed vegetable curry, papad, pickle and delicious Bengali style fish curry.  
The Fish Thali at Pradhan's Restaurant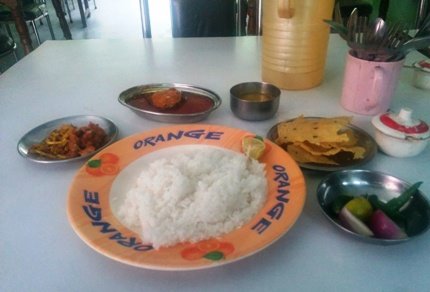 The quality of food was quite good and the restaurant seemed quite popular amongst tourists as a stopover lunch option. If you are vegetarian, you can hop in next door to Gupta's restaurant that serves Veg Thali's , dosas and Pastas amongst other dishes. 
From Melli (this is a major and very busy junction) it took us 2 hours to reach Ravangla. My next stop was at Jhaubari. There was a tempting array of fresh vegetables on sale. A few smiling women were selling Ningro, Dheki saag and bunches of pretty Strawberry flowers for unbelievably low prices.  
Bunches of Strawberry flowers at Jhaubari 
(only 20 INR per bunch!!)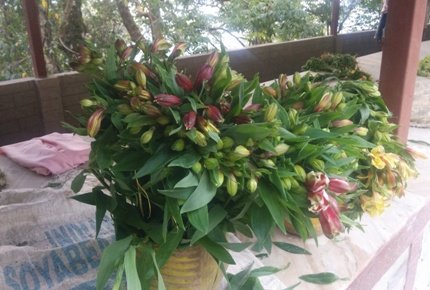 Local herbs and vegetables on sale in Jhaubari 
just before Ravangla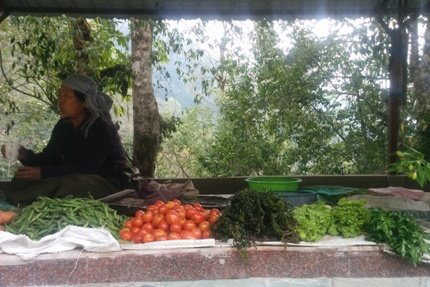 Tea, salty snacks, boiled eggs and biscuits are on offer at Jhaubari for travelers looking for a quick snack. 
From Jhaubari, it took us 40 minutes to reach Ravangla town. My hotel Buddha Retreat was a little further away (1 km) from the main town and is just 5 minutes away from Buddha Park (one of the major tourist destinations of Ravangla). The Holy Cross School stood across the road and I could see a bunch of cute kids praying. 
Kids at the Holy Cross School 
opposite the Buddha Retreat in Ravangla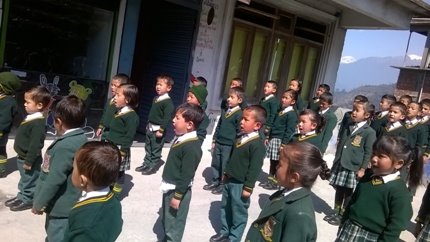 The road to Ravangla is very bad in patches with average and bearable stretches in between. The road cannot be classified as good at any point of time.  
View of Ravangla Town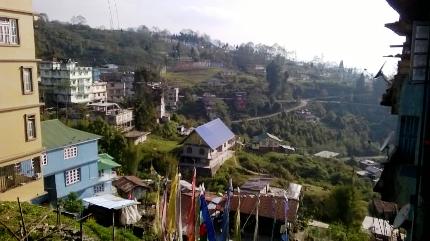 Shared taxis (usually Sumos or similar vehicles) are available from NJP and Siliguri (but not from Bagdogra airport). If you do not get a shared taxi from NJP, take an auto and go down to the taxi stand at Siliguri Tenzing Torgay Bus Terminal or to Payel Cinema. 
Shared jeeps from here ply to Jorethang during the day time (there are no fixed timings... they start when they get full ...usually 10 persons plus the driver). From Jorethang you need to take another shared taxi to Ravangla. 
From Gangtok too you will get shared taxis to Ravangla. In case you don't get one, go up to Singtam (about 1 hour 10 minutes from Gangtok - 27kms) and change to another one to Ravangla (1 hour 20 minutes - 37kms). 
Indicative fares 
(Fare updated: March 2022) 
Bagdogra airport to Ravangla by reserved small cab: Rs. 4,000/- 
NJP railway station to Ravangla by reserved small cab: Rs. 4,000/- 
NJP/Siliguri to Jorethang by shared taxi: Rs. 200/- per person. 
Jorethang to Ravangla by shared taxi: Rs. 150 per person. 
Gangtok to Ravangla by shared taxi: Rs. 300/- per person. 
Bagdogra airport to Siliguri reserved small taxi: Rs. 600. 
While you are in Ravangla do check out the following places. 
Buddha Park 
Open from 9.00 a.m. to 5.00 p.m. 
1 km from Ravangla Town, Near Hotel Tathagatha 
Entry Fee INR 50 for Indians and INR 100 for foreigners 
Alternatively known as the Tathagata Tsal, this is a relatively new construction that has fast gained the status of being Ravangla's primary attraction. 
The construction of the massive and gorgeously designed Buddha Park took 7 years (happened between 2006 to 2013) and features the glittering 130 feet high statue of Gautam Buddha at its centre piece. 
The place was a part of the greater religious complex of the Rabong Gompa which is a 100 year old important pilgrimage site. 
Buddha Park, Ravangla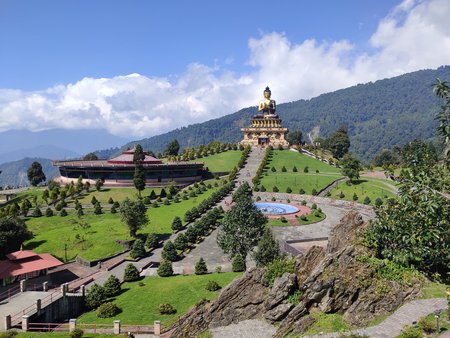 On 25th March, 2013 the 14th Dalai Lama consecrated the gigantic statue of Buddha and this officially became an important stopover in the Himalayan Buddhist Circuit.  
Interestingly, the consecration marked the 2550th birthday of the Buddha. The construction of this park is a people assisted state govt project that aims to promote cultural and religious tourism in this area. 
Front view of Buddha Park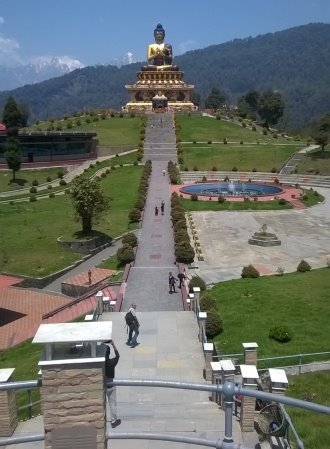 There is a shop inside which sells butter lamps (priced at Rs 20 each, they are nice buys as souvenirs), prayer beads, Buddhist chant C.D and other Items. 
There is a huge Prayer Hall along with a Museum meditation center that's open for meditation to tourists as well as locals. Inside the museum, a spirally constructed gallery demonstrates the life of Gautam Buddha in two different styles. 
Often monks are seen circumvallating the Prayer Hall. Right behind the hall, a nearly hidden array of prayer wheels spring up and from there a flight of steps lead up to the Gorgeous Buddha statue. 
If you approach the Buddha statue right from the front…you will have to climb a steep flight of stairs but the view is great. 
The whole park is beautifully landscaped and it took me about 40 minutes to completely explore it. It's a good place to take a leisurely stroll amongst the blooms or to admire the circular arrangement of fountains inside the park. 
Night View of the Golden Buddha Statue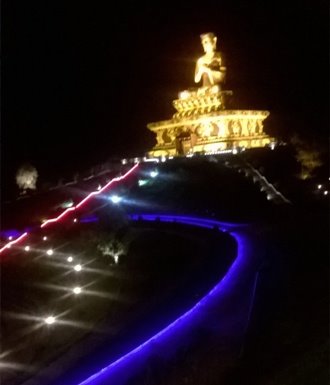 In case you cannot manage the steps then opt for the electric buggy which will take you from the main gate to Plinth. 
You can reach the Buddha Park by hiring a local cab from Taxi stand for 60 INR…for me it was walking distance as I stayed at Buddha retreat 15 minutes away from the park. 
Once you are done with touring the park, you could take a shortcut near the washrooms which lead to a stairway that opens up to the western end of the Main Bazaar at Ravangla (in case you want to get back to town without a cab). 
New Ralang Monastery 
(or Ralang Palchen Choeling Monastery) 
Ralang (10 km away from Ravangla Town) 
Open from 8.00 a.m. to 5.00 p.m. 
Entry: Free 
About 10km northwest to Ravangla is a beautiful Monastery complex that was built in 1955. About 500 monks stay in this complex. 
The new Ralang Monastery 
Because it serves as the occasional residence of Gyaltsap Rinpoche (one of the highest figures of Kagyu Buddhism order), it is a very important place in the religious context. 
The main prayer hall is riot of colours with dazzling gilded roofs and an expansive courtyard that has swastika imprinted tiles.  
The Himalayan range as visible outside the monastery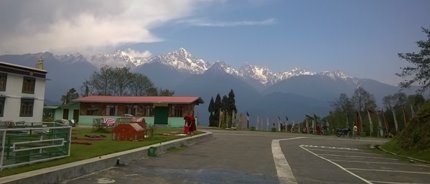 The central attraction is the almost two floor high shining Buddha with a bluish Halo. I learnt from a residential monk that their goal was to maintain the colour and design scheme similar to the Kagyupa branch of monasteries that are prevalent in Sikkim. 
The yearly Mahakaala dance that happens here every November is a major attraction. The annual festival Pang Lhabsol is conducted every year in August and the Mount Kanchenjunga is worshipped amidst huge pomp and show along with masked dances. 
Central Buddha Figure inside monastery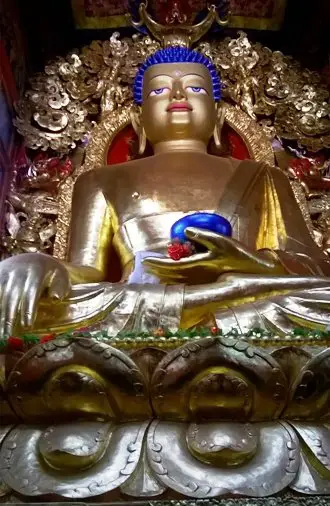 The new Ralang Monastery is considered to be one of the biggest monasteries in Sikkim and the paintings and thangkas inside are of immense value. 
The structure of the monastery is huge and imposing and there are neatly lined monks' quarters surrounding the main building. The 12th Gyatsalb Rimpoche had constructed this monastery. 
Inside New Ralang Monastery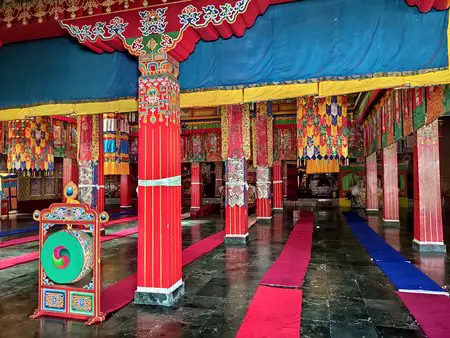 There is a small canteen near the monastery that sells tea, coffee and some snacks. I could also spot a white furry rabbit kept outside the monastery…."the little fellow is a sharp biter" one of the monks informed me. 
The view outside the monastery has to be seen to be believed…it is simply too spectacular with the Kanchenjungha peaks in clear view with fluttering flags in the forefront. 
Cafe outside the Ralang monastery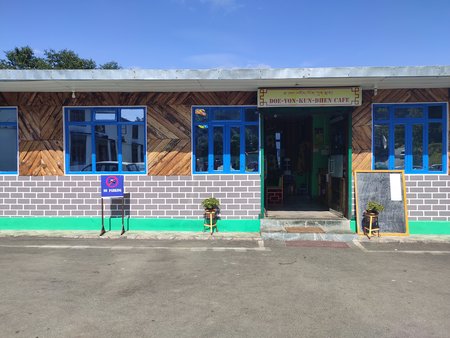 A round trip to new Ralang monastery and old monastery from Ravangla town will cost you 500 to 600 INR if you hire a full cab. 
Old Ralang Monastery 
Open from 8.00 a.m. to 5.00 p.m. 
1 km away from New Ralang Monastery 
Entry Free 
The original Ralang Monastery is smaller in stature than the newer one but has its own brand of charm. It's very near the new Ralong Monastery and is flanked by traditional Bhutia homes and pretty little gardens.  
Legend has it that the Ralang Monastery was built in 1768 to celebrate the victory passage of the 4th Chogyal King to Tibet. After the return of the king, the Karmapa performed a grand Rabney (blessing ceremony) in the Tsurphu Monastery in Tibet. 
He threw a handful of grain in the air and the grains landed in the exact spot where the Ralang Monastery stands today. The Sikimese regard this monastery as one of the most sacred places in their land. Serious reconstruction work took place in the Ralang Monastery between 1975 to 1981. 
Old Ralang monastery 
Every year on the 15th day of the seventh month, a grand masked dance (Chaam) is held here. Annual dance festival and fair Lossong is held every year during December . 
Ralong Hot Water Springs 
7 km before the Borong Village and 4 km from Naya Bazaar 
If you are interested in hiking or brisk walking then do opt for an invigorating one hour walk from the Ralong Monastery to the Ralong Hot sulphur springs (also known as Ralong Cha Chu). 
The hot water springs are popular globally amongst believer of alternative healing, naturalists and nature lovers because of their range of healing properties. 
There is a riverbed where the gushing hot water pool is located and it's going to take you quite some time to reach even if you are driving from Ravangla town (roads are not all that great). However you can stop en route at one of the many shops selling tea and noodle soup.  
If you happen to visit the hot water springs during winter, you can see many villagers bathing there. In summer, for obvious reasons the popularity is lesser. 
Trek to Maenam Hill 
Arguably one the best medium difficulty treks available in Sikkim, the climb to Maenam Hill is not easy. The Maenam Hill stands proud at 10,300 feet and provides gorgeous views of Kanchenjunga Mountains, the luxuriant green forests and rugged terrains. 
If the day is clear, you can also view the beautiful vista of the Bengal plains spread between the Darjeeling Hills and Kalimpong. 
In the woods of Maenam (the beautiful Maenam Sanctuary of Sikkim), one can spot a sea of rhododendron trees (you will see them in full bloom during April-May) along with chestnut, magnolia and Oak trees. Red Pandas, Himalayan Black Bears and many varieties of deer dwell here. 
The origin of the trek is Ravangla and you have to trek for 9 km approx. till you reach the altitude of 3048 meters. If you wish you can take along a tour guide with you (the charges are 2000 INR per trip approx.). 
Usually it takes 4 hours to climb up and 2 hours to climb down. There are 4 resting points in between and when you reach the top of Maenam hills, you will be rewarded by a great sense of achievement. Don't forget to light incense sticks in the old Gumpha at the top of the hill. 
From Maenam Hill, you can hike to the Borong Village or if you are a seasoned hiker, you can take the more challenging hike to the Yangyang Village. There is news of a heritage village and Ropeway to be developed at YangYang soon. 
Do bring your own food, water, first aid kit and torch. Wear good quality trekking gear and carry your own camping equipment too if you wish to spend the night on Maenam peak. 
Butterfly Watching and Bird Watching in Maenam Sanctuary 
Best visited between 8.00 a.m. to 4.00 p.m. 
Out of the total 1400 strains of butterflies found in the Indian subcontinent, almost 700 are found in Sikkim. And the Maenam Sanctuary zone is one of the richest butterfly spotting zones in Sikkim. 
Even if you are not a trained naturalist or butterfly watcher, you can spot the gorgeous large tropical sallow tails with blackish or red eyes on their wings. 
They usually move in a group and are a heavenly sight to look at. In case you want to experience Butterflying in its entire glory, consider hiring a Butterfly Guide from an established tour operator. 
According to latest survey carried out by World Pheasant Association or WPA, there are almost 143 kinds of bird species in Maenam Sanctuary area and they include Common Partridge, red breast partridge (endangered species), great spotted eagle, rusty belly short wing (vulnerable), white collared blackbird, etc. 
And there are also chestnut headed Tesla, Fire Tailed Sunbird, Branford's Rose finch, Maroon Oriole, Slaty Backed Fork tail, Cuckoo shrike, Indian Blue Robin, Flycatcher etc. 
Trekking with a guide is the best option inside Maenam sanctuary….the terrain is highly undulating so there is no jungle safari. 
Apart from birding and butterfly watching, you can spot animals like civet cat, spotted leopard, water fowls and red panda in the sanctuary.  
Incidentally, the name Maenam means Treasure House of Medicines and the forest contains a priceless reservoir of medicinal plants. 
Permit has to be obtained from the Home Department, Government of Sikkim to visit the sanctuary (your tour operator can get it for you). 
Doling Gompa 
6km south from Ravangla Bazaar 
Near Barfung Retreat, Barfung Village 
This ancient monastery was founded by Rigdzin Longyaang in 1718 (the year of the Earth Dog) and it has a special religious significance. It is said that the rock in front of the Gompa holds the footprint of the horse of local Guardian deity and Dorjelingpa. 
The lhkhang has beautiful images of Manjushree, Vajra Pani and Dorje Limpa. It said that descendants of Lama Rigdzin take care of the monastery and its surrounding grounds. This pace had seen multiple reconstructions in 1840, 1920 ad 1984. 
A nice place to visit for a short hike followed by a nature watching session as the sunset seen from this spot is beautiful. There is also a stream flowing nearby with lots of fishes. 
Rayong Sunrise View Point 
8 km away from Ravangla 
Damthang Road enroute to Temi Tea Estate 
This beautiful sunrise point is at an elevation of 6700 feet and will give you a great view of the Chola and the Sangalaila Mountain ranges of Bhutan. You have to reach this point at least by 5 a.m. on a clear day to catch the sun rising up from behind the Chola Mountains.  
Along with lovely natural surroundings, the Rayong Sunrise point offers a base for important trekking trails to Deorali Dara, Tinkitam (famed for rhodenderon fields) and Gholey Bhir. 
Mangrue Gompa View Point 
8 km from Ravangla Town on Damthang Road 
Though named after a charming little Mangrue monastery that's perched on a hilltop, the view point offers a lot more. Both the Buddha Park and the Kailash Nath statue can be viewed from this point. There are good views of the Singalila Mountains in the west and the plains in the south. 
You will also be able to see Mount Jopuno, Mount Kabru, and Mount Narsing etc. from here. The prayers in the Gompa at sunrise or early hours of the day create an amazing vibe with the pristine Mountain View and you can almost call the whole experience "spiritual". 
Related Articles
Visitors' Reviews/Comments
Upasana Mukherjee (November 2021) 
Hi Raj, I have made a routine of reading your page before visiting North Bengal. After Pelling (2N stay), I want to visit Ravangla for local sightseeing. Would you recommend staying at Ravangla? Or is it possible to get back to Pelling and stay there for another night? Curious as to availability of hotels in market area in Ravangla, we are 2 girls traveling early December. 
Raj (darjeeling-tourism.com) November 2021 
Hi, a taxi takes around 2 hours to get to Ravangla from Pelling via Legship. So you can do a day trip and get back to Pelling if you want. You can also take a shared taxi from Pelling to Ravangla town (taxi stand) and from there take a local taxi for sightseeing. However, the second option has a limitation that you may not get a direct shared taxi after 3pm to return to Pelling. There are plenty of hotels in Ravangla town near the market area... Hotel Zumthang is a nice budget hotel (a 10-minute uphill walk to the market)... but there are several other hotels nearer to the market if that's your preference 
Basudev Paul (July 2018) 
Raavangla has been the visual wonderment on land to many a tourist...the location in a far-flung sylvan region is a joy for its architectural splendor...the idea of such a marvelous site and sight demands credit...the natural habitats talk vibrant...the veins of every leaf are filled with sensational attraction... a little publicity could enhance its crowd-pulling bonhomie...the azure sky overhead on an autumnal sky is a sheer vibration of feeling that lingers on a million hearts...it's a pride in India...extra-terrestrial spirit jerks every impulse...its cleanliness, smooth road condition, kiosk stalls for refreshment...accommodation, the behaviour of the localized individuals have been qualities to be remembered....