Tour of Borong, Sikkim
About 17 km away from Ravangla is the ethereally beautiful birding paradise of Borong (this place is also approachable from Gangtok, Peling and Rinchengpong). This small hamlet in south Sikkim at an altitude of 5,800 feet is filled with exotic flora and hundreds of chirping birds. 
At any given point of time, you can at least see a dozen ornithologists in Borong wielding heavy duty cameras and an intense expression of concentration. Most of them blend in the background wearing olive, brown colored camouflaged clothing. One of them even reprimanded me for wearing bright clothes saying "you will scare away the birds". 
Some of the indigenous birds found in this area are scarlet minervet, Himalayan pheasants, sunbird, sibia, blackbird, minla and black magpie. On the way I saw splashes of red dotting the whole landscape. Red rhododendrons as I learnt were called Guras and are used to make a local intoxicating beverage. 
The kanchenjungha mountain view en route Ralong to Borong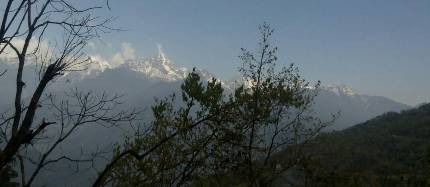 From Borong it's possible to go for trekking/ mountaineering to the Siniolchu, Pandim and Narsingh peaks. Incidentally, this place is a favorite amongst trekkers and mountaineers. 
You can also go on a 2.5 hour trek to Meenam Hills where there are superior opportunities for Bird watching and great scenic views. The more adventurous can embark on a trek from Namchi that terminates in Borong (6 day medium-difficulty trek).  
Red rhododendron tree in full bloom (called Guras in Nepali) 
Another good option is to go on a trek to Bhanjan Valley, that's a place of exceptional beauty filed with wildflowers and excellent views of the mountain ranges. The hot spring 3km away from Borong (on the banks of Rangjit River) is another tourist destination. 
Little kids in front of a tea stall in Borong 
Do not expect the perks of luxury living here... internet connectivity is non-existent, mobile networks are poor and TV reception is woeful. If a couple of days in the company of nature entice you more than these facilities then a visit to Borong would appeal to you. 
There are some nice eco resorts in Borong and I saw one of them the Icebeards Wildflower Resort. This resort is pretty enough to qualify as a tourist destination in itself. Masses of wildflowers growing in abundance, babbling brooks and even a rustic swing fashioned from log wood all added to its charm. Visit their website wildflowersikkim.com for more info and booking. 
Wild flowers dotting the Wildflower Retreat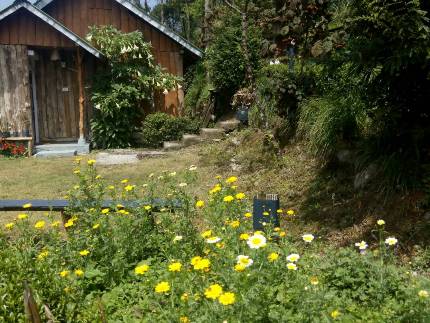 Inside the Wildflower Hotel Premises is the Paper Factory of Borong (established 2003). This is a cooperative producing handcrafted paper products owned by 50 village inhabitants. I went there on a Sunday and there was no one around apart from the manager who was kind enough to demonstrate the whole paper making process to me. The USP of the paper produced in this unit is its fine thin quality that makes it suitable for use in art houses and expensive stationery. 
Borong paper factory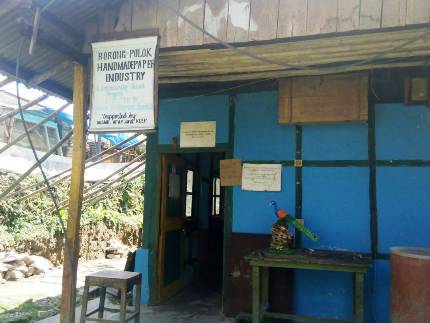 3 grades of paper are produced and the thinnest of them is the finest paper in India... bunches of this paper are exported every month to Singapore, Bangkok, Thailand and to domestic locations like Kolkata and Delhi. 900 sheets per day are produced by the 8 people working in the factory. 
Papyrus pulp submerged in water and chemicals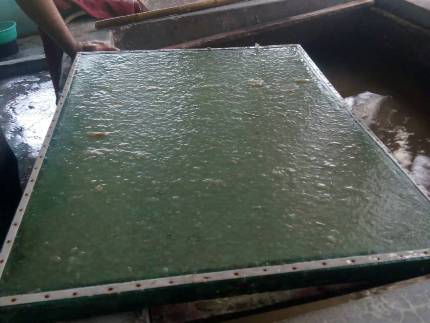 The ancient Japanese technique of paper making is employed here where the bark of the Papyrus tree is scaled off, pulped down to make a paste of thick consistency. This pulp is mixed with water and chemicals and allowed to settle after which a sieve is put inside. 
Fresh fine sheet of paper peeled off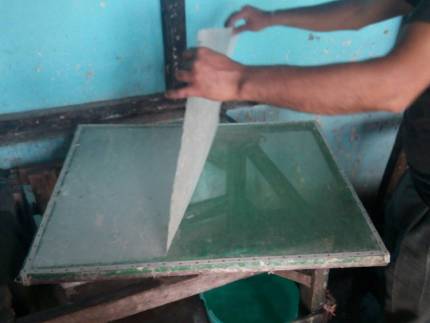 After exactly half an hour a sheet of superfine paper can be peeled off from the sieve and this is then further processed/ treated with vegetable dyes to make the finished product. 
Raw paper sheets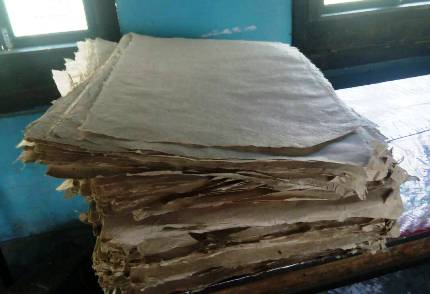 There is a shop adjacent to the factory that sells diaries, envelopes, paper figures and statuettes all made of Borong Handmade paper... it's a nice place to pick up souvenirs. 
Handmade diaries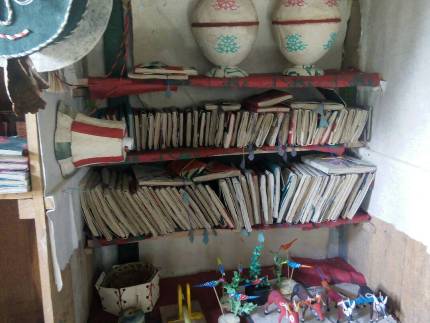 What rather pleased me was the eco-friendly approach used by the Borong Cooperative. Groves of the Papyrus tree are grown and then the upper portion of the trees are cut leaving the roots and trunk intact to form a new tree after a few months. No harvesting is done before May (i.e. between January to April) as the trees do not grow properly before that. 
Paper lamps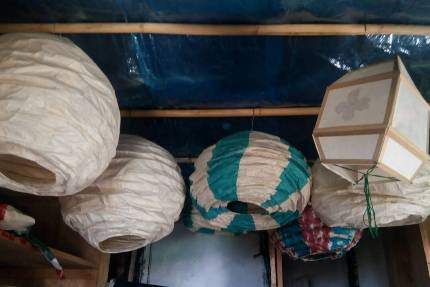 The manager smilingly told me... Borong loves its natural resources more than it loves money... we will never do anything to harm our ecology.  
Getting to Borong
You need to first get to Ravangla which is about 125kms from NJP railway station or Bagdogra airport. It will take nearly 5 hours to reach Ravangla from Bagdogra/NJP. From Ravangla, Borong is further 17kms (takes about 45 minutes by car). The small reserved taxi will charge you 1500 INR for a round trip to Borong from Ravangla. You could combine your Borong trip with a Ralong trip too... there are a couple of beautiful monasteries there. 
Related Articles
Visitors' Reviews/Comments