Ravangla Restaurants
Being a small sleepy hill town, Ravangla doesn't have too much to offer in the name of fancy eateries or world cuisine. However what it does offer are some uniquely run small restaurants that have a distinctive personality of their own and can offer you "experiential dining". 
The Taste of Sikkim
Category: Budget 
Next to Taxi Stand Ravangla, Beside Central Bank ATM, Phone: +91 98326 74818 
Sitting right in between Kookay's place and Ten Zing, the Taste of Sikkim forms a perfect trio of probably the best restaurants in the market area. Sometimes when the weather is bad there would be no electricity but the tables are prettily lit up with candles. 
True to its name, thupkas, momos, soups and noodles are the best things on offer. Prices are humble and the staff is always smiling. Food is on the non-spicy rather bland side but you can always ask for chili sauce and the fiery red chili paste that heats up the palette immediately!! Indian food with standard roti, rice, sabzi etc. is also available. 
Sometimes you will hear local singers strumming a guitar inside and that's a rather novel experience. The USP of the restaurant is the Guitar and Dhol that's kept inside. 
Taste of Sikkim Restaurant 
Kookay's
Next to Taxi Stand Ravangla 
Beside Central Bank ATM and Taste of Sikkim 
Arguably the cutest restaurant in Ravangla, Kookay's walls are filled with sticky notes, post cards and pics signed by ex and repeat customers. Somehow the small restaurant has a friendly vibe to it and will immediately inspire you to sit down and order something. 
Kookay's Restaurant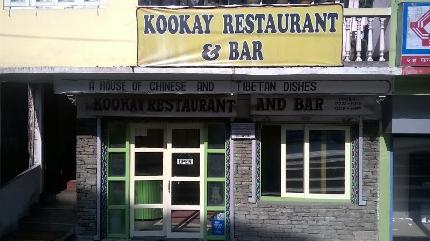 The owner is charming and seemed to always be in a happy mood…humming as he worked hand in hand with the staff clearing dishes and setting the tables. 
Do order the large mugs of ginger/lemon/hot/iced tea that are very refreshing and somehow gel well with the atmosphere of the town. 
I ordered American chopsuey which though tasty …tasted more Tibetan than American. Couldn't finish the whole plate…portions are huge. The Momos are top class and the service brisk. 
The menu is printed and inserted inside the glass table tops of each table …quite a smart touch I must say…no need to call out to the waiters or search around for the menu. Items in the main course all cost around INR 80 to INR 300 ….this place serves beef and pork too. 
Do try the Gyathuk while you are here…noodles, vegetables, meat falling one hearty bowl of soup... Entirely filling and satisfying on a wintry day. The Chinese sizzlers are nice too. 
10 Zing
Right next to Taste of Sikkim 
Category: Budget 
A brightly colored orange board outside screams out the names of the bestselling items. The first thing that struck me as I walked in this restaurant was its rather dim lighting…   
The very next second I was caught up the handwritten notes, wildlife pictures and maps on the wall. After I had been there a while I was intrigued by the eclectic collection of music… Nepali hits, 90's Bollywood music and a few rock and roll numbers. Particularly impressed by a racy Nepali number…I asked the owner about its meaning to which he smilingly said "it means I love alcohol". 
Board outside 10-Zing 
The owner slid aside a curtain to show us his secret trove of beer, Cinderella port wine and local whiskey but I respectfully declined. The chilly pork there is amazing and so are the momos. 
The seating arrangement is quite comfortable with wide wooden settees and curtained sitting areas. A saw quite a few foreign tourists chilling out inside and the setunagarian owner doubles up as a tour and travel provider. Prices are very reasonable and a meal for two would cost only 450 to 550 INR. 
Tathagata's Kitchen
Across the road from Cho Dzo Park 
Near Buddha Park, Rabong Road, Below Buddha Park, Rabong 
Phone: 96098 50585 
Category: Budget 
This is considerably bigger in size and stature than the three popular restaurants mentioned above. The decoration is classier and the restaurant offers good views of the Buddha Park. However the restaurant closes down at 9 p.m. and supposedly the last order has to be given at 8 p.m. which is quite disappointing. The menu serves the same Chinese and Tibetan fare which is prevalent in Ravangla. 
Inside Tathagata's Restaurant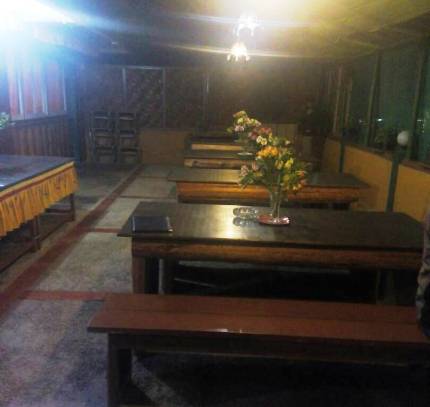 The vegetarian food has a diverse selection and the Thali is rumored to be good. This restaurant serves breakfast too. I ate chicken curry and rice and the dishes were just about average. 
Personally, the chance of having my meals while watching the gigantic Buddha statue shining in daylight and dazzling in moonlight (it looks especially beautiful at night) is the only thing that will attract me here. 
Meal for two will cost around 500 to 700 INR. 
Roots and Shoots
Kewzing Road , Opposite Power Colony, Ravangla  
Phone: +91 3595 260 733 
This is a family run restaurant which is a favourite amongst local officials and discerning tourists. If you are fond of unique vegetarian food or are tired of the momo thupka noodles routine then make a beeline for this place. 
The décor is good though a bit simple and the service is beautiful with the staff neatly dressed and wearing smiles cater instantly to your needs. The menu range is impressive with multiple cuisines like Indian, Nepali, Chinese and Continental on offer. The Squash Chilly with its spicy delicious taste is a hot favorite here and eat it to believe how delicious squash can actually be. Another great tasting dish is the Niguro (a kind of fern) served with shredded raw cheese (churpi) and gorkhey Chutney. 
The family owns many organic farms and all their raw materials are sourced from those farms making the food incredibly healthy and tasty. 
Related Articles
Visitors' Reviews/Comments