Cherrapunjee or Sohra Tourism
Most of you would have known of Cherrapunjee from your schoolbooks especially the geography and EVS textbooks that describe Cherrapunjee as the wettest place in India. Though that distinction is now taken over by Mawsynram, Cherrapunjee or Sohra still is the second wettest place in India. In fact, back in 1861 Cherrapunjee recorded 9300 mm rainfall in one month and a gigantic 26461 mm between august 1860 to August 1861. 
That apart... the small town nestled in the Eastern Khasi Hills which is about 53.9 km away from Shillong is marvellously beautiful and is often referred to as "the jewel crest of Meghalaya". Unlike Shillong, Cherrapunjee has not been attacked by commercialisation (well... not to a great extent at least) and retains a virgin unspoilt beauty that would appeal highly to nature lovers and photographers. 
Interestingly, Cherrapunjee was originally named Sohra and was pronounced by the British as "Churra". The name Cherrapunjee actually means Land of Oranges. Sohra or Cherrapunjee is home to beautiful waterfalls, caves, living root bridges (Cherrapunjee has the only double decker living Root Bridge in Asia) and other stunning natural attractions. 
Because of its reputation as the wettest place in India and its accessibility issues, Cherrapunjee has seen comparably lower tourist traffic. It is also much more affordable to stay at Cherrapunjee than at Shillong so it can act as an alternate accommodation base for you during your trip to Meghalaya. 
How to Reach
Cheerapunjee is just 53.9 km from Shillong and the journey takes about 1 hour 35 minutes by car. Many travellers combine a visit to Cherrapunjee and Shillong when they are drawing up their travel plans in Meghalaya. A rather steep road that's perpetually covered in mist leads up to Cherrapunjee and when the mists clears away you will be rewarded with sparkling sunshine and memorable views. 
On the way to Cherrapunjee from Shillong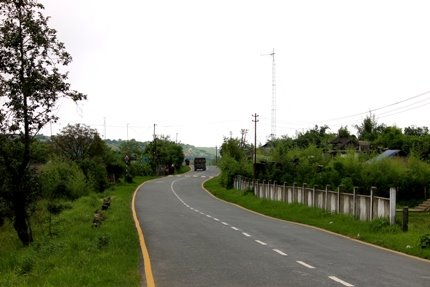 You can take a shared taxi (usually a Sumo) from Mawlong Haat in Barabazar in Shillong (the charges are around 125 INR per seat). Local taxis also travel from Shillong to Cherrapunji and they stop at several sites like Elephant Falls, Dympep Valley View etc that fall en-route. From Cherrapunjee, too shared taxis are available to Shillong. Bus service to Cherrapunjee is also regular and buses take off from the bus stand in Police Bazaar in Shillong. 
Weather  & Best time to Visit
Cherrapunjee receives about 11,777 mm of rainfall yearly which is slightly lower than the average rainfall received by Mawsynram. The monsoon clouds that blow inland from Bay of Bengal are firmly stopped by the cliffs of Cherapunchee and the town is drenched by North east as well as south west monsoons. Sadly, Cherrapunjee suffers a lot due to deforestation and soil erosion. 
Every year post monsoon, the place dries up and it's difficult for the townspeople to find adequate clean sources of drinking water. Surprisingly, despite the heavy rainfall, Cherrapunjee soil is poor for irrigation as the top soil is continually washed away leaving the land unfit for farming. The land of Cherrapunjee and surrounding valleys has suffered a lot due to this issue. 
House enroute Shillong to Cherrapunjee in rains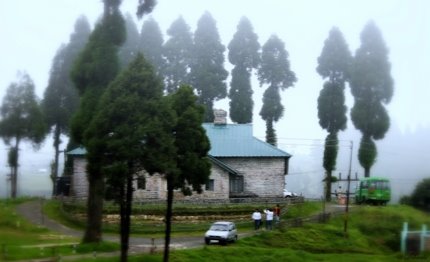 Summers in Cherrapunjee begin in March end and continue till May. Moderate rainfall happens and the temperature stays in the range of 14 degree C to 23 degree C. It won't be too hot if you visit Cherrapunjee in the summers but it's going to be very humid (much more humid than Shillong). If you can put up with the humidity then summers are a good time to visit... you can enjoy the lovely natural attractions around. 
Monsoons in Cherrapunjee are torrential... it begins in June and stretches till September. June receives the highest rainfall and if you are an adventurous person you would enjoy the experience of being in the rainiest spot in India in the rainiest month. Cherapunji is at her most beautiful and her most humid and wet in the monsoons so do make an honest assessment of your travel goals before you decide to visit in the monsoons. 
Waterfall enroute Cherrapunjee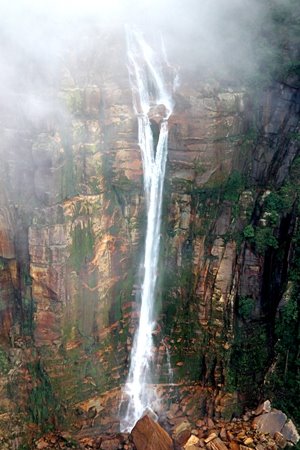 October and November are autumn in Cherrapunjee and the temperature hovers between 13 degree C to 16 degree C which makes it quite pleasant for a visit. The rains will subside in autumn but light showers are frequent so carrying an umbrella, raincoat and galoshes are quite important. 
Winters in Cherrapunjee are pleasantly cold and can be considered to be a good time to visit this area. The temperature might dip to about 6 degree C but the average range is 8 degree C to 13 degree C. February and March are spring in Cherrapunjee and the temperature scales climb up a little with the average range being 9 degree C to 13 degree C. Spring and winters are relatively less humid so if humidity is an issue for you then consider visiting in these months. 
What to do
Canoeing, trekking, hiking, cave exploring, rock climbing, camping and photography are some of the top activities you could do in Cherrapunjee. There are lots of beautiful natural attractions in Cherrapunjee including stunning waterfalls, caves, living root bridges, lovely flora, great nature trails and more that can easily occupy a couple of days of your time. 
Hotels
Local Food & Dining in Cherrapunjee
Cherrapunjee has virtually no fancy touristy restaurants. However, local eateries dot the town and its surrounding areas and those with an experimental palette will find it particularly interesting to sample the "Sohra Cuisine". A not to miss delicacy is the "Sohra Pulao" that's cooked with oil and vegetables and no spices. Red meat dishes (especially pork ones) are very popular in this region. Tungri Bai... a fermented Soya beans dish is another speciality. Don't miss out on the pickles... Cherrapunjee has an incredible range with tamarind, berries, fruits, fish, pork and bamboo pickle being just a few of the options. 
The cuisine is inspired by Asameese as well as Khasi flavours. Mostly, you could sample the local food in your hotel as the in house Chef would be happy to whip up local delicacies for you. The town has some restaurants worth mentioning: 
Orange Roots is located in Mot Karahi (Khlieshnong) in Cherapunji town. This serves good quality pure Indian vegetarian food (great news for vegetarians!). It's a public private-venture between Meghalaya Tourism and Cherrapunjee Holiday Resort and can seat 150 persons at a time. 
The restaurant serves vegetarian combo meals, plate meals (thali) etc besides breakfast including dosa, puri/sabji, chole baturey and other snack items. They also serve Jain food. You can even get full Jain Thali (meals) if ordered online or in advance. 
The Avroon Restaurant at Sohra Thangkharang Road at Saitsohpen Village, Cherrapunjee serves decent Chinese food. They pack meals for backpackers too and that's important if you are off adventuring and trekking in remote areas. 
Another restaurant to look out for is Chef Cherrapunjee at the Shillong-Cherrapunjee Road in Mawkdok. This was actually a drive in cafeteria and is now an excellent breakfast place/ cafe (the only good breakfast place in Cherrapunjee) and offers a great view and great coffee. 
Besides natural beauty and rainfall, Cherrapunjee is famous for honey... it has a distinct orange flavor and is called orange honey. Travelers visiting Sohra almost never miss buying a bottle of this delicious nectar. You will see local women selling this deep amber colored liquid in bottles, jars etc. along with big packets of bay leaves and cinnamon sticks. The honey gets its flavours from the bees in Sohra who feed on orange blossoms. The honey is majorly produced in the orchards of the Khasi Mandarin in the RI War area of the eastern Khasi hills that border the plains of Bangladesh. 
The honey production in Cherrapunjee isn't organized and the producers mostly sell their wares on the Lewrit (4th day market) and the Lewbah (8th day market). This orange honey is supposed to cure throat problems, cough and cold and heals burns. Its best to buy Orange Honey from local sellers... large grocery retailers in Shillong do not stock them citing irregular production as an issue. This honey costs around 1000 INR per kilo (premium) and 600 INR per kilo (non premium). 
Vegetation
The hills of Cherrapunjee do not have the typical foliage as one would expect in a hilly area... as already mentioned... the rains wash away the top soil. Consequently, vegetative cover appears in patches and there is an incredible variety of ferns that prosper in the wet dank soil. Orchids too abound in Cherrapunjee and many botanists love this place for its exciting range of flora. Incidentally, Cherrapunjee produces rich crops of oranges and pineapples. It is said that the oranges of Cherrapunjee are the ancestors of Oranges of Nagpur. 
People of Cherrapunjee
When you reach Cherrapunjee, you will be struck by the strange addiction of the locals (they call themselves Kasias) to paan or betel. The locals believe that "only dogs have white teeth" and heedlessly continue chewing paan after paan while spilling its remnants on all possible places. Most locals wear thick cords around their necks and that has a net of pineapple fibre, clasp knife, box containing a small comb and a silverfish box containing lime that is seared on the paan. The locals dress very simply and you will see virtually no traces of fashion consciousness that's so evident in Shillong. 
Festivals
The Shine a Light Music Festival in Cherrapunjee happens every December every year so if you are around there... the festival might offer an interesting experience. The Cherrapunjee Indigenous Festival that showcases the Khasi culture, dance, music and food is organised by the Meghalaya Govt Tourism Department. Incidentally, this festival had first started in 2010 and is now an annual event that happens in December. Apart from these the Nongkrem Dance Festival is a 5 day event that happens every October or November. The Shad Shuk Mynseim or the festival of Happy Hearts happens in April and this too is a Khasi Dance and cultural extravaganza. 
General Tips
While you are travelling to the wettest place in India, don't forget to carry sturdy umbrellas, raincoats, mud boots/ galoshes (you will need them for long walks/ hikes) and your hiking gear (Cherrapunjee has lovely hiking trails). ATM availability is not as easy as in Shillong so make sure that you come armed with plenty of cash too. Most attractions in Cherrapunjee are natural wonders and you won't find too many museums, artificially designed parks and recreation spots here…so be prepared to embrace nature in her rawest and loveliest form. 
Related Articles
Visitors' Reviews/Comments