Reaching Gorumara, Jaldapara and Buxa in Dooars
Dooars is a vast spread out area and the main tourists hubs in Dooars region are the Gorumara National Park, Jaldapara National Park and Buxa Tiger Reserve. Most tourists plan to reach one of these three locations and then travel to other parts of Dooars. 
In Gorumara one of the popular places to stay is Murti and some also stay at Lataguri (which is at the fringe of Gorumara National Park and about 18kms south of Murti). 
The nearest airport to Dooars is at
Bagdogra (IXB)
. Flights from different places of India land at Bagdogra airport. Once you reach Bagdogra airport, you need to take a reserved pre-paid taxi from the pre-paid taxi counter located at the arrival area. You can get taxis here for both Gorumara National Park (i.e. Murti, Lataguri etc) as well as Jaldapara. 
There is no shared taxi or bus service available at Bagdogra airport. If you want to take a bus, you need to go down to Siliguri at the PC Mittal bus stand where buses leave for Dooars via Sevoke road or alternatively to Tenzing Norgay Central Bus Terminal in Siliguri where buses are available for Jalpaiguri where you need to change over to another bus. But unless your flight timing matches with the departure timings of the buses, this method of transportation is not practical. 
Tour operators from Dooars as well as private hotels in Dooars can also arrange for a pick up and drop at the airport and optionally offer you a dedicated vehicle for your Dooars tour. 
The road route from Bagdogra by car goes past the NJP (New Jalpaiguri Station) area. It takes about 45 minutes to reach NJP from Bagdogra by car. The subsequent road routes from NJP to Dooars are discussed under the section
Roads to Dooars
below.  
There are very few trains that can directly reach you to Dooars from other places in India. One such popular train is Kanchankanya Express that leaves daily from Kolkata (Sealdah station). It departs from Kolkata at night around 10:30pm and reaches New Mal Junction (i.e. Malbazar) next morning around 9:20am via NJP. The train however continues through places like Hasimara up to Alipur Duar. 
If you want to first visit Gorumara National Park, you can get off at New Mal Junction (which is the station for Malbazar). From here Murti is 17kms and takes 30 minutes by taxi. There are also bus services from Malbazar to Lataguri and Murti areas. 
For Jaldapara, you should get off at Hasimara (Kanchankanya reaches around 10:45am). Jaldapara National Park is 11kms from Hasimara station and takes only 15 minutes by taxi. And for Buxa Tiger Reserve, get off at Alipur Duar which is the terminal station of Kanchankanya Express (the train reaches around 12:10pm in the afternoon). The place Rajabhatkhawa (where the entry to Buxa reserve is located) is 11kms from Alipurduar and takes only about 15 minutes by taxi. 
But if you can't find a train directly to a location in Dooars, your next best option (which is taken by majority of the tourists coming from all over India) is
NJP (i.e. New Jalpaiguri)
. NJP is a major railway hub and many trains pass through this station. 
Just outside the NJP railway platforms and within the station premises there is pre-paid taxi counter where you can get pre-taxis for Murti, Lataguri, Jaldapara and Buxa. Usually the pre-paid taxi counter is open from 7am till 7pm. If the counter is closed when you reach, you will get other private taxis at NJP station, but will need to negotiate the fare. 
Note that there is usually no shared taxi service from NJP to Gorumara or Jaldapara of Dooars. 
There is a bus service between NJP station and Coochbehar that goes through various locations in Dooars. The bus leaves NJP at 8:30am, goes via Siliguri (Siliguri Tourism Centre at 8:50am) and takes Sevoke road, then goes through Mongpong forest area reaching Malbazar at 10:30am, Gorumara Jungle Camp near Murti area at 11:15am, Lataguri at 11:40am, Birpara at 1:50pm, Jaldapara at 2:20pm, Hasimara at 3.05pm and Rajabhatkhawa (near Buxa) at 4pm. 
The return bus (i.e. the down service) from Coochbehar reaches Rajabhatkhawa at 9:40am, Hasimara at 10:40am, Jaldapara at 11am, Lataguri at 1:30pm, Gorumara Jungle Camp at 1:55pm, Malbazar at 2:40pm, Ailiguri at 4:45pm and NJP at 5:10pm. 
From Bagdogra or NJP you can also go down to PC Mittal bus terminus on Sevoke road where buses leave for Malbazar and Chalsa through Sevoke road. From there you can change to another bus for Lataguri or Murti. Alternatively you can also go down to Tenzing Norgay Central Bus Terminal on Hill Cart road at Siliguri town and take a bus for Jalpaiguri. From there change to another bus for Lataguri. 
Note that from Bagdogra you can only take a reserved taxi to Siliguri (takes about 30 minutes) while from NJP station you can take a taxi, auto or even a rickshaw to go to Siliguri. By taxi or auto it takes about 10 minutes to reach Siliguri town from NJP. 
There are three routes to reach Dooars area from Bagdogra airport and NJP railway station. The one which takes least time due to less traffic and is quite scenic passes through a place known as Gajoldoba. The second route is via Sevoke Road which too is popular and scenic. Both these routes meet at Odlabari and continue through Malbazar and Chalsa along National Highway #17. At Chalsa one route NH-717 goes south towards Gorumara National Park (i.e. Murti, Lataguri etc) while the original route NH-17 continues towards Jaldapara and then leads to roads for Buxa Tiger Reserve. 
There is a third route from NJP which goes through Jalpaiguri and then enters Gorumara National Park at Lataguri and goes north towards Murti and then Chalsa. This route is not quite popular though but availed by several bus services to Dooars from Siliguri to connect Jalpaiguri township. 
From Bagdogra if you want to take the route via Sevoke road, you can connect to it through Siliguri. However for the other two routes (i.e. via Gajoldoba and Jalpaiguri), the route from Bagdogra passes through NJP station area and thereafter becomes the same as those travelling from NJP. Bagdogra to NJP is 18kms and takes about 45 minutes by taxi. 
Refer to the map below where I have shown all three routes... the one which is highlighted in blue is the shortest one from NJP and passes through Gajoldoba. You can move the map and zoom in or out to see the different routes clearly and the locations they pass through. 
Roads to Dooars 
Gajoldoba Route 
From NJP station you will take the Ambari Canal Road and then move on to Gajoldoba road, and soon the route becomes quite scenic as you start to approach Gajoldoba. A stream (actually a narrow tributary of river Teesta runs parallel to the road... with lush greenery around and the river stream, the stretch of this road looks wonderful and it's mostly free of traffic. 
Road to Gajoldoba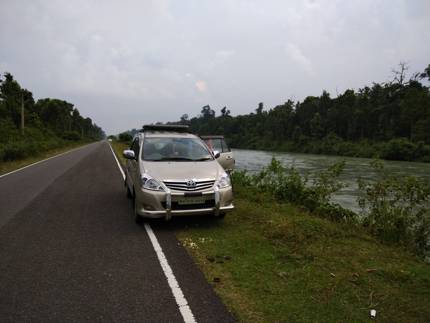 In about 40 minutes from NJP station (25kms) you will reach Gajoldoba where the famous Teesta Barrage is located. The foundation stone of this great barrage was laid on 19th January 1987 by the then Chief Minister of West Bengal Mr. Jyoti Basu. The barrage has been built on Teesta river here primarily to provide irrigation water to north Bengal region. 
Approaching Gajoldoba (Teesta Barrage)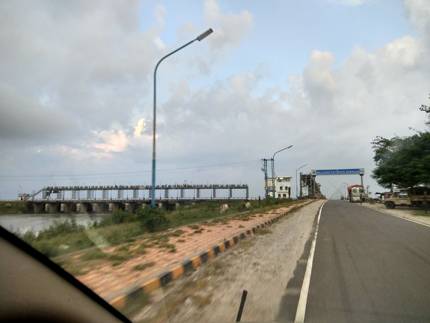 The state government also plans to create a Mega Tourism Park in Gajoldoba which will offer Eco Tourism accommodations and lots of activities including river cruise, canoeing, jungle safari for wildlife spotting in the nearby Baikunthapur forest, elephant rides, and lot more. The water reservoir formed at Gajoldoba is an excellent spot for bird watching where many migratory birds fly in from Ladakh and Central Asia particularly during winter time. 
On Teesta Barrage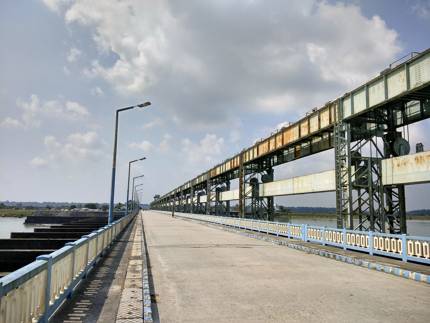 The route passes over the barrage. It's worthwhile to stop here for a while and see the gushing water of river Teesta flowing through the barrage... a wonderful sight. 
Water flowing out of the barrage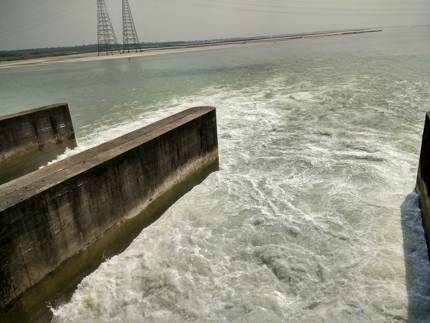 From Gajoldoba the route meets NH-17 at Odlabari in about 25 minutes (15kms). From Odlabari area the highway NH-17 continues to Malbazar, then to Chalsa. From NJP station this entire route to Chalsa via Gajoldoba is 61kms (takes 1 hour 35 minutes by car). 
Chalsa to Murti in Gorumara National Park is 8kms along NH-717 and takes 12 minutes drive while to Lataguri is 20kms and takes about 30 minutes by car. 
Chalsa to Jaldapara National Park is 64kms towards east and takes about 1 hour 15 minutes by car along NH-17. 
From Jaldapara the route to Rajabhatkhawa (entry point for Buxa Tiger Reserve) via Hasimara and Hamilton Ganj is 37kms and takes 1 hour 10 minutes by car. Another route from Hasimara via Naxalbari Tea Estate too can be used for Rajabhatkhawa which is little longer (49kms).   
Sevoke Route 
This too is another popular route taken by tourists approaching Dooars from Bagdogra or NJP. You need to go through Siliguri and get into Sevoke Road (NH10). Just after Sevokeshwari Kali Temple, you will cross Teesta river over the well known Coronation Bridge. And thereafter you will soon enter the scenic stretch of the route that passes through the Mongpong forest area and goes all the way to Odlabari (where the Gajoldoba route meets), Malbazar and Chalsa. 
Coronation Bridge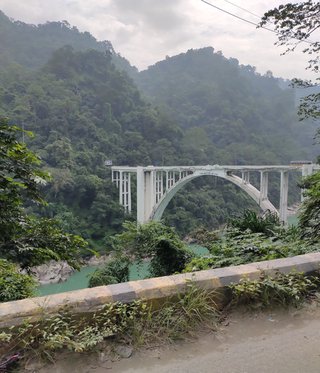 Entry to Coronation Bridge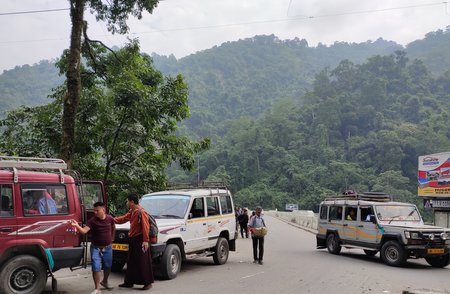 The distance between NJP and Chalsa along this Sevoke route is 67kms and usually takes about 1 hour 50 minutes by car, however sometimes due to heavy traffic on Sevoke Road (which also leads to Sikkim), there can be delays. From Chalsa the route to rest of Dooars is same as the one described under 'Gajoldoba Route' in the above section. 
Fare updated: March 2022 
Reserved small taxi fare from NJP to Gorumara (Murti): Rs. 1600 - 1800/- 
Reserved small taxi fare from Bagdogra airport to Gorumara (Murti): Rs. 2000/- 
Reserved small taxi fare from Bagdogra to Siliguri: Rs. 600. 
Bus fare from NJP to Gorumara: Rs. 70/- per person 
Bus fare from NJP to Jaldapara: Rs. 100/- per person 
Bus fare from NJP to Rajabhatkhawa: Rs. 120/- per person 
While in Dooars, you can get private cars/cabs for point-to-point transfers between various places. More conveniently you can ask your hotel to arrange for one because several hotels and lodges are not located close to taxi stands. 
If you can afford, the best way to tour Dooars would be to take a car rental with or without driver. Self driven car rentals are available at Siliguri with Zoomcars which you can book online. You can get various choices of cars including insurance and fuel at reasonable prices. 
Another option is to rent a car through a travel agency in Siliguri or in Dooars. A vehicle like Bolero, Scorpio or Innova with driver would rent for approximately Rs. 1600/- per day and Rs. 500/- per night as driver allowance while you pay for the fuel.... the practice is they will send the car to pick you up from Bagdogra airport or NJP station with a full tank. When you return you should fill up the tank. 
Related Articles
Visitors' Reviews/Comments
Nabanita (November 2018) 
Can we get pre-paid taxi from Bagdogra airport to Murti Banani? What is the approximate fare? 
Raj (darjeeling-tourism.com) November 2018 
Yes, you can get a pre-paid taxi from Bagdogra airport to Murti. The fare is around Rs. 1800 for a small reserved cab.