Samsing, Suntalekhola and Rocky Island
Samsing in Dooars is a serene village with lush vegetation, vast stretches of tea gardens, orange orchards, forests and is surrounded by hills. It's located at an altitude of 3,000ft and at a distance of 17kms from Chalsa. Suntalekhola is another hamlet 4kms ahead and known for the WBFDC lodge in a lush garden setting offering nature stay amidst dense forest. And Rocky Island is a nearby small village 3kms from Samsing located by the bank of river Murti. It's ideal for camping and indulging in light adventure activities like cave exploring and rock climbing by the river side as well as trekking. 
If you are a nature lover and looking for scenic valley views, miles of tea gardens, quaint villages, mountain stream, forested landscapes, nature trails, and all in quiet solitude... then these are perfect destinations for you. All these places can be visited on a day trip from
Gorumara National Park
(i.e. from Lataguri or Murti). Many nature lovers also prefer to stay overnight at one of these places. 
Samsing
You need to approach Samsing via Chalsa. Chalsa is only 7kms from Murti and 20kms from Lataguri. From Chalsa you will first reach Matelli in 8kms. Samsing is another 9kms from there. From Matelli the route to Samsing is beautiful & scenic passing through miles of tea gardens... you will pass through Indong Tea Garden, Chalsa Tea Garden and Samsing Tea Garden. 
Finally the road leads to the Samsing Chowk which is the main hub of Samsing. There are several small shops & eateries here. The forest check post is located near the chowk.. 
Samsing is located at the eastern fringes of
Neora Valley National Park
. From the open dining terrace of a restaurant at Samsing hub area, you get a wonderful view of the national park. 
View of Neora Valley National Park from Samsing 
In and around Samsing there are several scenic spots to visit. One such place is Lali Guras which is a popular picnic spot because of its beautiful setting. It's a valley where you can see Murti river flowing through the bed of rocks and mountains towering from its banks. The river Murti originates from the hills of Neora Valley and passes through the plains of Samsing and goes all the way and meets Jaldhaka river at Gorumara. The motorable road takes you to one side of Lali Guras valley where you can enjoy the wonderful view. Go early in the morning to avoid tourist rush. 
Lali Guras, Samsing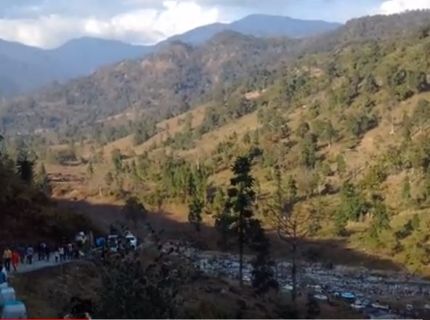 There is a lovely view point locally known as the Samsing View Point. From a roadside point you can view a long stretch of meandering Murti river flowing below through a valley with hills rising from its banks. The lush vegetation on the slope of the hills make them look like a green carpet. On the other side of the road is sprawling tea garden full of green tea bushes ... a wonderful sight. 
View from Samsing View Point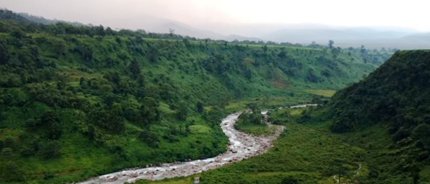 Next to the forest check post at Samsing, a 6km uphill route leads to a virgin place Mouchuki. There is a WBFDC (forest department) lodge here. Earlier one had to walk up to Mouchuki, now cars can reach. However you can not take your own vehicle there unless you have booking at the lodge. Alternatively you can hire a syndicate run vehicle from the hub area to visit Mouchuki (this is unfortunately enforced on the tourists by the local syndicate only to make money althugh they claim to help locals). 
Mouchuki is an ideal place to enjoy the forests and the views of the mountains around. Nature and tranquility can not come any closer ... that's the feeling you will surely have when you visit this place. There is a trek route from here which goes through the dense forests of Neora Valley National Park all the way to Lava through the Lechela Pass. However it is easier to do the trek from the other end as the trail is then mostly downhill. From this end it can get very strenuous. You need to take a permit from the forest department office to undertake this trek. 
You can see a plenty of orange orchards as you walk through the villages in Samsing. November to December is a good time to visit if you want to see the orchards full with oranges. 
See the last section for the best stay options in Samsing. 
Suntalekhola
Suntalekhola is 4kms ahead of Samsing chowk. And guess what... here too the syndicate comes into play and won't let you take your own vehicle unless you have a booking at the WBFDC lodge at Suntalekhola. You need to take one of their vehicles and pay a price fixed by the syndicate. 
Suntalekhola is a small hamlet surrounded by dense forest. The forest lodge here with few cottages is very popular among nature lovers who want to spend a couple of days in complete silence in nature's lap, enjoying the forests and watching different kinds of birds that are seen here. For other tourists who come here as part of a day visit, the main attraction is the suspension (hanging) bridge over river Suntalekhola. You need to walk over that bridge to reach up to the gate of the WBFDC lodge. 
Hanging bridge at Suntalekhola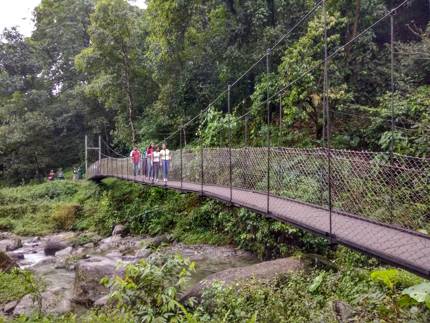 You won't be allowed entry to the lodge unless you have a booking. However it's a pleasure spending some time at the hanging bridge watching the river flowing below and soaking in the view of forests all around. You can also get down to the river which is usually lean other than in monsoon. 
The word 'Suntale' means orange and 'khola' is a stream. So this place gets its prominence from the many orange orchards around it and the stream flowing through it. 
See the last section for the best stay options in Suntalekhola. 
Rocky Island
Rocky Island is a small village settlement located 3kms from Samsing. The Murti river flows through this place. In fact this is the place where the river comes down the hills and meets the plains. The place is beautiful and the village settlement has developed along the river bank. Altitude here is about 2,000ft. 
Rocky Island village along river Murti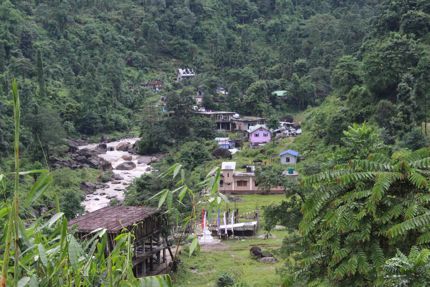 You can watch the river from a bridge on the road. There are lots of rocks on the river and along the banks. In fact  some of these rocks are so large that adventure enthusiasts have ample opportunities to do rock climbing here. There are also caverns to explore. However during tourist season you can see a lot of people along the banks who turn it into a picnic spot. There are small eateries and shops along the main road that goes through Rocky Island all the way to Samsing. 
River Murti at Rocky Island 
(Photo taken from the bridge)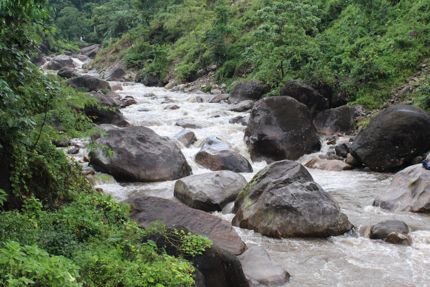 Several short trekking routes originate from the area nearby. If you like to trek, hike up to the Tree Fern Point and watch the lovely views of Himalayan range on one side and Dooars plains on the other, and even the Jelepla Pass that connects China occupied Tibet with India. 
Over all the setting of the place is very scenic with combination of the river, the view of the hills and the forests all around. A great place for nature lovers. 
There are a few basic home stays and a camping facility at Rocky Island (discussed below). 
Where to stay
There are several forest rest houses, lodges and home stays in Samsing, Suntalekhola and Rocky Island which are mostly budget options. You won't find any luxury hotels in this part of Dooars. 
Suntalekhola Forest Resort run by WBFDC is located across the hanging bridge at Suntalekhola. The cottages here nestled in a lush garden setting surrounded by dense forest are very dear to nature lovers. Samsing Sunlaekhola Homestay is another nice homestay located at a scenic area in Suntalekhola with few rooms in a nice country house. 
WBFDC also has a Forest Rest House at Samsing - a building amidst nature with nicely appointed rooms. Locals also run several home stays in Samsing. In Rocky Island the Adventure Camp set up by a nomadic traveler is the most popular one among those who like to stay at tents with basic amenities and indulge in light adventure activities like trekking, cave exploring and even rock climbing. 
Go to
Dooars Hotels & Lodges
and read the section under 'Hotels in Samsing' for details about all these lodging options including my reviews, pictures, contacts and booking information. 
Related Articles
Visitors' Reviews/Comments