Neora Valley National Park
Covering an area of 88 sq. kms, Neora Valley National Park is located in Kalimpong district of West Bengal. It stretches in the north upto an altitude of 3,200m. The highest point of this park is Rachela Pass, where it forms a boundary with Sikkim in the North and Bhutan in the North East. This pass connects Neora Valley National Park with the Pangolakha Wild Life Sanctuary in Sikkim and Toorsa Strict Reserve in Bhutan. 
Neora Valley National Park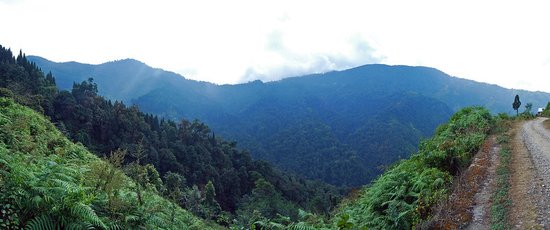 Photo: benjamin chia, flickr 
The entire forest is crisscrossed by mountain streams. In fact the name Neora Valley is given after the river Neora flowing through it. This forested land on a hilly terrain was earmarked as a National Park in 1986. 
This park has challenged the never ending human interference, biotope changes and environmental pollution. It has preserved its natural biodiversity and much of the national park still has inaccessible forests in its territory.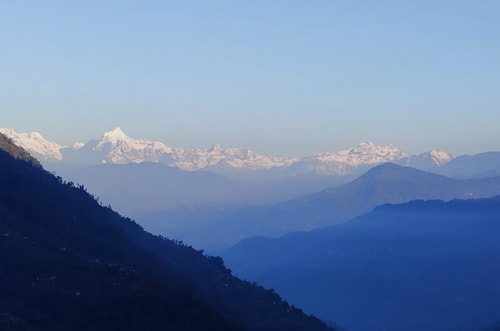 What to see & do at Neora Valley National Park
Halt at Lava for a while and first make a visit to the Nature Interpretation Center for Neora Valley National Park which is located at Lava. Here you will know about the landscape, flora and fauna of the park. The center is open from 8am - 12noon, 1pm - 4pm (closed on Thursdays). This is a good place to get your understanding of what the park offers.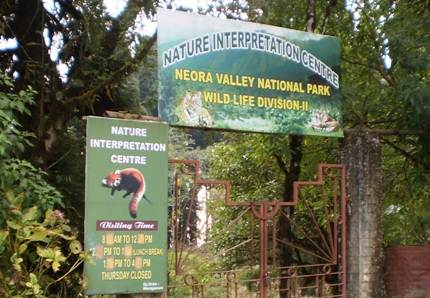 Note that vehicles can go up to the Zero Point which is about 13kms inside the forest. While this drive through the forest can be a great experience, best is to take a guide and trek through the various trails in the forest, or just go for a stroll. That is the best way you can closely explore the birdlife, colorful butterflies as well as diverse flora and fauna. 
At the entrance of the forest, there is a small cottage where government authorized guide is available. He can take you for a trek through the forest for a fee. However, you need a permit to enter the park (details of which is given in the sections below). 
If you decide to trek, one way would take about 45 minutes, so a total of 90 minutes walk. It's mostly a jungle trail and can be very muddy if it rains. Before you start your return trek, ask the guide to show you the trail that goes all the way to Phuntsholing located at the Bhutan border. It's about 16kms away from that point. Groups trekking to Bhutan usually take this route. 
Vegetation in Neora Valley
The park has an abundance of Sal trees, Ferns and Bamboo groves. During spring and summer, varieties of colorful Rhododendrons bloom in full. There are some 10 different species of rhododendrons found here and some are about 300years old. The pink, white and red flowers are really a feast to the eye. The wild orchids form a canopy in the forest. Yews, Hemlocks and wild Strawberries also form a part of the forest vegetation. 
Wildlife at Neora Valley
The Endangered species like Red Panda and the Black Asiatic Bear inhabit the bamboo belt of the Eastern Himalayas. The Red Panda is at a great risk of becoming extinct as they dwell on bamboos and the bamboo belt is largely destroyed and substituted by timber. The poachers also pose a threat to its fur. The Red Panda can be rarely seen as they normally sleep during the day at the top of bamboo groves and set out to look for food only at dusk 
A survey in 2015 showed there are only 38 Red Pandas in Neora Valley national park. It is not only unusual but practically impossible for you to trek through the jungle after sunset. Therefore only if you are extremely lucky you can spot this rare species during your visit.. 
The Barking Deer, Goral Deer are frequent passers-by when you take a trek on the forest trail. The other members of the jungle family which can also be seen are the Leopards, Leopard Cat, Himalayan Thar, Flying Squirrel, wild cats and even the Royal Bengal Tigers (although rare). 
Insects and reptiles also dominate this park. King Cobra, Viper, Lizards, colorful bees and insects like beetles, moths, wasps and bugs are common. 
Bird Life at Neora Valley National Park
Neora Valley National Park is also a paradise for bird watchers. There are about 265 species of birds in this park. It is the best place to spot the rare species Rusty Bellied Shortwing. Myanahs, Swallows, Flycatchers and Parakeets are common. 
You can see a variety of cockatoos which is also a threatened species. Among the others are the Falcon, the Great Pied Hornbill, Himalayan Griffon, Redstart, Whistling Thrush, Golden Headed Black Finch and the Khaliz Pheasant. If you are a bird lover, ask your hotel in advance for a birding guide and trek through the forest trails to take some unmatched pictures of colorful birds. Best time for birding is between from December to March. 
Waterfall
Changey waterfall is about 4.5kms from Kolakham (a village where most of tourist lodges are located). If you are staying at Kolakham, you can also plan for a hike. 
From Lava it takes well over an hour by a vehicle up to the nearest point. It then requires a fairly steep downhill walk from the last motorable point through a forested trail for about 20 minutes (900 meters) to get to the bottom of the waterfall. 
Changey waterfall near Lava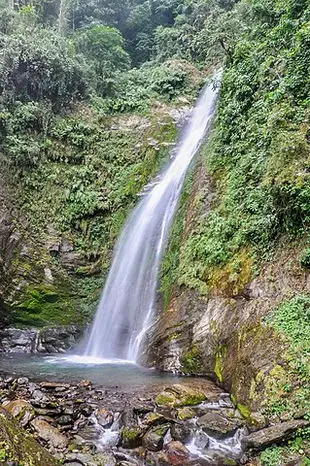 Photo: Joydeep / Wikimedia Commons 
You will also need to climb down several flights of steps along the downhill trail. There are a couple of viewing platforms at the upper levels. If you do not want to go all the way down to the bottom, you can view the complete length of the waterfall from these viewing platforms. 
However, the experience at the bottom is wonderful... the water stream flows here through large boulders and you can dip your feet into the water, or sit on a large rock and paddle your feet in the cool water. You can see the water gush coming down right in front of you and soak in the mist created by the water droplets. 
The motorable road from Lave and even beyond Kolakaham is an unpaved gravel road and in a bad condition... the journey by car can be backbreaking but the rewards can be plenty.  
Take an SUV or Jeep type vehicle. If you happen to be there when there are hardly any tourists, you can hear the songs of Cicadas and many other singing birds as the water gushes down from a height with roaring sound. 
Keep in mind that the 900-meter hike back up the steep trail from the waterfall up to your car can be quite cumbersome. However, there are resting places in between. But, this downhill hike should be avoided by aged persons or those having mobility problems. 
Day Trip
Lava is only 10kms away from Kolakaham. If you are staying at Kolakham you can visit the Lava Monastery. Then drive further for 22kms to Loleygaon and do the exciting canopy walk through the jungle. It can make an excellent day trip to
Lava and Loleygaon
. 
Village Tour
Kolakham village is occupied mostly by the Rai Nepali community. They are extremely hospitable and will invite guests for a chat and share their culture and traditions. It's a great opportunity to see how from raw fruits of cardamoms, they roast it to spices. 
Kolakham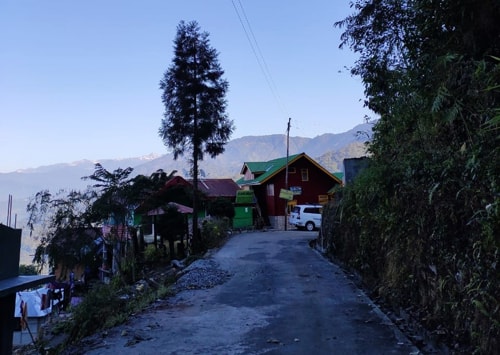 You can also see live demonstration of how some of the villagers are able to make sitting mats out of paddy straws. 
Best Time To Visit Neora Valley
October to April is ideal for visiting this park though day visits are open to tourists from 16th September to 15th June. The park remains closed for 3 months during monsoon. October to December time is great for mountain views while spring (March to April) is the time for blossoming flowers. Bird watchers should ideally visit Neora Valley National Park between December to March. 
Entry Permit is required to enter the park. It is available from the Forest Office (i.e. office of of Range Officer) in Lava and also from Samsing. 
During summer months light woolen garments are sufficient but in winter, between November to February proper winter outfits are required. It is always advisable to carry medications and first aid box during your visit to the park. 
How to reach
The popular tourist destination Lava (which is about 105kms from NJP and 34kms from Kalimpong) is located quite close to Neora Valley National Park. The entrance to the park is at Kolakham - a village which is about 10kms from Lava.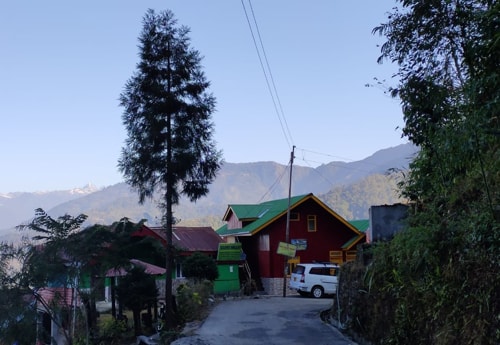 It takes over 1 hour to reach Lava from Kalimpong and over 3 hours from NJP (via Kalimpong). From NJP, you can also reach Lava via Gorubathan. Take NH-31 towards Sevoke Road, cross Coronation Bridge, go via Odlabari, Damdim, and Gorubathan, then to Lava. Takes about 3 hours to reach Lava. 
From Lava the distance of 10kms to Neora Valley would easily take another 1 hour because of the bad road condition. You should take a jeep type vehicle to negotiate this approach road to Neora. 
There is one more route to reach Neora Valley which is via Samsing. This route passes through places in Dooars area like Malbazaar, Chalsa and Metli and then reaches Samsing. This alternative route takes about 3.5 hours to reach Neora Valley and is mostly preferred by the trekkers who plan to camp and trek the area over several days. 
Most trek routes originate from the village Suntaley Khola (translates to Orange Stream) which is about 5kms from Samsing and pass through Neora Valley National Park. There is WBFDC lodging available at Suntaley Khola. 
Jeep Safari at Neora Valley National Park
While you can choose to trek in Neora Valley with a guide, another great option is to take a Jeep safari and explore the forests and its flora & fauna. 
For this, you will need to first book a Jeep from the Jeep Syndicate Stand at Lava. After you book the Jeep, you should visit the Forest Range Office at Lava for the necessary permits and guide. The Forest Office is located about 1km from Lava Bazaar Jeep Syndicate Stand. 
Jeep safari timings: First trip at 8 am, Second trip at 12 noon 
Two trips per day, each for about 2 hours. 
Entry Permits & Fees
(Fare Updated: March 2022) 
You need a permit to enter the park. The permit is available at the forest range office at Lava. So if you are staying near the entrance of the park (i.e. at Kolakham), then you need to come down to Lava in the morning, take your permit and go back. You can also get the permit at Samsing. 
The whole process of going down to the forest office from Kolakham and getting back with the permit can easily take about two & half hours. In summer and spring, the forest office at Lava usually starts issuing the permits by 6am. 
There are fees for entry to the National Park. Note that the entry permits or tickets are issued only on the day of the trip. You must carry Photo ID (such as Aadhaar Card, Voter's Card, Passport etc). 
Permit fee: Rs. 120/- per person per day (Rs. 500 per day for foreigners) 
Jeep cost for the safari: Rs. 2,000 per jeep (Marshal 4 wheel) 
Vehicle entry fee: Rs. 400/- 
Guide fee: Rs. 300 - 500/- 
Where to stay?
While there are plenty of
accommodations in Lava
, staying at the park area has a special feel. After all you will wake up to the chirping of the birds and to dazzling views of Kanchenjunga (if you are lucky though).
Kolakham
is a small village located at the fringe of Neora Valley National Park. This is ideal for the tourist halt and is located at an altitude of 6,500 ft. You get wonderful view of Kanchenjunga snow peaks from here on a clear day. 
Neora Valley Jungle Camps is a nice resort in Kolakham, run by Help Tourism and offers nice accommodations. The forest stretches for miles at the backyard of the cottages and the lush green valley is in front with the imposing Kanchenjunga in the distant horizon. There are 5 fully furnished wooden cottages. They are named Sama, Besra, Shikra, Niltava and Kaleej. All these names are derived from the local birds. 
Actually if you just sit quietly in your room and look through the window, you will see wide range of birds. Don't need to go to the jungle. Take a good camera. 
Sama is marked as the Honeymooners cottage because it stands isolated in the wilderness zone. The sounds of the birds and insects create an uncanny ambience. If you are a newlywed couple, this is perhaps one of the best places to unwind and discover one another among the nature in its purest form. The cottage Niltava has an attic also with slanted roofs and open verandas. Couple of other cottages also have attic rooms. 
The mist creeps in through the windows and all on a sudden the dazzling peak of Kanchenjunga is right in front of you. The best view of the mountain peak is available from Niltava. The rooms are clean and spacious with attached bathrooms. Bathrooms are fitted with geysers and they also provide room heaters during winter but there is no TV.  
There is a small library for the book lovers. However the dim lights in the evenings may not be suitable for long readings. (looks like power is an issue) The dining room has end to end glass windows all around and you can relax and watch the sun play hide and seek behind a veil of cloud. The tariff is between Rs 5,500 to Rs 7,500 plus taxes per night. 
All meals are included (excellent Nepali and Indian food with large portions and good varieties). This place is maintained by Help Tourism and Mr. Sukhendu Kumar Pal and his hospitable team takes good care of the tourists. Parking is available. 
Trekking (or at least a stroll) is a must and at times Mr Pal himself guides you through the forest trail along with the pet dogs of the resort. The typical smell of the forest trees, chirping of the birds and the strong winds make this sojourn really unforgettable. Don't miss out on Phaley, a very tasty Tibetan bread which is served here. 
Address & Contact Info 
Neora Valley Jungle Camps 
Kolakham Village, Lingesykha Gram Panchayat, P.O. Lava, Kalimpong 
Phone (Help Tourism, Siliguri):  +91-353-2433683 / 2535896 
Phone (Help Tourism, Kolkata): +91-33-24550917 / 24549719 
The Red Panda Eco Huts is a budget accommodation located in Kolakham. There are 4 wooden cottages with twin or double beds. Each room has wonderful views of Kachenjunga peaks. The rooms are clean and have amenities like TV, attached bathroom with geyser. It has an in-house restaurant as well making Indian and Chinese dishes. Parking space is available. 
You can avail the package which offers guided trekking and bird watching along with the accommodation. You can also ask for camp fire during the winter at extra cost. The evenings are enjoyable as the local tribes perform traditional dance and music (on request though). 
Indicative tariff in the Eco Huts is Rs. 2000/- for double room and Rs. 2,500/- for 3-bedded room. There is an additional service charge of 10% applicable. Meals cost extra. 
Address & Contact Info 
The Red Panda Eco Huts 
Kolakham-Neora Valley National Park (Near Lava) 
Phone: (+91) 9830077180 / 8420394747 / 8420434545 
Casero Homestay Resort located at Kolakham offers a budget stay option. It has come up in the mid-2015 and owned by a Bengali who stays abroad. So calling it a homestay is a misnomer in its true sense, but otherwise this wooden log hut accommodation offers a nice simple stay and managed by a resident care taker. There are two floors, the two upper floor attic rooms are of duplex type and can accommodate 4 adults and kids each. The hotel offers excellent views of Kanchenjunga snow peaks, Blue Hills range of Sikkim and Neora Valley National Park from its rooms and the balconies. 
The rooms have basic amenities including attached bathrooms with geysers, TV etc and are meant essentially for families or couples. The ground floor rooms are sometimes occupied by bachelors. In high season, try to avoid the ground floor rooms as they are likely to be uncomfortable due to noisy neighbors. The hotel provides room heaters at extra cost which however needs to be pre-arranged. 
In-house food is nice (both veg & non-veg Indian style food is offered). There is a small simple dining room in the hotel. You can also ask for two or three nights package which includes pick ups and guided tours other than accommodation and meals. 
Address & Contact Info 
Casero 
Kolakham / kolbong, Linseykha GP, P.O. Lava Bazar - 734314 
Phone: (+91) 7585848267, +91- 1130323672 (Toll Free) 
Related Articles
Visitors' Reviews/Comments
Sudatta Sarkar (January 2021) 
Me and my wife are going to Lava (already booked WBFDC cottage) on 2nd Feb and planning to visit Neora Valley on 3rd Feb. Can anyone tell me, from where we need to collect the pass also from where will we get the guide for bird watching? 
Raj (darjeeling-tourism.com) January 2021 
Visit the Forest Department's office in Lava to get the permit. They can also help/advise you about the guide. Alternatively, you can also check at the Nature Interpretation Center at Lava regarding guide. 
Diya Roy (November 2016) 
We are visiting Neora valley on December 19th & will stay there till 21st. So planning to vist the Neora valley jungle on 20th, for that we required a pass. Is it possible to collect the pass from Lava while coming on 19th? I mean it can save at least 2hrs of journey if we have to collect it in same day. Can the passes be issued and collected a day before from Lava ? 
Raj (darjeeling-tourism.com) November 2016 
It's a day permit which is usually issued on the day of entry to the forest. However you can check at Lava Forest Office on your way to Neora Valley if they can issue the pass for the next day. 
Krishan Kuntal Basu (November 2016) 
Sir, I wish to visit KOLAKHAM during Mar-Apr'17 with my family. I wish to know your views reg. the best option for staying there for two nights apart from NEORA VALLEY JUNGLE CAMP, which can provide good views with basic amenities. Is that time good for birding there? Is Casero Kolakham a good option position wise? Your valued views is highly solicited. With Regards. 
Raj (darjeeling-tourism.com) November 2016 
March is a good time for birding. Casero is a nice budget option with a location great for views of Kanchenjunga and Blue Hills range of Sikkim. Stay at an upper floor attic room for better amenities and views. 
Tanveer Ali (March 2016) 
Your information service is really commendable, I would like to thank you for that. This March I m going to visit Lava, I need to understand the total cost of a day visit to Neora Valley National Park including Permit, Entry fees, Guide, Conveyance cost (for 10 km to reach park + 13 km inside park and round back i.e., total of 46 km) or any other cost. Please help. 
Raj (darjeeling-tourism.com) March 2016 
Hi, day trip to Neora Valley from Lava does not come under any standard package. There is no separate entry fee. Estimated cost for a day trip (4-5 hours) on a private jeep would be around Rs. 3,000 + guide (usually Rs. 700 per day). You should pack your food.