Murti Tourist Lodge of WBTDC, Dooars
Category: Budget 
If you keep aside the distinct advantage of
Banani Lodge of WBFDC
where you can directly book your safari as well as watchtower visits of Gorumara National Park right at the reception, I would prefer to stay at Murti Tourist Lodge. This is because of its sprawling green compound in acres of land area fringed with lovely looking comfortable cottages that are ideal for relaxation. 
Murti Tourist Lodge is located at Murti area of Dooars and in a short walking distance from Banani Lodge. The location is excellent with the Murti river flowing just outside and across the road where the entrance to the lodge is located. Although called a lodge, it's actually a very nice resort. 
The lodge is run by West Bengal Tourist Development Corporation Limited (WBTDCL). As you enter through the main gate, the vast compound with a large central manicured lawn looks very impressive. From the gate straight ahead is the large air-conditioned reception building with a nice lobby area. Once you complete the check-in formalities, you will be assisted by a staff who would carry the luggage to your designated cottage. 
Murti Tourist Lodge... standard cottages at far end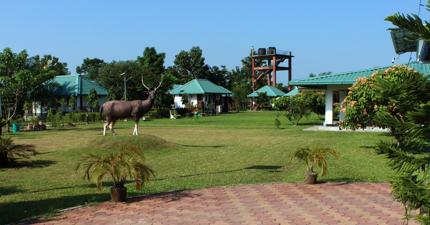 As you follow the staff and walk along a paved pathway that completes a full circle while passing by all the cottages in the compound, you will surely appreciate the greenery all around and the large central lawn where there are several large sculptures of animals. Some of the striking sculptures includes that of an elephant, a bison and a rhino... all creating an ambience of a simulated wildlife environment. 
Sculpture of an elephant on the lawn 
There are only two types of cottages in Murti Tourist Lodge - Standard AC and Deluxe AC. While the room amenities are more or less the same, there are two main differences... first, the standard cottages are partitioned back to back into two separate accommodations while the Deluxe cottages are independent standalone cottages. Second, the Deluxe Cottages are wood finished both in the exterior as well as in the interior, and therefore look much more attractive. Since the difference in rates between the two is small, we always prefer the Deluxe Cottages. 
All cottages are air-conditioned and have a nice private balcony with seats. They have two single beds accommodating two persons. There is a nice and large wall LCD TV, phone, tea/coffee maker, a table with two cushioned chairs, an attached bath with geyser & western style toilet, a cupboard, a wall mirror, and importantly free in-room wi-fi (which may be little intermittent). 
Wood finished Deluxe Cottages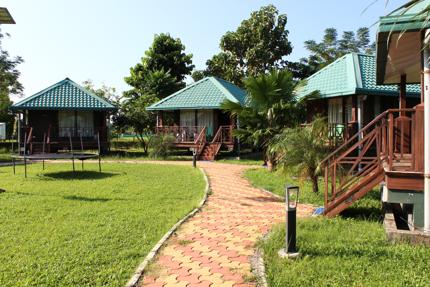 Rooms are fairly well maintained and are usually clean. They clean the rooms daily (do make a request at the reception when you drop the keys and go out). However the cottage rooms are quite compact. So staying with your spouse and kids in the same room is not quite practical. You should ideally plan for a separate cottage if you are more than two. The property with its wonderful lawn is otherwise great for families. There is no children's playground though. 
Room in a standard cottage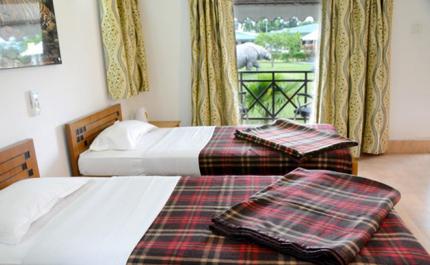 And Oh!... I forgot to mention about a big advantage of the Deluxe Rooms... there is a back door opening out to another small private balcony with sweeping view of paddy fields. You can even get off this backdoor balcony and walk around to enjoy the views of greenery or have a cup of tea there. 
Our Deluxe Cottage... inside-out view 
Next to the reception building is another large building which houses the dining hall in the ground floor which is open from the sides. Upstairs is a large covered conference hall which mostly remains closed unless there is an event or a corporate function. I wish the dining hall too was air-conditioned because in summer and even in autumn it can get quite sultry and uncomfortable while dining. There are few ceiling fans though but I thought that wasn't enough. 
Our Deluxe Cottage - inside view 
You can get Indian (mostly Bengali type) food or even Chinese meals here. While the usual Indian food is quite nice (in non-veg you get fish or chicken), I would rather avoid the Chinese food here... you know what happens when a local village chef prepares a chowmein and chili chicken. They have added a nice touch of serving a sweet at the end of a meal (lunch or dinner). 
Note that you should ideally order your lunch and dinner in advance before going out for your safaris or tour. Otherwise you won't have options but to be satisfied with whatever is left in the kitchen which may not be enough. Within a short walk and outside the gate of Banani Lodge, there are several stalls that have come up selling street food. I have noticed many tourists having food here to save on cost. They also sell cold drinks, bottled water, cigarettes etc. 
Breakfast is included in the room rate and is quite good as well as filling. You get a choice of omelet, toast, fruit juice, tea etc (coffee is  charged separately), or puri, sabji which is usually cholar daal with small pieces of potatoes, fruit juice, tea etc. 
As with most state government run lodges, there are lot more to be desired out of the service. Mostly local villagers are engaged as service staff. Although they are all friendly and polite, they can easily get confused and become terribly slow when there is demand from many. Room service is available, however it can get quite slow at times. 
You can make a request for Jeep safari of
Gorumara National Park
at the reception. They can arrange safaris with Jeep pick up and drop but subject to availability. Only limited number of Jeeps are allowed in the forest per shift (there are both morning and afternoon safaris). However the reception can not book any watchtower visits at Gorumara or Chapramari forests. For that you need to go down to Lataguri counter well in advance and queue up to book. 
There is a counter at a walking distance from the gate where booking for
visiting Chapramari forest
is taken. However bookings for only 12 persons per trip are issued from this counter. In the afternoon, the counter opens at 2pm but you need to go in advance to beat the queue. 
How to reach
Murti Tourist Lodge is located at Murti in Dooars. It's about 70kms from NJP (1 hour 45 minutes by car), 82kms from Bagdogra airport (2 hours 15 minutes), and 8kms from Chalsa. The nearest railway station is New Mal Junction (18kms). 
How to
You can either go down to the West Bengal Tourism booking office at BBD Bag (Kolkata) to book your cottage or book online through the WBTDCL website. You can book up to 180 days in advance. 
Booking Office: 
3/2, BBD Bag East Road, Kolkata, West Bengal 700001 
Phone: 033 2243 6440 
Online Booking: 
Visit the website www.wbtdcl.com to check availability and then book. 
Related Articles
Visitors' Reviews/Comments