An amazing nature journey through Dooars
I had visited Gorumara National Park, Murti, Samsing, Sunthalekhola and Rocky Island twice before. But my friends once again planned the same destinations. I had to reluctantly join them for the third time although I tried to persuade them to consider other places, but with no success.  
Many years back we all agreed that when we travel together, opinion of the majority would be final. So left with no choice, eventually I reached new Mal junction with my friends with a plastic smile. This is when I met with a gentleman named Ranjit. He was little senior to us and agreed on one of our friends' request to accompany us in the Dooars tour. He is a local of this area supposedly with great insights into Dooars and was present at the railway station to receive us.  
Having exchanged greetings, he told us about the program he had chalked out for us. Today we would enjoy ourselves staying at a resort in Murti and the next day we would take a sightseeing tour to
Samsing, Suntalekhola and Rocky Island
. Having heard next day's program, I couldn't restrain myself from declaring, "Guys... you all proceed and enjoy, I would rather stay back at the Murti resort". 
- "And why is it so dear?" ... Asked the man named Ranjit very politely and humbly. 
- "Actually he had been there twice before"... Answered one of my friends. 
- "That's great my dear but for my sake please, will you mind coming with us tomorrow?" 
The way he asked I had no choice but to accept his proposal. After reaching our resort we enjoyed together sitting on the bank of Murti River. This is one place I will never get tired of even if I continue to visit every year. This is the only reason I am here with my friends. 
Murti River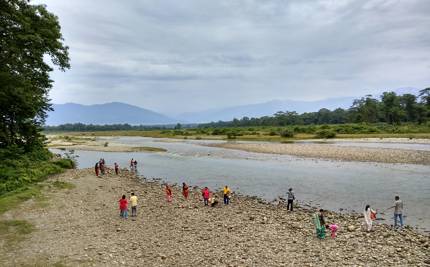 Next day after having breakfast our journey started. We were a bit surprised to see that Ranjit wore a 'Gamchha' on his head in turban style (Gamcha is basically a bathing towel commonly used in eastern India including UP and Bihar). Noticing our surprised face he asked us humbly to carry ours too. 
As we drove long, I noticed that instead of driving towards Meteli our car took a left towards Malbazar from Chalsa crossing. "Hey, aren't we supposed to go to Suntalekhola first?" ... I asked. 
Ranjit turned towards me and said politely, "Yes of course my dear friend, we will be going there too. Since that place is nothing new to you my friend, let me try to show you something new as well." 
Just before reaching Malbazar our car took a right to a comparatively narrow road which was not in a great condition. After driving for few minutes we crossed a railway level crossing and entered into a tea garden. The road condition changed magically. Amidst the lush green tea garden our urban eyes got an immediate relief that we were so desperately longing for. 
- "Welcome to Dalingkot tea garden, friends". Ranjit was smiling. 
- "Beautiful" ... commented one of my friends. 
- "You like it, my dear friend? Then it calls for a break in the journey. Mithun pull off the car under that tree please".... Ranjit requested our driver Mithun. 
We got out of the car. It was really an amazing view with vast stretch of rolling tea gardens with a backdrop of mighty Himalayas. We spent a few minutes there taking photographs and strolling around. I must admit this was something new to me. During my last trip when I asked our driver to stop the car inside a tea garden, he told it was not allowed. Hearing this Ranjit was once again exhibiting his patent smile. Once again our sightseeing started. We entered into another tea garden. 
- "Friends, This is Meenglass tea garden. You want me to stop here?" 
- "No, no, not now. Let's continue"... All of us said hurriedly in chorus. The journey itself was so amazing and different. As the tea gardens ended, on both sides appeared tall virid trees. Now we were going through some sort of a forest. Here we decided to stop for a while. Once again we soaked in the views of the nature around and then got into the car to proceed further. Our car was approaching a check post but before reaching that Mithun took a right.  
- "The straight road goes towards Lava and this place is known as Gorubathan" ... No prize for guessing who informed us that. 
Now we were driving along a hilly road with tea gardens on the slopes of the hill. 
- "My dear friends, this is lower Fagu tea garden." 
None of us uttered a single word as we were so absorbed in the nature. In our right the green valley looked stunning. After gaining some more altitude Ranjit once again asked Mithun to stop the car. The view was really breathtaking. The tall and bold Himalayan range together with the tea gardens and the larks tuning to the melodious songs created an ambience of divine serenity and immense pleasure. 
We started taking countless photographs. Ranjit walked up to me with a long thin green leaf in his hand. One side of the leaf was smooth and the other side was rough. He asked me to smell the leaf. The scent was wonderful and a known one but I failed to recognize. All my friends tried too and failed too. 
- "My dear friend, this is Citronella, a type of medicinal plant. You must have heard of it?" 
We all nodded our head in unison and our journey began once again. Sometimes we were going up then down along the hilly terrain. Our visit was scheduled during monsoon. So far we experienced zero rain but the clouds were up there and showing shades of grey with its darker shade prominent most of the time. We reached in front of a bridge and it was time for a short break. 
- "My dear friend this is Mal Jhora coming down from the hills. See how she is dancing like a teenager. As soon as she lands on the plains she will be a dignified lady - the Mal River"... Ranjit explained with a tone of amusement. By the way, 'Jhora'  is a locally used word for stream. 
By now we all had started enjoying his company. Ranjit asked us to go down to the stream that was sketched with rocks. Some of us sat on the rocks, and some became highly excited. I was enjoying the 360 degree view with the vibrant colors of green and the mighty mountain tops covered with black cloud.  It was amazing to witness such diversity of greens which can never be found in a city. 
Now expectedly it started to drizzle, none of us showed any sign to rush back to the car. As if it was in our tour plan. Ranjit and Mithun appeared from behind a large rock with a kettle and some paper cups along with real hot Samosas. I failed to understand how they managed all that! But the treat was too good amidst nature and the drizzle and gentle breeze caressing our body put the icing on the cake.  
Having spent about half an hour or so, our journey began once again. I was feeling thankful to my friend who actually pushed me to come for this trip. Though I had visited Dooars couple of times earlier, but I had seen nothing of this sort in those two trips. 
Now we were driving along the foothills of the Himalayas. It was a nice trail. One more bridge appeared in front of us. One more stop. But this was a brief one. Ranjit just explained the scene. Two hilly streams one from left and another from right met just in front of us, then having become one the stream flows down under the bridge we were standing upon towards south of the stream. 
- "The left stream is known as Neora Jhora and the right one is Sakhyam Jhora. Together Neora River is emerging over here. As Neora and Mal both names are well known to tourists, let us name this trail as Sakhyam trail. She too should not be ignored. What do you say, friends?"... Ranjit quipped. 
Once again we spontaneously nodded in unison, something which seldom happens during our city life. Nature always broadens our minds. 
Mithun started his car. Suddenly the texture was changing. Tall Sal trees started engulfing us. We found ourselves amidst a forest, a dense one. Ranjit asked us to get down from car. 
- "This is Mal forest. Please try to feel the primitive rawness of this forest." 
I just smiled wryly listening to Ranjit as I didn't need to try because I had by then already felt it. We all were thrilled. Often herd of elephants can be spotted here. But we had no luck. So our last lap started. 
After driving for half an hour more we reached
Rocky Island
. Not new to me but a surprise was waiting. Ranjit asked all of us to take our Gamchha with us. Then we started following him through a property,
Rocky Island Nature's Adventure Camp
. No matter if you are not staying with them you can enjoy nature by trespassing this property, no one will stop you, rather you are welcome here. Last two times no one told me to take this trail. 
Rocky Island village along river Murti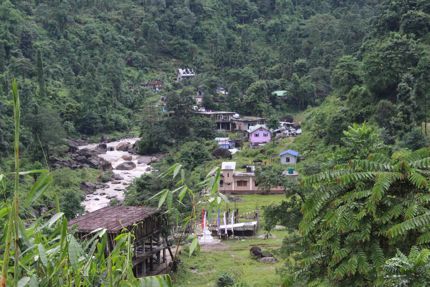 After some walking we started to descend the steps made of small stones towards Asley Jhora which soon would become river Murti. Wow! What have I missed earlier! It's beautiful here. Drizzle now became moderate rain. All of us started taking dips into the Jhora. Time stopped for a while until we started feeing hungry. Actually almost two hours passed without our knowledge. 
River Murti at Rocky Island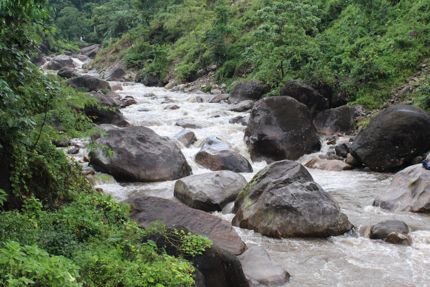 When we reached back up to the resort area, we were totally speechless to find that our meal was served and waiting for us. Ranjit came to me, gestured with a bow and asked, 'My dear friend, did you enjoy the trail and the day?' 
"Hey Ranjit, what to say... I just loved it man. You made my day by gifting us such a memorable trip to Dooars. A heart-felt thanks to you Ranjit". 
Related Articles
Visitors' Reviews/Comments